The Plan: Travel from Lucknow (Uttar Pradesh) to Porbandar (Gujarat) to explore the ground realities and 'atmosphere' ahead of Lok Sabha elections 2014

The Vehicle: My Cycle (Trek 3500)

The Route: Crow's flight ( ie 1500 KM approx passing through hundreds of villages, kasbas and town)

The Expedition: To capture the stories from the hinterlands of UP, MP, Rajasthan and Gujarat which are not otherwise reported. The people, their stories, their aspirations, the claims, the truth of 'development' and the state of the nation.

With a modest speed of 50KM/day, the route can be covered in 30 days. Of course, I won't be cycling everyday. I would be staying in the villages...with the villagers, roaming around, meeting the voters, supporters and occasionally contenders from various parties, interviewing and reporting.
Advertisement opens in new window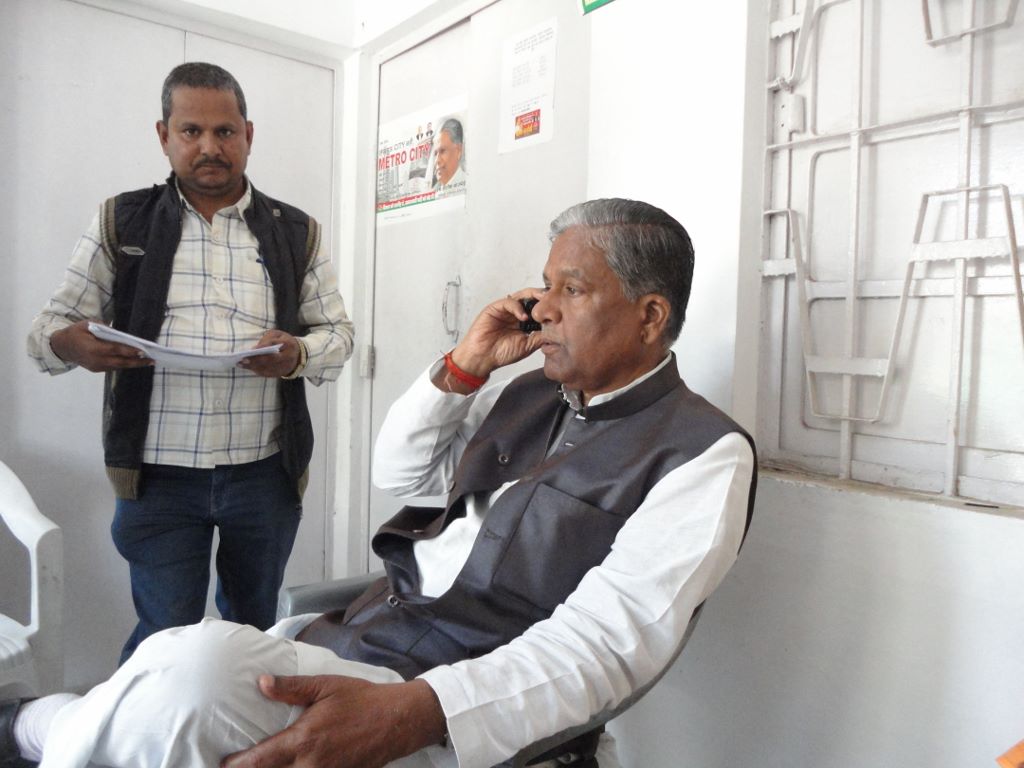 Ashok Vajpayee
Day 1: Lucknow To Barabanki

The trip started with an interview with Ashok Vajpayee, Samjvadi Party's (SP) candidate from Lucknow.

While the BJP candidate from Lucknow was still an enigma (now we know it's Rajnath Singh), Vajpayee has been busy campaigning since November. "We have covered each and every corner of the constituency five times," said his secretary Fahad Shah, a young management graduate donning a moustache similar to Ranveer Singh's in Ram-Leela.

While waiting at his residence in Butler Palace, also known as IAS colony, I was served some sweets and later a glass of water by a lanky kid, not more than 10 years old. If Vajpayee wins, he would be sitting in Parliament, occasionally making laws to prohibit child labour.

He is, obviously, extremely confident of his victory and a sweep of 40-45 out of 80 Lok Sabha seats in Uttar Pradesh by his party. As far as fielding candidates with criminal background by SP is concerned, that's a "political compulsion" according to him. However, he thinks that there was no need to hike the upper limit of expenditure for campaigning by the election commission. "70 Lakh is just too much," he said.

I also had one more appointment lined up with Rita Bahuguna Joshi, Congress' candidate from Lucknow, at 2 PM but taking a cue from this experience, I decided to give it a pass.

In a way the interview was fruitful. It brought home the mission of my trip—to get the pulse of the people, people who are usually not heard. Interviewing a 'neta' is not going to serve the purpose. Not that I am totally ruling out an interview, but minimizing it for sure.

It was already noon. The Plan was not to take the highway. Not because of security reasons but because I wanted to pass through the villages at a relaxed pace, interacting with people en-route rather than pedalling incessantly on the highway.

But thanks to the fixation of people to direct you to highways despite asking for alternate routes and an egregiously faulty compass, I was making beautiful loops within Lucknow for hours until I let go of my village-route fascination. After all, moving on a beaten path is better than not moving at all.

If you are an introvert, highways are for you. It's just a straight road; no confusion, no asking around for directions. But I do ask nonetheless; if not directions, then distance. "Bhaiya, how far is xyz" can be a good pick-up —or, at least start-a-conversation —line.
Advertisement opens in new window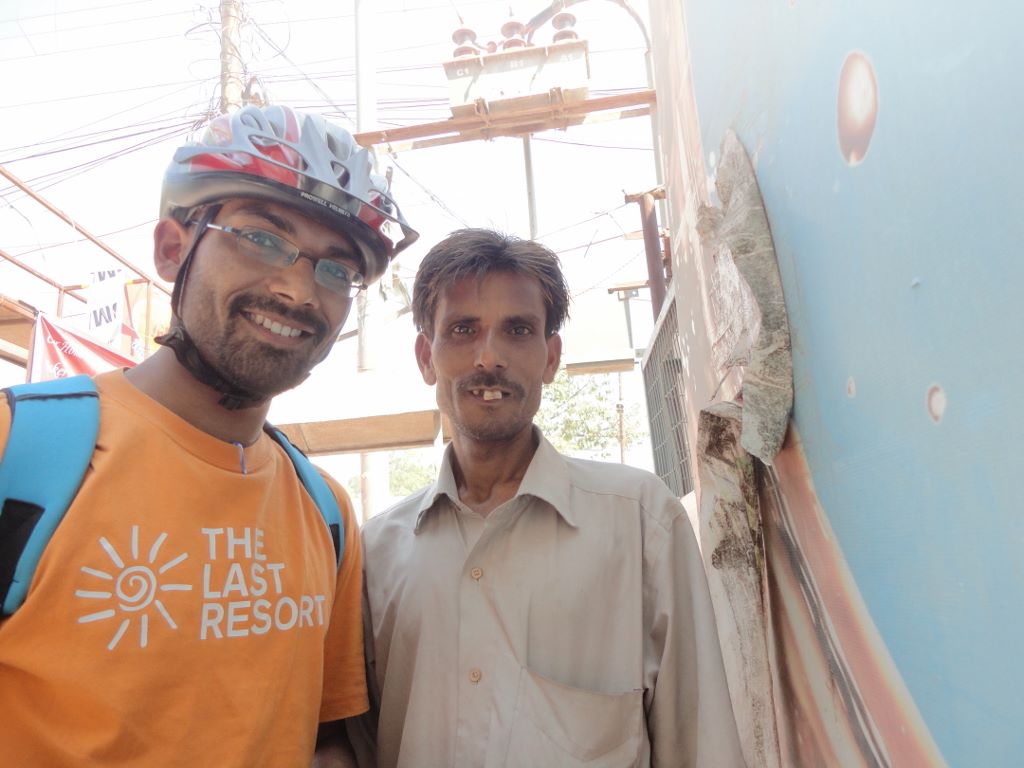 I picked-up a cyclist this way. He said," I am also going in the same direction. You can come along with me but I am not sure about your speed."

"No problem. Let's go with your speed," I replied.

Ajay, my first trip-companion, works at a company which supplies fresh cream for cakes to all major bakeries in and around Lucknow. He was a tailor before becoming a supplier of fresh cream. He quit his job because he was fed up of being confined to a room. I gave him a mental high-five on that score.

He earns just 4,000 rupees from his day-job but complements it with part-time tailoring. This enables him to send his only daughter to an English-medium private school. His skill has also fetched him a room in the city free of cost. He does the mending work for the owner's family on Sunday, among other things, in lieu of rent.

Though a Kshatriya, he was all praise for Mayawati, a Dalit leader who heads Bahujan Samaj Party (BSP). "She was a great Administrator. Law & order was much better during her government" he said. "This road on which we are riding used to be a mess before her term," he added.

To be sure, it was NH 28, construction and maintenance of which comes under National Highway Authority of India (NHAI), a central government institution. But facts are boring, it's all about perception. If the public perceives it's 'Behenji' behind the turn-around, then she is.

We had barely cycled a kilometre or two together when he pointed to my front wheel; it was flat. I bade him adieu saying, "Achcha ji, aap to badhiye (Ok, you carry on)". He stopped and retorted, "Aise kaise badh jayen? Aapne apnaapan dikhaayaa hai to itne gaye-guzre to hum bhi nahin hain. (How can I move on? If you have shown some cordiality, I can't give up on you). Welcome to Lucknow where courtesy is not merely lip-service.

I quickly changed the tube and we moved on. So did the discussion.

"So who appears to be winning this time?" I asked.

"Everybody is talking about Modi this time around," he replied.

"But weren't you praising Mayawati for her work and administration a while back?"

"I also praise Inzama-ul-haq or Shahid Afridi when they perform."

"What's your choice?"

"I have been backing BJP since the beginning."

"Even if the party/candidate doesn't perform?"

"Baap ek hi hota hai, baar baar badla nahin jaata" (You don't change your father).

I nodded and hummed in 'complete agreement'.

Switching from political to biological father, he said, "I never saw my father work nor my uncles or aunts. We survived on the legacy of my grandfather until we ended up on the road. Hailing from Hardoi, his grand-father was a rich guy. He had his own nautanki company with as many as 15 female dancers. He would often send his troupe to perform at ceremonies of villagers who would invite him without charging a penny.

I found a striking resemblance between Ajay's life-story and the story of India: a glorious past but a messed up present.

My next stop, after a tasteless lunch at a dhaba, was an Earth Worm Centre at Anaura Kalan, run by an NGO, Bhartiya Jan Kalyan Sansthan. Earth Worms has always fascinated me. We owe a lot to these slimy creatures. I greeted the care-taker of the centre with folded hands from a distance; he acknowledged.

Ganesh, the caretaker, in his late 40s, lives on the farm with his family and a baby cow. The farm has 13 worm-pits which have millions of earth worms. The organic manure hence generated is sold to local farmers. From earthworms, the conversation soon sifted to—you guessed it, politics.

Before he could say anything to my question— "Kiski hawa chal rahi hai is baar yahan pe?" (Who do the political winds seem to favour this time?) — in a balanced way, his 8-9 year old son, Golu, who had joined the discussion after thoroughly inspecting my cycle, beamed, "Kamal jeetegaa" (Lotus will win). Lotus, as I need not spell out, is the symbol of Modi-led Bharatiya Janata Party (BJP). Ganesh appeared to be agreeing with his son.

Ashutosh, the manager of the centre, was a young theatre artist who was taking a break and helping his uncle run the centre. His uncle is also a Bonsai connoisseur. He showed me a Bonsai Banyan tree Bonsai which was priced above a lakh. A bonsai, apparently. is like wine, the older it is, the pricier it gets.

People associated with theatre usually have a wider world-view and are sceptic. He also had both the traits. But he will still back Modi, because "there is no other option left".

"Kejriwaal ki abhi koi aukaat nahi hai ki vo apne dum pe sarkar banaa le aur Congress ko to 10 saal se dekh hi rahe hain," he said. (Kejriwaal can't make a government on his own as of now and we have been seeing the Congress for the past 10 years). Mulayam Singh's heart bleeds only for Muslims, he believes.

"Moreover, the development in Gujarat has certainly intrigued people. Let's give a chance to someone new, is a general vibe," he added.

But once I crossed the border of Lucknow and entered into Barabanki, the atmosphere changed. The change was as stark as a switch from 3G network to a dial-up connection.

The 'Modi wave' which was taking the shape of a tornado in my mind suddenly mellowed down…if not died— it appeared as if it couldn't penetrate the 'bunker' of Barabanki.

The hold of P.L. Punia, Congress' candidate and the current parliamentarian from the area, is awe inspiring.

Why? We will see in the next post.