Maha Manifestos
The first bugle has been sounded off. The Shiv Sena has released its manifesto, which is officially a work-in-progress. The other parties are yet to follow suit. Sena chief Uddhav Thackeray released his vision document in a video conference, enabling the cadre across Maharashtra to witness the event. Packed with photos and promises, Thackeray has spoken of a museum depicting life and times of, guess-who, Chhatrapati Shivaji Maharaj and a memorial for late Bal Thackeray. Apart from that, there is mention of a coastal road, cancer hospital, development of cities such as Nashik, Pune, Aurangabad as religious, educational and tourists hubs. Uddhav has also asked for people's opinions before finalising the manifesto for assembly elections. While people of the state would surely appreciate that they may just get a chance to voice their woes, the track record of the party at civic administration is quite dismal. Congress did not spare any chance to ridicule the document and Sachin Sawant, its spokesman, brought up the condition of pathetic roads in the city, lack of mention of Dr Babasaheb Ambedkar memorial and several surveys that rank Mumbai as a dirty city. He also said the vision document was all pictures and no substance and should be thrown in the bin. For now, we are waiting for Congress' vision, if there is.
Advertisement opens in new window
Desperate Times?
Desperate times call for desperate measures, including a media tour with the Chief Minister himself. Last week, journalists in the city were "treated" to a bus tour in the city to see the different infrastructure projects that had been done during the tenure of Congress-NCP government. CM Prithviraj Chavan himself took to explain salient features of recently completed (let us not get into delays that went on for months and years) projects such as Eastern Express Freeway, Santacruz-Chembur Link Road, Sahar Link Road and Mumbai Metro. While it was heartening to see the CM interact with the media openly, it was also a tad amusing to see the bus go from one hot spot to the other without getting stuck anywhere. There is no doubt about the slight ease in traffic at these particular points because of the flyovers and freeways. However, with the city's massive and rapidly rising population, most of which still commutes in trains, packed like sardines, even these projects may just prove to be a case of too little, too late.
However, the CM still has something to cheer about from a rather unexpected quarter. PRAJA foundation released their annual MLA report card, which assesses performance of MLAs based on attendance, criminal record, quality and quantity of questions asked etc. In the top 10, five are from the INC including the number 2 position. BJP, Sena, and NCP have one each in the top ten out of 32 MLAs from Mumbai, while MNS has two. The #1 spot has been held by BJP's Yogesh Sagar for the past three years in succession. But let us not forget this little bit as well from the report card:
Advertisement opens in new window
"…50% MLAs not only have criminal cases registered against them but some of them are also charge sheeted and some also have new criminal cases registered against them. This is a very sad commentary on the 'quality' of representatives elected by the citizenry to represent them in the highest law making institution"
Sad indeed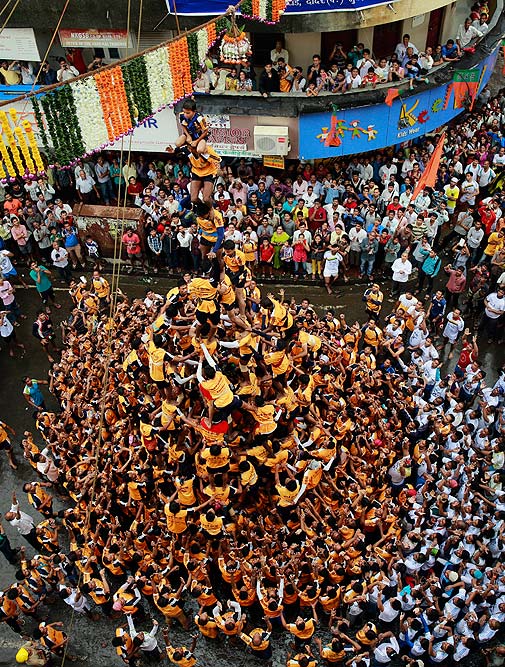 That Illusive Pot
Increasingly festivals, before they are celebrated on streets and then at homes, are first being discussed in the courts of law. Dahi Handi, to celebrate Lord Krishna's birth and his famous mythological antics, is a big deal in Mumbai, as it is in Mathura. Over the years, with politicians' financial support, the festival has become extremely competitive with prize money running into crores. With it, the height of handi too has been increasing consistently requiring human pyramids of eight to nine levels. The pyramids make for great visuals but it is an open secret that hundreds of Govindas get hurt and often sustain permanent injuries. This year, the practice has claimed two lives already. While the Bombay High Court said that children below 18 should not be allowed to participate (often the highest level is scaled by a child less than 12 because he is nimble and light-weight) and that the height for handi should not be more than 20 feet, the Supreme Court has stepped in and opined that for this time it would stay as is. The only condition: children below 12 should not participate.
Advertisement opens in new window
My own childhood memory of Dahi Handi is so simple and special. A bunch of kids, not more than 2-3 levels, a small handi tied in the compound with the help of enthusiastic uncles, with children giggling like crazy and asking all neighbours to pour water. With a splash and showers, the handi, which would have traditional curd and poha, would be conquered. Then a small peek outside to see couple of big handis. The same uncle would treat the kids to vada-pav and an afternoon full of stories. I am sure it still happens somewhere. I just can't see it in these aggressive crowds and can't hear it in the blaring loudspeakers dishing out Dahi Handi item songs.
Inevitable Transfer
We recently wrote and lauded efforts of FDA Commissioner Mahesh Zagade who was awarded by the World Health Organisation for his relentless work. He was transferred earlier this month after a stormy three year stint at the FDA. He took on chemists, stockists, his own staff and tobacco manufacturers/suppliers and even became an exponent of tough love for citizens, who were until then used to lax systems of procuring medicines. He made strict rules for not giving pills for medical abortion (which run the risk of being used for female foeticide), several antibiotics (which if consumed without medical supervision will make you resistant to the drug, a major challenge in Tuberculosis) without valid prescriptions—thus cornering errant doctors as well as chemists. He also said that the presence of a pharmacist was a must in any chemist's shop, until now run by anyone (once you get the license of course!). He was also responsible to convince the state government to ban tobacco and gutka, the biggest cause of oral cancer. The department under him conducted many raids confiscating and destroying gutka worth crores. In his farewell letter to colleagues, he reportedly said,
Advertisement opens in new window
"The level of corruption is inversely proportionate to the level of implementation of law, and all of you know the dismally low level of law implementation in FDA… This daunting task to re-orient the organisation, change the mindset and get the objective achieved from same official machinery that has been steered on wrong path for too long, by those who were on the helm of affairs, was excruciating and yet satisfying."
He is yet to be assigned a new posting, curious by normal standards. His tenure was up at the end of this month and citizens were hoping it would be extended.
Dreams Shattered
Even as DIG Sunil Paraskar, accused of rape by a model, has been granted anticipatory bail, and must be mildly relieved, there is no relief or respite for women. Swapnali Laad, a young employee at TCS, jumped out of an auto that was supposed to take her home. It is suspected that the auto took a wrong route and she jumped out sensing trouble. She sustained severe head injuries and remains unconscious. It has been almost two weeks since the incident and she was finally taken off life- support three days ago. However, doctors say she will take three more months just to come back to consciousness. She, however, remains paralysed and there is no way to tell if she will recover. Needless to say, the autorickshaw driver is yet to be caught.
Advertisement opens in new window
Recording A Record
On the occasion of Independence Day, Raj Vadgama, popularly called the Marathon Man of Mumbai, embarked on a 10,000 km run to be completed in just 120 days, to enter the Guinness Book of World Records. It means he would be running more than 80 km every day to cover 11,625 kms to return to Mumbai in December. "Vadgama's run is to promote health awareness in India. He plans to address the masses in small events in all the 25 cities. He also plans to raise funds during these events for treatment of children suffering from cancer and heart diseases," says a statement issued by the organisers. The city not particularly known for endurance activities (I think we do enough of those in Virar and Karjat locals!) is proud and eagerly awaits the return of the 47-year-old interior decorator, having covered an unimaginable distance and a world record. Fingers crossed.
Smita Talwalkar, R.I.P.
National Award winning veteran filmmaker, actor and theatre person Smita Talwalkar, 58, who made sensitive and groundbreaking films about complex human relationships, passed away at a city hospital on August 6. She was suffering from ovarian cancer. Starting her career as a news reader, she went on to produce movies such as Kalat Nakalat, Chaukat Raja, Tu Tithe Me, Saatchya Aat Gharat and Sawat Majhi Laadki. Although Marathi films entered their golden period after Shwaas won the national award 10 years ago and now quality films are a norm in the industry, Talwalkar's contribution came at a time when such acceptance was easy. RIP.