Beloved Bapu
The passing away of artist Bapu (Sattiraju Lakshminarayana) has saddened the hearts of many who have grown up watching his canvas-like movies, filled with a realistic assessment of relationships and always steeped in Telugu nativity. His cartoons which first appeared in Andhra Patrika had a free style which fleshed out the imagination and the voluptuousness of Telugu women. The doe-eyed, sharp-nosed, curvaceous beauty he drew ever so often came to be known as "Bapu Bomma". It became an adjective to describe a woman of beauty, for praise and would often be used by poets, lyricists to describe a woman of stunning beauty. My first exposure to Bapu's illustrations came through the Telugu magazines my mother subscribed to. Growing up in Orissa, Telugu was a world far far away. But sometimes, Bapu's endearing cartoons and illustrations made me want to steep myself in Telugu culture. Born in West Godavari district on December 15, 1933 as Sathiraju Lakshminarayana, this man made writers quiver in their shoes when they took their scripts to him hoping he would agree to do the book cover or maybe an illustration inside. He never quoted a price for his art and accepted whatever cheques came his way. In fact, many times, he would not even cash these cheques. A legend who is practically worshipped by Telugu people, Bapu was an ardent devotee of Lord Rama. It is often said that he is perhaps the only artist to have interpreted the entire Ramayana in drawings.
He directed 51 films, many of them super hits such as Sampoorna Ramayanam, Andala Ramudu, Muthyala Muggu, Manavoori Pandavulu, Pelli Pustakam, Mr Pellam, Bhakta Kanappa, Seetha Kalyanam. He even directed 11 films in Hindi. Bapu was a shy, reticent man who let his art and films do the talking for him. His last film was Sri Rama Rajyam starring Akkineni Nageswara Rao, Balakrishna and Nayantara. Bapu's films in Hindi such as Woh Saat Din, Hum Paanch, Bezubaan, Prem Pratigya were well appreciated. His friendship with writer Mullapudi Venkataramana was legendary. The Bapu-Ramana combination churned out several great scripts and films alike. In fact, for long they lived in the same house, on two separate floors. After Ramana's death in February 2011, Bapu retreated into silence and associates remarked how lost he seemed. The two friends studied in the same school in Chennai and were inseparable.
Ramana created the endearing child character named Budugu which Bapu gave life to through his sketches. The naughty child in many homes came to be symbolised by Budugu.
Bapu was a fan of Mehdi Hasan and Bade Ghulam Ali Khan and would relax listening to their ghazals. Bapu is also credited with creating a unique font in Telugu which is internationally accepted as the Bapu font. It was basically the artist's own handwriting. Many wedding invites in Telugu households use the Bapu font because it is considered extremely auspicious. The artist was a voracious reader and in all his films, at some point, books would be shown in the frame with a loving camera. Bapu was of the opinion that book-reading must be encouraged among Indians. In some of his caricatures, he would draw a woman breastfeeding her child and reading a book. This was to indicate that one needed to snatch any free time to read books. During N. T. Rama Rao's rule, Bapu helped develop some audio-visual methods of education.
While making films, he would set up a unique storyboard, with dialogues on one side and drawings on the other side showing what expressions the actors must wear while enacting a particular scene. There isn't a dry eye in Telugu households this Tuesday, as Padmashri Bapu is given a state funeral. May his soul rest in peace.
Auto Hona?
Anyone who has lived in Hyderabad for a while will tell you how difficult it is to get an auto where the driver agrees to go on meter charges. Auto drivers quote arbitrary fares of their own and refuse to drop you till your destination if they see a U-turn coming. In all, it is pretty nightmarish for commuters who depend on autos for transport. If at all the auto driver does agree to switch on the meter, it always seems to fly with a mechanism of its own. "Theek hi toh hai," is the nonchalant reply one gets if you dare to ask the autowallah why the meter is pacing away like a bullet. And then of course there are moods. An autowallah has to be in the ' mood' to take you to a certain destination. If it is too far off or too close-by as per his calculations, he will shake his head vigorously and speed past. At times, when you are just walking on the road and don't need one, an autowallah is sure to materialise miraculously and keeps asking, "auto hona?" Fellow Hyderabadis are sure to agree with my observations. Well, there is hope now. And as always, it is the youth who think up some good ideas. Three city lads Mohan Kuldeep, Shashank Chintapeta and Harshvardhan have started AutoHona. Dial their call centre number 040-67232030 half an hour in advance and give them your destination. Depending on whether you want to be picked or board an auto at a main junction, the rates will vary. The trio promise customer satisfaction and complete safety for women which is a major concern when travelling late at night. The entrepreneurs say that they are ensuring better service simply by understanding the problems of auto drivers better. Many drivers don't own their autos and pay huge rents. This in turn makes them rude and frustrated. So by addressing both the supply and demand angles, the three Hyderabadis are ensuring a smooth ride for customers.
Courting Controversy
Ram Gopal Varma might be a flop where it comes to movies nowadays but his Twitter following is huge. The director who loves making controversial statements seems to thrive on "hate publicity". In some recent tweets, Varma made controversial statements about Lord Ganesha and the Vinayaka Chaturthi celebrations. Laced with sarcasm, Varma's tweets made fun of Ganesha's anatomy and wondered "how a God who could not save his own head could save the lives of devotees". He faced an angry backlash from twitterati and was forced to retract his statement saying he did not mean to hurt anyone's religious sentiments. The Hyderabad Ganesh Utsav Committee has threatened to go to court while an advocate filed a complaint at Saroornagar police station against RGV for hurting religious beliefs and sentiments of Hindus.
The Child Star Shocker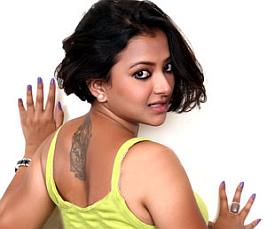 Actress Shweta Basu Prasad, who once shone as the adorable child Shruti in the popular soap Kahaani Ghar Ghar Ki and then in movies like Makdee and Iqbal was arrested from a star hotel in Banjara Hills in, what the police are calling, a prostitution racket. Shweta Basu, it was alleged, had an industrialist ' client' with her when the cops nabbed her. An accomplice of the actress, named Balu, is also said to have been picked up. Rumours about Shweta Basu have been doing the rounds ever since her career in Telugu film industry went downhill. She acted in a movie named Kotha Bangaru Lokam opposite Varun Sandesh. The movie was a hit. But Shweta Basu later went on to star in a movie Ride which sank without a trace. She was seen in some item numbers looking plump, having added several tyres around the midriff. A Telugu TV channel, which claimed to have conducted a sting operation at a star hotel, alleged that they had nabbed Shweta Basu red-handed as the actress reportedly demanded a sum of Rs 3 lakh for a night in a hotel. No action was however taken at the time as the police were evidently waiting for more leads. Monday's arrest of the actress has sent shock waves among the film fraternity and movie buffs alike.
Changing Coach
Saina Nehwal is bidding farewell to coach Pullela Gopichand and moving to Bangalore to train under Vimal Kumar. Saina who lost in the World Cup quarter finals is apparently feeling that she is not getting enough time from Gopichand. The former All England badminton champ and coach has to divide his time between top players such as P. V. Sindhu, K. Srikanth, Parupalli Kashyap and Saina. This has irked the 24-year-old Saina who has had several rough patches in her career in recent times. Saina has confirmed that she will be training under Vimal Kumar for 15 days ahead of the Asian Games but it is likely to be a long-term arrangement. In 2011 too, Saina Nehwal had split with Gopichand and trained under Bhaskar Babu for three months before coming back to Gopichand academy again. Saina joined the Gopichand academy in 2006. She is the only badminton player in India to have won an Olympic medal and has won the Grand Prix Gold, Super Series and Super Series Premier titles.