The Gain, The Pain
"Humne toh patakhe tayyar rakh liye hain," said Telangana Rashtra Samiti MLC Mahmood Ali, on February 17. He was referring to instructions which he had received from his party MLA T Harish Rao. The loud celebrations which broke out across Hyderabad, particularly the TRS party office and Osmania University (OU) as soon as the Telangana Bill was passed in Lok Sabha, showed that everyone was prepared. "How are you celebrating," I asked OU student leader Manne Krishank after the Bill was passed. "Like never before," he answered. And that was the sense that prevailed among Telangana protagonists who have waited long and hard for this day.  The silence and sporadic protests that prevailed in Seemandhra are an indication of the pain prevailing in this region. 
Union Minister K Chiranjeevi summed it up saying, "We (Seemandhra people) see Hyderabad as ours— our capital. How can we be expected to deal with this?"
On February 17, Chief Minister Kiran Kumar Reddy, who obviously knew what lay in store, transferred out some of the key bureaucrats in the CMO to plum posts. Even his media officer Satya Rao was bequeathed the important position of Chairman, Press Academy of AP.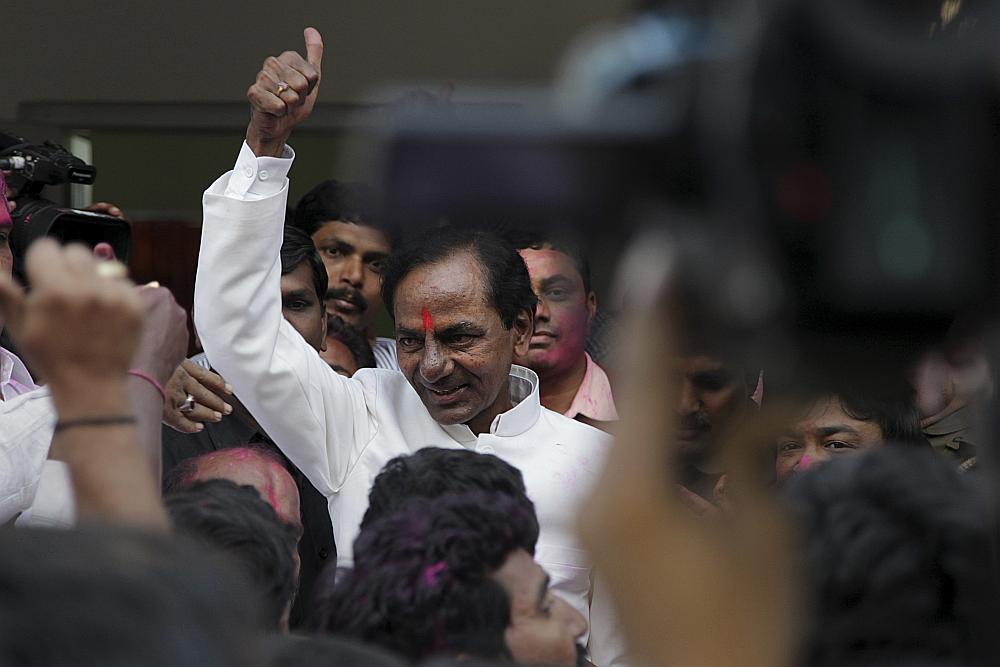 #9 Dream
While practically every Telangana politician and his aunt made an appearance on camera gloating about their efforts to win statehood, conspicuous by his absence was K Chandrasekhar Rao. Where was he? All one saw initially were visuals of him wearing a white sherwani when the Parliament discussion was to begin. Rumours are rife that it was KCR who requested UPA chairperson Sonia Gandhi to present it on February 18. And to ensure that the Rajya Sabha and presidential assent come in by February 27. For those who are astrologically inclined, please note that the dates add up to the number 9. It was on December 9, 2009, that P Chidambaram made the famous midnight declaration about laying a road map for the formation of Telangana. And that was Sonia Gandhi's birthday. Get the pattern? KCR himself celebrated his 60th birthday on February 17.  The moot question now of course is whether or not KCR will merge his party with the Congress or maintain his independence by agreeing to an alliance alone?
Sounds of Silence
Another leader conspicuous by his absence on February 18 as the T Bill was passed was the Chief Minister himself. Having breathed fire at his high command for days together, there wasn't a peep out of Kiran Kumar Reddy on the day it actually happened. There was talk that as soon as the Bill came up for discussion in Parliament, he would make a grand exit. The resignation has been postponed by a day, says his camp. His press meet on Wednesday morning will end the suspense. But now, it appears a bit too late for a dramatic exit. Even if he were to set up a party of his own, one wonders what mileage it would gain and whether it would make any difference in the current scenario. The stage is set for President's rule to be implemented as Chief Minister Kiran Kumar Reddy is expected to resign on February 19.
One of his ministers from Seemandhra, Dokka Manikya Vara Prasad, made a sarcastic remark about the impending move. "Kiran Kumar is probably taking time to pack his bags, hence the delay in announcing his resignation. Saying that Kiran's self-serving drama had come to an end, Vara Prasad said that Kiran Kumar was incapable of setting up a party. "At the most, he can host a press meet," the Minister said.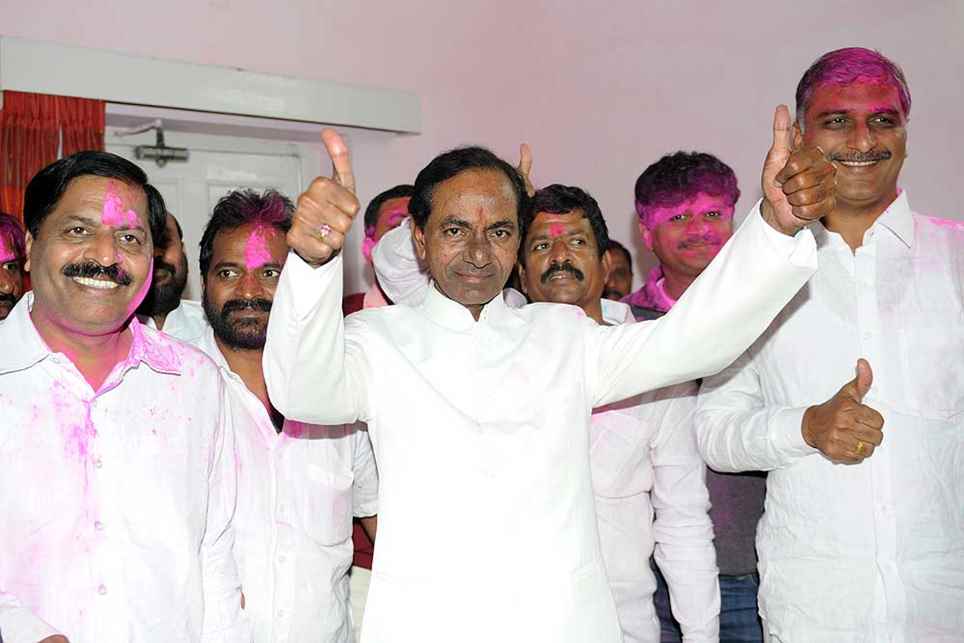 Sprayed Out
TRS supremo KCR is an Aquarian as is Vijayawada MP Lagadapati Rajagopal, nowadays referred to as a pepper spray specialist, Having fought for a cause on different sides of the fence, KCR and Rajagopal have both used various methods to highlight their cause. Rajagopal who fought a spirited, often controversial battle, to keep the state united, came out soon after the Bill was passed. Saying he had lost, Rajagopal said it was pointless to hold any more bandhs and protests. Sending in his resignation, Rajagopal said he would quit politics as well.
'Undemocratic'
Telugu Desam chief N Chandrababu Naidu held a press meet to talk of the undemocratic manner in which the Bill was passed. The TV telecast blackout, the lack of discussion on the Bill, the voice vote and rushed manner in which the Bill was passed in Lok Sabha. "I have been sleepless for six months ever since the union cabinet took the decision to split the state." A shaken Naidu said all he had ever wanted was a consensus in both regions of the state. Naidu has a tough fight ahead of him in the coming elections.
'A Black Day'
YSR Congress leader Jaganmohan Reddy called for a bandh across Andhra Pradesh, terming the passage of the Bill a black day in democracy. "Perhaps, even in Pakistan, such a situation cannot be seen. The lows of democracy were seen by the manner in which Sonia Gandhi, the Italian Congress Leader, shoved this Bill down our throats, to get votes and seats," he said. 
Higher Court
MIM MP and party chief Asaduddin Owaisi expressed regret that the Bill had been passed in the manner it was. The MIM's greatest objection is of course to the joint capital clause for Hyderabad. This would mean that law and order and municipal administration will come under the governor. And MIM wants none of that. "If the Bill is passed in its current form by the Rajya Sabha with all its defects, we will go to Supreme Court," he says.