Tremors in TRS Turf Telangana

YSR Congress honorary president Y S Vijayalakshmi kicked off the turf war in Telangana amid protests and heavy security. Her dharna in support of weavers in TRS MLA K.T. Rama Rao's constituency Sircilla saw the arrest of several TRS MLAs and 91 Telangana activists, caning and tear gas shells being fired.

Braving a shower of footwear, eggs, sticks, stones and banana peels, Vijayalakshmi staged her symbolic two-hour Chenetha Deeksha (Handloom fast) in Sircilla. TRS supremo K. Chandrasekhar Rao, who has been maintaining a low profile of late, urged various sections to interrupt Vijayalakshmi's deeksha seeing it as a move to dilute the Telangana statehood movement.

Vijayalakshmi criticised the anti-farmer and anti-weaver policies of the Central government. She said that only Rama Rao and her husband, Y S Rajasekhar Reddy had worked to improve the lot of weavers and the present government was ignoring their problems.

K.T. Rama Rao has been telling mediapersons that Vijayalakshmi cannot achieve anything in a single day and has shrugged off any threat posed by the YSR Congress. "She can take up dharnas at any place, be it in Sircilla or Sialkot (Pakistan). But let her first clarify her party's stand on Telangana," he said after he was arrested. The YSR Congress maintains a typically diplomatic stand that it is not in a position to either grant statehood to Telangana or oppose it. It is the UPA government which must decide, they say.

The Telangana Rashtra Samiti is now worried that the Reddy vote might swing slightly in favour of YSR Congress if such dharnas are allowed in future.

18 cm Rainfall Brings City to Its Knees

When it rains heavily in Hyderabad, havoc follows. The Greater Hyderabad Municipal Corporation (GHMC) promises every year that it is improving the drainage system and is fully equipped to brave the downpour but the cacophony on the streets proves otherwise. On the night of July 20, as the skies opened up, roads in Hyderabad and Secunderabad resembled swimming pools. Massive traffic jams apart, many stranded citizens in flooded areas began calling media houses when the GHMC ignored their complaints. GHMC Commissioner M.T. Krishna Babu admits that the capital's drainage network just cannot cope with this kind of rainfall. One wonders then how such a city will cope with all the road-cutting operations taking place for the Metro rail. Sanitation woes and fear of dengue are already looming large among the populace. The good part about the 18 cm rainfall though is that the Osmansagar and Himayatsagar reservoirs received good inflows.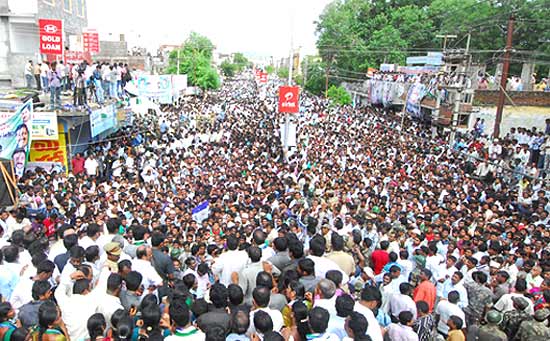 A Status Conscious Municipality

Even as it battles to repair the rain-battered city, the GHMC has sought world heritage status for the historic Golconda Fort, Charminar and the Qutub Shahi tombs. The State government has filed papers asking the UNESCO to award this prestigious honour to the city's most popular historic sites. The municipal administration is now focusing on removing encroachments near these monuments, shifting electrical transformers and improving the landscaping in the said areas. Concerned historians say that it is time the government first focused its attention on restoring the dilapidated Golconda Fort and the Charminar before it goes about seeking any heritage status.

Jagan's Plight Moves Mohan Babu

Veteran Telugu actor Mohan Babu met YSR Congress leader Jaganmohan Reddy in Chanchalguda jail on July 24. Coming out after the visit, Mohan Babu said his heart felt heavy at Jagan's plight. "New Delhi is full of Shakunis who have connived to keep Jagan in jail," the actor said. Yes the rumours are flying thick and fast now. YSR partymen say it is just a matter of time before Mohan Babu joins Jagan's party. Earlier, Telugu Desam president Chandrababu Naidu tried to woo Mohan Babu but the actor seems to be swaying heavily in favour of the late YS Rajasekhar Reddy's son.

Looking Good, Playing Hard

Hyderabadi badminton star Jwala Gutta went into a P3 overdrive just before she left for London to participate in the Olympics. Spotted at innumerable publicity events, store launches and parties, Jwala however spat fire at the media for wondering whether she was practising as hard as she should. Jwala called a press meet to give her side of the story. "I practise for 7 hours each day, have lost eight kg and I am confident that I can perform well in the Olympics. So what if I like to dress up and look good. Every girl likes to look glamourous," says Jwala.

Apex Court Relief for Naidu

After the crushing defeat in the recent bypolls in the State, TDP president Chandrababu Naidu has something to smile about. A Supreme Court bench quashed a petition by YSR Congress' honorary president Vijayalakshmi seeking a CBI probe into Naidu's wealth. The Andhra Pradesh High Court had earlier dismissed Vijayalakshmi's plea saying it was politically motivated. SC judge T S Thakur said something on similar lines. "You are political rivals. It is a no-holds-barred fight between you," said Justice Thakur. At one point during the arguments, the judge even told YSR Congress counsel Ram Jethmalani to approach the Anti-Corruption Bureau if they wanted a probe.

Pointing Fingers at a Weak CM

Government office employees, hospital and educational staffers are an annoyed lot. They feel that Chief Minister Kiran Kumar Reddy is spending too much time guarding his gaddi and not concentrating on administration. Officers say even Class IV employees do not listen to them because of the lax administration. "If anyone is running the State, it is the bureaucrats," a senior medical officer in Hyderabad told this correspondent. Civic administration in Hyderabad is at an all-time low, the officer claims.