The AAP tsunami, sweeping up 67 of 70 seats in Delhi left me bemused. How on earth did they do the impossible, I wondered. Winning, one could understand. But the total annihilation of the opposition? That was truly a miracle win. The AAP speeches and campaign stayed refreshingly free of casteist, communal undertones. They were always upbeat and positive.

Meeting Vinod, 37 year old convenor of the Mysore AAP was an eye-opener. Vinod had an R.K.Narayanesque aura about him. Simple, modest, not flashy — a typical Mysorean, the anti-thesis of the brash, power besotted politician. "What on earth made you join politics?" I asked. "And why AAP?" He was instantly transformed, became passionate and vocal. "People like you should join AAP. Only then can you change the system", he said, almost accusingly.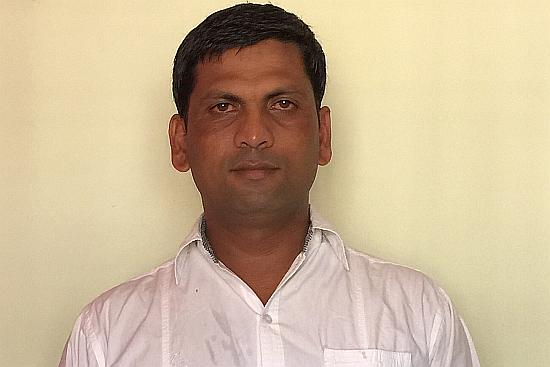 "Why did you? Tell me your story", I insisted.

"I was a banker, heading a Mysore investment bank. Branch Head of Artha Money. I was into stock broking, insurance, mutual funds, and the property business.

Then I found that real estate was very profitable, so I decided to quit my job. My dream was to create the no.1 infra structure company in Mysore. It was challenging but a good business. Then in 2011, when the Anna Hazare movement began, I heard Anna, Arvind Kejriwal (AK) and Prashant Bhushan speak.
Although I was not a law student I understood them clearly — what ombudsmen law meant and why it was important. I was alone at home watching Rang De Basanti. It was very moving. Then, they were fighting the British rulers. Now we are going through a similar process, except that now Indians are oppressing other Indians.

I became very emotional. I changed channels and saw a programme on Yeddyurappa more — corruption, land scams. I was furious and I felt frustrated. Tears of rage came to my eyes. The helplessness and frustration that I felt that day was almost too much to bear.
When Anna sent out a call for volunteers, I said to myself, yes, I can do something to change society and my country. I called some friends and the four of us assembled in front of the Gandhi statue, Mysore. When Anna launched his second phase, a certain Dr. Balasubramaniam was organising people for India Against Corruption (IAC) in Mysore. I met many good people who were fed up of corruption. Those people could earn as much money as they wanted. I wondered why they were throwing everything away to fight corruption? 
I decided to do my bit, however tiny, for the war against corruption. I discussed my ideas with Dr, Balasubramanaim. He told me the pros and cons of joining a movement. I needed to convince my parents about my decision. We are a joint family.
I am lucky because my wife Sahana is my good friend. I told her that this is what I want. She was happy. She's neither acquisitive nor a social climber. She understood me immediately.

I told my father that we are a middle class family and I can maintain this standard of living for the family but need to gave up big money aspirations. He was not very happy but agreed provided I did not bring down the standard of living of our family.

AK was a huge inspiration to me. His speeches. His actions too. He fasted in spite of being diabetic. Every speech inspired me. I started believing in him. I felt this guy speaks from his heart. When the party was launched I felt like going to Delhi. And suddenly my life changed. I received an email out of the blue. 'We want you to take up the AAP convenor's job'. And so I started the Aam Aadmi party in Mysore..

I was given phone numbers, lists, a data base from Bangalore. I got together a bunch of young guys who wanted to do something positive. Yogendra Yadav came here. To be honest, till then I was a Modi fan. I asked Yogendra, 'If Modi does a good job what's wrong with him winning?' He listened patiently. Allowed me to speak my heart out. He explained the difference between Modi and Vajpayee, Godhra riots, what is important to India's identity. I never understood what really was going on in Gujarat. I read media stories about Gujarat. 
After he became PM, I could see Modi's true colours. How he really operates. It hurt me deeply, when he changed policy by ordinance. In a democracy one should not be able to do this. Changing the bill to acquire poor farmers' land to give away to multinationals. The epic pro- farmer law created in 2013 was changed overnight.
For 10 years the BJP criticised Congress calling the CBI Congress bureau of investigation. The CBI needs to be independent of parliament. They talked about Vadra so much but after coming to power nothing has happened , no progress has been made in the investigation. So what was the change? Modi replaced Manmohan Singh. Manmohan was personally a decent honest man, we can trust Manmohan more than Modi. 'Sabka saath sab ka vikas' is merely a slogan. Listening to Yogendra when he took me to meet the kissan sangha, it really touched me."

"Tell me about the campaign," I urged.
AK asked all volunteers to come to Delhi in 2013. He said, 'we have no money . You have to pay your own fares. We can only give food and lodging when you reach Delhi.' I took a bunch of guys from Mysore, we went by train. When we arrived in Delhi, they asked us to go campaigning from door to door. A guy called Ahuja carried a guitar. We went around in buses to a jhuggi or slum not far from Manohar Joshi's house. People surrounded us asking different questions. We answered them. What is AAP? What is the difference between AAP and other parties?

The campaign this time round was very easy. 2013 was really hard. Slums in Mysore are very clean whereas Delhi slums are so poor, so dirty.
I took a 21 year old boy from a wealthy family. His father called me, 'please take care of my son, he has been very sheltered from harsh realities. Take him to a decent place for food, I'll pay for it.' This boy had diarrhoea constantly, so protected he was. Yet he never complained, campaigned all day, used filthy toilets, took a bath in a filthy place and campaigned ceaselessly. These stories I will never forget.
I met three elderly women aged between 70 to 75. I asked 'where are you from?' 'From Mathura' they replied. 'You are coming every morning from Mathura to Delhi?' I asked incredulously. 'Yes. To go from door to door giving out leaflets. It's our duty. To save the country.'"
"Why did they join?" I asked Vinod. "It was patriotism," he replied. "Moved by AK's speeches, they were determined to do their bit."

"Another 26 year old boy, Anand, a Dalit, worked in a small company. His meagre salary was really needed by his family. Yet Anand left his job to campaign in 2013 and this time, he was in Delhi again.

Paramesh, another volunteer, travelled 1500 miles from Chunchunkatte village near Mysore, without knowing a word of Hindi. This, for me, is the inspiration. You know how south Indians suffer eating north Indian food. I told my Mysore team, 'no complaints, we eat whatever is available'.

After AK resigned and the Lok Sabha election came round, I met a lady called Vanamala. She was between 65 and 70 years, with a serious knee problem. Yet she determinedly, took the donation book every day and went from door to door. She would return every evening with donations. Anand also went from door to door. We used to go and eat food in the nearby temple.
Here, in Mysore, a businessman called me to offer a 3000sq ft office on Kalidasa road, prime area, rent free. Around 25 people offered free office space. We didn't get the votes we wanted but that's okay, we learnt so much. People were generous with time and money.
We always went by train. A few folks with money flew. Anand came with us. From the minute he got on the train. he started talking to passengers about AAP. He converted many people. In Delhi I talked to rickshawallahs, all of them were saying AK would win. I got into an e rickshaw. It was so crowded that we sat almost one on top of another. When we got off, every single person shook my hand and said AK would win.  
All volunteers carried on ceaselessly, exhausted and hungry. I have never seen anyone else campaigning like this, heart and soul in the campaign, not complaining about bad food, no food or terrible accommodation. Each volunteer was fighting so passionately for the cause. The campaign was like that. Everyone was passionate and patriotic. I got a call from home. My sister's marriage had been fixed. 'You need to return for the rituals and pujas', my sister said. I returned.

So, I was watching the election results on TV. It was such joy, such satisfaction. I can't describe it, I have no words to express our happiness. No victory was more deserved. Yogendra predicted 50 plus, but reducing the BJP to 3 seats was unbelievable, a phenomenal achievement. I felt I have done my part. The nation will move on now.
AK said 'we have not come to practice politics, we have come to change politics'. I think India will change course. Go back ethically to the spirit of our freedom fighters, of Lal Bahadur Shastri. Modi's big money, big campaign didn't work this time. Indian politics will change.

Only AAP can fill the vacuum in the opposition", Vinod concluded. "My understanding is that in 10 years AAP will come to power at the centre.
India will be cleaned up".
---
Mari Marcel Thekaekara is an independent writer on social justice issue.