Dora Holzhandler, the much-loved British artist who produced a vast array of paintings and other artifacts and won universal acclaim and fame, passed away in London on October 8. She was 87.
Admired for her naïve and richly decorative style of painting, with roots in Polish folk art and the Jewish community, Holzhandler was a favourite of many art-loving celebrities, not just the late Charlie Chaplin, whose beautiful portrait she made.
British film, theatre and television actress, comedienne and columnist Maureen Lipman and stand-up comedian, actor and writer Jack Dee, both of whom opened shows for her during her career, were among her numerous big fans. So were Irish writer Edna O'Brien and British painters Cecil Collins and Josef Herman.
In 2007, the National Theater in Warsaw illustrated its programme of a play by the Nobel Prize-winning novelist and short story writer Isaac Bashevis Singer with Holzhandler's paintings.
In 2013, she was commissioned by British violinist and violist Nigel Kennedy, a friend, to paint the artwork for his album, "Recital". She painted Kennedy at work in all four seasons.
Holzhandler discovered Buddhism in the early 1950s, and embraced it, too. But she also pursued the Jewish Kabbalah and considered herself both Jewish and Buddhist. ?
She declared herself as "Jew-Bu" and described the artistic process as "a divine world of play" through which a pristine, though familiar, world is created. The two divine mystical interests served to confirm her open and celebratory view of existence, even where events bring tragedy and sadness.
Close friend and art historian Sister Wendy Beckett said: "Dora Holzhandler grasps life and celebrates it. She sees us clearly, for her all is sacred; all is aflame with divine power, even sorrow, even death. She offers to life here a total yes."
?Edna O'Brien remarked: "All of Dora Holzhandler's paintings possess an ineffable tenderness, they make us recall our childhoods, our myths, our roots, and if we have severed from these things, they make us long for them in a palpable way."
English artist, writer, broadcaster and art critic Eric Newton stated: "Her methods of painting is that of the pattern maker, oriental in origin, colorful as a Persian illumination, always brilliant but never harsh. These are pictures invented by a mother but painted by a child – a sophisticated but immensely amiable child."
Love – between lovers, friends, a mother and her new-born baby, a family sitting down to a meal -- was one of the recurring major themes of her work. She also drew on her own experiences in life.
Dora Holzhandler was born in Paris on March 22, 1928, the only child of her émigré Polish-Jewish parents Sehia Holzhandler (a handbag-maker) and Ruchla Rocheman (a seamstress), but half sibling to her father's six children from his previous marriage.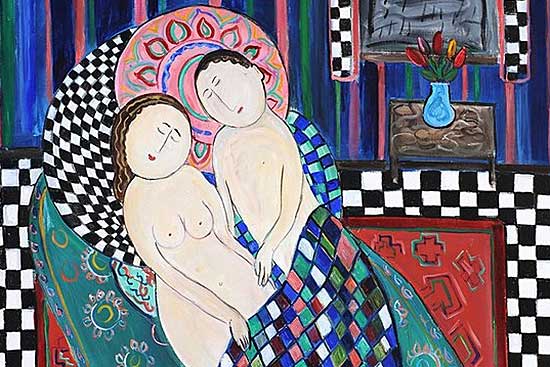 Soon after, her father, who had fought in the British Army during World War I and gained British nationality, suffered heavily in his tread as the world economy moved into recession following the great crash. She was fostered with a Catholic farming family in Normandy for five years – a time she described as "an Arcadian idyll".
She returned to Paris and spent some time with her maternal grandfather, a devout man from a long line of Rabbis, who made "a deep impression" on her and appeared as a bearded figure in some of her later paintings.
In 1934, the family moved to London and settled in Dalston in the midst of a vibrant East End Jewish community.
In 1939, at the outbreak of World War II, she was evacuated to rural Norfolk. She was lucky enough to escape the atrocities of the Holocaust, but many members of her extended family, including her "beloved" grandfather, did not.
Her harrowing 1962 painting conjures up a deeply personal and imaginative recollection of her grandfather in the most infamous of the Nazi concentration camps, Auschwitz.
She has depicted the old man with white hair, seated in the centre and clad in Kippah and striped pyjamas embroidered with the compulsory Star of David, holding a Holy book with Hebrew text on it, staring straight out at the viewer with large, mournful eyes. Also shown in the painting are two dead men strewn behind him and a pile of corpses situated to the left in the background. There are some other people in the composition: a young boy, a girl, a baby and two marching Nazi officers.
Holzhandler returned to Paris when she was 17 to study at the Sorbonne. Two years later, in 1948, she enrolled at the Anglo-French Art Centre, London, where she met her future husband, the dashing George Swinford.
She informally attended art classes both in London and Paris, in the late 1940s, but admitted that she was "self-taught" and "greatly influenced" by Marc Chagall and Henri Rousseau and "inspired" by Henri Maitsse and Raul Duffy.
She exhibited at Young Contemporaries (RBA Galleries, London) in 1949, Beaux Arts Gallery (London) in 1954 and John Moor's Exhibition (Liverpool) in 1958. In 1985, she was in New York with her solo exhibition, "Dora Holzhandler – Paintings and Watercolors", at Graham Modern Gallery.
Other exhibitions – both group and solo – in England, France and other countries continued to be held as Holzhandler's fame spread. Her paintings have graced many art galleries and museums across the world. Many notable private collectors also hold examples of her work.
She and Swinford married in 1950 and started studying and understanding Buddhism together, living in Holland Park in West London. Their home was full of photographs of the Buddhist spiritual leader Dalai Lama. In 2002, they came to India and spent a considerable time in the inspiring company of Dalai Lama at Dharamsala.
"She was a feisty woman who was ahead of her time. Eschewing traditional paths, she forged a highly successful career among a mid-century male-dominated art world, sticking resolutely to her distinctive painting style," said a spokesperson for the family. "Above all, her devotion to her role as wife, mother and grandmother shone continuously through her subject matter, which she depicted with touching, simple elegance and subtle humor."
Holzhandler, who enjoyed a very long happy married life, is survived by her husband, their daughters Amalie, Hepzibah and Hermione; as well as ten grandchildren and five great-grandchildren.