Just another day...
Last weekend, Tamil Nadu CM M Karunanidhi went to the Brihadeeswara Temple in Thanjavur built by Raja Raja Chola a thousand years ago but ducked through the side entrance. Some years ago he had berated a minister for walking on coals to fulfil a ritual. Now, he has long given up being sensitive about the cracks made regarding his diluting atheism. With assembly elections round the corner, what are a few barbs when history has taught him that entering through the imposing main gate of the Big Temple has not augured well for other political leaders?
He's also let Jayalalitha get away with a moral victory by acceding to the AIADMK's demand for a CBI probe into the 10 death threats that have been sent to Jaya TV ever since she announced her intention of holding a meeting in Madurai, the pocket borough of the CM's son, union minister M K Azhagiri, on October 18. The CM had no choice but to give in, as the AIADMK kept up the pressure. A day before the government handed over the case to the CBI – earlier 113 persons had been quizzed in connection with the 5 cases registered by the Guindy police following the complaint by K P Sunil, Vice-President (News), Jaya TV – former ministers Panneerselvam, K.A. Sengottaiyan and D. Jayakumar met chief secretary S. Malathi and home secretary K. Gnanadesikan with a memorandum stating that Jaya TV had received three more threats. Among the threats mentioned by the letter writers, in some cases they even signed the letter – is a warning that she should not mention that Azhagiri was an accused in the case filed against the killing of a former minister, T Kiruttinan, one of brother Stalin's "loyalists". Azhagiri was acquitted by a Chittoor court over a year ago and since then has been rising in the DMK ranks not to mention that the prodigal son returned to papa's good graces.
But that's another story. Politics happens.

If only Shankar was organizing the CWG...
The sideshow that has been taking up the mind space of people is the release of Rajnikanth's Endhiran. Here it is Rajni mania all the way. If the Commonwealth Games had been given to someone like director Shankar, who is going to release the most expensive film ever made in India (Endhiran at Rs 150 crores on October 1), it would not have been the monumental disaster it is. The way Shankar, who started making the film on September 8 three years ago, has given meticulous attention to every detail and has gone about making it and marketing it by following a blueprint he drew up is a lesson how the CWG could have been pulled off to showcase Indian Shining instead of India Disgusting.
Shankar is often criticized for splurging money because each film that he makes is costlier than his last one and also is the most expensive film made for its time. With Endhiran, he has crossed all barriers. But every rupee spent on his films have been lavished to get the best talent money could ever buy (read Oscar winners A R Rehman and Resul Pookutty, stunt co-ordinator Yuen Woo Ping, costume designer Mary E Vogt not to mention the most bankable Superstar Rajnikanth) unlike the CWG which cost Rs 70,000 crore but only has collapsing bridges, falling ceilings, paan-stained walls and sinks, beds which were slept and s**t in by dogs to show for it. Unfortunately CWG is making every Indian seem inept with questionable hygiene standards when all that should have been done is hand the organizing and marketing to a Bollywood/Kollywood mogul.
Selling Endhiran has already brought in Rs 205 crores plus Rs seven crores for the audio rights. So, if the film is a Superflop (it has happened to Rajnikanth films before, I dare say!), despite the serpentine queues for tickets, Shankar still has made a profit. But in the case of the CWG, they are throwing good money after bad.

The Teflon effect
Shankar has also demonstrated how he has emerged a winner if negative publicity can be smartly deflected unlike CWG organizers who are looking like uncaring losers. Although the film's release was pushed from September 24 to October 1, at the eleventh hour, no explanation was given. Even by the standards of TN where people are more accepting and not aggressive, it was amazing how the release was abruptly postponed.
The negative publicity that was generated by Hansraj Saxena, COO, Sun Pictures, which has produced the Endhiran courtesy its owners, the deep- pocketed Maran brothers, made no dent in the rah rah reports surrounding the film. Saxena's men allegedly trashed the lobby of Checkers hotel nearly four weeks ago and the case has gone away now. Although police refrained from arresting Saxena then, there was enough bad publicity surrounding the incident. The men had come in 30 autorickshaws with concealed number plates and had gone on a rampage destroying flower pots, smashing the glass façade, ripping the sofas in the lobby and finally trashing cars parked in the hotel. This was apparently in retaliation for the hotel owner, Vinoj Selvam, shielding a man called Siddharth, who allegedly beat up Saxena following a road rage case a few hours earlier on East Coast Road. The same gang had then gone to Siddharth's house and harassed the women there.
But now, all is well that ends well. In an out of court settlement, Saxena has agreed to pay the hotel compensation for vandalizing. "We have sorted it out between ourselves," said Vinoj Selvam. And, according to a senior police officer, "Even the problem with the family has been sorted out."
The other bit of bad news came from S. Elangovan, an advocate, who filed a petition in the principal district munsif court saying Endhiran was based on a poem that he wrote under the pseudonym Silamban in Naveena Oodagam, a quarterly literary journal that he runs since October 2004. He has claimed that his poem refers to a robotic doll that turns on its creator. Nothing has come of the case.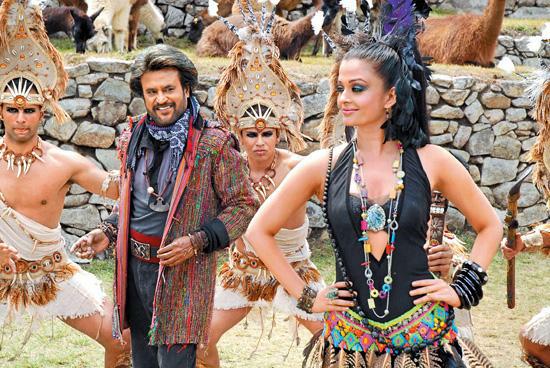 Endhiran
Interestingly the popular belief is that Shankar has based his film on Tamil writer Sujatha's novel called En Iniya Endhira. Shankar says he wrote the script 10 years ago and even began shooting with Kamal Hassan playing the protagonist but shelved the project when both got busy. He then approached Shah Rukh Khan, but that was shelved too after the two had "creative differences". Then after Rajnikanth made his Sivaji such a resounding success at the box office, he came on board. Initially Ayangaran International began producing it but backed out during the recession partly because of Shankar's extravagance. That's where the Maran brothers came in.
Blitz and wait
This is the first film ever to have a trailer release, with tickets and all. A theatre owner is over the moon, "We had fans performing aarti and breaking coconuts when the movie's trailer released, and youngsters kept coming back to the theatre and buying tickets just to watch the 3-minute trailer."
Instead of hitting us with bad news every day, as the CWG is doing, if the organizing was given to people who know more about it than ham handed ways to make big money (the only reason the Kalmadis of this world did not get caught earlier is because we were stupid or were felled by the "chalta hai" disease) then blitzing was the way to go. Just as Shankar is blitzing screens – 550 of 1300 theatres in Tamil Nadu alone – with Endhiran, for which the first day first show tickets are already sold out within hours of the booking opening a week before the release. In Chennai alone, 40 theatres will be showing the film. The world over, Endhiran and its Hindi (Robot) and Telugu (Robo) versions, is going to be shown in 2,000 screens in the USA, UK, Malaysia, Singapore and Australia. Awesome!
In fact, this film will even double Shankar's last blockbuster Sivaji, the Boss which was screened in 252 theatres. Kamal Haasan's Dasavatharam and Vijay's Sura was shown in 275 theatres. Since the Marans have bankrolled the film, Sun TV is carpet bombing its viewers with Endhiran publicity.
As(h) you like it, Rajni
The film has everything going for it including a double (or has he done a triple role?) dose of Rajni. Apparently, the Minimum Guarantee System, according to which theatre owners have to pay to screen films, has mostly been done away with for Endhiran. The only unknown quotient - are the audiences in B and C centres ready for a sc-fi film with Rajni acting as a robot? Apparently Rajni has been inspired by the late Heath Ledger's character in The Dark Knight. And for those who don't know, Ledger won the Oscar posthumously for that role.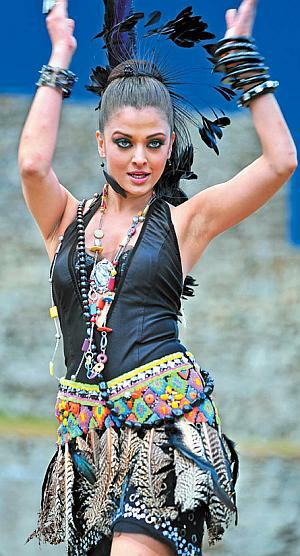 Shankar has told a newspaper, "I am happy I have made a film which is for both the man in a Lexus and the layman." He claims his story will reach out to both classes of people and the robotic special effects will not be a hurdle in understanding a story where Rajni is a scientist who creates a robot. Aishwariya plays a college girl! "The audiences in India today are neither the refined ones of Hollywood, nor are they greenhorns when it comes to technical wizardry," he says. One will have to see whether an audience which is used to all of Rajni's slick moves including his signature cigarette flip will empathise with his Proffessor cum Robot makeover.

The other uncertainty factor was whether audiences were ready to accept Rajni playing loverboy to Aishwarya Rai Bachchan who in real life calls him "uncle". Though there are doubts that the audience may not accept his pairing with the much younger Aishwarya, Rajini is apparently confident. A word of caution: despite her brand equity she has not demonstrated that her films can be a runaway success just because she is in it.
But Rajni was adamant wanting to be cast opposite her after she excused herself because of date problems on four earlier occasions. So he phoned good friend, the Big B, and asked father-in-law to lean on his bahu. At the music launch of the film in Kuala Lumpur, Rajni was like an infatuated teenager, "You'll never be able to see a beauty like Aishwarya in our generation." But people in TN are not impressed. For them it is Rajni all the way. V. Thiyagarajan, a businessman from Pollachi, says, "She might end up looking older than him. He is the same, netru, indru, naalai (yesterday, today and tomorrow)."

Rajni is not known to go from studio to studio where reality shows are being taped or giving interviews on every aspect of his character and he is not doing it this time either. His star presence for the music launches, whether in Kuala Lumpur, Mumbai or Hyderabad was enough. He is hoping that his wide fan base will do the rest.

The Oracle Speaks

Before fans gave their verdict ("awesome", "rocking") after seeing the trailers, here's a sign that Endhiran will make the cash registers ring. After seeing the first rushes of the film, Rajni is believed to have told Shankar, "The film will do well." Five more reassuring and loaded words were never spoken by a star to his director. In the urban legend that Rajni has become, if that was his verdict it would have to be true because he knows. Sandhya Raman, a Communications Professional, and a huge Rajni fans remembers – "He did not give this verdict after seeing Kuselan (director: P Vasu) and Padiyappa (director: K S Ravikumar). Both films flopped at the box office."

Another good sign is that people waited ages to see the trailer of the film in different towns across the state. "I am getting impatient after I saw the trailer. I can't wait to see the film," said Karnan, a Rajni fans' association functionary in Tiruchi. In Thoothukudi, the box containing the trailer reel was taken in a procession on a caparisoned elephant through the town, accompanied by a band playing music while a chariot was used to transport the trailer in Coimbatore! So, when it comes to Rajni excess is the bottomline.
---
For in-depth, objective and more importantly balanced journalism, Click here to subscribe to Outlook Magazine
---