All roads lead to TN
Sachin Tendulkar and Mukesh Ambani are just two of the national icons who have fallen foul of the Shiv Sena's "marathi manoos" campaign in its copy cat move to emulate Raj Thackeray's anti-North Indian propaganda in Bombay. In this context, it is heartening to note that a similar bid by the Hindu Thamizhar Movement (HTM) through a PIL was rejected by the Madras high court last week. "Any restriction as sought for in this writ petition will run counter to the spirit of the Constitution and the common citizenship that the citizens of this nation enjoy," said Chief Justice H L Gokhale and Justice K K Sasidharan of the high court to HTM president V Vaithiyalingam.
According to him, the very existence of Tamil language and culture was at peril because it was not compulsorily taught in schools and commercial establishments showed no respect for the language. Besides, the population of non-Tamils settled in the state had gone up to about 25 per cent of the population now, he claimed. Therefore, the people of Tamil Nadu had a right to know the exact population of non-Tamils in the state, he argued. The judges pointed out that during every census, documents seeking to know the language and religion of people are attached with the form. "Therefore there is no need to give any direction."
But the HTM seemed to get support from an unlikely quarter. Additional commissioner of police, M Ravi claims 5,000 migrant labourers come into Chennai. Unfortunately, many of these are child labour who come with their parents and end up working in rice mills and other factories.

But is Tamil really in peril?
Looks like Vaithiyalingam filed the PIL as a publicity stunt because by no means is Tamil in peril in Tamil Nadu. Yes, compared to 20 or more years ago, Hindi is not such an alien language and it's not unusual to hear it in shops, cinema theatres, even on the streets. And many "outsiders" including from North India have come and settled here. But that has to do with how peaceful the state is – no terrorist attacks since the one meant for BJP leader L K Advani in Coimbatore in 1998, an industrial climate that beckons investors – deputy CM M K Stalin told the recent CII partnership summit that TN ranked first in the country in wooing $ 8-9 billion worth of FDI of which 1,250 projects valued at Rs six lakh crores alone came since his party (the DMK) came to power in 2006. Here are more impressive numbers: TN has over 90 special economic zones and about 21,260 factories while its gross industrial output is about 1,90,000 crore.
Vaithiyalingam also should be reminded that the man who has made a career out of protecting Tamils, Karunanidhi, is the CM. In fact, he is going to preside over the World Classical Tamil conference in June in Coimbatore just to prove that Tamil is robust and that in word and deed – he recently changed the name of a groom from Pradeep because it was not a Tamil name – his agenda is protection of Tamils, their language and culture . So what is HTM worried about?

Water wars
During the cold war, it was said that if the USSR caught a cold, East Europe caught a chill. But that is 20 years ago and the Russian is more capitalist than the average Joe today. For instance, the number of charters from Russia bringing in thousands of Russian tourists wanting to bask and sunbathe on the beach easily surpassed the number of charters bringing in English tourists to Goa during the current tourist season.
But coming back to the point, the Telangana tangle in Andhra Pradesh, which is still playing out two months after K Chandrasekhar Rao of the Telangana Rashtra Samithi went on a fast that saw the centre capitulating, created a water problem for TN.
Under the Telugu Ganga project deal, the supply from Krishna began in September 2008 and lasted till April 1, 2009. It resumed on September 18 and continued till December 12. The total received was 4,000 mcft.

At the peak of the Telangana movement, waters from the river Krishna to Chennai was stopped and the storage levels fell in the four reservoirs that the river feeds. As of last Friday, the combined water levels in the four reservoirs was 6,866 million cubic feet (mcft). In Poondi, the level was 1,572 mcft against a capacity of 3,231 mcft. In Chembarambakkam it was 2289 mcft against the capacity of 3645 mcft, in Red Hills it was 2,318 mcft against the capacity of 3,300 mcft while in Cholavaram it was 687 mcft against the capacity of 881 mcft.

In December 2009, the combined level had gone up to 7,545 mcft from 6,040 mcft in November that year. "That was because there were rains in November besides there was also Krishna water supply. But on December 12, Krishna water stopped because of the Telangana agitation and so did the rains. Hence the levels have gone down," said an official of the Chennai Metro Water Supply and Sewerage Board (CMWSSB).

But last Saturday with the situation in AP getting less volatile, the flow of water was resumed. The CMWSSB got about 400 cusecs of water which was reflected in the storage levels in the reservoirs going up by Monday, nearly 72 hours after water was released to make its journey to the reservoirs. The water flow is expected to continue till April.

Kabaddi for a Braveheart
When you switch parties, you not only switch allegiances to a new leader, you also switch the game of kabbadi, that you have patronized, to another date. That's what Anitha Radhakrishan, the newly minted DMK MLA from Tiruchendur did. While other DMK cadre pulled out all stops and gave gold, flowers, shawls, dry fruits, posters with sycophantic messages to mark the anja nenjar (Braveheart) a k a M K Azhagiri's 59th birthday at Madurai on January 30, Anitha Radhakrishan held his annual kabaddi tournament as his birthday gift for the man who orchestrated the defection. For the last ten years, Radhakrishnan, himself a kabaddi player since his schooldays, had held the tournament on February 17, AIADMK chief J Jayalalitha's birthday. Radhakrishnan had slithered up the ranks fast and was even the AIADMK's Thoothukudu district secretary and was made a minister within three years of joining the AIADMK.

But this year, 94 teams from across Thoothukudi district played for the M K Azhagiri cup at Tiruchendur. He may have switched parties but certainly has not changed his tactics to please the leader or for that matter, his constituents. A local AIADMK leader griped that Radhakrishan was more focused on promoting his politics than the sport. But clearly that's a case of sour grapes because the youth in Thoothkudi are very gung ho about Radhakrishnan because he not only promotes kabaddi but even distributed cricket kits to the youth in his capacity as president of the Thoothukudi district amateur cricket association.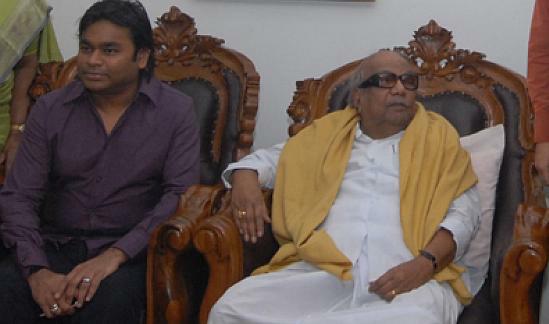 Jai Ho
The Tamil conference is going to bring together two Tamil icons – Oscar and Grammy winner A R Rahman and CM Karunanidhi. The two are going to team up for the theme song of the conference. The CM who has been given the title of Kalaignar for his felicity with Tamil literature has written the lyrics that borrow from Thirukkural and Puranam to hail equality and brotherhood of man. And the "Mozart of Madras" is going to set the tune. Jai Ho!