Caught on Camera
The disturbing images haunted me long after I switched off the television evening news. A hefty woman in a red salwar kameez kicking around a little child like a football. She had a diabolic expression on her face and the boy was pleading for mercy. She then picked him up from the floor, threw him onto the bed and punched him repeatedly as he doubled over in pain. It was the scene of a private tutor "punishing" her student for not wanting to study. The horrific incident, which took place in a Calcutta residence, was captured by a hidden CCTV camera in the room which Puja Singh, the private tutor, was evidently not aware of.
The boy's mother had switched it on from the other room when she could not get entry into the room where the teacher was tutoring the child. Apparently she told the mother that she needed to be alone with the child "to knock some sense into him for refusing to obey" her. The frantic mother called the police who came to the rescue. But by then the tutor had fled and is still absconding. Not all parents are fortunate enough to have CCTVs installed in their homes. Who knows how many children are subjected to such torture? Then there are countless helpless children entrusted to the care of crèches, babysitters, tutorials and schools. Incidents of brutality of "punishment" are not new and there are endless academic debates which centre around the topic of "punishment" as a necessary component for "disciplining" children. But when "the need to discipline" becomes an excuse to take out anger, frustration, hatred and cruelty— which is what it seemed to be in thic case— on vulnerable children by adults entrusted with the responsibility of caring for them, it is time to be really alarmed. As for the three-year-old child mentioned above, I wonder if the trauma will psychologically scar him for life.
Missing Museum Man

The other news that shook up Calcutta is the disappearance of a scientist. Dr Sunil Upadhyay, a 35-year-old Heritage Conservationist with the Indian Museum here, stepped out of his home one evening and never came back. His frantic family (he is not married and lives with a cousin and his wife in Calcutta's Swiss Park but has brothers living in different parts of the country and mother in a village in UP) have lodged a "missing person" diary with the Charu Market police station near his house and have subsequently been advised by the police to file an FIR of "kidnapping". Police who spoke to Outlook claimed that "foul play is not ruled out" amid allegations that the scientist was a "whistleblower" about corruption at the top in the organization where he works. Dr Upadhyay was also reported to have been suffering from several medical conditions, prescribed bed rest and was scheduled to undergo a battery of tests on the day after he disappeared. The police are investigating all possible angles and following a process of "elimanitation"— police told Outlook. The mystery surrounding his disappearance is getting mistier by the day, with no leads so far throwing up any light. 
The Bangabhushan

The West Bengal government has instituted an award— The Bangabhushan. Chief Minister Mamata Banerjee explained that the award was started to honour those who deserve awards but are still waiting for them. She said, "There must be many…who are waiting for an award…that's why we started the Bangabhushan."
The Telegraph newspaper carried a telling commentary on the deservedness of some of the 40 actors and film technicians who won. Let me reproduce some of the more prominent ones here:
First-time Trinamool Congress MP, Moon Moon Sen (former actress and daughter of yesteryear actress Suchitra Sen) got the Mahanayika Samman (Super Heroine Award). The Telegraph observed, 
"Suchitra Sen's daughter pulled off her most stunning performance far from filmdom. She braved Bankura, hostile and hot and returned to Ballygunge, a giant killer. A nine-time CPM MP (Basudeb Bhattacharya) bit the Bankura dust. Moon Moon became Mahanayika."
Another Mahanayika award went to another actress from yesteryear Moushumi Chatterjee. The Telegraph's take: 
"Not her first film award from Mamata. Moushumi was one of the Panchakanyas she felicitated at last year's Calcutta film festival. A ticket to the Lok Sabha she may have missed (the buzz was loud when she met Mamata before the Lok Sabha polls) but here comes…did anyone say consolation prize?"
The deservedness of musician Kumar Sanu to bag a "Lifetime Achievement" award was thus described thus by a tongue-in-cheek The Telegraph): 
"If BJP was quick to resurrect Babul Supriyo's career Mamata decided to get even. And how! Modi's man has been often accused of being a Kumar Sanu clone. Mamata goes for the original!"
Well Deserved
No, yesteryear actor Tapas Paul did not win any award in spite of being a Trinamool MP. The former Bengali hero who less than couple of months ago was a little known entity outside Bengal— "Tapas Paul, who?"— in spite of being a Trinamool MP, has suddenly become a household phrase nationally. Footage of him delivering outrageous speeches urging the people of his constituency to commit crimes like murder and rape kept being beamed across the nation by every national news channel and their cousins. And though Didi has forgiven him for his outrageous comments telling the nation that she was content with the written apology he sent her, she is not pleased that he landed her in the middle of such a controversy when there were enough doing the rounds already. I personally was surprised and shocked to hear Tapas Paul speak like that. I remember interviewing him when he had first became an MP. He seemed to be interested more in projecting his 'hero' image than his politician one, as he smiled sweetly for our camera turning what he thought was his best angle toward it. As the Bengali hero, he was always the 'good guy' and never played the villain. So the sweet smile, the sad expression when you mentioned any injustice. When I had asked him his reason for joining politics, he said, "To chase away injustice from society," as he turned sideways toward the camera so that we could capture the hint of a tear drop. But the mobile phone cameras capturing him as he delivered those outrageous speeches seemed to catch him at his worst possible angle with him smiling lewdly as spoke about how he would let his goons loose. So no, no award for Tapas Paul. But neither did he get any brickbats. For which one can think of many words of "deservedness."
Blue And White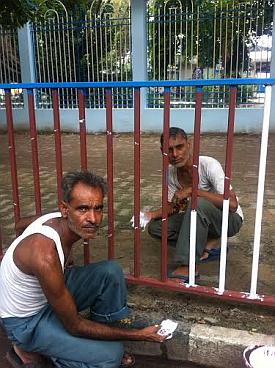 Calcutta is turning blue and white faster than you can imagine. After the Municipal Corporation announced possible property tax- waivers for those who paint their houses in Mamata Banerjee's favorite colors, some householders have been contemplating it. However, because the move requires expenditure (which could be higher than the property tax they are supposed to be saving— that too for only one year) not to mention hassle and so there hasn't been too many takers for the offer. But public buildings including government offices, railway and subway stations, bridges, parks, dividers, railings, etc are all in the process of transformation. And evidently some hundreds of people have found employment— if temporary— as labourers. 52-year-old Asim Mondal and his cousin 50-year-old Bablu Mondal, who have been employed by a contractor since the decision to paint Calcutta blue and white say that they can finally think of two square meals a day. "We get 250 rupees per day," says Asim, dipping his cloth into a bucket of white paint at while repainting the railing of a park in Southern Calcutta. He and his cousin, who hardly found work earlier, were contacted by a contractor in their village in Diamond Harbour in the outskirst of Calcutta. "We were unemployed and did odd jobs as farm hands, now we have a regular income." They say that they get up three in the morning and catch a train to Calcutta and return by an evening train. "It's hard work, but it's work." The CM had said that she likes blue and white because it reminds her of the sky and freedom. As far as Asim and Bablu are concerned, blue and white is freedom indeed.
Auto Wisdom

Written behind an auto: "Chok kaan kholaa raakho…mukh bondho"….(Keep your eyes and ears open, but mouth shut)