England's Leicester has been grappling with Hindu-Muslim tensions amid allegations of attacks on Hindu temples and marches by armed Hindu groups shouting slogans through Muslim-populated areas.
---
Though the objective of Places of Worship Act to discourage any retrogression into communal fault lines is admirable, its contradictions and ambiguity on many counts have rendered it inefficacious
---
"If normalcy as claimed by GOI has indeed returned to J&K with zero incidents of stone pelting & other activities considered anti-national, why are they booking religious scholars under draconian laws like PSA?" Mehbooba...
---
A Varanasi civil court had ordered the survey of the mosque complex while hearing a petition by five Hindu women seeking permission for daily prayers before the idols on its outer walls. It was claimed that a shivling was...
---
Senior Superintendent of Police Rajpal Singh said a case has been registered in the matter. The FIR has been registered against nine people, three of whom have been arrested.
---
A single-judge High Court Bench of Justice Ashok Kinagi refused to provide interim relief to Anjuman-e-Islam stating that the apex court's order of status quo at the Idgah ground in Chamrajpet was not applicable to this...
---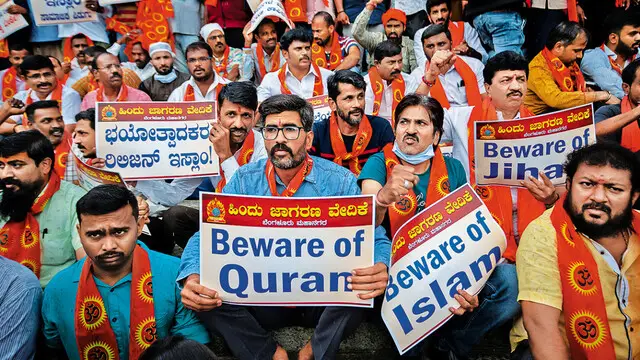 PFI came into being in response to violence against Muslims. Political silence on it only helped the fundamentalist outfit grow in coastal Karnataka
---
Police have increased security in Bilkis Bano's village and have admitted that some people have moved out but has denied any exodus.
---