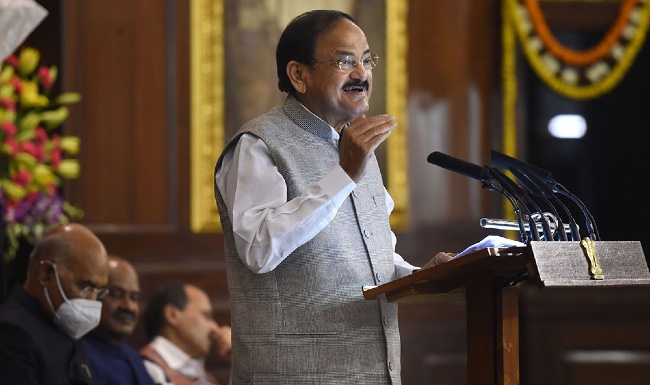 The vice president was virtually addressing a gathering at the Mahatma Gandhi Antarrashtriya Hindi Vishvavidyalay in Maharashtra's Wardha district after unveiling the statue of B R Ambedkar and inaugurating Atal Bihari...
---
Opposition parties on Tuesday decided to take out a protest march in support of their demand for revoking the suspension of 12 Rajya Sabha MPs and sacking of Union Minister Ajay Mishra whose son has been arrested in the...
---
Rajya Sabha proceedings on Monday were adjourned till 2 pm without transacting any business as opposition parties continued their protests on various issues including suspension of 12 MPs.
---
Highlighting the contributions of visionary spiritual leaders like legendary social reformer Sree Narayana Guru and St Chavara in various fields, the Vice President also urged other states to take a cue from Kerala in the...
---
Parliament: The Rajya Sabha proceedings were adjourned until 2pm on Monday, after the opposition parties continued their protests.
---
Naidu noted that the high incidence of TB is found to have a positive correlation with poor air quality (outdoor and indoor), poor nutrition and lack of medical attention and care.
---
Naidu, while inaugurating the 70th anniversary celebrations of the Naval Physical and Oceanographic Laboratory (NPOL) near here, said to achieve "atma-nirbhartha", India needs to allow private collaboration, wherever it is...
---
Parliament: The chairman of the Rajya Sabha M Venkaiah Naidu urged the government and the opposition to arrive at a consensus over the issue of suspension of MPs.
---