The farmers raised slogans against the JJP MLAs and said they had not backed the Opposition's no-confidence motion against the Haryana government
---
Farmer leader Rakesh Tikait made the remark while speaking in Uttar Pradesh's Ramrajn town on the occasion of protesting farmers marking 100 days of their agitation
---
March 6 will be observed as 'Black Day' as part of which the Kundli–Manesar–Palwal (KMP) expressway will be blocked for five hours
---
On March 19, the farmers will observe 'Mandi Bachao-Kheti Bachao' day
---
Protesters, including women, carrying their respective union flags as well as black flags shouted slogans against the BJP-led government at the Centre for not acceding to their demands.
---
On November 25, 2020, farmers, to pressurise the Union government to repeal the three farm laws, decided to march towards the national capital under the 'Dilli Chalo' campaign.
---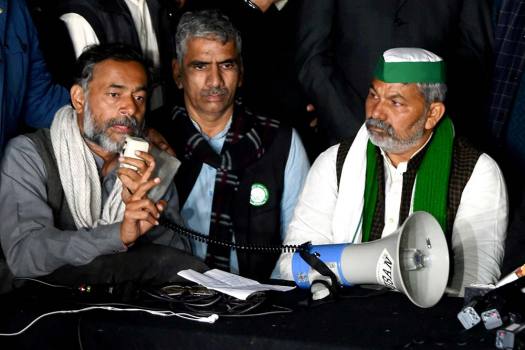 The appeal made by the umbrella body came as the Congress plans to move a no-confidence motion against the BJP-JJP government on March 10
---
Tikait also stressed that it is the government that will have to come forward with a proposal to resume talks over the bills with the protesting farmers.
---