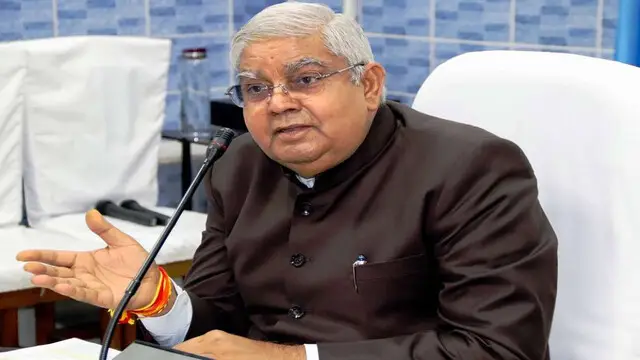 Lauding the efforts of BMVSS, the Vice President said by popularising the Jaipur Foot around the world and providing their services free of cost, the organisation has demonstrated India's civilisational ethos of sharing and...
---
Leader of Opposition in West Bengal assembly Suvendu Adhikari (BJP), who held a framed photo of  Goddess Kali, was part of the delegation which met the governor at the Raj Bhavan here. 
---
An imbroglio over the timing started after Dhankhar had on February 24 summoned the assembly at 2 am on March 7 on the basis of a proposal by the Mamata Banerjee cabinet, which was later clarified as a typographical error.
---
Chief Minister Ashok Gehlot, Leader of Opposition Gulab Chand Kataria and Local Self Government Minister Shanti Dhariwal will be present on this occasion, the official statement said.
---
WB Governor Jagdeep Dhankhar has commented on the poor arrangements and mismanagement on the eve of KK's performance at the Nazrul Manch, in Kolkata.
---
The chief secretary was asked to apprise the governor personally regarding the "flawed procedure" at the earliest, so that consideration of the issue is not delayed, the press release said.     
---
Modi drove down to Upa-Rashtrapati Nivas to meet Dhankhar, who was sworn in as the 14th Vice President of India on Thursday.
---
Chief Secretary H K Dwivedi had written to the governor, who convenes an Assembly session, on February 24 stating that the state cabinet's recommendation letter mentioning 2 am as the time for summoning the assembly was an...
---