You may have heard about Wild Casino in passing. It has a pretty vocal following, but that always comes with some loud detractors who like to shout down anyone with anything positive to say about the site. Wild Casino is interesting, somewhat flawed, but at the same time, pretty exciting.
Wild Casino Bonus Codes
List of The Top 5 Wild Casino Alternatives
These Wild Casino alternatives give you an idea of the range of real money online casinos that are out there. We've selected five sites and apps that have a similar range of real money slots or that attract a similar demographic to Wind Casino.
The Wild Casino Alternatives Reviewed
Casinos that host US players are a mixed bag. Some are amazing. Others are laughable.
Let's briefly cover each of these Wild Casino alternatives so you can decide which of them you would like to try and which you'd prefer to avoid.
Super Slots - The Best Site Like Wild Casino
Super Slots is almost identical in many ways to a 'sister site' of Wild Casino. So it makes sense to cover them one right after the other. Super Slots is one of the best sites like Chumba Casino .
Games
Super Slots has over 450 slot machines available, as well as over 50 table games. They use most of the same providers as Wild Casino: Arrow's Edge, Nucleus, Flipluck, Dreamtech, and Betsoft as examples. Additionally, several live casino games are available on a similar rotation to Wild Casino's. Unlike some of her other sister sites, Super Slots does not have a sportsbook.
Bonuses
You might hope that the promotional offers on Super Slots are better than what we discussed on Wild Casino. But your hopes will be crushed beneath the weight of some of the most terrible bonus offers in the industry!
You want to try out the site's 400% Crypto Deposit Bonus. It has a 48x rollover requirement, deposit plus bonus. Are you still interested?
You shouldn't be. Let's say you find a good 97.5% RTP slot machine to grind for the clearance. You then deposit $1,000 in crypto and receive the maximum $4,000 match. We're losing 2.5% of our $5,000 for every rollover, or $125. This means that, on average, you'll lose $6,000 before you clear your bonus. You need a massive amount of luck to pull this one off. Otherwise, you'll zero out and still have 20% of your clearance to go! Needs improvement.
Sure, they have their 250% First Deposit Bonus up to $1,000. But that's just another 35x rollover on your deposit + bonus, and you already know how that story finishes if you read about Wild Casino's Welcome Bonus above. It's just not worth your time, frankly.
Bonus Requirements
Deposit + Bonus rollovers are always suspect, but from time to time, the bonus percentage is so huge that it makes up for the extra grinding required. That's not the case here.
You could forgive this if it weren't for Super Slots' Trustpilot rating of 1.9. Again, it isn't the end of the world, but anything in the sub-2 range could improve. In this case, issues range from poor customer service to RNG complaints. We usually could dismiss those, but just like Wild Casino, this site has no RNG certificate displayed.
There's also no license posted or listed. So, if you have complaints, who could you appeal to? The site can do whatever they wish, and there is no recourse. So much like Wild Casino, we suggest that people exercise caution here.
This is one of the newest real money casinos that should get more love. It's a slick site with a modern feel to it. A search bar is at the top of every page to find your favorite games. The double selection bar design lets you pin down the genre of game that you want to play.
But despite all of this, it has less than five reviews on Trustpilot, which is odd because this is one of the most trustworthy sites on our list. That's because most of their games run on Quick Custom Intelligence's (QCI) Unified Gaming Platform. This is one of the best statistical analysis tools today, allowing the site to monitor RTP, RNG, and any strange betting patterns that might indicate someone is engaging in bug abuse or cheating.
In other words, fairness is baked into the software.
And it's not like there's a lack of games or game genres on the site. They have many table games, live casino games, and slot machines.
Slots
On the slot side, you can find some of the highest RTPs around if you're looking. Rival's Gold Rush is a low volatility slot with a 98.02% RTP. Betsoft's Good Girl/Bad Girl is sitting at 97.79% RTP, with a medium volatility. These are some quality games that some other sites exclude for being too good for the player.
Fresh Deck Studios runs HighRoller Casino's live table games. That means a healthy selection of Blackjack, roulette, baccarat, and more with 24/7 availability.
One place where we would like to see more of a selection is the table games section. There are more than twenty total options available here. However, all the classics are covered: Blackjack, baccarat, roulette, and video poker.
Bonuses
The 300% Match Up To $3,000 First Deposit has a terrible 45x deposit plus bonus rollover requirement. We've already talked about how hopeless that scenario is. The 400% Crypto Bonus has the exact clearance requirement. And any free spins you get as part of these offers have a 30x rollover requirement on the winnings.
In short, You're unlikely to come away with any of that bonus and will likely lose the deposit before your requirements are met.
On the license side of the coin, we have this old chestnut again:
'Rest assured that as an international company, we are legally licensed and fully regulated.'
That's great, but where are you licensed? How are you regulated? The site needs to provide clues. Support either can't or won't say. If you want to ask them yourself, HighRoller Casino's support options, much like the casinos listed above, are either E-mail or a live chat function.
HighRoller Casino is an excellent site if you ignore the bonuses. But it would help if you were cautious because, once again, there's no accurate license information available here.
BetOnline - Most Trusted Site Like Wild Casino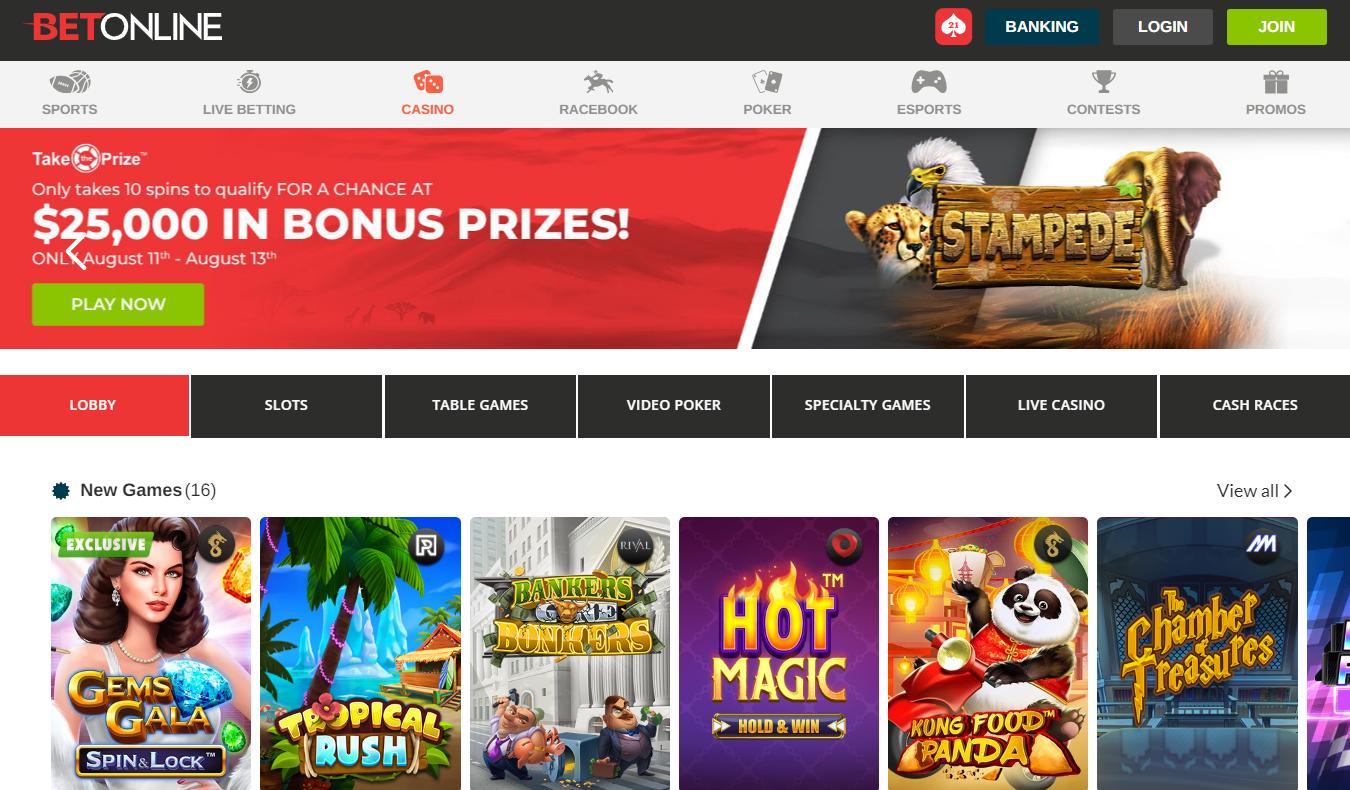 BetOnline is a bold, inventive, real money online casino in Panama.
They are best known as a sportsbook, but their casino and poker properties have continued to increase their draw year after year. They have over 470 slots, over 60 table games, and over 70 live casino games as of mid-September 2023.
Bonuses
Sadly, the 100% Casino Deposit Bonus is subject to a 45X rollover of deposit plus bonus. You already know what this means. The odds of you clearing any of these bonuses are slim to none. The math is even worse when you consider that 100% matching is far less money than the 200%+ offers on Wild Casino and the other sister sites.
In short, look into one of the other bonuses if you're interested. The Sports reload bonus is only a 6x rollover requirement, for example.
You should take their claims of 'fastest payouts in the industry' with a grain of salt. It is also one of the best no verification casinos available for US players.
These white lies are not an indication of lousy customer service. BetOnline has a decent TrustPilot score, particularly by offshore casino standards. 3.6 stars out of 5 is brutal to pull off in this industry.
Verifying a Panama gaming license is almost impossible, and they're notoriously easy to get. Our advice is to exercise caution until you build trust with the site. If you run afoul of their policies, there will be nobody to protest to and no government oversight available. This isn't a UK-regulated casino; this is the wild west.
WinPort Casino - Best Site For Bonuses
So, there is a slight issue with WinPort Casino.
In mid-September of 2023, we clicked on the license link on the lower left hand of the home page. This is what we got:
Gaming Curacao, the issuer of #365/JAZ licenses, denies that WinPort has a valid license. This is a problem because only the link from their homepage, which we archived on the Wayback Machine, can validate their ID on the license authority's server.
An issue like this is more problematic than not providing a license link. It means that we know that this casino is no longer licensed, at least by that authority. If they changed their license provider, they need to update that link!
We attempted to chase them up to see what the situation was with their license. Their chat support sent us a PDF with a copy of the license number GLH-OCCHKTW0706272021
Of course, this is their old, expired certificate, only valid until July 2023. It's the same one that is displayed on their sister site.
These are all alarming signs. The site is only a year old. Why would they have allowed their certifications to lapse? They have no Trustpilot score. However, several other review sites warn players about the two sister sites listed on WinPort's affiliate page. However, it's recognized among US players as a great alternative to Bovada .
Bovegas - Slots Site lie Wild Casino
We can keep this one short. Bovegas is a relatively unknown entity in the online casino world. It's been around since 2017 and has only four reviews on Trustpilot. Oddly, their parent company, Skyline Media NV, didn't open in Curacao until 2019 (Business number 144358).
But even with that strangeness aside, the Curacao government site says the entity's license expired on February 22, 2019. It was dissolved as of January 25, 2022.
So, who in the heck owns Bovegas? We only know that the Affiliates League runs its affiliate program. That's it. They list no license information, third-party RNG certification, or business address. They rent an anonymous VOIP number in the Bronx to make and receive US calls from.
Let's assume you're comfortable giving money to someone you don't know, with an unknown license, in a strange country, with an obscure track record. We wouldn't be, but we're not the boss of you.
Bovegas is a cut-down version of sites like Wild Casino. For example, their live games consist of around seven tables of roulette and Blackjack. They have 21 table games and a little under 240 slots. The slots look like a standard RealTime Gaming (RTG) suite. If you like these kinds of games, you'll be in heaven. If not, this is almost certainly not the casino for you.
The 17 video poker games are the most complete non-slot selection on Bovegas. If that interests you, they also have around ten miscellaneous minigames like Banana Jones.
They also have some interesting touches like a VIP club, which would look far more at home with a more sophisticated set of games. But we're only mentioning that to get to the weird part.
Unless you hit VIP level 3, the maximum cashout is $2,000 weekly. It's a minimal amount, which makes no sense to us. If you hit any sizable jackpots, you must request withdrawal for a year or more unless you grind up to VIP 3. That's assuming the benefits are retroactive.
There are so many oddities with Bovegas that we must give it a hard pass. If you decide to try it out, stick to low stakes. Remember, you'll have a $2k weekly withdrawal, so plan accordingly.
An Honest Review of Wild Casino
Wild Casino Games
Wild Casino is a mixed bag. On the one hand, it offers a good array of slots, table games, and live casino options that put a lot of the smaller sites and apps to shame. A recent visit to the casino in September 2023 showed that their selection had grown to over 470 slot machines and over 60 table games. There is no Wild Casino sportsbook, bingo, or slingo options.
The site is set up to attract US players mainly. If you look at other primarily English-speaking countries, they're on the banned list in the site's ToS: UK, Australia, and many other players are out in the cold.
Live Casino
Their live casino floor has rotating shifts, so you might log on at once to see a dozen open tables, but come back during primetime to see over 50 blackjack, roulette, baccarat, super 6, and other tables ready for action!
Slots and RTP
The slots section of the site caters to both the casual and the hardcore crowd, no matter what your bankroll might be. They have expanded their offering dramatically over the past year, now showcasing games from BetSoft, Nucleus Gaming, Rival, RTG, and Dragon Gaming, to name a few. Some titles found here are relatively rare for real money online casinos .
A typical game in Wild Casino's selection might be Gemmed from Betsoft. This slot runs on a 9×9 grid with a Megaways-style setup that offers 40,503 ways to win. It features a 96.46% RTP, putting it in the sweet spot for a fun session.
On the more generous side, Nucleus Gaming's Seer's Crystal has a healthy 97.63% RTP. This 30-payline, five-reel machine offers a max 2,240x payout. This is another fun one to grind, particularly if you want something other than the megaway experience.
Of course, your highest RTP activities will be at the table games Wild Casino offers. If you remember to avoid the strange side bets and weird variants, perfect play on Blackjack will result in an RTP of over 99.4%. A simple setup, as seen with Arrow's Edge Multihand Blackjack, will do just fine. Roulette, casino poker, and automated baccarat are also available, should you feel the urge.
Deposit Options
Wild Casino is one of the best known Bitcoin casinos outhere. A few different deposit methods are available but are biased towards cryptocurrency. Crypto has no service charge on deposits or withdrawals, though you must cover any 'gas' fees the crypto network charges per transaction. To save on those fees, high rollers will want to make more extensive deposits to minimize the ratio of deposited money to the gas fees.
By contrast, credit and debit card deposits have a 9.75% service charge. They do accept Mastercard, Visa, Discover, and American Express. They also take money orders, wire transfers, and cashier's checks, which might be cheaper ways to deposit since they don't carry the hefty credit and debit card fees.
Withdrawal Options
If you plan to do some high rolling, remember that large withdrawals at Wild Casino are usually made using cryptocurrencies such as Bitcoin and Ethereum . Crypto has a $100,000 cap per withdrawal. If you want to look at other mediums, Bank wire transfers are capped at $25,000, checks are capped at $2,500, and money orders are capped at $9,000. The time frame depends on your withdrawal medium, with crypto being the quickest.
Wild Casino Bonuses
The Wild Casino bonus offers should be separate from whether you play here. Why? Because they're all terrible.
Crypto Bonus
For example, look at the Crypto Deposit Bonus offer, a 300% Bonus up to $3,000 on your first deposit. It has a staggering 45x rollover requirement on both deposit and bonus. To put this in perspective, you deposit $1,000 in crypto.
They match with $3,000 for a total of $4,000. You need to wager that $4,000 (in smaller chunks, of course; there's a maximum bonus clearance per bet) forty-five times. Even on a 97.5% RTP slot, you're losing an average of $100 per rollover. That means without some serious luck, your entire bonus and deposit will be long gone before you have a chance to clear anything.
Welcome Bonus
Then there's the Casino Welcome Bonus offer, another 'wonderful' Wild Casino promotion. It's a 250% Bonus up to $1,000, meaning if you deposit $400, you'll have $1,400 to play with. This is 'only' a 35x rollover requirement on deposit plus bonus. You'll lose an average of $35 per rollover on a 97.5% RTP slot and a total of $1,225 on average after 35 rollovers. The average punter will be left with $175 of their initial deposit before they have cleared their bonus.
If a lot of slot grinding is actually how you have fun, this kind of bonus offer is worth a look. At least you get a lot of playtime. But feel free of pressure by these bonus offers if you prefer to do other things with your deposit. Just ignore them and do what you enjoy.
Wild Casino License
As we've pointed out, there is no mention of a gaming license on the Wild Casino site. And though we can guess at ownership, we need to find out if the site has been bought, sold, or sanctioned. Does it have a Curacao license? Or a Panama license? Your guess is as good as ours. A specific site-wide Google search only shows that Panama players are barred from creating an account there, and there's no mention of Curacao at all.
It's a weird situation. Their TrustPilot score needs to shed light on things. Most AG sites sit in the 2 / 5 star range. That's an average score. But with that said, it doesn't inspire confidence. Central America's average real-money online casino isn't exactly a shining beacon of professionalism.
Wild Casino Support
Your help options are E-mail and Live Chat at Wild Casino. Most negative reviews have nothing to do with poor support and almost everything to do with policy. You can't have those kinds of promotional offers and not catch a bit of angry backlash when people realize how hard they are to clear.
Who Owns Wild Casino?
Since there's no ownership information on their website, we can only work with data floating around the industry for a few years.
Wild Casino is supposed to share common ownership with Tiger Gaming. If that's the case, they would belong to Thot Management BV based out of Curacao:
And if that's correct, then the whole thing is likely owned and run by Eddie Robbins III, the CEO of BetOnline, and all of their associated sister sites.
But again, there's no direct evidence for any of this, so take it with a grain of salt.
Is Wild Casino Safe for US Players?
Wild Casino claims to be licensed and that their RNG has been tested.
'Rest assured that as an international company, we are legally licensed and fully regulated.'
'We also know that the integrity and fairness of our games are essential to all of our players, and you can rest assured that all the games on our site meet the highest quality standards. How do we guarantee this?
Random Number Generators (RNGs) are used in all games of chance, such as Slots and Blackjack. These devices generate random numbers that cannot be predicted and, as such, ensure that the outcome of any game is entirely left up to chance.
In addition to this, all our games are tested rigorously before being released and are also routinely monitored for any errors or discrepancies.'
But there's no publication of their license, which Curacao license standards require. And no third-party certification for their RNG is listed anywhere on the website. So it's a matter of taking their word for it. Some will, and some won't.
This means that the safety and legitimacy of Wild Casino is still being determined. We'll discuss the public perception of the site as part of our honest Wild Casino review, US customers included.
Is Wild Casino Legit?
We've already covered safety and licensing, so let's talk about whether or not you're allowed to play there.
The short answer is that it all depends on where you are when you log in, how your gambling is funded, and your home state and country's laws.
The longer answer is that some states in the US allow online gambling, and others don't. That's assuming the player and the servers are all in the same condition.
But as soon as your signal crosses state lines, you're subject to federal law. The feds are responsible for the Unlawful Internet Gambling Enforcement Act of 2006 (UIGEA). And while it doesn't specifically outlaw online gambling, it does prohibit certain financial transactions with online casinos. You'll want to check the legality of your particular funding method with state and national laws if you have any concerns.
As for Wild Casino itself, they accept US players. On their end, it is legal. But remember, they're based in Central America, not the USA. Laws and regulations in Panama, Antigua and Barbuda, St Kitts and Nevis, Curacao, and the other popular online gambling countries are pretty different.
So, is Wild Casino legit? From their perspective, absolutely. From the standpoint of the US government, maybe not so much.
Wild Casino Review Summary
To summarize this Wild Casino review, it's a pretty average offshore gambling experience. If push came to shove and you had to list the Wild Casino pros, they would be game selection, live casino quality, and a clean interface. The Wild Casino cons could be better bonus offers, high credit and debit card fees, and missing license and RNG certification info. There are better and worse real-money online casinos out there. This is why we're about to look at some Wild Casino alternatives.
In Conclusion
Most of the Wild Casino alternatives have a little going for them. A couple are just downright shady. And they are all good for bonuses.
But the best of the bunch must be BetOnline from the older sites and HighRoller Casino from the newer set.
BetOnline has a lot of history. Therefore, they have much more to lose if they give players a reason to distrust them. They also have several corporate sponsorships, meaning their reputation is valuable beyond the casino.
And HighRoller Casino is a hidden gem. It runs QCI's Unified Gaming Platform and has great high RTP slots and an excellent modern design. This is our pick of the litter, without a doubt.
Disclaimer: The above is a sponsored post, the views expressed are those of the sponsor/author and do not represent the stand and views of Outlook Editorial.