A high ranking TikTok employee recently revealed that TikTok reached 1.5 billion active users. And with that milestone, there is no denying anymore, you need to be active on TikTok if you want to matter.
Whether you're an aspiring influencer or business looking to connect with the youth. TikTok is where the new (business) stars are created. Unfortunately, growing your account isn't as easy as it used to be. When people could get thousands of followers by posting just one viral video.
That's where social media growth companies like TikFuel come into the picture. Yes, you can buy TikTok followers from TikFuel. And no, it's not as scary as some articles on the internet do suggest.
So, how do you purchase TikTok followers? And what are the associated risks involved with buying followers?
How to buy TikTok Follower
How many followers do you need?
First, you need to think about the objective of your profile. Do you just want to be more popular on your local school? Or do you want to start a global business?
Sites likes TikFuel offer different packages. From 100 TikTok followers to massive packages with 25.000 followers. Think clearly about the number you wish, sometimes it's better to start with a smaller following.
A bit nervous about buying TikTok followers? Just start with 100 followers and see how you like the experience. It only costs $2.47 – a true bargain for anyone.
Of course, you can also look for other social media companies that offer TikTok followers. Just make sure they deliver real and active followers. Otherwise, it can harm your account. Avoid at all cost fake followers!
So, you have just ordered your first batch of TikTok followers. What's next? You will post new videos and buy TikTok likes and views for it. This will boost the engagement of your video and trigger the algorithm to push it to the ForYou page.
How to copy your TikTok video link?
It's not a good look when you have 2.500 followers but are only receiving 10 likes on each video. That's why it's important to purchase likes/views at the beginning. Don't worry, after some time you can stop with it, as TikTok will start pushing your videos organically.
Like before, select the quantity of likes and views you want to receive. Luckily, with TikFuel you don't need to place a separate order. You can just add both to your cart and proceed to the checkout. There you will need to submit your video link.
But, how do you copy your TikTok link? It's really easy and only requires three steps.
Browse to the video you want the link from and click on the 3 dots
Multiple options will show up, click now on the link icon
Done, you have copied your TikTok link.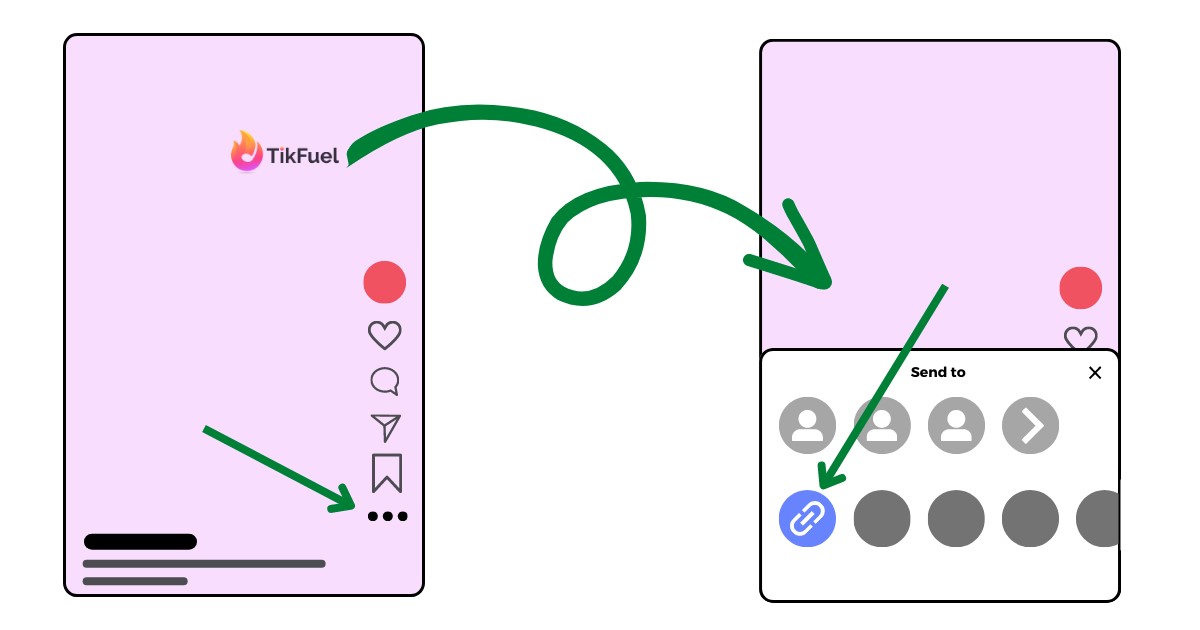 You can now paste the link at the checkout. After completing the order, TikFuel will start the instant delivery. You can expect to receive the TikTok likes within 15 minutes.
Start posting videos consistently
Now, it's important to start posting TikTok videos on a consistent basis. It's better to just post twice a week, then post tomorrow 5 videos within a week, followed by a 3-week break where you don't post anything.
So be honest to yourself. How many videos can you make a week? Set calendar reminders to not forget it.
Tip: try making multiple videos at once. This way, you have your week's work done in one day. And if you forget to make a video, you will have a reserve one.
After some time, TikTok will start rewarding your consistent behavior. Boosting your organic engagement. This is the moment where you can reduce or even stop the practice of buying TikTok followers . As your account will start to grow organically.
It requires quite some time and also some financial investment. But if you do it right, on the long term it will be worth it. Having a thriving TikTok account on the hottest and fastest growing social media platform.
How much is it to buy 1000 followers on TikTok?
It depends on the site where you purchase them and the quality of it. Fake followers will of course be much cheaper than real ones. We always recommend going for the best quality available.
Companies like TikFuel sell 1000 TikTok followers for $16.47. Which means you only pay $0.01 for each follower. A cheap price for the quality they offer.
Do influencer purchase followers and likes?
Yes, you would be amazed if you knew how many of the influencers on TikTok (also on Instagram and YouTube) buy services as followers, likes and views. We know of influencers with 500k up to millions of followers who will use these sites from time to time.
But why? Well, the competition on TikTok is fierce, and the platform's algorithm is constantly changing, which means that even the most popular influencers can struggle to maintain their audience over time.
Furthermore, buying followers and engagement can also help influencers to appear more popular and successful. By inflating the numbers, they also become more appealing for potential brand partnerships. And sponsors are often willing to pay a higher fee.
Read before buying TikTok followers
Are the followers real?
It depends on the site where you buy the followers. It's very important that you get real followers. Otherwise, it can damage your account. So, do your research well on the sites. Not sure? Order just a few followers first to determine the quality.
How to recognize fake TikTok followers?
There are several ways to recognize fake TikTok followers:
Profile information: Fake followers often have incomplete or basic profile information, such as incomplete usernames, missing profile pictures, and limited bio information.
Engagement rate: Fake followers tend to have a very low engagement rate, meaning they rarely like or comment on posts, despite having a large following.
Sudden spikes in followers: If an influencer experiences a sudden spike in followers that is disproportionate to their usual rate of growth, it may be an indication of bot followers.
Irrelevant or generic comments: Bad followers often leave irrelevant or generic comments on posts, such as emojis or generic phrases like "great post".
Unusual follower-to-following ratio: Unreal followers tend to have a high number of followers but a low number of accounts they are following, which can be an indication that the account is not genuine.
It's important to note that not all accounts with these characteristics are necessarily fake ones. However, if an influencer notices a sudden increase in followers with these traits, it's worth investigating further to determine the authenticity of their followers.
Is TikFuel legit?
Yes, purchasing TikTok followers on TikFuel.com is safe as they only deliver authentic services. They created their own network of real humans who will start following. In exchange, they get a percentage of the order value. Everyone wins!
Some other points why TikFuel is the best:
Instant delivery
They never ask for your password
You won't get blocked as they deliver real followers
Have been delivering TikTok followers since 2019
Are there TikFuel alternatives?
Sure, social media companies like The Royal Key and Celebian have proven to also deliver real TikTok services. But be aware, a lot of sites do also claim to deliver real services while in reality sending fake bot followers. Always do proper research!
Tips for finding a TikTok growth company
With so many social media marketing companies available, it's important to know how to distinguish between legitimate followers, bot ones and even fraudulent sites. Let's explore some tips for finding a trustworthy site to purchase from.
Check the security certificate
When ordering followers online, it's important to ensure that the site is secure. Look for the lock icon in the address bar and make sure that the URL begins with "https" instead of "http". This indicates that the site is using SLL encryption to protect your personal and financial information. You can also check for security badges, such as McAfee or Norton, which indicate that the site has been verified as secure.
Use credit card or PayPal
Credit cards offer fraud protection, which means that if your card is stolen or your information is compromised, you won't be held liable for unauthorized charges. And in the case where you find the quality to be lacking. You can request a refund or chargeback.
The same is true for PayPal. If you receive bad followers, just open a dispute. This makes buying followers and likes less risky.
Trust your gut instincts
Finally, trust your instincts. If something seems too good to be true, it most likely is! Or if the site feels sketchy, it's better to be cautious and not place the order. Remember that there are many legitimate sites out there, and it's worth taking the time to find one that you feel comfortable purchasing from.
Great, we hope that this article has given you sufficient information to make the right decision when it comes to buying your first TikTok followers. Whether you purchase them from TikFuel, or find another great site on the internet. TikTok is here to stay! So you better start building your future on this amazing social media platform today.