Finding the right shampoo is an important piece of the puzzle when trying to get unruly hair under control and rid yourself of bad hair days. The type of shampoo you need will differ depending on your hair type, as some may cause frizziness depending on your hair type, meaning that even the best shampoos aren't suitable for everyone.
If you have naturally straight hair, then you will want to look for shampoos that are free of any artificial ingredients. The most important ingredient to avoid is silicone. While many brands will say they are free of it, it's best to look at the back of the container and check for anything that ends with "-cone" to ensure the brand isn't trying to be sneaky.
Silicones are harmful to all hair types, but for those with straight hair, they can be particularly damaging. Because silicones are not soluble in water they are extremely difficult to rinse out. Over time, this buildup can cause hair to lose its healthy shine, making it appear flat and lifeless.
Finding the right shampoo for straight hair may seem like an insurmountable task, but don't fret! That is why we created this guide, to make the search easier for you. Whether your hair is fine, oily, damaged, or thin, our compilation of the best shampoos for straight hair offers something to everyone. From thickening formulas to reset shampoos, as well as some affordable finds, you'll find the shampoo for you on this list.
Blu Atlas's Shampoo is gentle and will fortify your hair with its saw palmetto and vegan biotin solution. It contains jojoba protein, which can help repair damaged hair strands, and aloe vera, which helps soothe the scalp. This shampoo also has natural, coconut-derived surfactants that cleanse away dirt, oil, and other irritants from your scalp, leaving a head full of nourished, healthy hair.
You will be happy to know that this shampoo is vegan, cruelty-free, and sulfate-free. It contains no artificial surfactants, and if you've had some bad experiences with frizz when using sulfate-free shampoos, then hear us out – this is your solution. Blu Atlas uses the power of alternative and natural surfactants, including cocoyl taurate (derived from coconut) that can clean your hair while not damaging the strands.
It's the perfect shampoo for anyone who needs to wash daily, as it nourishes the skin on your scalp while also providing your hair with the proteins and vitamins it needs to repair itself. Additionally, this shampoo is good for anyone who needs a clinically certified formulation, or someone who suffers from a sensitive scalp, as its ingredients are designed to soothe and heal irritation.
Customers have said that their hair is a lot stronger than before they used the shampoo, and that the results have been spectacular. And, to top it off, this shampoo container is made out of biodegradable components that won't harm the environment when it's thrown away. Regardless of why you are looking for a shampoo, this is the best shampoo for straight hair.
2. Matrix Total Results High Amplify Shampoo

Straight, fine, and limp hair is a common combination hair type, which is why shampoos that volumize tend to be favorites among people who have naturally straight hair. However, some of these options can include silicones, compounds that weigh your hair down and damage it - counterintuitive as that seems. Matrix Total's Results High Amplify Shampoo is a silicone-free formulation with vitamin B5 and hydrolyzed wheat protein, to both moisturize and volumize your hair.
The shampoo also contains salicylic acid, the precursor to aspirin, which helps gently remove buildup and excess sebum on your scalp, giving your hair more volume. In fact, this formula is specifically designed for fine hair. According to one reviewer, Matrix gave her fine, straight hair volume and a healthy shine.
Applying this shampoo will make you feel as if you've exfoliated and scrubbed your scalp. Its gentle, lightweight formula will protect your hair and give it lasting volume for 48 to 72 hours after washing. Your hair will also have a thicker appearance from the high amplify system, which contains microcapsules that release as the day progresses, allowing you to look fresh and confident with that beautiful thick hair that you've always wanted.
This formula is perfect for fine, limp hair that normally does not hold volume. The protein base in this shampoo naturally strengthens limp hair and gives it a boost.
Additionally, it cleanses your hair with a lightweight proprietary formulation that gives your locks an overall thicker appearance. To get the full benefits, it is recommended to apply this shampoo to the roots first, massaging it in gently, then work your way to the end of your hair. This process helps create full volume and gives your hair a bouncy, beautiful appearance with a healthy shine.
3. Amika 3D Volume And Thickening Shampoo
While the terms fine and thin hair are often used interchangeably, there is a difference. Fineness is about the texture of each strand, whereas thinness is about how much hair you have in total. If you want hair to look as thick as possible, you'll need to start with a shampoo that immediately boosts the fullness (amount of hair in total) and the health of each strand, making them strong. This is where Amika's 3D Volume and Thickening Shampoo comes into play.
With a combination of vegetable and rice proteins, this formula instantly begins working to repair and add volume to your hair. Plus, the shampoo's proprietary Redensyl Complex helps keep your hair healthy over time, as it locks in moisture and healing proteins, protecting your hair from the elements all day long.
This formula is all-natural, silicone-free, cruelty-free, vegan, and environmentally friendly. It contains many nourishing and sustainable ingredients, such as sea buckthorn oil and avocado oil. Plus, it is free from sulfates, silicones, and parabens. Parabens are chemicals similar to our hormones and can cause endocrine disruption in some people. They are also derivatives of petrol, which can cause allergic reactions in people sensitive to such products and can be irritating to the scalp. If you're looking for a soothing and gentle solution, free from irritants, this shampoo is for you.
4. L'Oréal Paris Elvive Extraordinary Clay Rebalancing Shampoo

If you suffer from oily skin, it's likely that you've used a clay mask before to absorb and remove some of that oil. L'Oréal Paris has applied that same concept to hair with their exclusive Elvive Extraordinary Clay Rebalancing Shampoo, for people who suffer from an oily scalp or oily roots.
The formula is designed to emulate a clay mask, using three different types of refined clay to help cleanse and eliminate greasy roots for up to two days, allowing you to wash your hair less often – particularly important if you want more volume. It also won't dry out the ends of your hair and leave you with split ends. Like the other shampoos on this list, this one is silicone-free and phthalate-free. Phthalates are similar to parabens and can cause rashes, skin peeling, and other nasty symptoms if used long-term. They have also been linked to cancer.
This shampoo also helps prevent your hair from getting greasy throughout the day, which is a necessity for anyone struggling with an oily scalp. As one Amazon reviewer noted, "daily washing has always been a necessity as my hair looked oily and greased down on my scalp by the end of the day, but this duo has changed my life".
In addition to preventing oil buildup, this shampoo has a combination of ingredients that lock in moisture and allow your hair to retain volume, even with high humidity. It is the perfect formula for men and women who want to keep their scalps dry, clean, and fresh looking. The refined clays help strip lipids and oils from the surface and also cleanse dandruff and grime from your scalp - especially useful when you suffer from excessive sweating, oil, or both.
It's useful as a reset shampoo, as well, helping strip products and other artificial ingredients from your scalp when you need to redo your routine. When used with its matching conditioner, this lets you co-wash your hair and keep it healthy all day.
5. Redken Extreme Bleach Recovery Shampoo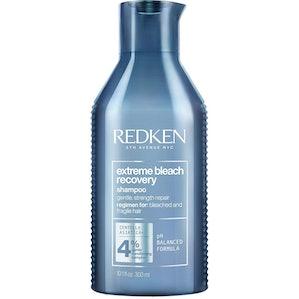 Redken's Bleach Recovery Shampoo is designed specifically for hair that is damaged from bleaching and dying. Hair bleaching is an inherently damaging process but is often necessary for those who like to dye their hair or add highlights. It works by breaking down the natural pigment in your hair – melanin – but in the process, also damages your hair's delicate protein matrix. If you use products such as bleach and hair dyes often, you will want to cleanse your hair of them from time to time to let your hair heal and prevent split ends.
This is where Redken's comes into play, as its formula is built to repair hair that is dry and damaged from bleaching, dying, and highlighting. It contains its own custom conditioning complex that is free from any harmful chemicals or plant extracts. Instead, it is formulated with a mix of different amino acids, proteins, and gentle, natural conditioners such as coconut oil and MCT oil.
The formulas repairing enzymes help rebuild hair that is broken down, actively working to restore the complex web of proteins that make up your hair, preserving its shape and texture in the process. It is also fortified with other natural moisturizers and gently cleanses your scalp as well, exfoliating and removing dead skin from its surface.
For the best results, it's optimal to use this product in combination with Redken's Lamellar Water Treatment, a weightless formula that's ideal for hair that is particularly vulnerable to breakage from heavy and damaging products. The Redken's formula is designed to nourish the hair after stripping away residues from dyes and bleach, providing a soothing and gentle layer that coats the outside of your hair strands and locks in moisture, acting like a shield against damage.
This product is perfect if you happen to suffer from thinning strands, as it will help refresh your hair and supply it with the ingredients needed to repair itself. Plus, by removing damaging buildup, pollutants, and toxins, it gives your hair a healthy base to grow. It's also ideal for those who are particularly prone to frizzing. It's formulated to strengthen sensitive and curly hair - especially low porosity hair, which is prone to breakage and split ends - leaving you with moisturized, yet non-greasy, healthy-looking strands.
6. Living Proof Full Shampoo

If you have fine hair, especially the type that turns flat and greasy just hours after washing it with the wrong shampoo - particularly one that claims to be volumizing but contains artificial ingredients such as parabens that actually weigh it down - then Living Proof's Full Shampoo is the choice for you. Its gentle cleansing formula and ability to leave your hair looking smooth, shiny, and oil-free for more than 24 hours make this product popular.
It is cruelty-free, silicone-free, and safe for color-treated or bleached hair. Parabens and phthalates are also absent from this formula, making it a gentle wash for already thin and stressed hair that might break with a more harsh product. This shampoo does not offer much lift or serious volume to your hair - keep that in mind if more volume is what you are looking for.
Living Proof is on the pricier end, but that doesn't mean it isn't worth your while. One of the reviewers on Amazon noted that "Living Proof's Full Shampoo is absolutely the best shampoo. My fine hair looks and feels so much fuller than ever, [...], It's worth every penny." The healing and protective qualities of this product are too good to pass up if you don't mind the extra cost.
7. R+Co Lost Treasure Apple Cider Vinegar Cleansing Rinse

If you need a cleansing reset shampoo that enhances shine, and balances your scalp then R+Co's Lost Treasure Cleansing Rinse is for you. Elite Daily's editor, Jen
Fiegel, noted that a reset shampoo is important in your routine, as it helps to remove product buildup and assist your scalp and your hair in rebuilding strong and healthy hair strands. The shampoo is best used twice a week before your normal shampooing routine, and it can help your hair be softer and have a bouncy look.
If you struggle with an irritated scalp, then this shampoo is for you, as it contains scalp-soothing and shine-enhancing ingredients such as apple fruit extract and tamanu seed oil. It's especially useful for fine, straight hair, as it uses a natural apple acid wash that's able to penetrate your strands and your roots, providing a deep cleanse, while not damaging your hair. Coconut oil and other natural moisturizers present in this formula also ensure your hair remains oil free and moisturized.
Apple cider vinegar is perfect to cleanse without stripping away natural oils and is designed to soften hair and calm the scalp, while also cleaning the scalp. Plus, it won't strip away color, meaning that you can retain your hair dye, even when you need to deep clean your hair. After days of layering dry shampoo, gels, hair sprays, and other styling products, it's necessary to reset and cleanse your hair because product buildup causes damage and prevents your hair from absorbing necessary moisture. If you need a reset shampoo that you can rely upon without having to worry about artificial ingredients, this shampoo is for you.
Frequently Asked Questions
How do I retain volume in my hair when it's flat and straight?
Straight hair can often be flat and lack volume, as the hair strand doesn't curl, meaning that, like a piece of rope, when allowed to dry and left on its own, it will simply lay flat on your head and look sad. The most important step there to volumize your hair is to stay away from sulfates, which can weaken the follicles in your hair, and cause breakage and thinning over time. Using a volumizing shampoo around twice a week can also help, but it's important to make sure that you use a clarifying shampoo once a week or so to prevent buildup and allow your hair to retain fullness.
How often should I shampoo my hair?
It's important to avoid over-shampooing so your hair stays vibrant and full. Most people with straight hair tend to shampoo it every day, as their hair feels greasy after only one day. However, straight hair is very delicate, and in reality, it only needs to be shampooed two or three times per week. Over-washing can irritate the scalp and also strip it of its natural oils, and make it produce too much oil. By minimizing shampooing, you can allow the natural oils of your scalp to coat your hair strands, and improve volume and manageability too.
How often should I condition?
This depends, both on your hair, and the conditioner used. It might sound counterintuitive for hair that's prone to damage, but it can help, especially when combined with a volumizing shampoo. Such shampoos are quite drying, and can make the scalp greasy by overproducing oils. It's vital then to use a moisturizing conditioner to help maintain the balance, so that no extra oils that weigh down hair are produced.
If you're using a special conditioner made for co-washing, then it is advisable to use that instead of your shampoo most of the time. However, if not, then you should only apply conditioner to your mids to ends, and never to the scalp, and to make sure you avoid one that has too many additives in it. And unless your hair is very long, then you should not use more than a coin-sized amount of conditioner. Conditioners can also weigh down curls by themselves, and are even worse for those with straight hair, as they can easily cause your hair to look sad and dry.
What products can I use?
Unfortunately, a mousse isn't very suitable for hair that's straight or fine, and often trying to find products that are can be an annoying game of shopping roulette. It's important to note that while several products on the market have a volumizing label, they can in fact dry out hair and make it quite brittle. Thankfully however, we have done the research and put together a summary on what to look out for, and what to stay away from.
Here's a quick rundown: stay away from products such as oils, waxes, and pomades, or most mousses. These products are made to coat your hair, and while they may be ideal for those who have curls or more texture to their hair, they only weigh down and flop straight hair. Protein treatments are not recommended either, as while they do coat the hair, due to straight hair usually having a small diameter, they will coat it too heavily.
Instead, one should look for products that volumize while sealing in moisture. Applying a lightweight mousse to your hair will help to thicken it while also not adding too much weight, and it should be applied from root to end.
How long should I dry my hair?
Straight hair should always follow the 75 percent rule. Your hair should be dried about 75 percent of the way there, followed up by blow drying your hair with your head upside down, as the heat will more easily reach the roots, and add volume. It will also produce a puffy look, while minimizing damage and frizzing. To further prevent damage, you should use a diffuser, as hair dryers have a concentrated stream of heat that can cause breakage and split ends. A diffuser will help, as it spreads the heat apart, and lets it gently dry your hair.
You should also limit heat styling, particularly if your hair is fine and thin. Hair that is thin or straight also conducts heat better, and unlike curls, will easily split if there is too much of it. This is why we recommend not heat styling your hair. But if you must style your hair, especially for those who love curls, then it's better to use hair rollers instead of a curling iron. The trick with using these is to roll at a right angle, and to roll to your scalp to help hold it in place.
Take control of your hair and build up a routine
It's important to note that no shampoo is a one-size fits all solution, and that hair care is an evolving process. Care also varies significantly by hair type. Everyone has a hair type and these are usually categorized on a scale from 1A – pin straight hair – to 4C – extremely curly hair. Shampoos are often designed to work for a specific type of hair and, as your hair changes, the same shampoo may not always work for you - as one hairstylist notes, "If you feel the shampoo is no longer working for your needs, it's time for a change to address the latest concern".
To take the best possible care of your hair, it's vital to know what type of hair you have and keep track of changes so you can adjust your routine accordingly. You have likely heard the terms fineness and thinness of hair used interchangeably, however, there is a key difference - the thinness of your hair is about how little or how much hair you have on your head, while the fineness of your hair is about the thickness of the individual strands. For instance, those with 2C or 3A hair often have very thick yet fine hair, meaning they have more strands than average on their head, but each strand is rather thin.
Hair porosity matters as much as density because thickness alone doesn't determine how easily your hair breaks. How much (or how little) water your hair retains affects its breakage, as well. Porosity can be tested by putting a strand of your hair in a cup of water, and where it sinks is how porous your hair is. Low-porosity hair will float on top, high-porosity hair will sink to the bottom, and medium-porosity hair will be somewhere in the middle. Low-porosity hair, in particular, can struggle with breakage, as the lack of moisture makes it vulnerable to damage in hot or humid weather.
Once you know your hair type, then you can begin putting together a basic routine. Remember that shampoos typically work best when used alongside other products, such as wash-out or leave-on conditioners. Also, if you use a lot of products in your hair, incorporating a reset shampoo every few weeks may be a good idea. This will ensure your straight hair stays fresh and clean and your shampoo routine can do its job.
We hope this list made your search for the best shampoo a lot less daunting. You are one step closer on your journey toward a healthy, thick head of hair!