If you're like most men, eye care probably isn't at the top of your skincare list. But don't be fooled – taking care of your peepers is just as vital to maintaining a healthy, youthful complexion as the rest of your face.
If you're looking for an easy way to take years off how you look, using a quality eye cream is the perfect solution. To help you start off on the right foot, here's our breakdown of 25 of the best eye creams for men in 2023.
From gentle moisturizers to powerhouse age-fighting formulas, these are sure to give your eyes the pampering they deserve. Let's dive in to our list of the best eye creams for men to try in 2023!
If you're only just starting to take your skincare seriously, Blu Atlas might be a name that you're not familiar with. But that's about to change. Blu Atlas has taken the body care world by storm, and now they're bringing their award-winning formulas to the eye cream arena.
Their Restorative Eye Stick is a clean, vegan eye cream with no parabens, synthetic dyes, or phthalates. It's also cruelty-free and made with premium ingredients that have natural origins, like plants, fruits, and minerals. But the real draw of this product is its nutrient-dense formula, which features algae extract, vitamin C, and caffeine.
It's a safe and highly effective combination of ingredients that come together to help you eradicate those pesky dark circles and puffy eyes once and for all. And with a convenient roller ball applicator, it's easy to apply and carry with you, making it an ideal all-in-one eye care solution.
So if you want a quick fix that won't break the bank, this should be the perfect choice for you.
2. La Roche-Posay Redermic Retinol YEUX
As we age, wrinkles and blemishes become more of a concern. And while many of us reach for over-the-counter retinol products to tackle these signs of aging, La Roche-Posay takes it to the next level with their Redermic Retinol YEUX.
This eye cream is a powerhouse blend of antioxidants and pure retinol that work together to diminish visible signs of aging. Its smooth, lightweight texture absorbs quickly into the skin, providing an instant lift and helping to visibly reduce the appearance of wrinkles and dark circles.
The formula contains glycerin and caffeine to provide intense hydration and help reduce puffiness. And its unique applicator tip allows you to target the delicate eye area with precision, giving you exactly what your eyes need for a smoother, more youthful look.
So, if you're looking for an advanced eye cream that can tackle your aging concerns, La Roche-Posay's Redermic Retinol YEUX is one to consider.
3. Disco Eye Stick Eucalyptus
Disco's Eye Stick Eucalyptus is a one-of-a-kind eye balm that offers both immediate comfort and lasting results. The special recipe employs natural ingredients, including eucalyptus leaf extract, which has been utilized for centuries as an anti-inflammatory agent.
This feather-light cream contains niacinamide and caffeine to diminish puffiness, while the addition of pycnogenol, a strong antioxidant, serves as a shield from environmental stressors for the delicate skin around your eyes.
Not only does this eye cream have a cooling sensation that will instantly relax the skin, its roller ball applicator also makes for an extremely easy application. This means you can use it on the go whenever necessary!
This selection is one that will both soothe and protect your skin and is certainly worth considering.
4. SkinCeuticals A.G.E. Eye Complex
Do your eyes often display a few too many crow's feet, wrinkles, and dark circles? If so, then SkinCeuticals A.G.E. Eye Complex could be the one for you.
SkinCeuticals specially designed this eye formula to get rid of unsightly eye conditions while enhancing radiance and restoring comfort to dry, aging skin – and don't worry; it's alcohol- and dye-free, so you can use this product on even the most sensitive of eyes!
It contains a combination of optical diffusers, Proxylane, blueberry extract, a flavonoid complex, and synergistic peptides. All these ingredients work together to reduce the appearance of wrinkles, improve dark circles and puffiness, and leave you with younger-looking eyes. What more could you ask for?
This product definitely deserves a spot among the top 25 best eye creams for men in 2023! To reduce signs of aging and get your youthful sparkle back, check out SkinCeuticals A.G.E. Eye Complex today.
5. Clinique for Men's Anti-Age Eye Cream
Clinique for Men is here to keep you looking young and vibrant! With a hydrating combination of shea butter, caffeine, and protein peptides, it can help combat eye-area lines and wrinkles for a younger look.
Plus, it's ophthalmologist tested, so you know it'll be gentle enough for delicate skin. This is one eye cream you won't want to miss out on in 2023.
It's also very reasonably priced,, so you won't have to break the bank just to stay looking young. Who said anti-aging had to be expensive? Not Clinique for Men! Get ready for a younger looking you with Clinique for Men's Anti-Age Eye Cream.
6. CeraVe Eye Repair Cream
This is another product that'll take your tired eyes from dull to dazzling, the CeraVe Eye Repair Cream. This powerful cream contains ceramides, hyaluronic acid, and niacinamide – the perfect combination of ingredients to help hydrate, brighten, and smooth the skin around your eyes.
Whether you've got an early start or a long night ahead, you can finally say goodbye to puffy eyes and dark circles with CeraVe's Eye Repair Cream. There's no reason why you should put up with looking tired all the time, so go ahead, get your glow on and give yourself the gift of youthful-looking eyes.
7. Lab Series Daily Rescue Energizing Eye Treatment
You probably won't be surprised to learn that pollution, smoke, and other environmental aggressors can wreak havoc on the delicate areas under your eyes. Thankfully, Lab Series Daily Rescue Energizing Eye Treatment is here to save you from the effects of these unpleasant pollutants.
This gentle gel cream will help energize the areas below your eyes and give them a brighter, more refreshed appearance. It's also designed to help smooth out any fine lines caused by dryness.
Start your day with this energizing eye treatment and you will be sure to keep the environmental aggressors at bay!
8. La Mer The Eye Concentrate
Here's an eye cream that'll make you feel like a million bucks – La Mer The Eye Concentrate. A treatment that promises to reduce dark circles and lines in just 21 days? Now that's fast, but apparently this is one product that can do it!
With Concentrated Miracle Broth, this eye cream promises an anti-aging transformation and smoother skin with a brighter, healthier look. It reduces dark circles, troublesome lines, and unsightly wrinkles, and it does all this while hydrating, calming, and soothing your delicate skin.
It's also got antioxidant power to help prevent visible damage occurring in the first place. Plus, the silver-tipped applicator cools and stimulates the skin around your eyes, increasing microcirculation.
For the height of luxury, go for La Mer The Eye Concentrate and reveal a brighter, more confident you. Not surprisingly, this is some very, very pricey eye care cream, but it does what it says it will do, and that's exactly why it made our list of the 25 best eye creams for men in 2023.
9. Kiehl's Age Defender Eye Repair
Ready to bid farewell to the signs of aging like crow's feet, wrinkles, and dark circles? Introducing Kiehl's Age Defender Eye Repair, a remarkable eye cream that is perfect for all those men who want to look rejuvenated.
Revitalize your eyes and defy the signs of aging with this paraben-free and fragrance-free anti-wrinkle eye cream. Formulated with rye seed extract, it actively fights wrinkles and dark circles while being gentle on sensitive skin types. Brighten up your appearance in an instant and give yourself a fighting chance against wrinkles!
10. The INKEY List Caffeine Eye Cream
Keeping the areas around your eye properly hydrated throughout the day is no small feat. Luckily, The INKEY List Caffeine Eye Cream can give you that extra boost to keep your eyes looking bright and wide awake all day long.
The cream is lightweight, so you don't have to worry about it being difficult to absorb or feeling heavy on your skin. It's also chock full of antioxidants like caffeine, which help reduce the appearance of puffiness and dark circles under your eyes. Not only that, but its Matrixyl 3000 peptide works to minimize those bothersome fine lines, giving you an overall smoother complexion.
Perfect for prepping your eye area for makeup, The INKEY List Caffeine Eye Cream is a real eye-opener!
11. Anthony High-Performance Continuous Moisture Eye Cream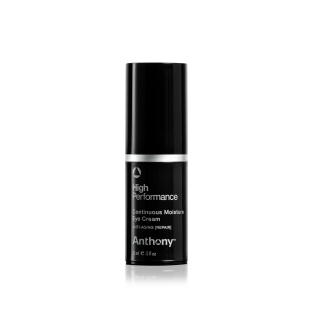 What goes into your eye cream makes all the difference. Thanks to Anthony High-Performance Continuous Moisture Eye Cream, you get essential ingredients that keep your eyes looking bright and healthy.
We're talking ingredients like vitamin A for hydration, arnica to reduce puffiness, and shea butter to firm the skin around your eyes. With regular use, this cream helps diminish the appearance of dark circles and fine lines.
So don't just treat your eyes, fully pamper them with Anthony High-Performance Continuous Moisture Eye Cream.
12. L'Oreal Men Expert Hydra-Energetic Eye Roller
When you don't get adequate sleep, your eyes are more likely to exhibit dark circles and other unwanted effects. L'Oreal Men Expert Hydra-Energetic Eye Roller is here to help.
This lightweight serum absorbs quickly, and the hands-free application makes it easy to apply before you head out the door. Wake up tired eyes with this refreshing eye roller – it's like a little cup of coffee for your peepers!
With its help, you can look like you had a great night's rest, even when you didn't. It's ideal for men who work late hours and need their eyes looking refreshed and presentable all day.
13. HealGel Eye
HealGel Eye is a unique entry, as it utilizes a dual-action system to give your eye area the tender love and care it needs. It features a hyaluronic acid complex that helps lock in moisture, while other ingredients like peptides and biodynes work to boost collagen production and plump the skin.
With this combination, you can expect to reduce dark circles and puffiness as well as firm up your eye contours while getting intense hydration.
We found this product to be particularly effective with repeated use and has fully earned its inclusion in the 25 best eye creams for men in 2023.
14. Peter Thomas Roth Instant FirmX Eye
Do you struggle with crow's feet, deep wrinkles, and puffiness around your eyes? Don't worry, Peter Thomas Roth Instant FirmX Eye has all the answers.
This eye treatment works to give you immediate results and you'll instantly see the tightening and firming effect on the area around your eyes. Even better, using this eye care product also comes with long-term benefits as the inclusion of hydrolyzed lupine protein will firm the skin with regular use.
In short, it works to minimize any signs of aging, so you look younger and fresher. So if you need an eye cream that does it all, this one is definitely worth a try!
15. Youth to the People Superfood Hydrate + Firm Eye Cream
Superfood for your eyes? That's exactly what Youth to the People has packed into this Hydrate + Firm Eye Cream. This little powerhouse of a product will give your eye area vital nutrients, thanks to a special blend of superfoods, peptides, and essential vitamins.
With ingredients like alfalfa, kale, green tea, and spinach, your eyes will be looking brighter, smoother, and firmer in no time. So go on, give your lookers a superfood-powered treat and enjoy the results.
16. Elemis Time Defense Eye Reviver
Thanks to the energizing power of ginseng, this eye cream is like a morning cup of joe for your delicate eye area. It seriously boosts hydration while also reducing the appearance of fine lines, leaving you feeling toned, firm, and refreshed.
Plus, it's specially formulated just for men, so you can look youthful and alert all day long. In addition to ginseng, Elemis has also infused their Time Defense Eye Reviver with hydroxyproline and acacia to help support the skin's natural elasticity. You also get protection against harmful free radicals.
For a serious eye cream that packs a punch, this one is definitely worth checking out.
17. Verso Eye Cream Extra Nourish
Verso is another eye cream that relies (mostly) on natural ingredients to deliver results. With the addition of fermented oats, you can give your eyes a real treat with this nourishing cream.
Not only does it help keep your eyes hydrated, but the oat lipids and oils from Nordic countries also add a healthy dose of antioxidants to keep your under-eye area looking fresh and youthful.
And if that wasn't enough, yeast extract helps boost hyaluronic acid levels so your eyes can look even better.
For the best of both worlds, Verso Eye Cream Extra Nourish is exactly what you need.
18. Brickell Best Natural Eye Cream for Men
For our next entry we have Brickell Best Natural Eye Cream. This eye cream is perfect for all types of skin, and it's even proven to reduce wrinkles, lines, bags, dark circles, puffiness – you name it.
Even better, you won't get any greasy residue from this eye cream either, just goodbye wrinkles and hello youthfulness! Who said you can't turn back time? Get your hands on Brickell's Natural Eye Cream, and you'll be looking younger before you know it..
Plus, all the natural ingredients mean that your skin will thank you, too. Win-win! This is definitely a keeper and one to add to your list of daily self-care rituals. Try it for yourself and see the difference.
19. FAB Skin Lab Retinol Eye Cream
First Aid Beauty Fab Skin Lab Retinol Eye Cream is like the fountain of youth for your eyes. A magical combination of microencapsulated retinol, tri-molecular weight hyaluronic acid, and caffeine.
These ingredients come together to help reduce puffiness and imperfections while minimizing the appearance of unsightly crow's feet. But that's not all, those wrinkles that you've been trying desperately to erase will also get a helping hand from the retinol, which helps stimulate your body's collagen production.
No longer will you have to worry about aging gracefully. Instead, you can just let FAB Skin Lab Retinol Eye Cream take care of it for you. Plus, with the added micro-pearls, your eyes and skin will look brighter and more radiant than ever before.
20. Geologie Dark & Puffy Under Eye Cream
All right, fellas. It's time to do something about those dark circles and eye bags that's ruining your look. Don't worry; Geologie has your back (er, eyes) with its Nourishing Eye Cream.
Thanks to an infusion of caffeine, kojic acid, and other natural ingredients, this eye cream helps to reduce melanin in dark circles and brighten them up. It will also work to get rid of any puffiness or redness you have going on.
And if your eyes are showing signs of hyperpigmentation? No problem, this eye cream is designed to target that, too. So go ahead and say bye-bye to those bags and hello to brighter, more youthful eyes.
21. Hawthorne Forever Young Eye Elixir
For the uninitiated, biotin is a powerful B vitamin that's been shown to help support collagen in your skin – that's why Hawthorne has included it as an ingredient in their advanced age-fighting Forever Young Eye Elixir.
The formula also includes micro-algae to minimize fine lines and bags, vitamin E for blood circulation, aloe vera to hydrate, and peptides that boost collagen function and firm the skin.
So don't be shy about using this formula to help keep those wrinkles away. With regular use, you'll be looking forever young in no time.
22. Dr. Jart+ Ceramidin Eye Cream
It's time to moisturize your eyes if they're showing signs of dryness and fatigue. This lightweight eye cream is packed with ceramides to help reverse dryness, niacinamide for improved moisture, and other powerhouse ingredients to help you look wide awake.
Say goodbye to dry and dull under eyes and hello to radiance! With this cream in your arsenal, you'll be ready for anything that comes your way in 2023. The future is surely looking bright with Dr. Jart+ Ceramidin Eye Cream.
23. Barbiere Acqua Di Parma Eye Cream
Are you ready to give your eyes a refreshing splash of luxury? This eye cream for men is just the solution you're looking for. The delicate, fragrance-free texture provides soothing hydration, while African birch tree bark extract helps to diminish fine lines and wrinkles.
With a convenient roller ball, application is a comfortable breeze and you'll be sure to enjoy a wonderful feeling of freshness with every application. And because the roller is metal, it feels soothing and cool when used on your skin.
Don't miss out on the chance to give your eyes the pampering they deserve. Barbiere Acqua Di Parma Eye Cream is an indulgence you won't want to pass up.
24. Perricone MD Cold Plasma Plus+ Advanced Eye Cream
Does the skin around your eye area feel like it's starting to lose its firmness? Well, don't panic because Perricone MD Cold Plasma Plus+ Advanced Eye Cream is here to save the day. Not only does it target and improve the appearance of dark circles, but it also reduces puffiness and works to eliminate crow's feet. Fine lines? Get out of here!
Plus, its delivery system consists of a unique liquid crystal that will help the key ingredients penetrate deeper into your skin's surface, giving you more bang for your buck.
So, if you're wanting to up your eye-cream game and look like a million bucks this year, grab yourself some Cold Plasma Plus+ Advanced Eye Cream from Perricone MD.
25. The Ordinary Caffeine Solution 5% + EGCG
For our final eye cream to make the list, we've got The Ordinary Caffeine Solution 5% + EGCG. This depuffing eye serum is perfect for those days when you feel like your eyes have been through the wringer and need a serious pick-me-up.
Its powerful combination of caffeine and epigallocatechin gallate glucoside helps to reduce puffiness and dark circles, leaving your eyes looking brighter and more alert
In addition, its water-based formula is suitable for all skin types, ensuring that you get the best results possible. For another effective depuffing eye solution, consider giving The Ordinary Caffeine Solution 5% + EGCG a try this year.
Buyer's Guide for the Best Eye Creams for Men
To ensure you find the ideal eye cream for men in 2023, we've put together some helpful tips to make sure your selection is tailored specifically to your needs. With this additional advice, you should gain a comprehensive understanding of how these creams work and which one will provide optimum results!
Ingredients
When searching for the optimal eye cream, make sure to inspect the list of ingredients. An ideal male-specific product should include active elements such as caffeine, vitamin C, and retinol that can help reduce wrinkles and dark circles.
Additionally, ensure it contains hydrating substances like glycerin and petrolatum, which will sustain your skin's moisture levels without caking up or becoming greasy.
Texture & Consistency
Texture and consistency are important qualities in an eye cream. Your ideal choice should be light enough for easy absorption, but not overly runny or oily. To ensure an optimal experience, look out for men's eye creams with a smooth and non-greasy formula that won't leave your skin feeling unclean or tacky after application.
Usage & Application
To maximize the effects of your eye cream, pay attention to how much and often you are using it. Generally, these products recommend a small quantity twice daily, however, if you want optimal results for wrinkles or dark circles on an individual basis, make sure to refer to the product's guidelines.
With so many great products that are available on the market today, make sure you read customer reviews and try a number of options to see which formula works best for your skin.
Why You Should Use Eye Cream
Many men don't like to pamper or take care of their skin. You may think eye creams are just for women, but the truth is, men should be using them too. After all, as we get older, most of us need all the help we can get!
Using a good quality eye cream won't just help you fight wrinkles; it will also help you minimize puffiness and dark circles. Not to mention that using an eye cream can give your face a more youthful appearance by providing intense hydration while smoothing out any fine lines or crow's feet.
Fortunately, there are some incredible eye creams on the market specifically formulated for men. Each of the eye creams on our list of the 25 best eye creams for men in 2023 have been selected based on their effectiveness and proven scores from real customers.
So whether you're looking for an anti-aging eye cream for wrinkles or a powerful under-eye filler to reduce dark circles, there should be something here to fit your needs!