Imbalanced hair can be frustrating and hard to solve, however the right shampoo can help you restore your hair and scalp to its natural balance. Choosing an option however, can be overwhelming, with so many available.
That's why we've made it a bit easier for you, and listed the 24 best shampoos for oily hair and dandruff available in 2023. Whether you're looking to rebalance your oil production, soothe itching and irritation, or reduce flakiness, there's the perfect shampoo for you somewhere in this list.
Look no further to find the solution to all your hair woes!
Coming in at number one on our list for the best shampoos to combat oily hair and dandruff is this invigorating and strengthening shampoo from Blu Atlas. This gently cleansing men's shampoo is specially formulated with 99% naturally-sourced ingredients that leave your hair feeling healthy and nurtured.
Blu Atlas' special vegan ingredients such as jojoba oil, aloe barbadensis leaves and saw palmetto provide important vitamins for skin and hair care. These clean ingredients also mean the product acts as a natural moisturizer and, in the case of saw palmetto, reduces hair loss. The added benefit of all natural ingredients is that this shampoo is gentle enough to be used daily, ensuring your hair is always looking silky, nourished, and dandruff free. For best effects, try it paired with Blu Atlas Conditioner.
Our favorite thing about this shampoo is that it not only strengthens and improves hair volume, but it helps to clean and moisturize your scalp with cruelty free ingredients approved by dermatologists. Lastly, Blu Atlas comes in two great scents; Classic or Coconut Apricot.
2. Royal Oils Moisture Boost Shampoo
The Royal Oils range from well-known brand Head and Shoulders has been expertly developed with dry and itchy scalps in mind. It uses coconut oil and other paraben-free ingredients to restore your hair's natural hydration and balance your scalp's moisture levels.
An itchy scalp caused by dandruff can be a huge issue, especially for those who have hair that is tricky to buy the perfect shampoo for. Luckily, Royal Oils has been designed with curly and coily hair in mind, which makes it suitable for all unique hair types, meaning no one has to suffer from dry and itchy heads.
A rich, creamy lather regularly applied will help remove buildup and provide long term protection against dehydration and itching, helping you and your hair look and feel great.
3. Kick Tea Tree Shampoo
Kick's Tea Tree Oil and Peppermint infused shampoo is a great option for empowering strong, dandruff free hair that reduces dry scalp and doesn't make your hair feel heavy. This product contains 11 powerful botanical ingredients that restore natural moisture levels in your scalp and promote itch-free healthy hair, without any nasty surfactants that cause skin dryness and flaking.
Kick are so confident that their product will bring you soft, glossy dandruff-free hair with its all natural, paraben-free formula that they offer a lifetime money back guarantee if you aren't completely satisfied with this shampoo. While most men's shampoos can leave your hair feeling frizzy and oily, Kick's Tea Tree Oil shampoo leaves your hair feeling soft, light and smelling great.
This shampoo gives you a great solution to your dandruff problems without any of the nasty stuff, and the 100% irritant free formula is made cruelty free and color safe, so it won't cause your natural color to fade.
4. Biolage Scalp Sync Anti-Dandruff Shampoo
Next on our list is this fantastic product from Biolage which protects your scalp from the itching and irritation caused by dandruff. With mint leaf as its key ingredient, this 100% vegan formula targets dry scalps and kills bacteria that produces flaking. Biolage comes in 6 different sized bottles, every one of which is 100% recyclable, so you can return your hair to its natural glow guilt-free.
The structure of the mint leaf used in this shampoo provides calming and antibacterial properties, and the other main ingredient pyrithione zinc controls the appearance of flakes and frees your hair of dandruff. Aside from this, this shampoo is gentle enough to be used daily and is suitable for all hair types, which is why we think it is a great option.
For anyone who wants to ensure they are consuming products that are gentle on the environment as well as your scalp, this vegan and cruelty free shampoo is for you.
5. Maple Holistics Degrease Shampoo
This product from Maple Logistics is a specifically formulated clarifying shampoo that cleanses your hair completely and targets bacteria buildup that can cause an oily appearance. This shampoo keeps your wellbeing in mind, using all natural ingredients and leaving out harmful chemicals such as synthetic colors and fragrances which cause damage to your hair and skin.
Jojoba, rosemary, peach kernel and a variety of essential oils make this the perfect shampoo for oily hair and to balance your hair's natural moisture levels. This all-natural approach means that this powerful shampoo doesn't have to be overpowering, and heavy or greasy hair can restore its vitality without causing color to fade.
With 100% money back guarantee and cruelty free production, there is really no reason not to show your locks some love if you are suffering from irritating greasy hair.
6. Dove Men+Care Fortifying 2 in 1 Shampoo and Conditioner
This product is the ideal choice for men who wish to save time on their grooming routine, and also want to combat oily hair and dandruff. This shampoo contains pyrithione zinc, menthol, calcium and caffeine that help to control the growth of yeast on the scalp while still smelling great. Men+Care have created a special formula in this product that is designed to cleanse the hair and scalp thoroughly, and control excess oil.
The conditioning component of this product is formulated to strengthen and nourish hair, leaving it feeling healthy and manageable after use. It also has a lightweight formula that doesn't weigh down the hair, making it perfect for those with oily hair.
This cruelty free shampoo comes in a 100% recyclable bottle and is sure to energize your hair and leave it visibly more resilient.
7. Paul Mitchell Tea Tree Oil Anti Thinning Shampoo
As you may have guessed, this shampoo has been primarily formulated to address hair thinning and hair loss, but is still a great option for dandruff and oily hair as it focuses on the same underlying issues that affect both. This shampoo contains tea tree oil, a natural ingredient that simultaneously acts as an antifungal and an antiseptic to soothe the scalp and control dandruff. The other natural ingredient is peppermint oil, which helps to invigorate the scalp and promote healthy hair growth.
In addition to its natural ingredients, this shampoo is produced naturally and ethically, free from parabens, gluten and is also cruelty free. Due to being designed to combat hair thinning, this shampoo has a lightweight formula that doesn't leave your hair feeling heavy and flat.
For older men struggling with hair thinning and dry scalp, this is the perfect shampoo to prime your scalp for thicker, stronger looking hair, free from nasty chemicals.
8. L'ORÉAL Professionnel Serie Expert Instant Clear Anti-Dandruff Shampoo
This product lays waste to both oily hair and dandruff with its lightweight formula that contains pyrithione zinc, by relieving itching and flakiness on the scalp as well as controlling yeast growth on the head. This purifying formula uses special active ingredients to regulate oil production in the hair strands themselves, to avoid the appearance of visibly oily hairs.
Serie Expert Instant Clear's 100% sulfate-free formula deeply cleanses and exfoliates the scalp, and removes all those unwanted impurities to leave your hair looking silky and nurtured.
This shampoo's key ingredient is the Yuzu lemon from Japan, which contains great antioxidant agents to neutralize the harmful free radicals present in the environment that causes damage to the skin, contributing to dandruff and excess oil production. Despite its powerful formula, this product will not cause unnatural hair color to run.
9. Blackwood for Men Active Man Daily Shampoo for Oily Hair
This deep cleaning shampoo gains a place on our list of the best shampoos for oily hair and dandruff for its powerful botanical formula that includes ingredients such as ginseng root, clove flower, and rice extract. The ginseng root inhibits the androgen DHT which causes baldness while also promoting healthy circulation in the scalp. Rice extract and clove flowers help to balance oil levels in the hair and work to thicken locks to give them a sleek look.
This is a nourishing shampoo that contains more than 15 botanical vitamins, amino acids and antioxidants from its birthplace Japan that revitalize your scalp and get rid of excess oil in the hair.
With its microbead, phthalate, gluten, soy and dye free formula, Blackwood for Men is a great choice for a shampoo to leave you feeling fresh and revitalized after every wash.
10. Jason Natural Anti-Dandruff Scalp Care Shampoo
Jason Natural is a nature-inspired, lab tested mild shampoo that contains no artificial colors, sulfate or petrochemical derivatives. Infused FDA-approved ingredients such as rosemary, olive oil and jojoba oil treat dry scalps and mild psoriasis to give a soft clean feel. These ingredients help to give this powerful dandruff and itch eliminating formula its cool and fresh feeling on your scalp, and help your hair look thick and healthy.
This shampoo is a great option for those who want to control the appearance of flakes or scaling as it targets numerous skin ailments such as seborrheic dermatitis. Vegan and produced cruelty free, this is also a shampoo that is perfect for those of us who are environmentally conscious.
With use at least three times a week, this product is bound to control dandruff and soothe your scalp, leaving you feeling confident and rejuvenated.
11. Honeydew Argan Oil Shampoo for Oily & Greasy Hair
Honeydew have produced this shampoo for oily hair with argan oil, an essential oil that helps to promote hair growth and is a key ingredient used to prevent baldness in men.This oil is rich in antioxidants and fatty acids that help to nourish and strengthen the hair, and also regulates the production of your body's own natural oil, sebum. Overproduction of sebum is often the cause of oily hair, and argan oil fights this to give your hair a silky and full look.
This product is free of sulfates, parabens and other harsh chemicals, making it a great option for those looking for a natural and gentle shampoo. It has a fresh, cool scent that leaves the hair and scalp feeling revitalized and healthy, and smelling fantastic.
This shampoo is a great option for those suffering from dandruff and oily hair as its key ingredients like argan oil, tea tree oil and jojoba oil help to regulate oil production, soothe the scalp and control dandruff.
12. Krieger & Söhne Men's Dandruff Shampoo with Tea Tree Oil
This invigorating animal friendly shampoo from Krieger & Söhne is an excellent choice for those looking for a deep-cleaning product that soothes dry scalps and stimulates new hair growth. This shampoo uses tea tree and peppermint oil as its main active ingredients due to their vitamin-rich structures that help bring freshness and shine to your hair.
The tea tree oil in this shampoo combats dandruff and oily hair with its natural antiseptic and antifungal properties to stop the yeast growths that cause flaking and dry scalps. This product also contains salicylic acid and vitamin E, which unclog hair follicles, remove dead cells and protect the scap from environmental damage.
This no-nonsense shampoo comes in a sporty and subtle bottle that is perfect for those that may be showering in the gym and don't want to be seen using a shampoo in an overly medicinal looking bottle. The instant relief from this maximum strength shampoo is a great choice to care for your scalp.
13. Rocky Mountain Barber Company Daily Use Shampoo
This clean and green shampoo is heavily inspired by the great outdoors from its ingredients to its production. Rocky Mountain Barber Company creates their shampoo in smaller batches than most shampoo manufacturers, which means a fresher shampoo with fresher ingredients. Eucalyptus, peppermint and tea tree oils mean that Rocky Mountain's shampoo nourishes and cleanses your hair all while maintaining a lovely fragrance.
Tea tree oil, like some of the other shampoos in this list, acts as the primary ingredient in this shampoo and brings a number of beneficial qualities. Tea tree oil helps to regulate oil production in the scalp, making it a great choice for those with oily hair.
This product's powerful active ingredients are sulfate free and include jojoba oil and aloe vera that help to moisturize and protect hair, leaving it feeling soft and smooth.
14. Paul Mitchell Lemon Sage Shampoo with Tea Tree & Rosemary Infusions
This luxurious shampoo is specifically formulated to address the unique needs of those that suffer from oily hair and dandruff. Lemon Sage is the main ingredient to help effectively cleanse and remove excess oil, while tea tree and rosemary infusions work together to soothe and calm the scalp, preventing annoying dandruff breakouts.
Lemon Sage works to moisturize your hair to the point where more volume is added to its appearance, which is great for those with thinning hair to look more youthful and healthier. Nutrient-rich jojoba oil helps to create a potent, sulfate-free shampoo that is tough on scalp dryness, but not on your hair.
The herbal formulation of this shampoo is gentle enough to be used on many types of hair to help find the natural balance that gives your hair a nurtured look and sleek finish.
15. Phyto Panama Daily Balancing Shampoo
This shampoo from Phyto Panama is a gentle, daily use shampoo that is formulated for normal to oily hair types. It effectively cleans without promoting excess oil production. This product is free of sulfates, parabens, and other harsh ingredients.
Coconut oil is a key ingredient in this shampoo, it helps to nourish and moisturize the hair, and results in silky shiny hair strands. Corn oil helps to regulate how much oil your scalp produces. Chamomile is added to soothe the scalp, reducing any irritation and promoting a healthy environment for hair growth. Sage has antimicrobial properties so can control the growth of fungus or other scalp conditions and keep the scalp fresh and clean. The final key ingredient, lemon is another ingredient that helps to rebalance your scalp's oil production, preventing too much or too little being produced.
To use this product, wet hair thoroughly before applying a small amount to the scalp and massaging in until a lather is formed. Rinse well and follow with a conditioner for best results.
16. Neutrogena T/Gel Therapeutic Shampoo
If you're looking for a serious solution to your hair and scalp issues, this product is the one for you. This shampoo is formulated to combat flaky and itchy scalps, dandruff, and seborrheic dermatitis.
The key ingredients include salicylic acid, which helps to exfoliate the skin of the scalp, removing excess skin cells that may be causing flaking and itching, and menthol, which provides a soothing calming effect for your irritated scalp. Polyquaternium-10 is a gentle surfactant that helps to cleanse the scalp and hair without stripping it of the natural oils that keep it healthy.
This shampoo is recommended for use two to three times a week in place of the shampoo you would normally use, or as directed by a doctor. Apply a small amount to wet hair and massage it with your fingers, rinse well and follow with conditioner.
17. Head & Shoulders Classic Clean Dandruff Shampoo
This shampoo, made by Procter and Gamble, is specially designed to help with scalp issues like dandruff. It provides a deep, soothing clean that provides relief from itching and flaking.
Key ingredients include pyrithione zinc, which is an antifungal agent that reduces the growth of yeast on the scalp, a contributing cause of dandruff. The formula contains coconut-derived surfactants that are effective cleaning agents, ridding the scalp of buildup, dirt, oil and other pesky substances weighing your strands down. The final key ingredient in this nutrient-packed formula is Vitamin E, an antioxidant that works to nourish and protect the hair from external damage. All of these ingredients contribute to healthy, soft and luxurious hair.
Apply a generous amount of this shampoo to wet hair and massage it into the scalp. Rinse hair well before repeating if you desire and following with conditioner.
18. Nizoral A-D Anti-Dandruff Shampoo
This shampoo is a less-concentrated version of a dandruff treatment that is prescription only, making it a great option if you are really struggling with flaking and irritation. The active ingredient in this shampoo will effectively provide you with a deep and refreshing clean as well as treating the underlying cause of dandruff.
The key ingredient in this shampoo is ketoconazole which is an antifungal agent that helps to control the growth of yeast on the scalp. This growth can be a contributing cause of dandruff, so by eliminating it this shampoo can refresh and cleanse your scalp, completely ridding you of irritation and flakiness.
It is recommended you use this product two to three times a week, in place of your regular shampoo. Apply a small amount of it to thoroughly wet hair and massage it into your scalp with your fingers until a lather forms. Rinse thoroughly and follow with conditioner.
19. OGX Nourishing + Coconut Milk Anti-Dandruff Shampoo
This is a nourishing and hydrating shampoo that is a great option for managing an irritated or flaky scalp while preventing oil overproduction. It is formulated with key ingredients that help the scalp recover and hair maintain its natural shine and beauty.
The key ingredients in this shampoo include coconut milk, which helps to strengthen and hydrate the hair to make it feel soft and smooth, tea tree oil, which is an antifungal and also creates cooling and soothing sensation on the scalp, and witch hazel, which also helps to soothe the scalp and prevent irritation from itching and flaking.
This shampoo is recommended for use every time you wash your hair, apply to wet hair and massage into the scalp before rinsing completely. Follow with a conditioner from the same range for the best results.
20. Pantene Pro-V Daily Moisture Renewal Shampoo
This is a shampoo designed to nourish and hydrate hair and scalps that are dry, or damaged. This shampoo is a great option if you are looking to regulate your hair moisture, from the scalp to the tips.
Key hydrating ingredients are included in the formula such as glycerin, panthenol, otherwise known as pro-vitamin B5 and dimethiconol, these ingredients all act to moisturize the hair and improve its texture and health, they can also restore moisture to dry scalps. It also includes antioxidants like vitamin E, that helps protect against external damage such as UV or environmental pollutants. There are also conditioning agents like behentrimonium chloride which help to detangle and smoothen the hair.
21. Bumble and Bumble Scalp Detox Shampoo
This fizzing formula will leave your hair and scalp feeling refreshed and renewed. It is designed to remove buildup of oil, skin flakes, and residues of products, all of which contribute to dandruff.
Key ingredients of this shampoo include salicylic acid as a deep cleanser, menthol which provides a cooling and soothing sensation, aloe vera which soothes and reduces flaking, and witch hazel which helps to purify the scalp and control oil production.
All these ingredients work together to create healthy hair and scalp free from irritation, itchiness and flaking.
22. Redken Scalp Relief Oil Detox Shampoo
Another of the best shampoos for oily hair and dandruff is this amazing shampoo from well-known brand Redken. This is a product designed to remove excess oils and impurities from the hair and scalp. It is especially created for those who suffer from excess oil production and flaky scalps.
Key ingredients include salicylic acid which helps to loosen impurities from the scalp, pyrithione zinc an antifungal, glycerin which hydrates the scalp to reduce flaking, and tea tree oil,which is a natural antiseptic and antifungal and also has soothing properties for the scalp.
23. Matrix Total Results So Long Damage Shampoo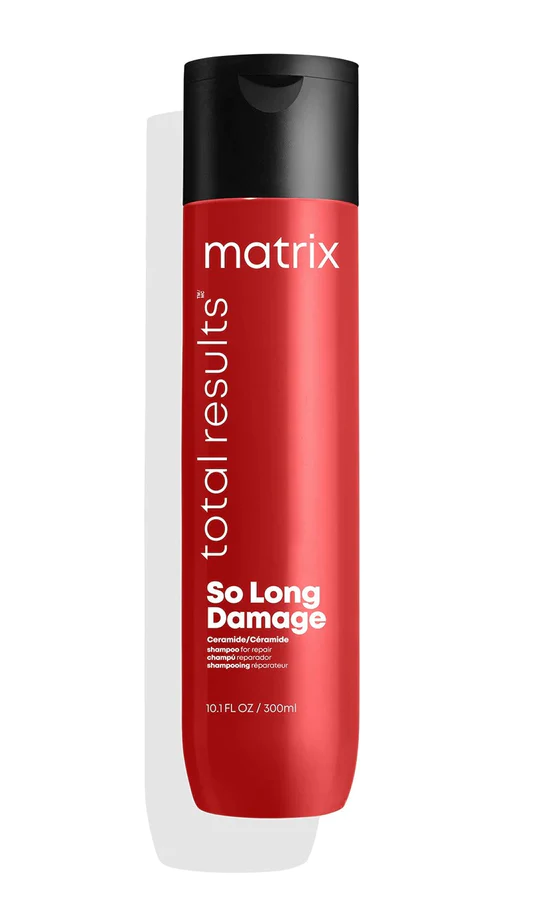 This is a nourishing and repairing shampoo that will help your hair and scalp tp feel fresh, clean and healthier than ever before.
Key ingredients in this shampoo include hydrolyzed keratin, a protein that helps strengthen and reduce breakage, argan oil which moisturizes and restore shine, vitamins E and C which help protect the hair from external damage and silicones like dimethiconol which smooth the hair and reduce frizz.
24. Philip Kingsley Flaky/Itchy Scalp Shampoo
This is the final shampoo on our list of the best shampoos for oily hair and dandruff and it is another great option if you are looking for a product that is designed to treat a flaky and itchy scalp. It is a gently designed formula that helps to control dandruff, itching and irritation of the scalp. As well as this it will leave your hair silky, shiny and healthy.
Key ingredients include antifungals, salicylic acid, allantoin- a moisturizing agent and panthenol which is a form of vitamin B5 that hydrates and improves scalp health. Overall this product is a great option as its unique formula works together to protect and maintain scalp health, ridding you of flakiness and irritation, while still maintaining a balanced level of oil production.