Choosing to get your hair permed can be the perfect change to liven things up and update your style. Whether you want to go for tight curls or the style of Kim Kardashian loose waves, we know that perms can cost quite a lot of money. When you get your hair done in a new style, we know how important it is to keep and maintain the look whilst ensuring your hair is hydrated and healthy throughout the whole process.
If you've recently had your hair permed, or are looking to get a perm soon, it could be helpful to understand the process your hair has or will go through. Although there are a few ways to have your hair semi-permanently styled into curls and waves, one of the most common methods frequently used in salons is the use of chemicals which alter the texture of the hair to create the desired effect. As the chemicals change the makeup of your hair, styling tools are used to help re-set the hair during the process. Perm rods have often been used in conjunction to evenly structure the curls, however, rollers, fabrics and even finger waves may be used to set the perm. The benefits of these different methods can create different styles of waves and curls, whether it's an undone wave, spiral coils, or s-pattern curls.
Depending on the length of your hair, perms can take up to five hours at a salon and may last between two to eight months. This is heavily affected by a number of factors, such as the length and relative weight of your hair, the style you're looking for, and also the maintenance and lifestyle of your hair. If you have longer and/or heavier hair, this can often cause the perm to slowly become looser over time, however you may really like the look of it. As your hair grows out, the roots will grow straight and flat (if that is your natural style), causing the curls and waves to sit lower on the face and shoulders. This is a popular look particularly for medium to long hair meaning that your permed look, although changing over time, may suit your styling purposes for up to eight months. When you get a perm, the stylist should give you a timeframe for which you must keep your hair dry and relatively unaffected and untouched, often around 48 hours. After this period, you'll want to refrain from styling your hair with heat, and when it comes to washing, avoid alcohol and silicone in products as they may degrade the length and quality of your perm. Finally, although it happens to the best of us, avoid humid places or becoming too sweaty as this may also affect the longevity of your perm.
When it comes to a perm, it is clear that there are many things to consider which can impact its quality and style over time. That's why we have created this comprehensive list of 23 of the best shampoos for permed hair, to make your job just a little bit easier. Within our list, we are positive you will find the perfect shampoo to support and maintain your permed hair whilst keeping it healthy and strong.
At our number one place is Blu Atlas' Coconut Apricot Shampoo. We have put this as the best shampoo for permed hair in 2023 for a number of reasons, starting with its natural gentleness and premium ingredients. Made from natural ingredients derived from plants, fruits and minerals, this shampoo is cruelty free and contains no artificial fragrances that may damage your permed hair. This shampoo includes jojoba oil which penetrates and nourishes hair right to the root, providing antioxidants and vitamins that will boost the appearance of your fresh perm! The aloe barbadensis leaf supports the hair-holding moisture to prevent breakage whilst further providing necessary vitamins A, C, and E. Saw palmetto is included for its ability to reduce the occurrence of natural hair loss at the same time as adding volume. The addition of coconut will gently cleanse your hair, removing dirt and leaving you with stronger, healthy hair.
We rate this shampoo as the best for permed hair in 2023 as it is 100% vegan, containing no parabens, no phthalates, no synthetic dyes and no preservatives. Using Blu Atlas Coconut Apricot shampoo will leave your hair smelling fresh and feeling clean without adding additional weight that can loosen your permed curls.
Lather the shampoo on wet hair, massage gently and thoroughly, then rinse until no suds remain. This shampoo is suitable for all hair types and we think you'll enjoy the additional 20% off with a monthly subscription. Use this shampoo every day as desired, it is definitely worth your time.
2. Olaplex No.4 Bond Maintenance Conditioner
The best-selling Olaplex No.4 is our number two pick for the best shampoos for permed hair in 2023. This shampoo was the recipient of Beauty Expert's Allure 2022 readers choice award. One of the great attributes of this shampoo is the balanced pH of 6-6.5, in the neutral range which will support healthy nutrient and vitamin uptake within the hair bonds to repair and strengthen them against future breakage. This is significant for those with perms as they will notice the health of their hair increase after each use whilst the natural frizz will be smooth and tamed.
This shampoo is suitable for all hair types and is well suited to permed hair as it contains no sulfates, parabens, phthalates, phosphates, gluten or nuts and is vegan and cruelty free. Use this shampoo to target roots and use daily as required.
3. Pureology Smooth Perfection Shampoo
Pureology is a well recognised hair care brand and their Smooth Perfection shampoo is just the thing for our permed hair friends. This is one of the top options for permed hair as it is specifically created to reduce and tame the frizz which is bound to occur over time with permed hair. The camellia and shea butter in the shampoo add moisture to smooth out loose hair and provide a protective layer. The highlight of this shampoo is definitely its smoothing quality. This is well suited to permed hair as even weeks after first getting a perm, this shampoo will leave you with a sleek professional finish. This shampoo is also sulfate free making it a safe option to use day after day on your hair.
4. Redken Frizz Dismiss Shampoo
Redken's Frizz Dismiss Shampoo is an option from a well recognized hair care brand known for delivering results. This shampoo has been designed specifically for those who are after a smooth finish. Redken highlights the sustainably sourced babassu oil which they have infused into their shampoo. This oil coats the hair with a protective layer to prevents environmental damage and reduces split end creation. This is particularly useful for those who have had their hair permed and need an additional layer of protection to reduce breakage and frizz to help them maintain a sleek permed look. Cleanse your hair and keep the shine. This shampoo can be used daily and gives even better results when used with Redken's Frizz Dismiss Conditioner.
5. Shea Moisture Daily Hydration Shampoo
This one is for all our permed friends who naturally suffer from dry hair and scalp. Shea Moisture's Daily Hydration Shampoo contains shea oils as well as 100% virgin coconut oil and coconut milk. Coconut oil is easily absorbed by hair, making it an effective hydration method. The oil repairs dry hair and the coconut milk includes vitamins C, E and B, all which help keep your hair strong and healthy. The nature of coconut oil further works to smooth and tame frizz, creating hydrated and nourished hair that looks clean and sleek. Shea oil is well known to provide protection and reduce frizz. This combination is well suited for those with permed hair as you will be able to maintain hydrated and smooth hair whilst keeping the fly-aways down. Suitable for all hair types and sulfate free, use this shampoo daily or as desired.
6. Davines Nounou Shampoo
Davines Nounou shampoo comes in at number six on our list of best shampoos for permed hair in 2023. The Nounou shampoo comes in a fully recyclable bottle making it low impact and environmentally friendly right off the bat. Designed for those with very dry hair, this shampoo provides rich and deep nourishment whilst actively cleansing and soothing your scalp and hair. This shampoo contains natural active ingredients that add antioxidants to stimulate hair growth and keep hair follicles healthy. Rest assured that this shampoo is designed with permed hair in mind with its gentle cleansing and deep, restorative hydration formula. When using this shampoo, apply only a small amount and massage into the ends, lengths and scalp until a soft lather forms, and then rinse out. When dried, you'll be left with smooth, soft, and silky hair.
7. Ethique Professor Curl Solid Shampoo for Curly Hair
This unique style of shampoo is one of our favorite new entries to the market! Ethique's Professor Curl solid shampoo bar which aims to provide a pH balanced formula that cleanses your hair without drying out your hair or scalp. Containing ingredients such as cocoa butter, shea butter, and betaine, you will have softer, stronger feeling hair that doesn't lose its shape, ensuring you maintain the curl or wave you've just had permed. This shampoo is an easy-to-use alternative to unsustainable shampoos and without containing any drying alcohols or sulfates which could strip the effects of your perm, or any silicones or harmful waxes. If you are looking for a good shampoo for permed hair, this should be a top contender!
This bar provides at least 80 washes and is equivalent to approximately three normal salon bottles of shampoo. With this bar of shampoo we can definitely say you are getting your money's worth.
8. Marc Anthony Strictly Curls Shampoo
As suggested by the name, Marc Anthony's Strictly Curls Curl Defining shampoo was designed and created specifically for those of us with curls and waves. The creators know how just a little bit of humidity can take those curls to a frizzy state in such a short time. This shampoo contains a formula that nourishes and supports moisture retention in the long term. No more need to worry about fly-aways, Strictly Curls shampoo will correct the look of your frizzy hair and reduce the impact of environmental stress and humidity from day to day. Paraben free, phthalate free and sulfate free, this shampoo is safe to use on all hair types, including permed hair.
9. Enjoy Luxury Shampoo
Our number nine pick for the best shampoos for permed hair in 2023 is Enjoy's Luxury Shampoo. Enjoy Luxury shampoo has a pH range of 5.0 to 6.0, supporting balance and cleansing throughout your locks. As the shampoo is massaged into the scalp and hair, moisture moves into dry hair to restore health and hydration balance. As a result, hair will be left silken, and brittleness and frizziness will be reduced. This makes Enjoy's Luxury shampoo a good option for those of us with permed hair. Massage the shampoo throughout the hair and scalp before rinsing, and repeat the process for a more intense lather.
10. Kenra Sugar Beach Shampoo
Ranked our number ten shampoo for permed hair in 2023 is the Kenra Sugar Beach shampoo. This shampoo contains betaine which is important for permed hair as it supports hydration and moisture retention throughout the head. The sugar cane likewise acts as an emollient to support moisture retention and cleanses as it exfoliates the head. Made cruelty free, Kenra's Sugar Beach shampoo will encourage soft waves and greater volume without weighing your hair down. We would encourage you to use this shampoo alongside the Kenra Sugar Beach conditioner for the best results.
11. Batiste Naturally Coconut Milk & Hemp Seed Oil
Although this is not a traditional washing shampoo, if you have recently had your hair permed or are intending to perm your hair, a dry shampoo is a great option to retain your curls and waves whilst providing a freshness to your hair. Batiste Naturally Coconut Milk & Hemp Seed Oil dry shampoo is a fantastic option. For those who have hair that easily retains or produces plenty of oils, it can often be challenging when after one day your hair is back to looking like it needs another shampoo again. This dry shampoo removes the oily, unwashed look to create smooth, light, and fresh-looking hair. The coconut milk and hemp seed oil extracts reduce frizz and flyaways by absorbing excess oil and restoring lightness and bounce. Made without sulfates and dyes, and no water needed, the Batiste dry shampoo is well suited if you have permed hair, particularly in the first 24 to 48 hours where washing with water is not suitable. Keep this one handy for a quick and easy refresh!
12. Arvazallia Advanced Hair Repair System Shampoo
Number twelve on our list is Arvazallia Advanced Hair Repair System shampoo, infused with macadamia oil and argan oil. Macadamia oil has been chosen as a premium ingredient in this formula as a nourishing agent containing essential nutrients to support a lustrous finish. Argan oil has been used to help deeply condition and improve hydration in the hair. As a result, your hair will be left more elastic and less prone to breakage, smooth to support manageability, and stronger as hair is repaired. In this process, hair becomes more resilient to the negative effects of heat damage or chemical damage. This shampoo is designed primarily for those with natural, curly or permed hair and contains no parabens or sulfates. If your hair needs a health boost, this shampoo is worth your time!
13. Nexxus Hydra Light Shampoo
Looking for a deeply hydrating shampoo that doesn't weigh your hair down? Nexxus' Hydra Light shampoo has been crafted to provide fine hair with the complete salon experience; light, clean hair that isn't flat. Hydra Light shampoo aims to provide hair with the protection and hydration it needs to combat the daily environmental aggressors whilst restoring softness, smoothness, and a weightless bounce. Delicately lather this into your hair and scalp ensure it is spread thoroughly throughout the hair, before rinsing out completely.
14. Royal Locks Clean Curls Shampoo
Royal Locks Clean Curls shampoo is a great option for those who want to care for their curls. This shampoo has a balanced pH formula and is sulfate free to maintain the good, natural oils that shape your curls, helping keep them fresh and bouncy. This shampoo is suitable for all hair types but is specifically made to strengthen and shape all wavy, coiled, and curly hair. Royal Locks specifically highlights that this shampoo is safe to be used on color treated and permed hair.
15. Tree to Tub Soapberry for Hair Activation Blend Shampoo
This Tree to Tub Soapberry for Hair Activation Blend shampoo has been crafted as an all-round healthy hair restoring blend. The balanced pH removes dirt and cleanses the hair and scalp, while a blend of herbs, aloe vera, and tea tree oil work to soothe the skin and add essential nutrients that stimulate hair growth. The caffeine, vitamins, and organic argan oil combine to richly nourish and create volume. Made without the use of sulfates, silicones, and parabens, this shampoo will leave your hair stronger from tip to root and is safe for all hair types, and even sensitive scalps. As a bonus, we think you'll enjoy the natural, fresh scents of tea tree and eucalyptus oils throughout your hair.
16. Hask Coconut Milk & Organic Honey Curl Care Shampoo
Hask Coconut Milk and Honey Curl Care shampoo is a curl enhancing shampoo designed to perfect and smooth out each curl or ringlet for a professional finish. Coconut milk is a key ingredient as it adds hydration throughout the hair and provides smoothness for a reduction in frizz. This shampoo is free of parabens, dry alcohol, phthalates, and sulfates meaning the natural oils remain while the hair and scalp are cleansed and nourished. This shampoo will leave you with defined curls and a silky shine, perfect for maintaining permed hair. Enjoy the benefits of no more frizziness with just one wash!
17. Faith in Nature Jojoba Shampoo
This product is a good option for those who are wanting a naturally derived shampoo. Faith in Nature Jojoba Shampoo has been infused with natural essential oils and aromas to create a beautiful fragrance. This shampoo will add nourishment to the strands making them smoother and more easy to manage and style into the curls or waves you're after. 99% plant derived, this natural shampoo is cruelty free and has the approval of the Vegan Society. This shampoo is best suited to those with dry or normal hair.
18. The Australian Organic Argan Oil Scalp Care Shampoo
The Australian Organic has crafted this Argan Oil Scalp Care shampoo to treat itchy scalps, even those with psoriasis. The shampoo works to reduce the appearance of dandruff and flakes and removes skin irritation when used consistently over time. Argan oil works to add moisture to the hair and scalp to strengthen and is a great option for those who have a dry scalp. This shampoo is made without the use of sulfates, sodium, and parabens making it safe to use on permed hair. Protect your hair and scalp while giving a natural volume boost to your curly or wavy hair.
19. L'Oreal Paris EverCurl Hydracharge Shampoo
L'Oreal Paris has designed a shampoo specifically to help maintain and style curls and waves. Their EverCurl Hydracharge shampoo is infused with coconut oil which moisturizes the hair through to the scalp, creating hydrated waves and curls that aren't weighed down. The natural fly-aways will be tamed and your hair will be left feeling soft and easy to manage. Damage to the hair can cause curls to lay flat or unravel so the EverCurl Hydracharge shampoo contains no sulfates or harsh surfactants that can damage or strip hair. This shampoo is perfect for permed hair as the 48 hour curl definition will help prolong the life and volume of your curls.
20. TRESemme Flawless Curls Shampoo
At number 20 on our list is TRESemme's Flawless Curls shampoo. This shampoo is great for those who have had their hair permed as TRESemme has created a formula to support salon-quality curls while reducing the appearance of frizz. The shampoo targets the dry strands with coconut oil to increase the hydration and allow natural styling and shaping of curls. Use this shampoo daily to nourish and strengthen hair and leave it feeling soft, smooth, and hydrated. Made sulfate free, this is safe to use on all hair types, even those with a perm.
21. Pureology Strength Cure Shampoo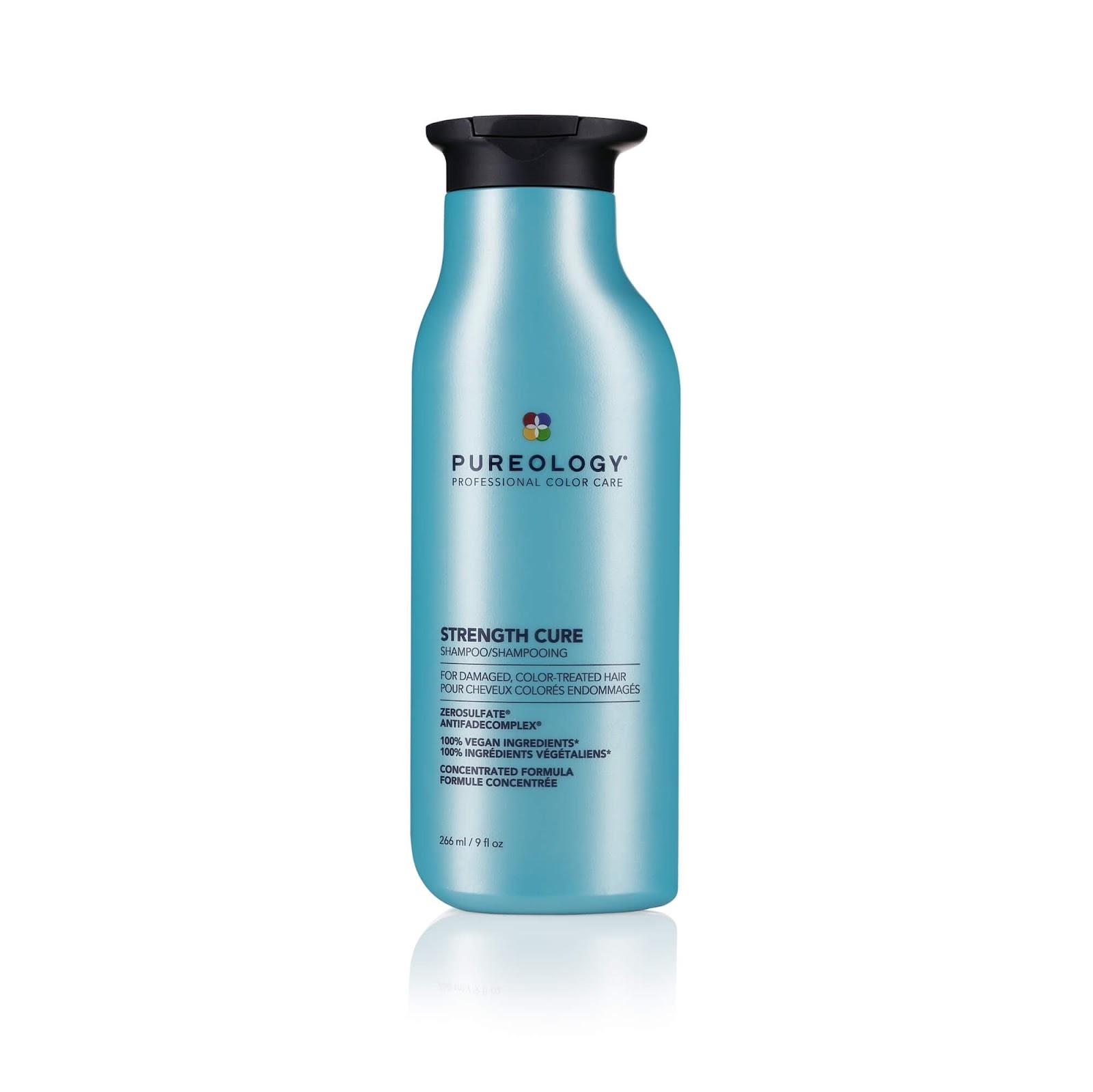 Pureology Strength Cure shampoo is for those of us who have been left with weak or damaged hair from natural environmental stressors, or from having it treated. The featured antioxidants help to heal and repair damaged hair while promoting healthy hair growth. Leaving a protective layer after washes helps to prevent future damage and the breakages that often occur. With hydration and moisture balance, your hair will be visibly healthier and smoother, easy to manage, and soft. The formula is 100% vegan and sulfate free so if you have permed hair, this is definitely a safe option.
22. Mixed Chicks Sulfate Free Shampoo
Mixed Chicks Sulfate Free shampoo comes in at number 22 on our list of best shampoos to use for permed hair in 2023. Infused with aloe and natural oils, this shampoo enriches the hair with moisture to restore health, and reduce the negative effects of dryness. This shampoo will gently cleanse your hair and restore strength, leaving your curls hydrated and bouncy. This is another shampoo that is sulfate free to clean wavy, straight, and curly hair without taking away the natural healthy oils of the hair. Apply shampoo on wet hair, massage, rinse, and enjoy the results.
23. Ouidad Curl Quencher Moisturizing Shampoo
Last but not least on our list of the best shampoos for permed hair is Ouidad's Curl Quencher Moisturizing shampoo. This shampoo has been crafted specially for those who have tight curls. The shampoo deeply hydrates and cleanses the scalp and hair to create stronger, shiny hair. It allows your curls to be styled and defined as desired meaning that if you have recently had your hair permed, this shampoo will help you maintain the professional, 'freshly-done-perm' look. Frizz will be reduced as hair is nourished and a moisture balance maintained, creating soft, smooth curls that don't lose their shape. This shampoo is a winner with no phthalates, sulfates, silicones, parabens, glycerin, or petroleum. Vegan and cruelty free, we suggest you give this shampoo a go if you have a tight curl perm and want to maintain that look over the long term.