Wrinkles are a prevalent and shared concern for people as they age. So when choosing an eye cream, you should search for products that will not only make you feel renewed and refreshed but that will also work to ward against the telltale signs of aging.
These eye creams will lessen puffiness, battle fine lines and crow's feet, lighten dark circles, and will have you feeling like your best and most confident self!
Why does the skin around the eyes typically develop wrinkles and other aging symptoms first?
The skin under and around your eyes is much thinner and more sensitive than the rest of your face and body. Therefore, it is more vulnerable to drooping and stretching quicker as you age. The best eye creams for wrinkles can help with this; although they are no miracle cure to prevent aging completely, they do help slow down the process!
If maintaining and upkeeping your skin's youthful glow is a goal for you, then the daily use of eye cream can have a significant impact on achieving such results. Consistency is CRUCIAL! The problem is that there are a ton of choices when it comes to buying eye creams, making it challenging to know what to look for in an ingredient list. But even if you are aware of what to look for in an eye cream, finding anything that satisfies all the requirements might be time-consuming.
That is why we have provided you with a list of the 21 best eye creams for wrinkles! In addition, you will find outlined tips and tricks and details on what to look for (and what to look out for).
What should you be looking for when it comes to eye creams?
Eye creams can be formulated for skin types that are dry, oily, combination, normal, or sensitive. Due to the substances employed in their formulations, some products may cause redness or irritation if you have sensitive skin. So make sure to identify your skin type and purchase an eye cream that best fits your skin's needs!
Eye creams frequently claim that they were created "especially" for the delicate, thin skin around the eyes. Because they come into contact with the most sensitive part of your face, eye creams are often more hydrating than other skincare products. Eye creams should have ingredients that promote skin healing, cell communication, and antioxidants. By boosting collagen production, reducing discolouration, and re-establishing the skin barrier, they improve the health of skin cells.
Find an eye cream with hyaluronic acid or other components to help hydrate your skin and lessen any irritation brought on by dryness. In addition, future fine lines and wrinkles may be less noticeable thanks to treatments like retinol, which also improves the suppleness of the skin and lessens the appearance of puffiness around the eyes.
Collagen peptides are another ingredient to keep an eye out for because they can help improve the skin's elasticity and lessen the appearance of puffiness around the eyes. Finally, caffeine-infused eye creams work similarly to waking and drinking coffee. Due to its anti-inflammatory properties, caffeine can aid in minimizing the appearance of puffiness. Additionally, it has potent antioxidant properties that lessen the appearance of under-eye bags.
AHA's aid in boosting product absorption and enhancing the appearance of surface wrinkles and can be utilized in eye creams as they serve as an exfoliator. Use only light exfoliation treatments that can be left on if you are concerned about leaving an exfoliant close to your eyes!
Fragrance is not your friend!
When it comes to eye creams, strongly scented products should be avoided. Fragrance is one of the most prevalent causes of contact dermatitis, affecting about 1% of people, according to the American Academy of Dermatology. The bad news is that you can't tell in advance whether a skincare product's aroma may bother your skin. Sometimes, although unlikely, if you've been using a particular skincare product for years, you could still experience irritation from it.
You should choose an eye cream with a more muted aroma, or ideally no aroma because the cream will come into close contact with your eye.
How do you correctly apply eye cream?
Your skin will be better able to absorb and benefit from the product if you correctly apply eye cream. So knowing how to correctly use and apply eye cream will make all the difference!
When applying eye cream, it is recommended to use one of your weaker fingers because the skin around the eyes is quite sensitive. Use your ring finger because it will be the gentlest when dabbing the product into the skin. Using unnecessary force will just irritate the skin. Although it is not detrimental after applying it this way one or two times, you will notice a difference when there is continued pressure applied to the under eyes over a long period of time.
Put only a little eye cream on - a pea-sized amount is enough! Because eye creams are incredibly moisturizing, you only need a tiny bit. It also doesn't hurt the wallet to be a bit frugal when it comes to application size, eye creams can be pricey! Make a line of little dots under your eyes and gently pat them out, being careful not to be too firm. Start in the inner corner of the eye and work your way out, extending all the way to the outer corner.
An eye cream may take a few minutes to penetrate the skin, so wait a few minutes before applying your next product!

It's challenging to differentiate yourself from the competition in an increasingly saturated market like that of men's skincare products. However, Blu Atlas goes above and beyond in terms of both product quality and client care. In addition, only vegan-friendly and all-natural substances are used by this company.
The caffeine-infused Restorative Eye Stick from Blu Atlas is the best eye cream for wrinkles, and for a good reason. Their all-natural solution, which is free of parabens and sulfates, is quite impressive when faced with the task of getting rid of puffiness and dark circles under the eyes.
The Rosa damascena (rose) flower water is a key component in Blu Atlas' eye stick. Rose water is the ideal ingredient for reducing eye puffiness, having been used for generations due to its antibacterial properties. It also helps reduce or prevent inflammation and infection. Along with microalgae, the stick contains vitamins B3 and C, which work to replace, rejuvenate, and rehydrate the skin around your eyes.
2. La Roche-Posay Redermic R Retinol Eye Cream

The dermatologist-recommended French drugstore brand La Roche-Posay is committed to developing answers for all skin conditions, no matter how big or small. The Redermic [R] Retinol Eye Cream is made to smooth fine lines and revive weariness around the delicate eye contour. La Roche-Posay has injected pure retinol into this treatment specifically created for the sensitive eye area to keep fine lines and dark circles under control, sculpting tired and aging eyes to rejuvenate your skincare routine.
Combining the exclusive "Retinol Booster Complex" with 0.2% of caffeine, the Redermic [R] Retinol Eye Cream significantly brightens weary eyes and reduces the visibility of lines and wrinkles. This was created to be compatible with susceptible skin, such as that found under the eyes. It has also been tolerance tested on contact lens wearers under ophthalmological supervision, allowing easily inflamed eyes to feel comfortable using this product. This clinical award-winning eye treatment will leave you fresh and ready to take on the day!
3. Neutrogena Rapid Wrinkle Repair Eye Cream

With the help of this concentrated retinol eye treatment from Neutrogena, the aging skin around the eyes can be improved. This eye cream, formulated with retinol and hyaluronic acid, addresses the appearance of dark circles and brightens and evens skin tone while reducing the appearance of crow's feet and fine wrinkles. Additionally, hyaluronic acid adds moisturizing plumpness to help moisturize and refresh the appearance of skin around the eyes.
This anti-wrinkle retinol eye cream works rapidly for noticeable effects and is one of the retinol brands used most frequently by dermatologists. It is the ideal addition to a regular at-home anti-aging skincare routine and will give you back a visible spring in your step!
4. La Mer The Eye Concentrate
Give credit to the Miracle Broth (La Mer's flagship product)! Contained in this eye concentrate is a hand-harvested blend of nutrients and minerals that helps reduce wrinkles in just 21 days. This product has an applicator to massage the formula with; it also includes a potent antioxidant to stop future damage. In addition, this eye cream is soothing and fast absorbing, so that you don't have to dilly dally around waiting for it to soak into the skin - meaning bedtime comes quickly!
Its active ingredient is lime tea concentrate, which provides a natural and subtle fragrance, while its benefits include restoring the skin to its natural brightness and providing healing hydration. It is amenable to all skin types, so this eye serum is low-risk if you ask us!
5. Kiehl's Midnight Recovery Eye Cream

Kiehl's Midnight Recovery Eye Cream works to give the skin around the eyes a smoother appearance. This restorative overnight eye cream helps repair tissue and reduces the appearance of dark circles and puffiness around the most sensitive part of your face. The product, which contains Butcher's Buckthorn Extract, Evening Primrose Oil, and Lavender Essential Oil, helps to hydrate and heal the skin around the eyes. Use this eye lotion at night to get brighter, younger-looking eyes by the morning!
To calm the skin and lessen puffiness, butcher's broom boosts microcirculation and has anti-inflammatory properties. For a more even tone, lavender essential oil calms sensitive skin and diminishes blemishes. Your skin appears more luminous as a result. Plus, the skin barrier can be repaired with evening primrose oil, giving the skin a healthy glow. This product takes your evening ritual to the next level!
6. Paula's Choice Anti-Aging Resist Anti-Aging Eye Cream

The Resist Anti-Aging Eye Cream from Paula's Choice concentrates on improving the look of the shadows around the eyes, minimizing the appearance of wrinkles, easing dryness, and boosting suppleness with sustained hydration that lasts all night. This thick eye cream combines peptides and skin-identical compounds that prevent sun damage and skin aging while deeply moisturizing dry skin.
If you are looking for an eye cream that targets fine lines, wrinkles, loss of firmness, under-eye shadows, and puffiness, then look no further, as they can all be visibly reduced with the help of this eye cream. Shea butter, skin-nourishing substances, and antioxidants selected especially for this purpose are blended with skin-replenishing components to enhance the appearance of dull skin and aging indications around the eye area while greatly enhancing hydration and bolstering a supple, firm feel. All skin types can use this product, so no wonder the Resist Anti-Aging Eye Cream is widely popular!
7. Q+A Seaweed Peptide Eye Gel
The Q+A Seaweed Peptide Eye Gel is the perfect eye cream to prevent small wrinkles! This product consists of peptides derived from seaweed, aloe vera, and witch hazel which soothe the skin around the eyes and helps to reduce the appearance of fine lines. Aloe vera hydrates, while peptides support collagen production in the skin. Witch hazel is another ingredient in Q+A Seaweed Peptide Eye Gel and has a reputation for purifying the body, and is a great source of antioxidants.
Skincare shouldn't be complicated according to the brand's straightforward attitude. Each product's ingredient list is concise and easy to read—just as it should be! Animal testing is not used in the production of Q+A's goods. The majority of the collection's items are vegan, but a few items include beeswax. Mineral oil, mineral silicone, and fragrance are absent from this gel-like formula. No fragrance makes you our friend!
8. Jack Black Eye Balm Depuffing & Cooling Gel
The Eye Balm De-Puffing & Cooling Gel instantly revitalizes drained tired-looking eyes. This translucent and lightweight gel's soothing properties calm the skin, replenish moisture, and effectively reduce puffiness and dark circles under the eyes. In addition, the eye gel comes with a stainless steel applicator which also has a pleasant cooling effect.
Numerous organic elements in this cream will enhance your complexion while targeting wrinkles. With vitamins A, C, and E, grape seed oil helps eliminate fine lines and improve the appearance of your skin. Panthenol is very hydrating, and chamomile extract calms and reduces skin irritation.

9. The Beauty of Joseon Revive Eye Serum: Ginseng + Retinal

For the delicate eye area, The Beauty of Joseon Revive Eye Serum: Ginseng + Retinal is a serum that primarily focuses on reducing wrinkles. The serum tightens, smooths, and revitalizes the skin around the eyes, leaving it supple and bright. It is enriched with ginseng and retinol. Well-known herbal ingredient ginseng root extract helps reduce visible indications of skin aging, increases moisture, and provides antioxidant effects.
By increasing collagen formation and minimizing fine lines and wrinkles, retinal firms and brightens the skin's appearance. The Revive Eye Serum has a silky texture that spreads gently and absorbs readily into the skin to give the impression of hydration and suppleness, but it leaves no stickiness behind after application!
10. Dr. Jart+ Ceramidin Eye Cream
This Ceramidin Eye Cream from Dr. Jart+ is a replenishing eye treatment that revives dry, crepey under eyes. It is intended to fortify and moisturize the thin, delicate skin barrier and reduce the appearance of dark circles and puffiness. The innovative five-ceramide complex is at the foundation of the formula. It powers the protective barrier of your skin and supports the ceramides already present in it.
These ceramides enhance moisture retention and speed up ceramide production for more prolonged hydration. This means the under-eye areas are well-hydrated and feel and appear more awake. This wrinkle eye cream is ideal for both day and night use. Start slathering now!
11. Origins GinZing Eye Cream

With added vitamin C and niacinamide, Origin's cult-favorite GinZing Eye Cream brightens, moisturizes, and depuffs your under eyes. This fan-favorite is adored for its capacity to brighten, moisturize, and visibly decrease dark circles rapidly. It is powered by Panax ginseng and energizing caffeine. In addition, it provides thin hydration to the skin that blends well with makeup and minimizes the appearance of dry, fine wrinkles.
Be aware that it has a pearlised pink tone that works best on fair to medium skin tones, with cool undertones that instantly conceal traces of exhaustion to rejuvenate tired eyes. We love multipurpose products!
12. Dermalogica Intensive Eye Repair Cream

Dermalogica Intensive Eye Repair is an excellent eye product that works wonders. It is brimming with nutritious antioxidants, vitamins, and plant extracts that work together to improve and suppress the skin's suppleness and structure to help diminish fine lines. This cream also enhances and preserves your skin's suppleness and structure and reverses the skin's early signs of aging. It has no dyes, no parabens, and no perfumes - yay! With this Intensive Eye Repair Cream from Dermalogica, keep your skin looking young and repair early symptoms of aging.
13. Charlotte Tilbury's Magic Eye Rescue
You can wave goodbye to fine lines and under-eye bags with Charlotte's Magic Eye Rescue. This fortifying solution is loaded with nourishing ingredients to firm the skin and decrease the appearance of fine lines and crow's feet. It also feels cool and refreshing when applied.
The advantages are both instant and cumulative! Who doesn't want to re-densify delicate skin to fight crepiness and lessen their dark circles? It is the perfect counterbalance for all indicators of fatigue, and your skin will have the appearance of getting eight hours of sleep every night!
14. Hourglass Equilibrium Instant Plumping Eye Mask
Meet Hourglass' Equilibrium Instant Plumping Eye Mask, the key to a more awake and refreshed appearance (whether you got eight hours of sleep or not). This thin gel formula is infused with two cutting-edge complexes that work together to smooth fine lines and add firmness while also re-establishing the skin's natural moisture barrier in order to revive, brighten, and strengthen the soft area under and around your eyes.
15. True Botanicals Resurrection Radiance Eye Cream
The True Botanicals Resurrection Radiance Eye Cream is a cutting-edge, brightening eye cream. It is infused with a unique tree bark extract that targets the underlying source of dark circles. Turmeric, coffee, and licorice extracts, which are high in antioxidants, help deflate and brighten the eye region to produce youthful-looking, radiant eyes. It uses a bioactive moisture retention compound to help intensely hydrate and significantly lessen the appearance of fine lines, wrinkles, and dark circles. And it is also hypoallergenic - what more could you ask for?
16. Skin Ceutical AOX + Eye Gel

AOX+ Eye Gel is a ground-breaking gel serum that combines 5% l-ascorbic acid (pure vitamin C), 1% phloretin, and 0.5% ferulic acid with potent botanical extracts. It aims to protect the sensitive skin around the eyes from all the bad things; atmospheric skin aging, environmental damage, and early signs of aging brought on by free radicals from UVA/UVB, infrared radiation (IRA), and ozone pollution (O3). This renewing eye serum lessens the appearance of puffiness, exhaustion, and under-eye circles while addressing apparent aging symptoms like crow's feet and fine lines. Fighting not only the signs of daily fatigue but also working as a protective mechanism for your skin's future appearance!
17. Murad Resurgence Renewing Eye Cream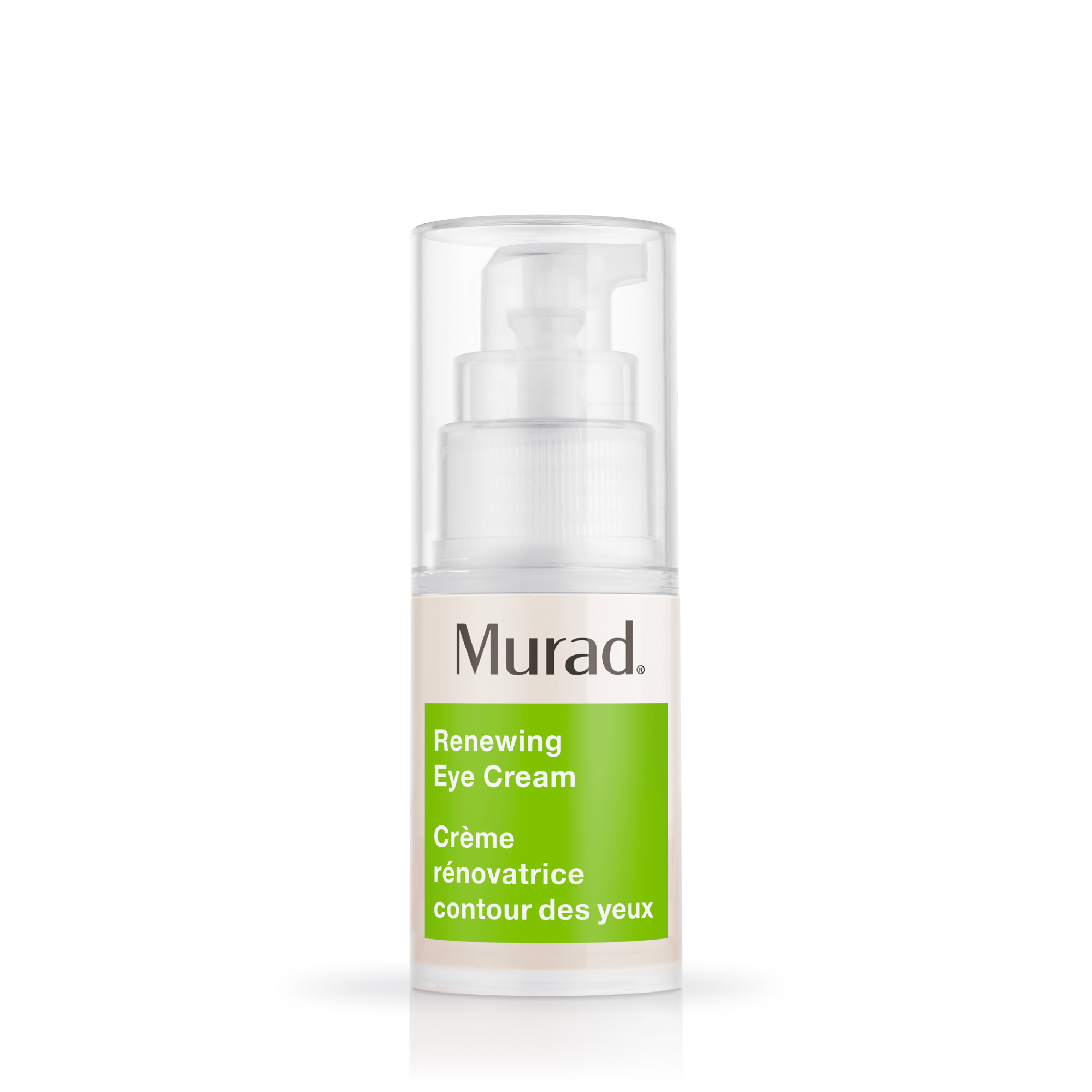 This is an active anti-aging cream that firms, moisturizes, and brightens the skin around the eyes to reduce wrinkles and dark circles. It contains an eye-brightening complex to minimize puffiness and palmitoyl pentapeptide-4 to reduce deep crow's feet.
The Murad Resurgence Renewing Eye Cream fights a number of battles for you. The exclusive composition boosts hydration and elasticity while firming and restoring the delicate eye area. The increase in skin moisture leaves your skin with natural skin softeners. This brand is second to none when it comes to skincare, this Renewing Eye Cream is one of the best eye creams for wrinkles by our standards!
18. Laura Mercier Illuminating Eye Cream

This light-weight yet rich eye cream gives the eyes an instant lift and takes away the appearance of fine, dry wrinkles, puffiness, and dark circles. The cream's green coffee seed oil invigorates and plumps the skin, and the violet pearl, which reflects light, instantly brightens the complexion.
The cream contains French spring water, which is known to rapidly hydrate and restore the ideal moisture balance to the skin. French rose flower extract, and damask rose flower oil are combined to create rose water, which is rich in important vitamins, minerals, and antioxidants that are proven to soothe and balance the skin!
19. NIVEA Q10 Energy Fresh Look Eye Cream

This eye cream does what is in the name: it gives your face a fresh and energizing look through the use of vitamins C and E, and coenzyme Q10, which reduces wrinkles and signs of fatigue! The skin around the eyes is usually first affected by the signs of fatigue and exhaustion. The Nivea Q10 Energy Eye Cream revitalizes and fights wrinkles for you! The cream will restore your youthful appearance and assist you in preventing outward indications of aging. As a result, the cream allows your skin to become more uniform and brightly coloured, the eye contour is tightened, and the fine lines are smoothed..
The Nivea Q10 Energy Eye Cream hydrates the eye region, diminishes the appearance of age signs on the skin, tightens the eye contour, fills wrinkles, and minimizes the appearance of fine lines. If you want to stimulate tired and dull skin, this one's for you!
20. Clinique All About Eyes Eye Cream
Clinique's All About Eyes is a light eye cream to help you lessen under-eye bags and puffiness. It is suitable for all skin types and perfect for sensitive skin! This product is simple, safe, and effective, in keeping with the brand's philosophy, and is free of acetone, parabens, sulfates, antioxidants, oily ingredients, and perfume. The eye cream further protects against irritation and environmental aggressors while melting quickly into the skin, giving you dazzling and fresh eyes!
21. No7 Protect and Perfect Intense Advanced Eye Cream

Restore energy to your eyes with the Protect & Perfect Intense Advanced eye cream. It is gentle but still effective, providing instant hydration to lines and wrinkles. It also targets puffiness, decreasing dark circles for a wide-awake appearance. The eye area appears more alert right away with this one! And after two weeks of use, the skin will seem younger, and the visible presence of fine lines and wrinkles around the eyes will have diminished.
No7 Protect and Perfect Intense Advanced Eye Cream is formulated with hyaluronic acid and shea butter. The under eyes are immediately hydrated by this eye cream. With the use of ginseng extract, the skin around the eyes will feel energized and seem more alert after use. The antioxidant complex is specifically made to help you achieve a more vibrant and youthful look.