1. Deyga Organics – Sunscreen SPF 50
Let your skin breathe freely in the sun with our broad-spectrum SPF 50! The light & non-greasy formula protects against UVA and UVB rays by blowing kisses of sun protection all over your skin! Protects the skin from sunburn, lowers the risks of skin cancer, limits sun damage, minimizes the signs of ageing, Calms inflammation, reduces hyperpigmentation & moisturizes the skin
BOOM! It's time to have fun in the SUN.
Buy it from: https://deyga.in/collections/sun-screen/products/sunscreen-spf-50
2. Kosmoderma Photo Protect Sunscreen Gel SPF 40
Kosmoderma Photo Protect Sunscreen Gel SPF 40- Skin needs protection from UV radiation of sun. Sun exposure can cause hyperpigmentation and premature ageing. Kosmoderma Photo Protect SPF 40 PA+++ with UVA/UVB protection & Blue light Protection daily use sunscreen is a light and easy-to-use formula. Suitable for all skin types and is non-oily and non- sticky. Sunscreen gel offers a broad spectrum of protection from UV and blue light. The gel forms a thick layer of sun protection and stays on for a long time. A non comedogenic product which is light, clean and ensures a matte effect. Vitamin C antioxidant in the gel allows skin time to heal and repair free radical damage.
Buy it from: https://shop.kosmoderma.com/product/photo-protect-sunscreen-gel/
3. INATUR Kumkumadi Day Cream with SPF 30
Inatur Kumkumadi Day Cream With SPF 30 contains organic UVA and UVB absorbers along with herbs and essential oils such as saffron oil, sandalwood, vetiver, sesame oil, turmeric extracts, rose oil, manjishtha, almond oil, etc. It helps to control pigmentation, blemishes, tanning, acne, premature aging, and dark spots to visibly enhance the skin tone, improve the skin texture, and fight signs of aging. The formulation is non-greasy and suits all skin types including sensitive and oily skin. It is equally beneficial for both men and women.
Buy it from: www.inatur.in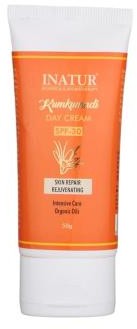 4. Malibu SPF 50 Clear Spray
Summer is setting in, and K.O.W Skin has brought UK's Favourite SPF Range, Malibu Sun, to India. Introducing Malibu SPF 50 Clear Spray. This innovative sunscreen is a mix of 4 skin-loving SPF Screens, providing long- lasting protection against UVA and UVB rays. Its absolutely clear formula creates transparent protection layer on the skin. The spray bottle makes it easy to apply & reapply. This water and sweat-resistant formula are a must-have for every season, for the beach, hiking, sportspersons, and anyone who loves outdoor activities. Remember to reapply the same every 2-3 hours when out in the Sun and every 4-6 hours when indoors. So, don't risk your skin's health; choose Malibu SPF 50 Clear Spray for unbeatable sun protection.
Available on all major e-commerce portals and www.kowskin.com
5. KleenOWipe Charcoal Detox & Purifying Facial Wipe
K.O.W Skin launched this revolutionary new product with the idea of "Skincare On A Wipe", which provides a deep cleanse and detoxification for your skin with just one swipe. Made with 100% activated bamboo charcoal, which acts like a magnet to draw out impurities and toxins from your skin. They are hypoallergenic, alcohol-free and cruelty-free. KleenOWipe Charcoal Detox wipes also contain a blend of skincare ingredients, such as aloe vera and salicylic acid, which soothe and hydrate your skin while giving a refreshing feel. These facial wipes are perfect for those on the go, and they provide a quick and easy way to purify your skin without needing water or a cleanser. Perfect for your travels, outdoors and sports. It also removes makeup easily. Try them today & Thank us later! KleenOWipe Charcoal Detox and Purifying Facial Wipes are available on leading e-commerce sites and also www.kowskin.com
6. Nature Trail AM to PM Breakouts & Blemishes Face Serum
There are plenty of Vitamin C serums available in the market but what makes this one standout is that it is a multi-active formulation with Vitamin C, Potassium Azeloyl Diglicynate (a stable derivative of superstar skincare ingredient Azelaic Acid), Liquorice & Niacinamide. This amalgamation of ingredients is highly effective on multiple skin concerns like acne marks, pigmentation, uneven skin tone, dark spots & dullness. It also heals breakouts, inflammation & bumps. So overall, this face serum can be used by anyone with any skin type. The fact that it addresses multiple problems eliminates the need for unnecessary layers in your skincare routine. The formula is fragrance free & non greasy. You can apply the serum both in the AM & PM right after cleansing & before moisturizing. With consistent usage, you should see results in 4 to 6 weeks.
Buy it from: https://naturetrailindia.com/collections/all/products/nature-trail-am-to-pm-breakouts-blemishes- face-serum-30-ml
7. Pretty Naturale Depigmentation Serum
It is a skincare brand that offers a complete solution for skin care, providing natural, organic and effective brightening products formulated with only natural ingredients. It was conceptualized by the Founders who were passionate about creating a product that offers quality and great value. They offer products that are natural and formulated with pure ingredients, so customers can continue to embrace their own individual beauty no matter what is their age. The entire range of skincare products is based on its brand philosophy of enhancing natural beauty without compromising on quality. Their depigmentation serum contains a unique blend of natural and scientifically-proven ingredients, including Aqua, Alpha Arbutin, Glycyrrhiza Glabra (Licorice) Root Extract and Hyaluronic Acid that work together to inhibit the production of melanin, the pigment responsible for dark spots and uneven skin tone. The serum helps protect your skin from environmental stressors and other hydrating ingredients keep your skin moisturized and supple. With regular use, our depigmentation serum can help reduce the appearance of dark spots, age spots and sun spots, as well as improve overall skin tone and texture. Try it today and see the difference for yourself!
Buy it from : https://prettynaturale.com/collections/de-pigmentation-serum/products/night-face-cream
8. Boho Botanist Rose & Peony Buffing Sugar Scrub
Rose scrub is one of Boho Botanist's hot-selling products, which gets sold out the moment it is back on the rack. This sugar-based scrub is extremely gentle and one of the easiest body scrubs to use on the market. The non-messy, non-abrasive, gentle sugar crystals deeply exfoliate your skin. The magic happens when the crystals come in contact with water; the scrub melts into the skin and starts foaming, giving you the softest, smoothest, plump, and supple skin. Unlike other scrubs, which instead of removing just the dead skin, cause even more damage because of the harsh particles. The 'melting & foaming' action of these superfine sugar crystals used in the body scrub makes it the perfect double cleanser! With the properties of peony and rose and 8 other botanicals, this scrub is here to give you the perfect exfoliation, tan removal & skin brightening. The post-use feel of this scrub is just like your skin would feel after stepping out of a spa, or even better!
Within 15 mins of application, you can feel the difference in your skin, leaving you with more moisturized, hydrated, and bright skin.
Buy it from: https://www.bohobotanist.com/collections/boho-botanist-all-products/products/bulgarian-rose- and-peony-buffing-sugar-scrub-for-bright-skin
9. Omumsie No Rinse Body Cleanser
OMumsie's No rinse body cleanser is a micellar water formed specially for babies, kids and moms . With the goodness of aloe vera and olive oil which work together to clean , moisturise and nourish the skin . Its a great hack to remove makeup for moms as well . Its very easy to use , spray the micellar water on the bodypart to be cleaned and dry it with a clean towel / cotton . It needs absolutely NO RINSING . Its an ideal solution for the days baby / child is under the weather and cant bathe , the fussy days where the kid refuses to bathe , after park visits , playdates and perfect while travelling to clean the babies mess ups ! It's a versatile product with many benefits, moreover it absolutely organic & alcohol free. Omumsie is making kindest & purest skincare for babies.
Buy it from: https://www.omumsie.com/products/no-rinse-body-cleaner?_pos=1&_sid=b96c69c2a&_ss=r
10. AKIHI's Genie in a Bottle Face Serum
AKIHI' s Genie in a Bottle Face Serum is a game-changer for anyone looking to improve their skin health and appearance. With a powerful blend of Ceramide and Hyaluronic Acid, this serum works wonders by stimulating collagen production, which is essential for keeping your skin healthy and nourished. The result is a more youthful and radiant complexion that you"ll love showing off. This serum is specially formulated to improve skin elasticity, reduce fine lines and wrinkles, and promote a more youthful appearance. Its fast-absorbing formula ensures that your skin gets all the nourishment it needs, and the results are long-lasting. Whether you're dealing with dry or aging skin, AKIHI's Genie in a Bottle Face Serum is the perfect solution for achieving a healthier-looking complexion. In addition to its other benefits, AKIHIs Genie in a Bottle Face Serum also works to minimize pores, leaving your skin looking smoother and more even-toned. The serums unique formula helps to regulate sebum production, which can often lead to enlarged pores. By keeping excess oil in check, the serum helps to refine the appearance of your skin and minimize the appearance of pores. This is great news for anyone who struggles with oily or combination skin and wants a smoother, more refined- looking complexion. With regular use, AKIHI's Genie in a Bottle Face Serum can help you achieve the flawless- looking skin you've always wanted. So why wait? Try it today and discover the amazing benefits for yourself!
Buy it from: https://akihi.co.in/products/facial-serum
11. Ras Luxury Oils- Ultra-hydrate Multi-Purpose Gel with Hibiscus & Coconut Water
An innovative formula, Ultra Hydrate Multipurpose Gel delivers eight skin benefits in one product: it hydrates, moisturises, smoothens and plumps – while giving you a radiant glow, nourishing after-sun care, and protection against free radicals. Enriched with hydrating Aloe Vera and Coconut Water, it helps your skin maintain its hydration barrier and your hair retain moisture. While Rose & hibiscus soften and boost glow, Neem helps calm & soothe skin. Benefits- Long Lasting Intense Hydration Of Skin And Hair, Prevents Skin Aging And Decrease Inflammation, Provides Skin & Hair Nutrition, Helps To Tighten Pores, Purify And Smooth Your Skin, Lightens Blemishes On The Face And De-Tan Skin.
Buy it from: https://www.rasluxuryoils.com/products/ultra-hydrate-multi-purpose-gel-for-skin-and- hair?_pos=2&_sid=7ef79e8fd&_ss=r