Prime Minister Narendra Modi's wife Jashodaben today filed an RTI application with Mehsana police to seek clarity on security cover given to her at present and wanted to know what she is entitled to.

Mehsana Superintendent of Police (SP) J R Mothalia said that Jashodaben wants to know what are her rights as PM's wife as far as the security aspect is concerned.

"Today, she came to our office and filed an RTI to know about her rights as PM's wife with regard to security cover. We will give our written reply to her in stipulated time," said Mothalia.

Jashodaben lives with her brother Ashok Modi at Unjha town of Mehsana district. After Modi was sworn-in as PM, she has been given security by Mehasana police.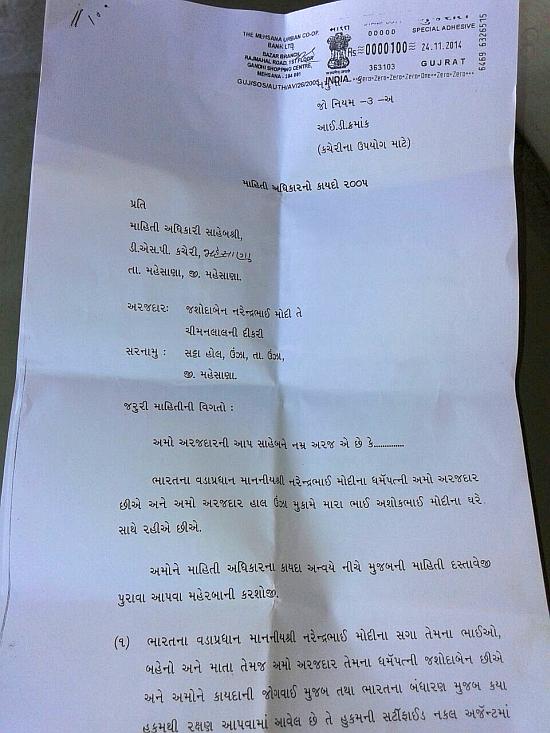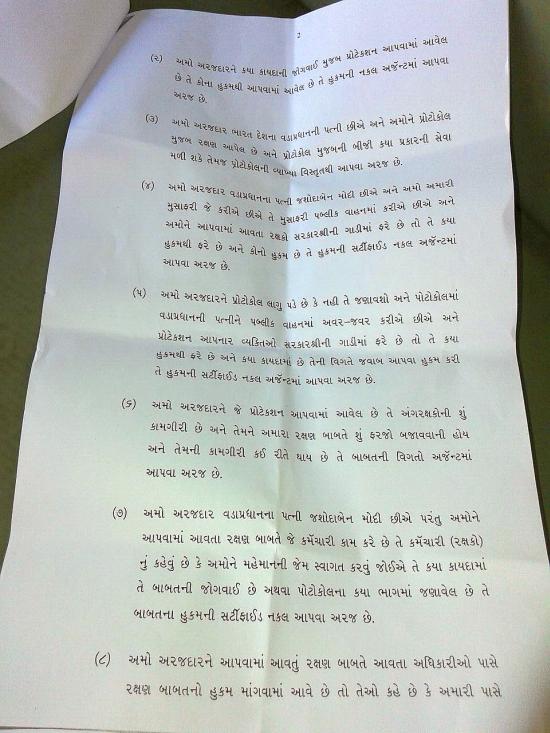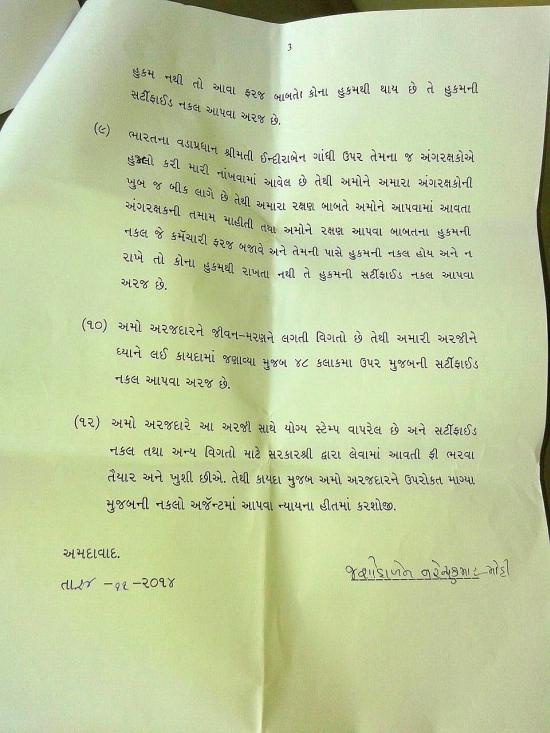 "We have deployed ten of our policemen, including armed guards, for her security. They work in two shifts, five each in one shift." said Police Inspector of Mehsana Special Operations Group (SOG) J S Chavda.

In her application, Jashodaben sought several documents from the police department related to her security cover given as per the protocol, including the certified copy of actual order passed by government about providing security.

She also wanted to know the laws and related provisions in Indian Constitution about security cover given to a PM's wife.

She asked the government to explain the definition of protocol and sought details about what is included under it and what other benefits she is entitled for as per that protocol.

She also expressed unhappiness about the current security set-up, where her guards travel in government vehicles like car, while despite being a PM's wife she has to travel in public transport.

Jashodaben noted that late Prime Minister Indira Gandhi was killed by her own bodyguards and that she felt scared of her guards. She asked the government to make it compulsory for each guard to produce copy of deployment order.
She has recently been quoted as saying that she wants to live with her husband, Prime Minister Narendra Modi, if he so desires.

While speaking exclusively to Zee Media, she was reported to have said, "agar wo lene aayen to main taiyar hoon (I am ready to go with him if he comes to take me)."

The PM had acknowledged the 62-year-old Jasodaben as his wife for the first time at the time of filing his nomination for Vadodara Lok Sabha seat earlier this year.

She has also been provided with SPG security cover, which is given to the PM and members of immediate family.

They were married in 1968 when they were teenagers.
Later, when a television channel tracked Jashodaben on her way to her home town Unjha when she was riding pillion on a scooter, she told the reporter of the news channel that she was ready to live with Modi if he invited her.

"If I am invited to live with him, I am ready to move to Delhi," she said.

When asked about her intention behind filing the RTI application, she said she has not been given enough facilities.

"I am not given justice. No facilities have been provided to me," she said.