Aam Aadmi Party member and RTI activist Chandra Mohan Sharma, who was found 'burnt to death' in his car in Greater Noida three months ago, has been caught alive.
An NDTV report dated May 2 says that the police had filed a case of murder.

He is suspected to have staged his own death. The police had sent teams to Karnataka as well as Nepal to search for the 38-year-old Sharma after reports he had been spotted in Nepal.

The activist's wife, Savita Sharma, said the police had unofficially confirmed the tip-off was true and that she too believed that Sharma had faked his death.

According to reports in the media, Savita Sharma said, "There was a young woman in our locality who was in touch with my husband. She used to contact him on his private number, which was known to only a few people. After a month of his death she also went missing."

The police are also looking into the identity of the burnt body in the car, which now obviously cannot be Sharma. It had been sent for DNA testing but the police don't have the reports yet.
Advertisement opens in new window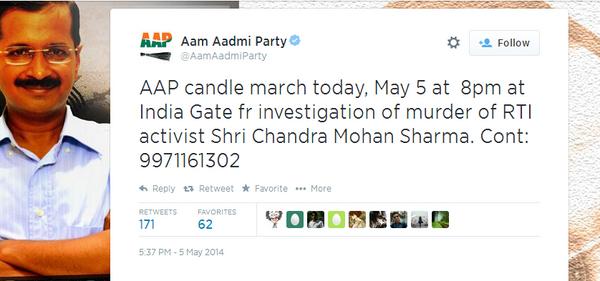 Initially the police had said that Sharma was burnt to death inside his Chevrolet Aveo which had caught fire, but AAP had demanded an independent probe into Sharma's death.

At that time, Sharma's family too had claimed that he had been killed by the land mafia since he was active in fighting illegal encroachments. They had also lodged an FIR to look into the same.