The censor board has issued a list of "objectionable" and "abusive" words which will be banned in films, while also asking film-makers to use 'Mumbai' and not Bombay.

The letter by Central Board of Film Certification chief Pahlaj Nihalani directs its regional officers not to issue certificates to films which use these words, which are abuses in Hindi and English, and it has also been specified that double meaning words, violence against women and glorification of bloodshed should not be allowed.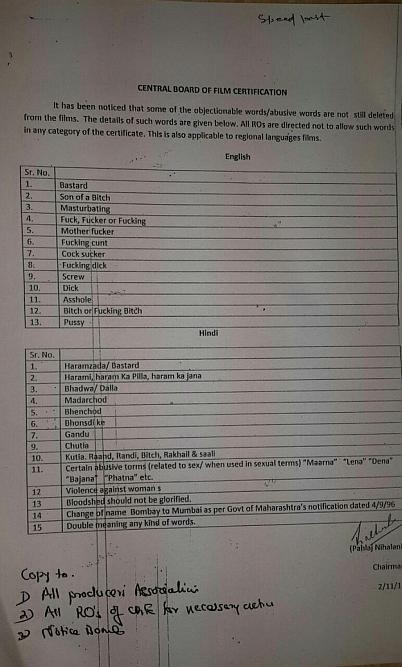 Queried about it, Nihlani told PTI that it was issued only to bring clarity, especially to filmmakers so that last minute cuts are avoided.

When asked about the matter, Minister of State in the I&B ministry Rajyavardhan Rathore said the government does not interfere in the Censor Board's functioning but maintained that he was confident that the "letter is not the end of everything.... It's not the final decision".

The communication, which was also marked to producers' association, came close on the controversy of Censor Board member Ashoke Pandit slamming the use of language by film personalities during a stand-up comedy show that became viral online.

At an interaction organised by the IWPC here, the minister said that he had learnt about it in the morning.

"Certification Board is an autonomous body and hence we don't want to manage them at all," Rathore said while adding that he personally felt that everything has to be in context.

Some of the journalists questioned Rathore further saying that if the CBFC's letter is stringently followed, it would make it difficult for audiences to enjoy the work of several celebrated film-makers.

"The opinion of the ministry is at slight variance.... However, it is the jurisdiction of the Certification Board. I am sure this letter is not the end of everything... It's not the final decision. I believe that everything has to be in context," he responded.

Responding to another question about the composition of the new censor board, Rathore said that the people chosen were experts in their fields.

Rathore was asked about the new CBFC chief's comments praising Prime Minister Narendra Modi to which he said that so many people across the country and the world are the Prime Minister's admirers.

Saying that the Film Certification Board was repeatedly referred to as the Censor Board, Rathore suggested that perhaps the word 'ratings' should be used instead.

Asked to comment on a recent FIR against several leading film stars in Mumbai in connection with a show, Rathore said that a private individual had complained about the same and the government was not in the picture in relation to the said case.

On the AIB show issue, Nihalani said the Censor Board has no role, but if the matter comes before it, it may offer suggestions.