Dangerous Fuel...
Police and doctors attribute a variety of reasons for the rise in numbers of young urban criminals
With urban peers typically having access to disposable money, many youngsters find they are unable to realise similar aspirations, and then start thinking of themselves as wronged and humiliated
With the family becoming more nuclear, morality becomes relative
Media bombardment and sexual frustration make their fantasies dangerously violent
Their education convinces them that they are above the law
The constant nagging of parents becomes a provocation
The want of easy money often aids their will to kill
***
Yuppies To Yukkies
The percentage of young, urban killers in the 18-30 age group is climbing year by year
2003: 38.03
2004: 39.76
2005: 40.19
2006: 41.46
2007: 43.14
***
Station Diaries...
October 2009, Hyderabad: The body of Mahendra Satyam employee S. Chandrashekhar was discovered near Tallagadda. Investigation proved his wife Anusha had killed the 24-year-old with the help of her lover, using a rope, tape and sleeping tablets.
August 2009, Mumbai: Four boys, all in their 20s and from affluent families, were charged with the rape of a 16-year-old girl. The teenager, who was abducted near the Fun Fair complex, was later found hanging from her ceiling fan.

Mumbai: With his father away in Dubai, a 17-year-old teenager found it easy to strangle and kill his stepmother, Noor Khan, after she refused to give him money to buy a trendier mobile phone.

July 2009, Delhi: Of the four accused in the kidnapping and murder of 17-year-old Ribhu Chawla, 27-year-old Kunal Bhandari (Rocky) was a former Mr Delhi. His accomplice, Rishabh Chauhan, 24, was an English literature graduate.
March 2009, Chennai: Strangely enough, two engineering students were arrested for having snatched the handbags of three women in different parts of the city. They were also believed to have been involved in a larger racket of motorbike theft.
February 2009, Hyderabad: Jitender Sharma, 22, killed a class XI student by strangling him with a shoelace in R.K. Puram. He's said to have randomly picked on a victim to implicate the boyfriend of a girl who had recently spurned him.

January 2009, Calcutta: After their plan to kidnap 22-year-old Sudipto Bhattacharya went awry, Sandip Bit and 28-year-old stockmarket player Amit Mondal stabbed their victim several times, before dumping his corpse near Bally Bridge.
***
In May this year, the police in Delhi came upon one of their nastier crime scenes. In middle-class Paschim Vihar, they found the blood-soaked body of middle-aged Kiran Kapoor. She had been viciously stabbed to death in her own bedroom. Kiran's 26-year-old daughter, Sakshi, the key witness, told them two strangers were responsible for her mother's gruesome death. The profile of the killers drawn up by the police based on Sakshi's evidence was believable—they seemed to be seasoned criminals, they showed their victim no mercy, and they were perhaps from the 'rougher' side of society. As the investigation proceeded, however, the picture changed dramatically. Not only were the culprits young first-timers, they were resolutely middle-class, and the prime accused was none other than the prime witness, Sakshi.
Under questioning, Sakshi's lover, 20-year-old Sunny Batra, broke down and confessed that the broken liquor bottle found at the crime scene was one he had brought to share with Sakshi. Kiran, who had come home early from her evening kirtan, caught the two in what the police described in its time-honoured way as a "compromising position". Panic soon gave way to extreme violence. Sunny silenced Kiran with an iron-press, and Sakshi stabbed her 55-year-old mother 24 times over with kitchen knives.
Suddenly, someone with no criminal past kills or robs—this is the most worrying aspect for police officers.

Worryingly, Sakshi's social profile resembles that of a number of other killers in the country. In April, Abhishek Patil, 21, the son of a renowned Kolhapur doctor, killed his grandmother with a pestle. The apparent cause of Patil's rage was his inability to access pornography on the Internet after the 67-year-old Shantabai moved into his room. And in August, Tamil Nadu police arrested eight persons in connection with the kidnapping and murder of a 73-year-old doctor from Dindigul, Dr Bhaskar. The mastermind, it turned out, was 28-year-old Kartik, who was an army gunner from 1999 to 2003 and was now pursuing an MBA. His seven accomplices were all in their 20s, and the youngest, 20-year-old Manju, was a final BSc student in a Madurai college. Most recently, in the last week of October, Pushpam Kumar Sinha, a PhD scholar at IIT Delhi, was accused of killing and burning the body of 17-year-old Manipuri teenager after she refused to respond to his persistent sexual overtures.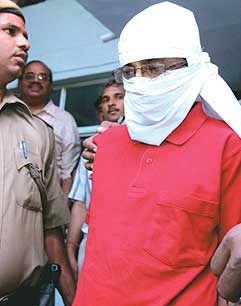 Frustrated: Pushpam Sinha under arrest
Goodbye Yuppies, Hello Yukkies: young, urban Indians ready to kill, kidnap, rape, sodomise and steal. Of all persons arrested on charges of murder in the capital from January to August this year, 61 per cent were below the age of 25; all the 33 individuals accused of kidnapping for ransom were first-timers, and most belonged to the 20-25 age group. The last time the National Crime Records Bureau (NCRB) updated its record in 2007, it found that two out of five individuals (41.3 per cent) arrested in India belonged to the 18-30 age group.
Rakesh Maria, Mumbai's joint commissioner of police (crime), says, "Old theories which said that criminals are uneducated and unemployed—they just don't hold anymore. Earlier on, youngsters could rely on the guidance and the watchfulness of elders. Now, they are left to fend for themselves and believe that any means can justify the end."
In fact, elimination of the guiding hand of elders has become a bit of a norm with today's Yukkies. In March this year, police in Porbandar (Gujarat) arrested a 16-year-old schoolgirl for killing her parents and sibling for opposing her affair with a married man. Six months later, a 19-year-old college girl in Rohtak (Haryana) killed seven members of her family who came in the way of her amorous affair. Similar cases abound across Indian cities.
In her confession, Delhi's Sakshi said her mother was a strict disciplinarian who constantly chastised her for relationships with men. It was this insistence on dictatorial discipline that was responsible for Sakshi's violent outburst, says Dr Shubhra Sanyal, a criminologist. "The girl stabbed her mother 24 times. It is clear that this was not just a heat-of-the-moment crime of passion; there was a more innate hostility and hatred at play," says Sanyal. "This is what you get when you replace understanding with thoughtless strictness."
Shubhangi Parkar, head of the department of psychiatry at Mumbai's King Edward Memorial Hospital, too, relates the problem to the shortcomings in modern-day parenting. "Parents' anxiety, which often translates into nagging and interference, amounts to provocation," she says. "This finally results in displays of violent aggression." But even when the blame shifts from decaying moral values to bad parenting, the bonds that tie India's youth and heinous crime don't become any easier to untangle.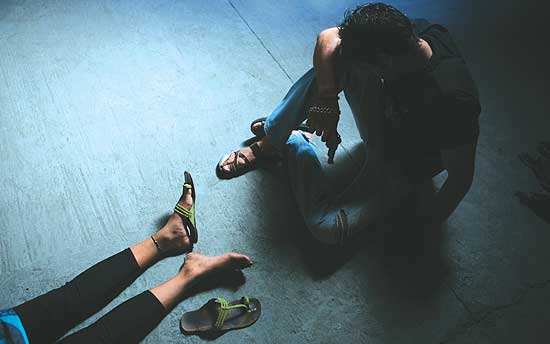 Sexual frustration, more cases show, continues to be a prime motivating factor. In April, for instance, Mumbai police arrested six twentysomething college students after having found evidence implicating them in the gang-rape of an American student of the Tata Institute of Social Sciences (TISS). Then in August, a 17-year-old student from a popular central Delhi school was apprehended for sodomising an 11-year-old boy. The abuse, police said, lasted two long years.
The Indian youngster's relatively new casualness towards crime worries Delhi's joint commissioner (crime) Amulya Patnaik. "Youngsters committing crime—that currently ranks as our biggest concern," he says. What makes the matter worse, according to him, is that many of these crimes are impossible to prevent. "If someone without any criminal record is sitting in a room, hatching a plan to murder or kidnap, it is a little unfair to expect the city's police to have enough intelligence with which they can intervene in time," he says. Patnaik's headache is increasingly becoming common to many of his counterparts in other parts of the country.
Peer pressure, the influence of films and media, a need to have it all—all this makes some stop at nothing.

Psychologist Rajat Mitra, who has been counselling Delhi's young offenders for over 15 years, believes that a "loosening of familial bonds" has much to do with the growing instances of violence on the part of young Indians of a certain profile. Of late, he says, the "fantasies of the young are becoming far more violent." Rather than being able to negotiate their inability to fulfil their desires, they often give in to what Mitra calls "a real or perceived perception of injustice and humiliation". This invented feeling of persecution "then leads to brutally violent acts such as homicide; they express their rage forcibly without any understanding of what might be the end result." The will to hurt, says Mitra, gets further compounded by the fact that rather than being absolute, morality is now relative. "If it seems all right, it is all right to do, even if the 'it' in question is murder."
Into the widening pool of Yukkies, schoolgoing teenagers are being sucked in as well. Concerned about the unbridled aggression she sees in the language and acts of many students, Dr Ruchi Seth, principal of Delhi Public School, Gurgaon, says, "I feel as if I am sitting on a time bomb, unable to ensure security in a school environment." Two Class XII students in Mumbai serve as examples to fuel her fears. They are said to have kidnapped and killed their 17-year-old Rizvi College classmate in February.
When police authorities discovered Mukim Khan's battered body in a Santa Cruz gutter, they found that the teen's head had been bludgeoned beyond recognition. One of the accused, 17-year-old Amir Sheikh, later confessed that the killing wasn't impulsive; it had been planned all along. And it was only after the brutal killing that he and his friend called Mukim's wealthy father, a landlord in Bandra, demanding Rs 3 crore in ransom. Delhi's Vikas Sethi, who demanded ransom from the parents of 7-year-old Akshita in August, told investigators the film Apaharan was his inspiration. Sundari Nanda, additional commissioner of police (licensing), says that, besides films and TV, advertising myths such as "the girl goes with the rich man in a big car" add to already existing peer pressure and that could push youngsters to crime.
In Chennai, there have been several cases of college students involved in crimes such as chain-snatching and robbery. V.A. Ravikumar, joint commissioner, Chennai, says, "A number of these youngsters join colleges and find there are so many students spending money freely. Wanting to do the same, they end up taking to crime." According to Ravikumar, "the degree of concern is alarming because suspicion then falls on the entire community of students."
Kalpana Swaminathan, a writer of detective fiction, says that apart from need and greed, "the problem here is the non-sustainability of a life of truth". Making simpler this abstract thought, the author of The Page Three Murders explains that a "hypocritical society" is forcing the nation's urban young to conform to an "unusual existence", making them afraid to be different. "Their ambition is now consumed by airtime. If some act can get you on a talk show, then that act must be justified," she says. But rather than pointing fingers at globalisation and materialism, Swaminathan even shares part of the blame: "I am in my 50s now, and I can say that even though it is those in their 20s committing crimes, it is us, the older generation who are to be blamed." Accusations and blame notwithstanding, the one question that still needs further exploration is this—when did the nation's youth begin to think that killing people was a novel way of killing time?
---
By Shreevatsa Nevatia in Delhi with Smruti Koppikar in Mumbai, Pushpa Iyengar in Chennai, and Dola Mitra in Calcutta