"It's only when the tide goes out that you learn who's been swimming naked." That statement from investment guru Warren Buffett aptly describes the current state of the Indian economy. Even if one separates politics and emotions from this trying economic moment—and believe us, there's a lot of both going around—the rupee's free fall tells us something of an eternal law. A flailing government on its last legs does not command the market's confidence. That's why you have uncertainty, anger, even fear about the future.
"Don't panic." That would be an obvious signal to emerge from an election-bound government. But try as hard as it might, the Manmohan Singh-Palaniappan Chidam­baram team is finding it tough to convince urban Indians that nothing's too rotten with the state of the Indian economy. For most Indians, rising prices is a constant albatross. Consumer inflation has been in double digits for some time now. The rupee, at a record 65 to a dollar and falling, would add to inflationary pressures. Along with the slipping growth and ruthless cost-cutting in many sectors, the outlook looks bleak.
***

The Uncertain Life And Times Of The Indian Middle Class Family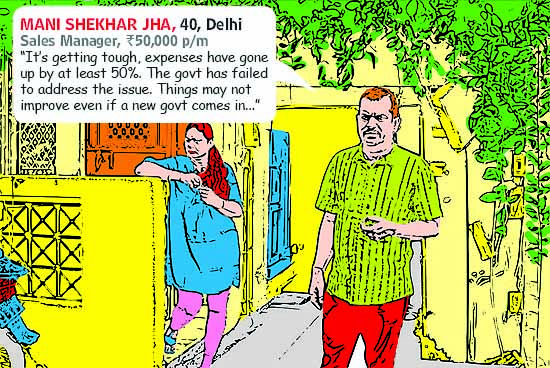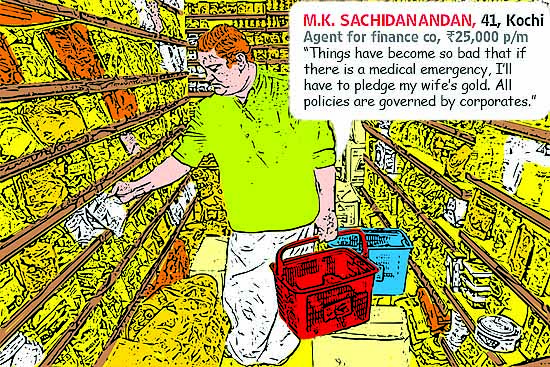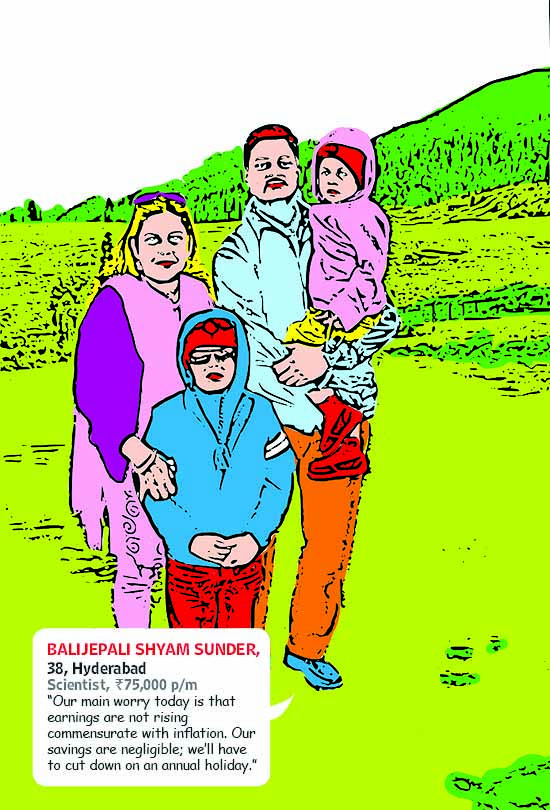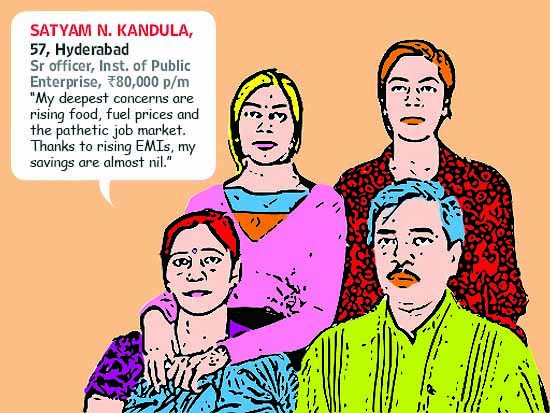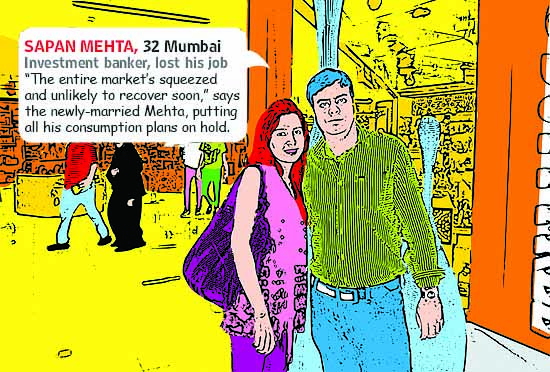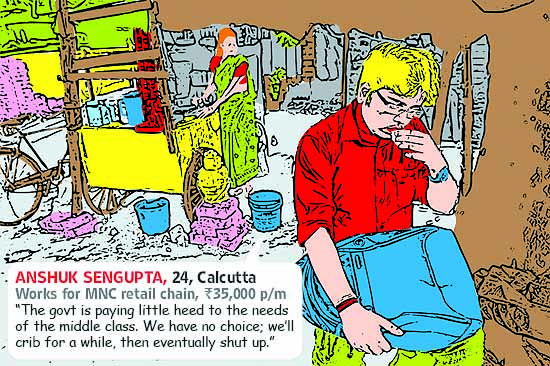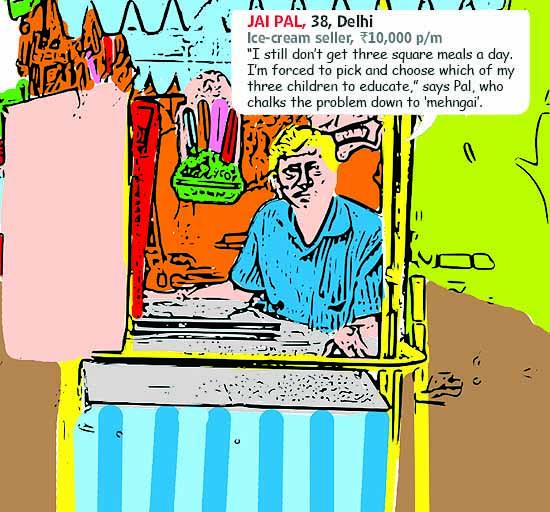 Illustrations by leela
***
Talk of taking a "begging bowl" to the IMF has brought back unpleasant memories of 1991 and the balance of payments crisis. Even emphatic denials, of the sort the finance minister has been putting out, only seem to put it firmly back on the menu. Whatever the government does—tighten imports, discourage gold buyers, encourage FDI in retail—the rupee continues its downward spiral. Never mind that this is something the whole world is going through. The vicious cycle is not sudden, but it has got everybody angry. 'Everybody' being a close synonym of the urban, TV-watching middle class.
The reason for their mood is the approaching elections. By attacking the economist prime minister and his 'dream team', the BJP is challenging the Congress's claim to economic wizardry since its authorship of the 1991 reforms. The Opposition is obviously trying to play up the virtues of its mascot Narendra Modi, who touts 'development' as his singular achievement. The many calls for immediate elections as a fallout of this 'economic mismanagement' play on another big fear: of further instability. "Suppose the Congress doesn't return to power and neither does the BJP," says a former senior economic bureaucrat. "That could break the edifice of the republic."
"Growth in India is understated. This is not to say there are no problems; But the problems are often biased by the focus on PLUs (people like us)."
That's why the question needs to be asked: is the India story really so over? Is this crisis so deep that India will stand outside the gates of the IMF and the World Bank, begging bowl in hand? The government and most experts pooh-pooh the idea. "We are not in a desperate or dire situation. The fundamentals of the Indian economy are strong. Indians are hard-working, highly entrepreneurial and innovative people. The factors driving domestic demand and supply are robust. We still have reserves of over $250 billion," says Meera Sanyal, former banker and current president, Indian Liberal Group, a Mumbai think-tank.
But a few economists insist that's where we should be heading. "Rather than delay it, we should go to the IMF (for help), not in terms of getting money but to give a reassurance that the government is serious about reforming the economy. It is a big political step the government needs to take," says economist Rajiv Kumar. Politically, there is a taboo attached to that. In fact, even in opposition, the BJP remains critical of India following any kind of IMF/World Bank prescription to rev up the economy. But now, when the UPA government is insisting that the economy still has strength, economic experts seem to be willing to push India towards that route.

Inflation benchmark Onion hub and dispatch unit in Nasik. (Photograph by Apoorva Salkade)
Arguing that social spending will now have to be cut, many political parties and economists have also asked for the UPA to 'suspend' its potential vote-catcher Food Security Bill. This, they feel, will reduce the current account deficit (CAD) burden, which is at twice the comfort level of 2.5 per cent of the GDP. Judging by the eagerness with which the government is pursuing the programme rollout, the UPA will not rekindle lost confidence at the cost of the poor—at least for now.
For India, a bigger concern is that it is losing its sheen as an investment destination and has failed to put in place policy measures to arrest this. Says economist S.L. Rao, "There is tremendous bureaucratic inertia in doing things that are essential. Because of these, we have blocked infrastructure investment, which would have had a huge multiplier effect on income and employment." If it's any comfort, though, this growth inertia is not India's alone, it is part of a global wave sweeping across a few nations that were the development showcases for the world. "The heyday of BRIC economies is over. That story has lost its punch and is coming to an abrupt end," says Abheek Barua, group economist, HDFC Bank. "All these nations are facing similar issues of governance and current account deficit."
Indeed, growth has fallen across the board. As the US economy shows signs of recovery, global FIIs are moving funds there from emerging markets such as Brazil, Indonesia, Russia, Turkey, South Africa and India. Countries with higher CADs which were funded by these capital flows, such as South Africa and India, are hit the hardest, and their currencies have depreciated the most.

Lack of industry Employment generation is in the negative. (Photograph by Apoorva Salkade)
Given all this, the government's handling of the rupee depreciation is inexplicable. This is actually the biggest factor that led to the market washout. The government announced restrictions on gold imports—and restricted foreign exchange outflows by limiting overseas investments by individuals and companies. Later, it even resorted to absurd measures like banning duty-free imports of flat-screen LCD and LED TVs. Meanwhile, under pressure, the RBI tried to suck liquidity out of the market to protect 'volatility' around the falling rupee. More recently, it has reversed this stance—but the damage had already been done.
"The youth's impatient with economics. A break from the past is ahead. But we are not tired of democracy. The young want more of it."
Most people see the RBI's measures as too little, too late, and largely ineffective, arguing that it shouldn't try and defend the rupee. Says Ajit Ranade, economist with the Aditya Birla Group, "Trying to fight the problem with harsh measures was unwise." Ranade and many others feel a depreciated rupee may work to our advantage. Not just exports, says Ranade, but many other Indian sectors can gain with a depreciated rupee, especially those in competition with cheap imports from China (which become more expensive). "While a depreciated rupee helps exports, the IT and software industry, it also helps the domestic industry, especially sectors like apparel, which is facing competition from cheap imports from China. This gives them an edge."
The brouhaha even prompted celebrated economist Paul Krugman to weigh in. Arguing that India doesn't have a large amount of debt in foreign currency, he wrote in the New York Times: "The depreciation of the rupee will presumably lead to a spike in inflation—but it should be temporary. So at first examination this doesn't look like as big a deal as some headlines are suggesting."
America, however, is at the heart of the global headlines against the 'India story'. What had begun around 2009 as stray comments and murmurs have now turned into an undeclared campaign. Frequent reports in the western media about India losing the plot and throwaway comments from members of the western business community show the growing disappointment. MEA officials—who have to deal with the situation and try their best to convince potential foreign investors that India's growth story is not over—admit their job is becoming tougher each passing day. "The confidence one had about India is somehow missing in the current atmosphere," says a senior South Block official. "Questions are now being asked about the government's ability to act on what it promises."

Stalled progress And food security is not the answer. (Photograph by AFP, From Outlook 02 September 2013)
While the frustration of the American business community about India is likely to come up again when PM Manmohan Singh and President Barack Obama meet in Washington next month, the attitude of investors from the European Union seem slightly different, bordering on caution. Most of the key EU members like Germany, France, Spain and Italy are still trying to settle down in the Indian market, which they find to be huge and still attractive. "Lack of confidence can just be a perspective, but rumours are not good for the economy," says Spanish ambassador Gustavo Manuel de Aristegui. "There is no reason to panic. However, recent news should be seen as yet another wake-up call."
If anything, the unfolding crisis has given fresh room to those who warned—for years, repeatedly—that India should have gone down a different road: encouraged small business, developed local demand, given liberally to the poor. In short, not globalised. "How surprised the world acts today, when it sees India's weaknesses. We are being told India is poor, it is uneducated, an 'under-performer'. But India hasn't changed—we've been poor for very long. The 'surprise' only shows the foolishness of international capital and its terrible memory for detail," says Dr Jayati Ghosh, economics professor at Delhi's Jawaharlal Nehru University.
"We're not in a dire situation. Indians are hard-working and innovative people. The factors driving domestic demand and supply are robust."
According to this point of view, when forex inflows were strong, even two-three years ago, there was no real reason for proclaiming an Indian economic boom, except that there was a slush of funds everywhere. "Things looked really good for a while, but now the reversal is here—it's a classic crisis, it's gone around the world before coming to us, and no one can predict when it will end," says Ghosh.
The middle class will bear the brunt of this 'pain'—rising prices and overinvestment in debt-based consumption. It works out well when everything is rising, but the decline is chilling. "Now even opening doors, as for retail, isn't going to show the expected results. A lot of international money in developing markets is 'hot'—it vanishes unpredictably," says Dr K.P. Kannan, development economist and former director of the Thiruvananthapuram-based Centre for Development Studies.
Surprisingly, the Indian corporate sector, normally pretty vocal on issues related to the Indian economy and quick to offer remedies, mostly those that suit themselves, has been rather quiet on the issue. One probable reason for this is that the corporate sector itself is responsible for putting pressure on the rupee, with almost 80 per cent of India's external debt belonging to the private sector, according to RBI figures. A Hindu Business Line report quotes a study that says that the total outstanding borrowings of 10 large business groups in India saw a sixfold increase in the last six years to over Rs 6,30,000 crore ($100 billion).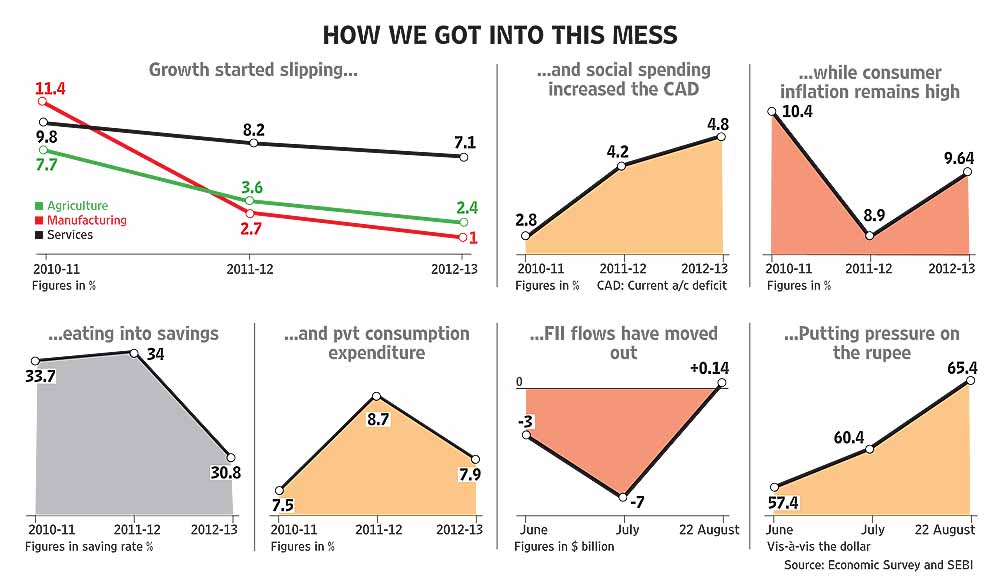 While there is a lot of discussion on the lack of investment which, in turn, means stagnant demand and employment—there has been limited activity from corporates, especially in the key infrastructure sector. New projects have been shelved and expansions put on hold indefinitely as corporate India has gone into a state of hibernation. Little capacity has been added in the industry and employment generation has been on the negative as companies have been the first to shed flab. It's remarkable actually how a scam-tainted corporate sector has, with help from the media, turned the tables on the government.
Sure, the corporate sector has genuine concerns. "India has had eight consecutive quarters (almost three years) of industrial slowdown," says Naina Lal Kidwai, president of FICCI. She points out that companies, particularly power sector firms, are not working at full capacity though large power projects have been built. "To a large extent, we are headed for a self-made crisis. The response to objections on the ground of environmental hazards cannot be to stop all approvals and stasis," Kidwai adds, referring to one of India's essential imports, energy, which is its biggest forex drain while coal mines, a part of the energy solution in India, wait for approvals.
"No doubt, India is a global player in the making and has huge economic potential. However, the current situation in India is challenging."
But the fact is that the corporate sector is sitting on huge cash reserves, especially the bigger companies. According to rough estimates, the Sensex companies saw a 6 per cent increase in their cash reserves in 2012-13 despite the slowing economy. Some of the bigger companies in the automotive, pharmaceuticals and energy sectors saw double and even triple-digit increases in their cash reserves. Instead of using this cash reserve to spur demand in the system, most of the companies have resorted to blaming the UPA regime for not taking action to free the animal spirits. They are seeking lower interest rates, and a moratorium on measures like the food security bill so as to reduce the CAD burden.
While election year is always viewed as a de facto growth stimulus—in 2009, an estimated Rs 30,000 crore was listed as election spending—the corporate sector is perhaps playing a carefully calibrated waiting game to strike when the time is right. Experts say this could be as soon as later this year, when a bountiful monsoon will lead to good agricultural growth. The corporates will definitely be ready as the ruthless cost-cutting will add to their profit margins.
There is consensus over the fact that the fundamentals of the economy, despite its current sorry state, are still robust and good enough for it to bounce back. Also, at a time when the US is happy with a 2 per cent growth and Europe with anything above zero, a 5-6 per cent growth could put India among the fastest-growing countries of the world. "I would not call it an end of the economic dream," says D.K. Joshi, chief economist, CRISIL. "We typically overestimate growth potential during an upturn and underestimate it during a downturn," he adds. How then do we explain the current panic? Take recourse to Chicago mayor Rahm Emanuel's immortal words perhaps. "You never want a serious crisis to go to waste," he had famously said. Perhaps it's true, as they say, this is the original Indian way.
---
By Pragya Singh and Arindam Mukherjee with Pranay Sharma, Prachi Pinglay-Plumber, Dola Mitra, Madhavi Tata and Minu Ittyipe