40-45 per cent of women in Jharkhand, Bihar and Chhattisgarh are malnourished; their babies will likely be born so.
40-45 per cent of women in Jharkhand, Bihar and Chhattisgarh are malnourished; their babies will likely be born so.
***
What is it about the government that the starvation deaths of children don't jolt it out of its stupor? How many deaths will it take before MPs and MLAs—who incidentally seek vote only from those above 18 years—react? The women & child department has put up posters of actor Aamir Khan exhorting people to pledge that they'd help remove the blight of malnutrition from the country. It is learnt that close to Rs 100 crore has been spent on the campaign. But Aamir's charms are not working in Kerala. Or in Bihar, where 23 children have died from food poisoning—they'd eaten the mid-day meals government schools offer as an incentive to attendance. They'd come to eat, stay on to study. For many of them, the mid-day meal brought some assurance and comfort—at least one nutritious meal of rice or chapatis with dal and vegetables. Was it negligence they were paying for? Or was it callous indifference? Cynically, food processing giants, including mncs, could try to push for contracting to provide protein biscuits and packed meals under the mid-day meal scheme, using the food poisoning as proof that the present system of cooking in schools is unhygienic and doesn't work.
About six years ago, when 125 children died in four tribal districts of Madhya Pradesh, quite predictably, the state authorities went into denial mode. The deaths were attributed to pneumonia and diarrhoea. Since then, child mortality has continued to be high and, one would have presumed, a national shame. When death was stalking Attapady, in Kerala's tribal belt, the government was battling sex scandals and scams. Rival politicians took the ruling United Democratic Front (udf) to the cleaners. Yet, when the CAG report on malnutrition was tabled in April this year, it didn't stir them up.
The deaths of children in Kerala and Bihar are a reminder of how shaky the future of the country is if 46 per cent of its infants die each year and older children don't get quality food. That this problem hasn't made it to the public discourse shows that nobody cares a damn. In 2014, their vote doesn't count.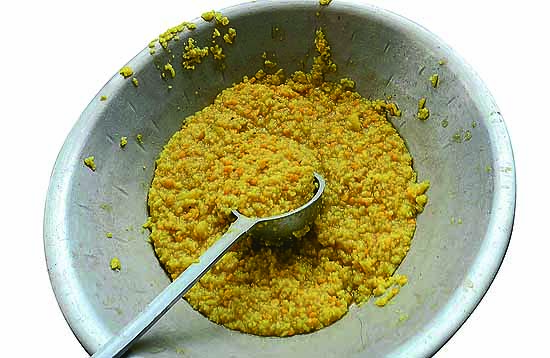 The Govt Has Made a Khichdi of Nutrition
Nutrition holds the key to a child's growth. In countries like India, nutrition experts will tell you, a child's first two years are critical: it's vulnerable to death from a host of causes. If it is malnourished, its immune system will collapse under the onslaught of disease. If the mother is malnourished, chances are the child will be born malnourished. It's a cycle difficult to correct: the family circumstances into which the child is born usually mean it won't get the nutrients that will make the difference. Government intervention is necessary.
According to the National Family Health Service survey (NFHS-3) which came out in 2006, the proportion of women who are too thin—underweight and malnourished—is particularly high in Bihar, Chhattisgarh and Jharkhand (all 40-45 per cent). Anaemia is pervasive among women aged 15-49 years. Even in states with low general levels of anaemia, such as Kerala and Punjab, as many as one-third of the women are anaemic. The survey used three indicators to gauge nutritional levels in children: height for age; weight for height; weight for age. Of children under five years, 48 per cent were stunted (short for their age); 20 per cent were wasted (below weight for their height); and 43 per cent were underweight for their age. Undernutrition is substantially higher in rural areas. Even in urban areas, 40 per cent of children are stunted and 33 per cent underweight. SC/ST children fare badly by all three indicators; among them, wasting is as high as 28 per cent.
It is for this reason that schemes like the ICDS and Supplementary Nutrition Schemes were launched to tackle malnutrition among children. It was decided that, starting at nine months of age, infants would be given Vitamin A supplements every six months till they were three years old. Are these schemes being monitored? Are they effective? It's anyone's guess, for there hasn't been any proper survey since nfhs-3.
A general survey by the National Nutrition Monitoring Bureau in 2009 sampled over 1.15 lakh individuals from 40,359 households in 1,032 villages of nine states. Among the infants sampled, 36 per cent were underweight, 35 per cent stunted and 24 per cent wasted. The figures rose with age. Madhya Pradesh, Maharashtra, Gujarat and Orissa reported high incidence of undernutrition.
Interestingly, most states have opposed the Food Security Act on the plea that they have better systems in place. Higher entitlements and universal coverage is what the states have targeted. But, as is evident from Kerala, which boasts of universal coverage under the pds, it is not merely about providing rice or wheat to people. The state has to complement that with supplementary nutrition, especially in backward rural and tribal areas. In a few days, figures could emerge on how money for schemes allotted to tribals was squandered away.
In 2014, the votes of the children may not count. But when they grow up, after battling the odds life throws at them, their votes will count.