It helps if you're both rule-maker and team-owner. Chennai Super Kings owner N. Srinivasan, allege some IPL franchisees, has used his clout in buying players in auctions. The most notable was in buying Andrew Flintoff in 2009. Documents available with Outlook show his fingerprints on this. CSK had signed up Chamara Kapugedera for three years in 2008. Thus they were going into the 2009 auction with a purse of $1.85m ($2m minus Kapugedera's fee of $150,000), and with an accepted mandate to buy two more foreign players. An internal e-mail dated January 24, 2009, from Peter Griffiths of the IMG (See 1)—organisers of the auction—confirmed this. But on January 28, the BCCI received a letter from India Cements (See 2)—owner of the Chennai team—stating they were not renewing Kapugedera's contract, and thus the full $2m purse should be available for them.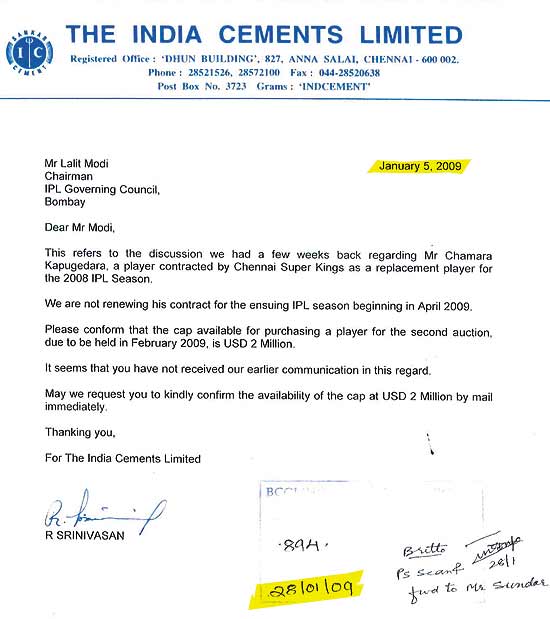 There are two remarkable features about this—when every communication is made through e-mail, this letter arrived by post. Two, it's dated January 5, 2009, which means it took 23 days to reach Mumbai from Chennai. Some smaller franchisees allege it was deliberately backdated, and it worked. Griffiths's next mail had Kapugedera off Chennai's rolls, they had $2m and three new foreign players available to them. Another mail (See 3) showed the IPL hadn't received evidence of termination of Kapugedera's contract even until January 30. At the auction, Chennai bought Flintoff, then used up their two remaining foreign player slots, buying Thilan Thushara and George Bailey, though they did not use up their $2m purse.


Lalit Modi, then IPL commissioner, facilitated (arm-twisted, he says) the sale of Flintoff to Chennai by "persuading" Rajasthan not to bid for him. Modi disclosed this to Srinivasan on February 4 (See 4): ".... But have managed it by using stick and carrot strategy. Thus they have 1.875 only. Much love Lalit."
Srinivasan did not respond to Outlook's queries.