One of the hardest tasks an editor has assigned me has to be, without doubt, that of compiling a list of successful, young (40 and under) Indian American professionals. This is not because of a dearth of subject matter. Au contraire. A burgeoning community of young Indian Americans is blazing trails in careers as diverse as governing states to introducing the world to Indian food and culture. When the Immigration Act of 1965 lifted immigrant quotas, a tidal wave of Indians, especially doctors, arrived on America's shores. In the '90s, it was the IT boom that prompted US employers to tap that fabled talent, famously caricatured by Scott Adams's Asok. Why should all this matter to Indian students and professionals? Well, at a time when an emerging India is being seen by the world in a positive, different light, it pays to think big, different and global. The names on Outlook's list offer a sampling of the immense talent in the Indian American community.
---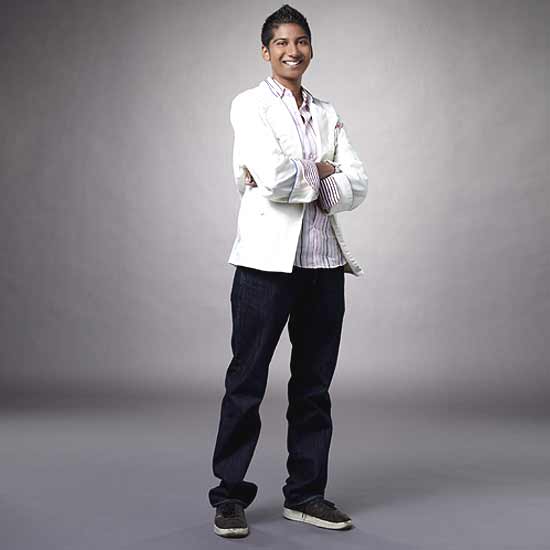 Preeti Mistry
34, Chef and owner, Juhu Beach Club in San Francisco
"Indian food speaks to me most in my cooking."
Preeti Mistry's appearances on the American TV show Top Chef won her fans across the world. Two years since, people still rush up to her with requests for a photograph—attention Mistry confesses she finds "bizarre". After recently spending a few weeks savouring street food in Mumbai, Mistry returned to her home in San Francisco, inspired by the bold flavours. In March, she started Juhu Beach Club in San Francisco's SoMa neighbourhood, serving her take on Indian street food. Mistry serves up cleverly named food that includes Holy Slow Braised Cow, a smoky black cardamom short rib sandwich with cucumber raita; Sloppy Lil' P, her take on pav bhajji; and India's Bizarre Love Triangle, vegetarian samosas. Mistry makes the samosas by hand, one painstaking piece at a time. "I am getting faster at it," she says with an infectious laugh.
Mistry's flirtation with food began in the late '90s, when she and her partner would host lavish multi-course dinners at their home in San Francisco. Her cuisine was an instant hit, prompting friends to encourage her to join cooking school. An opportunity presented itself when her partner got a job in London. Mistry enrolled in Le Cordon Bleu cooking school. "It was kind of like an a-ha moment," she said. Growing up, she never much cared for Indian food. Now, she admits, she loves it. "It speaks to me most in my cooking," she says.
---
Neal Sikka
36, Doctor, George Washington University Hospital

"We felt that there might be a real opportunity if mobile phone images could be used for acute wounds care."

Dr Neal Sikka's search is for a simple need that might be met through a mobile device. Sikka, assistant professor of emergency medicine at the George Washington University, is doing pioneering work on applying telemedicine and mobile solutions to remote medical needs. He uses pictures of patients taken on cellphones to determine whether they need to dash to the ER. His goal, of course, is to reduce the number of these trips. "My friends and family already were asking me medical questions via the phone, so we thought that this area was worth examining further through formal research," he explains. Earlier this year, Sikka received a McKesson Foundation grant to study the use of sms messaging to reduce ER visits for people with diabetes. In the US—as well as in Africa and parts of India—telemedicine has been growing. Sikka's research will speed up its adoption.
---
Sarina Jain
34, Fitness personality

"South Asians are seeing the benefits of making exercise a priority."

"Balle! balle!" Sarina Jain gleefully shouts, exhorting a room full of sweaty enthusiasts to move to the invigorating beat of bhangra music that fills the NY city gym. Jain is the founder of Masala Bhangra Workout, which she was inspired to create after she lost her father to a massive heart attack. Masala Bhangra is her way of inspiring people, especially Indians, to get into shape. "I believe that South Asians are seeing the benefit of making exercise a priority," she says. Jain has come a long way since she conceived the workout in the garage of her family's home in California in 1998.
Incidentally, Masala Bhangra was voted among the top 50 workouts in America by Shape magazine. Jain believes the workout owes its success to the bhangra music and energy of her classes. "People love to learn something new about Indian culture and Masala Bhangra brings that out in people," she says. The workout has also been instrumental in taking a small part of Indian culture to the West. "Besides being a terrific way to get fit, one has to understand a little bit of Indian culture to benefit completely," Jain says. She's now taken Masala Bhangra to Japan, Italy, Sweden, Kuwait, Bahrain, Belgium and Australia. Jain oversees every aspect of the brand, including selection and training of instructors.
---
Vivek Kundra
36, Chief Information Officer at the White House

As CIO at the White House, Vivek Kundra is focused on initiatives that save money for the American taxpayer. In June 2009, soon after he took office, he launched the 'IT Dashboard', a website where visitors can track over $80 billion of IT spending annually. Kundra claims this initiative has allowed the US government to save $3 billion in taxpayer dollars.
Born in New Delhi, Kundra's family moved to Tanzania when he was a year old and then to Gaithersburg, Maryland, when he was 11. One of his earliest memories in America, according to a profile in the Washington Post, was of seeing a dog food commercial on TV. "I was shocked," he says. "It was mind-boggling to me that people could afford to feed their dogs!" Kundra's Indian influences are obvious—he counts Sholay among his favourite movies and Mahatma Gandhi as a role model.
---
Nikki Haley
38, Governor of South Carolina

At the age of five, Nikki Haley was disqualified from a pageant in her hometown of Bamberg, South Carolina, all because she didn't fit into either of the categories—Little Miss White Bamberg or Little Miss African-American Bamberg. Fast forward 33 years: Haley holds the distinction of being the first Indian American female governor of a US state and is being breathlessly discussed by political pundits as a top vice-presidential nominee in the 2012 elections. At 13, Haley's first job was keeping the books for her family's clothing store. She graduated from Clemson University with a B.S. degree in accounting and later returned to the family business, where she helped oversee its growth into a multi-million dollar operation. Haley, daughter of Indian immigrants from Punjab, recalled in interviews on the eve of her election that not every day was perfect growing up in South Carolina. The Randhawas were the only Indian-American family in Bamberg, which had a population of a little over 3,000. "No, we were not always free from the burdens faced by those who look and sound different," she says. That's why Haley sought to play down her Indian name. Even so, she is living the American dream.
---
Varun Soni
37 Dean of religious life, University of Southern California
"Trying to live my passion brought me to an unusual path."
Varun Soni was born into a family of doctors—his father specialises in pulmonary medicine and his mother is an anaesthesiologist. "I'm the black sheep," he admits with a chuckle. Soni holds the dual distinction of being the first Hindu and the first Indian American to serve as chief religious or spiritual leader of an American university. "Whereas most universities will hire an ordained Protestant minister for this position, the University of Southern California hired a non-ordained Hindu attorney! They took a very different approach," he says. The university has more student religious groups and campus chaplains than on any other campus. He oversees both, as well as many of the ceremonial services. He also officiates at funerals and weddings. Soni grew up in a generation in which the children of Indian immigrants were expected to become doctors and engineers—so it was only natural that his parents viewed his interest in religion and spirituality with some scepticism. Growing up Hindu in the US, Soni understood Hinduism more from a cultural point of view. "I knew what Christians believed and Jews believed, but I didn't know what Hindus believed," he says. Part of his desire to study religion was to make sense of his own identity as an Indian/Hindu American.
Soni confesses that he didn't feel entirely American growing up in the US. And when he went to India he didn't feel entirely Indian. Still, he's now got to a point where he is comfortable embracing both his Indianness as well as his Americanness. "I think having a hybrid identity is extremely beneficial and advantageous, whereas growing up with that hybrid identity was a cause for anxiety and confusion," he explains.
---
DJ Rekha
40, Deejay, musician and entrepreneur

DJ Rekha was one of the first to introduce clubgoers across America to the catchy beats of bhangra music. The New York Times dubbed her the "ambassador of bhangra" and Newsweek magazine described her as one of the most influential South Asians in the US. Rekha was among the first deejays to blend bhangra with electronic dance music. She burst onto the New York club scene in 1997 with her Basement Bhangra event at sob's nightclub. "Bhangra and hip-hop were both important influences. It's great music...it immediately grabs you," says Rekha.
She acknowledges that being an artist is not easy. "There is no clear path and you have to make your own way. A lot of it depends on your talent, who you meet on the way," Rekha says. Despite the increased exposure of Americans to Indian culture, she doesn't believe there is a deep understanding of it. "If you dig deep, I don't think people necessarily know what bhangra means. It is a term that has become ubiquitous on some levels," she says. That's why she teaches a deejay history, culture and technique class at New York University. "Teaching feeds a whole other side of my brain...I enjoy it."
---
Dr Rishi Manchanda
36, Founder of Rx Democracy!
"Doctors overemphasise the biomedical at the expense of understanding the biosocial."
Dr Rishi Manchanda recently examined a patient who complained of an excruciating headache. She had been to other doctors, who put her through a battery of tests and yet came up with no answer. Within 20 minutes of talking with her, Manchanda had diagnosed the problem: an outbreak of mould in the woman's home was causing her headaches. "That is what smart medicine is all about," he said. "It means addressing diseases we see every day by going upstream, to the root cause of the disease, as opposed to taking care of the end product or symptom." Manchanda is director of social medicine and health equity at St John's Well Child and Family Center, a community clinic in south-central Los Angeles. The area is notorious for violent streetgangs and poverty. "Most of our medical centers don't ask questions based on the economic or social conditions that patients come from," he says. Determined to let patients have a say in their healthcare, Rishi founded Rx Democracy!, a US-wide non-partisan network of healthcare providers who aim to boost voter registration and civic engagement.
---
Raj Shah
38, Administrator, US Agency for International Development

When US President Barack Obama announced the appointment of Dr Raj Shah, he catapulted the talented young doctor to the top Indian American serving in his administration. Shah (born to immigrant parents from India, he grew up in Detroit) had barely settled into his new job when he was faced with his biggest challenge: a catastrophic earthquake rocked Haiti on the afternoon of January 12, 2010. He immediately took charge. His actions won him praise from even senior Obama administration officials. Denis McDonough, who was at the time chief of staff at the National Security Council, described Shah in an interview with the Washington Post as "focused, calm, facts-based". Prior to joining the Obama administration, Shah served as director of agricultural development in the Global Development Program at the Bill and Melinda Gates Foundation. On his first trip to India as a boy with his parents, the scale of human suffering struck Shah. Those images inspired him to work to improve the lives of others.
---
Sajit Gandhi
32, Professional Staff Member (South Asia), House Committee on Foreign Affairs
"It was a unique situation, to be Indian-American amongst most who were not."
As the lead advisor on South Asia to Howard Berman, the co-chairman of the powerful House Foreign Affairs Committee in Washington, it is Sajit Gandhi's job to keep the Congressman apprised of everything related to the region. Sajit provides his boss advice on policy related matters relevant to US government activities and interests in South Asia. "This could be on a variety of issues: security assistance to Pakistan, the impact of sections in India's finance bill on the broader US-India relationship, to ramifications of reconciliation in Afghanistan on our broader Afghan policy interests," he explains. The biggest challenge he faces on the job? Shortage of time. Gandhi believes that being from South Asia has contributed to his understanding of much of the region, and influences his analysis of some of the political events that occur there. He lived in India and Nepal while an undergraduate, and while at the State Department, worked at the US embassies in New Delhi, Islamabad and Sri Lanka.
---
Sarumathi Jayaraman
36, Co-founder, Restaurant Opportunities Centre-United

"My parents are immigrants from India, so I felt strongly about the cause of immigrant workers."

Organising low-wage immigrant workers is a passion that is close to Sarumathi Jayaraman's heart. "My parents are immigrants from India, so I felt strongly about the cause of immigrant workers," she explains. While she was born in Rochester, New York, her parents moved to the US from Tamil Nadu in 1974. The Yale- and Harvard-educated lawyer co-founded Restaurant Opportunities Center (ROC) of New York to help former employees of 'Windows on the World', the restaurant at the top of the World Trade Centre in New York. In 2008, she co-founded a national restaurant workers' organisation, ROC-United. The organisation now has 7,500 members in eight US cities—its mission, to improve wages and working conditions for restaurant workers across America.
---
Anand Giridharadas
29, Columnist, author

"If you want only good reviews, write a loving card to your mother and ask for her appraisal."

Anand Giridharadas didn't always have a strong bond with India. In fact, he confesses, the relationship began as a very weak one. "Before I came to discover India's wonders, it was something that I pushed away as a child," he says. His parents, who moved to the US from Mumbai, would take Anand and his sister to visit relatives in India every couple of years. It was only when Anand travelled to India on his own after college that he says he forged a bond that now cannot be shaken. "It is no longer only my parents' country. It is also very deeply mine," he says.
Giridharadas is the author of India Calling, published earlier this year. He says his relationship with India has allowed him to have a foot in another world and, as a writer, provided him access to "so much more of the human experience". Anand's book sparked a debate in India over who is qualified to write about the country. That experience has not soured his relationship with the country, though. "If you're not attracting criticism, and pungent, thoughtful criticism, you're probably not saying anything worth saying," he says. Anand now writes a biweekly newspaper column in the NYT and contributes to the New York Times Magazine. He is also working on a second book.