The origins of Reliance's complicated takeover of Network 18 in 2014 can be traced back to Andhra Pradesh, home to Ramoji Rao's sprawling Eenadu newspaper and television network—and gas off the east coast in the Krishna-Godavari basin, whose pricing remains a hot-button issue, whether it is the UPA or NDA in power.
Back in 2006, in the course of an interview to this magazine, Y.S. Rajasekhara Reddy, the late Congress leader of the undivided Andhra Pradesh, had stated what the Supreme Court of India later underlined in its landmark judgement: "Gas is a natural resource, a property of the nation, not of a private company."
As leader of the Opposition during Chan­d­rababu Naidu's earlier term as chief minister, YSR reminded Outlook that he had raised the issue of auction of the K-G basin blocks. Even the Gujarat government, then headed by Narendra Modi, had taken part in the bidding, via the Gujarat State Petroleum Corporation (GSPC). The Telugu Desam Party government, YSR hinted darkly, had compromised on the state's future by not doing so.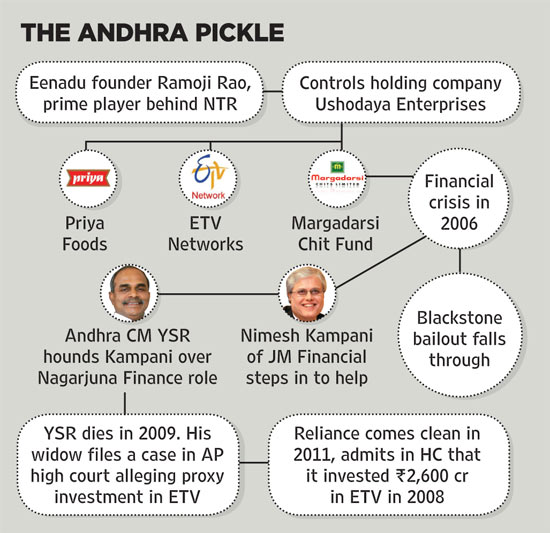 When he became chief minister of the state in 2009, YSR did not fail to remind RIL that Andhra Pradesh had priority rights over the gas from the K-G basin. This sparked a right royal row, with the media at the centre of it. The Eenadu media group, whose founder Ramoji Rao was a prime mover behind N.T. Rama Rao's rise in the early 1980s, found itself in Naidu's corner—and in the hallowed portals of the Supreme Court, where depositors had dragged Margadarsi, the chit fund company Ramoji Rao had built his fortune on, to repay Rs 2,600 crore, a la Sahara.
Kampani had to stay out of India for months fearing arrest. It was only after YSR's death that he could return.
Despite the high credibility of Margadarsi, Rao was under tremendous pressure. The global private equity giant Blackstone tried to step in by picking up a 26 per cent stake in Ushodaya Enterprises, the holding company of Eenadu, valued at Rs 1,217 crore. It was rumoured to be the biggest single investment in the print media, but YSR mounted sufficient pressure on the foreign investment promotion board (FIPB) under the UPA's watch to not play ball.
When Nimesh Kampani, founder of the JM financial group, emerged as Eenadu's white angel, picking up 21 per cent for Rs 1,424 crore, virtually more than 50 per cent of what Blackstone was willing to pay, and just 10 days after the global stockmarkets had crashed, the battle was joined in earnest.
The Andhra police issued a 'lookout' notice for Kampani, ostensibly because Nagarjuna Finance, of which he had been director, had allegedly defrauded depositors. Kampani had to stay out of India for months fearing arrest. It was only the death of YSR in a chopper crash that paved the way for his return. (Despite repeated attempts, Kampani did not speak to Outlook for this story.)
In a writ petition before the Andhra High Court in 2011, YSR's wife Vijayamma alleged: "In consideration for the favour done by Chandrababu Naidu in allowing the state's K-G basin claim to be brushed under the carpet, the Reliance group facilitated the payout of Ramoji Rao's debts to his depositors. This was carried out through known associates and friends of Mukesh Ambani."
It was thanks to the writ plea that RIL was forced to admit its Rs 2,600 crore stake in ETV. And it was this stake that Raghav Bahl's Network 18 picked up after it had been funded by RIL. And now RIL has subsumed Network 18. And as coincidences go, Naidu is back in charge in Andhra Pradesh, and Modi is in power in Delhi. The curtains go up for Act II, Scene I.