Pavan Jha proved to be a tough quizmaster indeed. None of the Outlook readers could manage to post all the correct answers for our Wo Kaun Thi quiz in the Cinema Century special issue. Three respondents managed to get all but three questions—1, 19 and 25th—and their answers to questions 3, 6 and 18 were partially correct.
1. Which star's childhood picture is this?
Vinod Mehra playing Jr Kishore Kumar in Raagini (1958).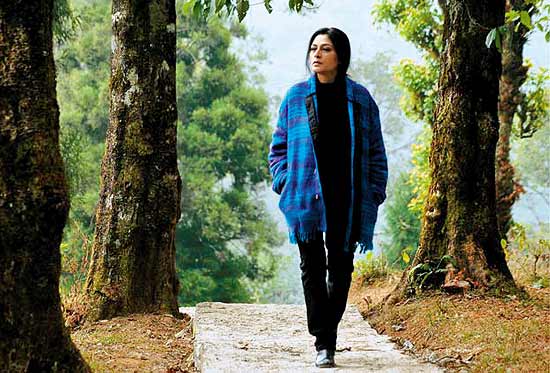 2. What award did Rupa Ganguly (Draupadi in Mahabharat) win in this year's National Film awards?
National award for best female singer for the film Abosheshe.
3. What is the significance of the film Ankurachi Gaatha in Indian cinema?
The short film was made by Dhundiraj Gobind "Dadasaheb" Phalke in 1912. It was the first film to use the single frame exposing technique to show a bud bursting into a flower. The trick method helped Phalke impress his financier and get funds for Raja Harishchandra.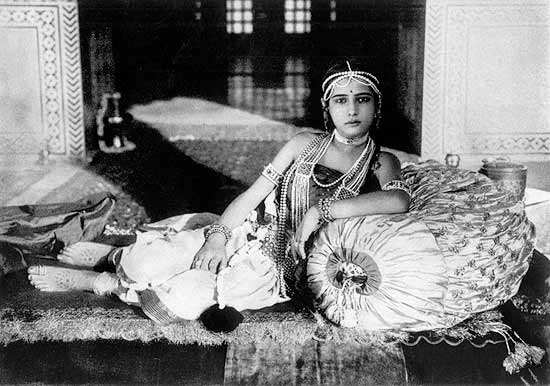 4. Which legendary film of the silent era opens with following information:
"The unique film was produced entirely in India without the aids of Studio Sets, Artificial Lights, Faked up Properties or make-ups. All the principal characters in the film are portrayed by members of the Indian Players Company, each one of whom gave up his or her career as Doctor, Lawyer, Engineer & Professor to bring about a renaissance of the Dramatic Art of India"?
The Light of Asia/Prem Sanyas (1925), an Indo-European co-production, directed by Franz Osten and Himanshu Rai. It was a film adapted from the book, The Light of Asia (1879), by Edwin Arnold, based on the life of Gautama Buddha.
5. He was born and brought up in the United States and was studying a film course at the University of Southern California when he got an invitation from a friend to visit India. He came here and started directing films without knowing any Indian language. His debut film as a director also launched a legendary star, a Bharat Ratna. Later, he directed another legendary artiste (again a Bharat Ratna recipient) in one of her most memorable on-screen performances. Name the American director.

Ellis R Dungan, a legendary director in Tamil Cinema in the 30s & 40s. He came from USA in 1936 and directed many Tamil classics of the era. He launched MGR as actor in the 1936 film Sathi Leelavathi. Later he went on to work with MS Subbulakshmi and directed four of her films, the most significant being Meera (1945). Ellis later remade it in Hindi in 1947. It remains Subbulakshmi's only Hindi film.
6. Which was the only talkie Dadasaheb Phalke made and who played the leading lady in the film?
Gangavataran was the first & last talkie film that Dada Saheb Phalke made in 1937. Chitnis played the male lead while Leela Mishra (Mausi of Sholay) played the leading lady.
7. This great figure from Hindi literature wrote dialogues for a film that became a milestone in Hindi cinema. But just before the film's release, he wanted his name removed from the credits as he didn't want to be remembered by posterity as a film writer. Name the author and the film.
Bhagwati Charan Verma. And the film was Kismat. Incidentally Kidar Sharma made films on his most popular work, Chitralekha, twice; in 1941 & 1964.
8. Identify the classic...
Shanta Hublikar & Shahu Modak in V. Shantaram's classic Aadmi (1939)

9. What connects Ameena (1934), Roti (1942), Nal-Damyanti (1945) with Satyajit Ray's Jalsaghar (1958)?
Akhtari Faizabadi, more popularly known as Begum Akhtar. All the four films featured her on screen.
a
10. Which is the only film that features Noorjehan, Lata Mangeshkar and Asha Bhonsle onscreen?
Badi Maa (1945)

11. This 1966 Bengali film features an unusual name as music director. Name the film and the star.
Kal Tumi Aleya (1966) was the only film for which superstar Uttam Kumar composed music.
a
12. Which Hindi film featured West Indian cricket legend Sir Frank Worrell in a cameo?
Raj Kapoor-Rajshree starrer Around the World (1967). Sir Frank Worrell appeared in a cameo with Om Prakash.
13. What is the common link between Conrad Rooks's Siddharth, Nasir Hussain's Yaadon Ki Baraat and Gulzar's Meera?
All the films initially started with Amitabh Bachchan in the lead, to be replaced later.
14. Which is the only film where Gulzar and Javed Akhtar came together as writers?
Ramesh Sippy's Andaz (1971). Salim-Javed wrote the story/screenPlay with Sachin Bhowmick while Gulzar did the dialogues. Anand Bakshi penned the songs.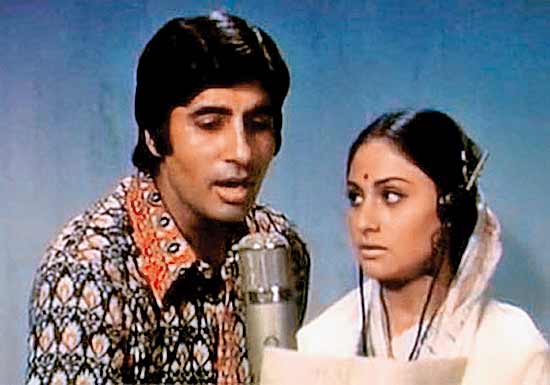 15. What is the significance of the banner 'Amiya Productions' and what film did it produce?
The name "Amiya Productions" was based on names of Amitabh-Jaya jointly (Ami-Ya) as production partners. It came into existence when Abhimaan was in financial crisis and both Amitabh-Jaya supported it by becoming producers. The credits though featured Pawan Kumar (Amitabh's then Secretary) & Sushila Kamath (Hrishida's Chief Assistant Director, assisted in Abhimaan too) as producers.
16. For whom did Satyajit Ray say: "It is a pity that I came into contact with him so late in my career. But now that I know him, his method of work, precision, his energy, alertness, and his imperturbability in the face of most taxing odds, I can think of no one else to turn to in the crucial final stages of my films." Who is he?
Mangesh Desai, the legendary sound recordist.
17. Name the two Bollywood actor-directors who have done triple roles in films directed by themselves.
Asrani in Hum Nahin Sudhrenge and Deven Verma in Besharam.
18. What connects actor Nirmal Pandey with actress Linda Hunt?
They both won top accolades for performing a role of the opposite gender. Linda Hunt won an Oscar for portraying a Male character in The Year of Living Dangerously (1982) while Nirmal Pandey won Best Actress Award at France's Valenciennes Film Festival for his portrayal of a transvestite in Amol Palekar's Daayra in 1997.
19. Name the unusual coming together of Amitabh Bachchan and Rekha in a film, both in double roles.
Sooryavansham (1999). Amitabh played the leading father-son duo onscreen while Rekha dubbed for both the heroines of Amitabh namely Jayasudha (played wife of father Amitabh) and Soundarya ( played wife of younger Amitabh).
20. Name the actor/actress who made a comeback after 51 years?

Begum Para, character artist of 40s & 50s, bid good bye to films after Pehli Jhalak (1955) as she got married to Nasir Khan, brother of Dilip Kumar. She staged a comeback after 51 years in Sanjay Leela Bhansali's Saawariya where she played grand mother of Sonam Kapoor. Zohra Sehgal is next contender as she staged a comeback after a gap of 42 years in Dil Se and Tamanna (1998) after her last appearance in Heer in 1956.

21.Sudhir Mishra and Vinod Chopra were the names of the leading protagonists in Jaane Bhi Do Yaaro and both in person were part of the crew of the film too. Incidentally, both Vinod Chopra and Sudhir Mishra have an unusual real-life connect with another star of Jaane Bhi.... Find the connect.
Late Renu Saluja, the editor, one of the real stars of Jaane Bhi Do Yaaro, was married to Vinod Chopra and was later with Sudhir Mishra.
22. A film that launched one of the most prolific banners of a film family was remade again by the same banner 27 years later with a different title. The male actor who played the title role in the first film played the same character and the title role 27 years on.
Dev Anand, who played the hero in Afsar (Navketan's first film, 1950), again played the same character in Sahib Bahadur (1977), a remake of Afsar.
23. Which actor paired opposite actress Shammi in a cameo in Kidar Sharma's Rangeen Raatein (1955)?
It was Geeta Bali who actually played a male character in the film. She and Shammi Kapoor were planning to get married at that time. Geeta Bali requested Kidar Sharma to give her a role in the film so that they could be together. But Kidar Sharma couldn't find any female character in the script so he offered her a male character, which she happily agreed to do.
24. Who is this good-looking actor from the past?
Prithviraj Kapoor in a negative role in Milaap (1936). Incidentally he played a villain in the first talkie film Aalam Aara (1931) too.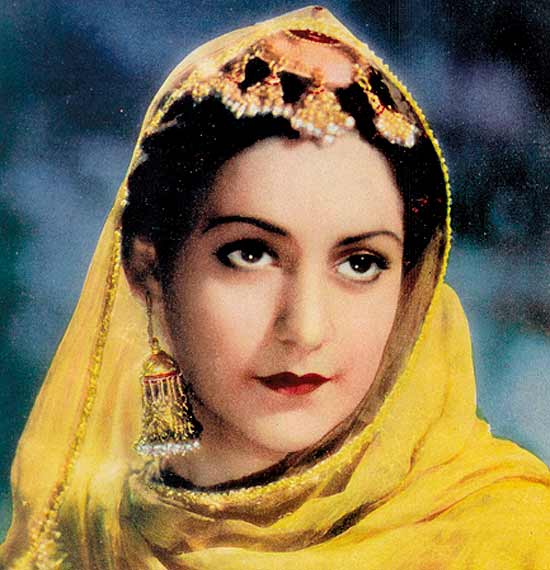 25. Who's this beautiful actress of yesteryear?
Naseem Bano, Saira Bano's mother, who was also a top actress of her time.
---
Winners
With a score of 20.5, Harkirat Singh and Harnoor Singh Powar from Jalandhar and Jagbans Singh from New Delhi emerged the winners. P.N. Bakuli and Manotosh Sarkar from Calcutta, Arputha Samy from Delhi and Arup K. Pal from Hooghly followed a close second with 20 points each. Congratulations to the winners. The gifts are on the way.
Technocrat-entrepreneur Pavan Jha is also an expert on Hindi films and music.