Arms Agents
Eligibility Intimate contacts in the goverment, political parties & bureaucracy
Identity Forced to keep a facade of a legitimate business
Networking Clubs, hotels and homes used to cultivate people
Payments Commission paid abroad or in cash, often through circuitous routes
Companies Registered in tax havens
***
They are usually the 'invisible men', but with Choppergate all over us, arms dealers are again the talk of the town. The question is, with India now the largest arms importer in the world, can we wish them away? Are they unrealistic, the policy guidelines laid down by the government vis-a-vis the arms agents? After all, international trade con­tinues to flourish in other sectors with the open participation of agents, why keep the arms pliers in the shadows? Gulshan Luthra, editor of defence and trade magazine India Strategic, says, "The rulebook says no serving personnel can interact with a foreign supplier. But navigating the bureaucracy and negotiating and balancing policies and procedures is far from easy. Which is why, whether the government accepts it or not, these men who purportedly don't exist actually do."
Twelve years after it was made mandatory in 2001, even today nobody has come forward to register as a defence agent with the Union ministry of def­ence (MoD). This is because any commission paid to an Indian citizen for an arms deal is automatically a criminal offence, forcing suppliers and agents to look for ever more devious ways to account for such payments.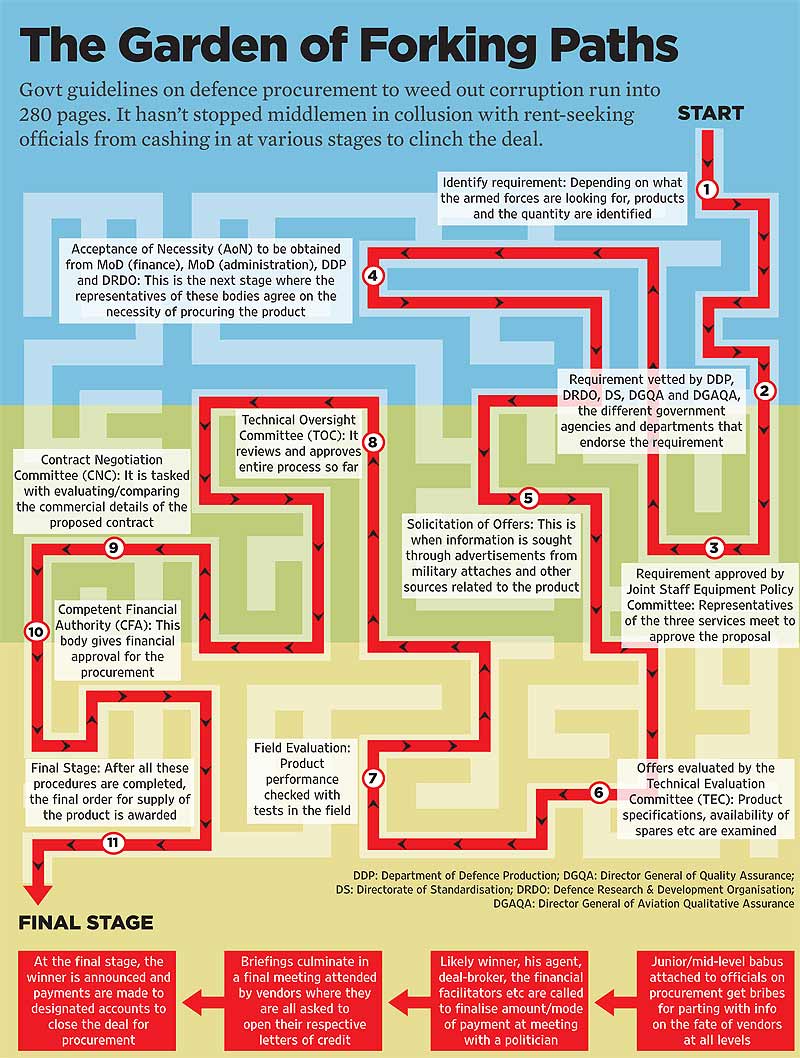 The guidelines requiring the agents to register, explained an unofficial 'def­ence agent', were too intrusive and arbitrary. Full disclosure of the commission paid, bank details etc may even expose them to extortion, he says. And with defence deals often taking a decade or more to wrap up, the agents will in any case be vulnerable to changing policies, investigations and litigation.
"Navigating the bureaucracy is not easy. Which is why these 'men who do not exist' will always be part of deals."
Defence analysts says the current position is absurd because internatio­nal arms deals almost never happen without agents. The latest report by leading think-tank on global arms, Stockholm International Peace Rese­a­rch Institute (SIPRI), says the number of arms agents working on India is at an all-time high now.
So, with no official avenues open, networking is the name of the game. A trade magazine insider, speaking on condition of anonymity, says, "We'll never officially admit to it but if you take a close look at the parties hosted by us and the guest list, you will realise that we are in fact setting the ground for future interactions. An informal introduction with a service chief by a retired chief, and the stage is all set."
As insider status is crucial; agents or conduits tend to be related to high-level politicians, bureaucrats, senior defence officers, even entertainers— perhaps also the reason why the CBI routinely fails to crack defence deal cases. For example, one of India's most high-profile arms agents now, Abhishek Verma, comes from a leading Congress political family and is said to be close to the CBI top brass too.
Once upon a time, a certain Sudhir Choudharie was the most powerful mid­dleman in India. In the last couple of decades, though, a new crop has risen. Almost all major overseas defence firms now have offices or liaison bur­eaus in India, with local representatives to push their case. The latter, in turn, have on their rolls a full retinue of reti­red military officers and civil servants.
Among the new breed are, of course, the Tyagi brothers from the latest Agu­staWestland chopper scandal. They have been operating in the power sector for a while now. Rajeev Tyagi, known in power circles as 'Docsa Tyagi', is a doctor by training but doesn't have a practice. He operates out of an office in Ferozeshah Market in Delhi. Unlike other 'agents', Rajeev is usually seen in kurta-pyjamas. It is through him that the other two brothers started operating in power circles, brokering deals.
An insider who knows them well says, "The three brothers—Sanjeev, Rajeev and Sandeep—are close to several top bjp leaders too. In fact, Rajeev Tyagi's proximity to former PM A.B. Vajpayee was well known. He was even an unofficial interlocutor between Muslim leaders upset over the Babri mosque demolition issue and the then BJP government at the Centre."
Arms agents are candid— commissions on deals are paid everywhere, but they are among the highest in India. A normal commission ranges betw­een 2-5 per cent of the total contract value but in India it fluctuates from 5-15 per cent. This is because, as one agent puts it, "the risks are higher and the recipients many more".
They also claim to be even-handed while dealing with political parties, cultivating and paying off politicians across the spectrum, both in the ruling coalition and the opposition. Defence deals, especially high-value ones, take a long time to be finalised and often span over a decade. No agent can afford to take a chance and needs to keep everyone in good humour, taking into account the possibility of a change of guard and government.
"The agent is now indispensable. His experience helps unravel for his principals the complex process of procurement."
The SIPR 2012 yearbook observes that "India's efforts to expand its military capabilities have made it the largest importer of major arms...but the Indian defence industrial policy requires major reforms". With this sort of a lucrative market, a cosy relationship has endured bet­w­een agents and officials and nobody wants it disturbed. Approvals from at least 18 related departments and agencies is needed (see infographic) to acq­uire any defence equipment. This provides ample scope for corruption. "The procurement process is so long and complicated that bribes are paid at every step to merely keep the ball in play and push the process," says an analyst.
In the past 10 years, India's defence forces have been on a buying spree. Close to $50 billion in purchases were made in the last decade, while this decade will see defence acquisitions worth some $100 billion more. With the elaborate checks and balances in place, it is difficult to say that greed, and not need, prompted the purchasing spree. But precisely because of the elaborate processes, the procurement process also slows down and encourages bribes at every step to speed it up.
The situation has also accrued due to the inability of domestic players like DRDOs to keep pace with the modernisation of our forces. "Our ordnance factories have failed to satisfy our def­ence requirements," admits Dr Lax­man Behera of the official defence ministry think-tank IDSA.
Talking about the new-age arms agent, defence analyst Rahul Bedi says, "The omnipresent agent is essentially an entrepreneur with a flair for public relations and man-managem­ent, and has become almost indispensable to the procurement process. Through experience, patience and tenacity in dealing with the Indian bureaucracy and the MoD's hidebound systems, he unravels for his principals the complex procurement matrix." In return, he gets a handsome monthly retainer and working expenses, and a hefty commission disbursed overseas on deal closure. Retainers ensure comfortable lifestyles and expensive offices whilst commissions could run into crores. Bedi recalls that "before the Bofors scandal, service officers were grateful for the odd Scotch whisky bottle, a carton of cigarettes or, for the more discerning, an expensive fountain pen or Havana cigar box from vendors or their local representatives".
Nowadays, other than cash, major enticements include jewellery, property, top-end cars, overseas education for the children of military and MoD officials and often the paid lavish wedding, anniversary or birthday parties. Other enticements include sex, premium alcohol, fully paid-up overseas family holidays, golf sets, even rare pets or ant­ique furniture for the memsahib.
Bribes aside, the arms agents do have people batting for them. Major general (retd) Mrinal Suman argues that they perform a necessary and useful task. With their domain knowledge, they can provide useful inputs on technological advancements, qualitative requirements and price-fixing besides providing after-sales support. Treating them like dirt, he adds, has not really helped.