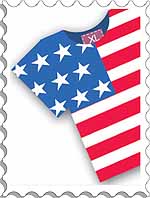 Well-Served
My friend who works at the National Institute of Health, just outside Wash­ington, replied promptly when I wrote to him. I needed a place to stay, but I would have to take the Metro into the heart of DC to meet someone. How would I get to and from the closest station?
No fear. "I can drop you to the metro to go downtown whenever you want," he wrote. "I am a furloughed US government worker at your service!" Such are the advantages, to a traveller from India, of the government shutdown in the US.
---
On the Slow Move
I actually spent my first night with another friend, though, near the Capitol. Her apartment is no more than a block or two from where that peculiar incident happened in early October: Miriam Carey, one-year-old child in the back seat of her Infiniti, tried to crash through barriers at the White House and the Capitol and drove around frantically before she was shot by cops. The kid, rescued unhurt and, presumably, dazed. Who knows the nightmares the poor lady suffered from. One report suggested she believed "President Obama was stalking her".
In the morning, I walked to Union Station, backpack on my back and laptop bag on my shoulder. When I asked a young woman in zebra-print high heels the way, she actually pointed out two routes: "Go left and it'll take you directly there," she said, "but if you go straight that's the scenic route."
The scenic route? To Union Station all of three blocks away? In this ordinarily frenetic town, am I hearing things? And what's scenic in this precinct, anyway? And even with my bags, I overtook most walkers on the scenic route. So many, that soon the splendid song from the Milkha film came to mind. These are certainly Slow Motion Angrezas.
---
A Memory Disappointed
With a few hours to kill one afternoon, I took a longish walk from George Washington University to Georgetown. In my memory from nearly 30 years ago, this is a genteel neighbourhood, dotted with small intriguing stores. It's where I bought any number of little trinkets and, once, a bottle of Chivas for my whisky-loving father. It's where we often walked to dinner at Ravi and Kaval Gulhati's place, on O Street.
My parents' friends from grad school in the '50s, the Gulhatis stayed on in the US. He worked for the World Bank, as I remember. I loved those dinners for Ravi's charm, for Kaval's tall elegance, and for the eclectic group of dinner companions they always managed to gather. Today Georgetown is preppy and upscale, therefore signally uninteresting.
On the way back to George Washington University, I found another visible sign of the shutdown. On Pennsylvania Avenue, some blocks west of the White House, is an entrance to one of Washington's little jewels: Rock Creek Park. Again, memories: walks through here, even a lovely road we would take as a long-cut. But now, here's a sign with words to this effect: "Because of the federal government shutdown, this National Park Service facility is closed." They close parks?
---
All Shut Up
My NIH friend sees it very simply. The shutdown is a direct consequence, he exp­lained one sunny morning, of the way electoral constituencies have been "gerrymandered": their boundaries manipulated so as to maximise the number of supporters of your preferred party in there. This way, you try to ensure that consti­tuency favours one party. You think you have guaranteed one more seat for your party, but you really undermine democracy. Because far from being a representative sample of the electorate, such a constituency tends to vote only one way. Its Congressman hears only one kind of voice from his voters, and so has no real incentive to reach the political compromises any democracy must find.
And thus the shutdown. Both "sides" stick to their positions, the country comes to a political standoff. The government, to a standstill.
Makes sense. I still wonder: they close parks?
---
Rondo-vous
On the metro once, two inc­redi­bly tall young men got on behind me. Once coll­ege-level basketball players, I listen to them exchange notes. One had played against the Georgetown University team—a long-time hoops powerhouse—and remarked that their players were all "incredibly physical, athletic guys". The other had been in a training camp with the Boston Celtics star, Rajon Rondo, and spoke of Rondo with awe: "He never backs down, man. He's in your face like all the f**king time. He'll pass the ball through your face if he needs to, man!" Celtics fan that I am, I turned to ask about Rondo. Right then, we pulled into Farragut North. They loped off, in no apparent hurry. More Slow Motion Angrezas.
---
More memories...
Of long-ago hoops games when a young woman who played for the Univesity of Texas ran circles around me. Yes, and she too would make sudden bullet passes that had me ducking and weaving for dear life.
---
Bombay-based Dilip D'Souza is the author of The Curious Case of Binayak Sen; E-mail your diarist: dilipd AT gmail.com