In 1999, Manager Rajdeo Singh, the ASI chief of conservation and head of science at Aurangabad, began work on the restoration of the murals in Caves Nine and Ten at Ajanta. Manager Singh, as he is always known, had been in charge of conserving the murals of Ajanta for a number of years, but the work in caves nine and ten was, he knew, especially difficult, and of the greatest importance. This was partly because these two caves contain the most severely damaged of all the Ajanta frescoes: "The paintings were so fragile that in some places there was a great fear even to touch them with the hand," he wrote later. "At some places the pigment was found completely detached from the ground plaster and stone surface."
But largely Manager Singh was concerned because the murals in those two caves are recognised to be not only the oldest images at the site, but the oldest Buddhist paintings in existence—dating from only 300 years after the death of the Buddha. These masterworks of early Buddhist art are, in other words, the prototypes of the forms which would later spread with Buddhism over the Himalayas to Afghanistan, China, Japan and the rest of Southeast Asia. More remarkable still, with the exception of a few prehistoric pictograms of stick men and animals left by palaeolithic hunters at Bhimbetka in the wilds of Madhya Pradesh, they are also the oldest pictures of India and of Indian people to have survived from the ancient world.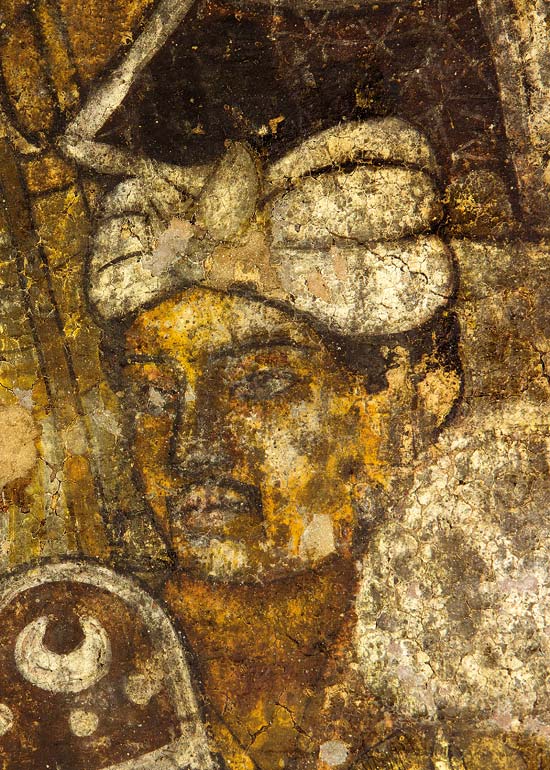 Satavahana face: Detail from a mural in Cave 10
The work took over a decade and proved to be even more difficult than guessed. Early British art historians who had worked on...