The mood in the Valley rests on a razor's edge these days, erupting at any provocation. On September 13, it was the reported desecration of the Quran in the US that brought thousands out on the streets of Budgam district. And it didn't take long for the anti-US demonstration to morph into anti-India and pro-freedom protests. Police response, as expected, was to shower a hail of bullets on the protesters. Six people, including a woman and a Class VII student, were killed, and over two dozen injured. The bloodshed spilled over into Tangmarg, Pampore, Bandipore and Anantnag towns, and by the end of the evening, the number of those gunned down stood at 19. (Incidentally, the crowd in Tangmarg, that torched a missionary school and a number of government offices, was led by local National Conference leader Ali Mohammad Sofi and his son.)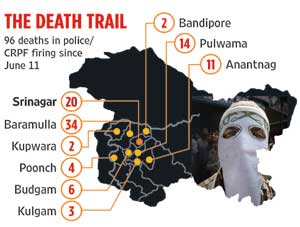 The flames have reached as far as the border district of Poonch in the Jammu region, where the police shot dead four students and seriously injured 10 people during a demonstration in Mendhar town on September 15.
It has been an extended summer of rage in Kashmir. The first spark of protest was triggered on June 11, after a 17-year-old student was killed in police action in Srinagar. Protests and curfews have crippled life ever since. The three-month death toll has reached 96, most victims being in their teens or early 20s. And with each death, the anger mounts. "I wish I could pick up a gun and avenge my son's death," says Fayaz Rah, 48, a fruit vendor whose eight-year-old son Sameer Rah was beaten to death by crpf men in Batmaloo, Srinagar, on August 2.
Government response has been on predictable lines and chief minister Omar Abdullah seems loath to learn from his mistakes. He chose to fly to Delhi to join his family when tens of thousands of Kashmiris were marching after Id prayers to Lal Chowk in response to the separatists' call. It was another example of his inability to handle the situation, and a reminder of his much-criticised holidaying in Gulmarg in mid-June when Srinagar was burning with rage. Deepening Omar's predicament is a numb New Delhi that has failed to come up with new approaches to Kashmir.
Many in the Valley were disappointed after Prime Minister Manmohan Singh couldn't push his Kashmir peace package through the cabinet committee on security (CCS) on September 13. The anger and disappointment is more intense in the NC camp. The ruling party has been in the line of fire, both in Srinagar and in Delhi, for its failure to address issues. Omar remains the target for his 'Monday-to-Friday' style of functioning. Largely disconnected from the agitating masses, he was desperately banking on a partial withdrawal of the Armed Forces Special Powers Act to sell it as a major concession in Kashmir. He had been lobbying hard for it and had also called on upa chairperson Sonia Gandhi and defence minister A.K. Antony hours before the CCS meet.
But New Delhi's reluctance to partially roll back or amend AFSPA has drowned Omar's hopes. As senior NC leader Ali Mohammad Sagar puts it, "New Delhi's continuing indecisiveness isn't helping our cause in Kashmir. It strengthens the hands of the separatists."

Kashmiri protesters dressed as Arabs shout anti-India slogans at a rally in Srinagar
Always media-friendly, Omar now seldom responds to calls from reporters. His party colleagues say he feels New Delhi's reneged on its promises to him. Speculation about Omar's likely resignation has been doing the rounds in Srinagar since the CCS fiasco. But Farooq Abdullah met the PM and Sonia Gandhi and said his son had no intention of quitting. Omar himself said he didn't intend plunging the state into a deeper crisis by leaving it headless at this stage. "But even if Omar decides to go, nobody's willing to chip in at this toughest-ever juncture in the state and the party," an NC source told Outlook. "It's a thorny throne; even thinking of sitting on it is foolhardy."
Omar fielded senior colleague Chowdhary Mohammed Ramzan to attack New Delhi, charging it with taking the people of Kashmir for a ride. Ramzan, in fact, dropped broad hints that the party was seriously reconsidering its alliance with the Congress at the Centre if its demands were rejected. "We won't repeat the mistake of 2000," Ramzan said, recalling how the NDA government summarily rejected the autonomy resolution passed by the Kashmir assembly. "That time...we did not take that decision (of withdrawing from NDA). But this time I think the party will take a decision," Ramzan said. "But we're still hopeful the Centre will consider our demand."
Kashmir is a graveyard of reputations. The question of finding an alternative to Omar is equally complex for New Delhi, as there are no easy choices. The chances of reverting to old horse Farooq Abdullah appear remote given Sonia and Rahul's well-known aversion to his style of politics. The possibility of Congress taking over appears remote too. Remember Ghulam Nabi Azad's tumultuous two-year tenure as CM? He was forced to resign after the state exploded over the Amarnath land transfer in 2008. Besides, the pradesh Congress is in disarray, with multiple lobbies working overtime against each other. Imposing President's rule in the state would, of course, be the last weapon in the Congress's armoury.

Kashmiri Muslims offer prayers for civilians killed in police action on Sept 13
On the other side of Kashmir's dark political landscape is Omar's bete noire, Mehbooba Mufti. She is the president of the opposition PDP, a party many in the Valley perceive as a creation of Indian intelligence agencies to counteract the NC (though opinions elsewhere put it at the other end of the spectrum). Mehbooba campaigned incessantly to convince New Delhi that Kashmiris were out on the streets due to Omar's poor governance. Nobody on the streets asks for bijli, sadak or paani, though. As political commentator Faheen puts it, "Mehbooba sniffed power when there was blood on the streets of Kashmir. Her attempt was a calculated one to downgrade Kashmir to a mere issue of grievances. When everybody, including NC, was holding the troopers responsible for the killings, PDP's Muzaffar Baig appeared on TV to tell Indians that his party was ready to take over from Omar. Whoever protects the soldiers from criticism is New Delhi's darling for the day."
The PDP's campaign has paid off nevertheless. The CCS promised to address all issues, including ones of "trust deficit" and "governance deficit". In fact, there are chances of New Delhi reverting to the Congress-PDP coalition. Mehbooba unexpectedly attended the all-party meeting Manmohan Singh convened in Delhi on September 15 when she had rejected the PM's appeal to participate in a similar meeting last month. Omar, however, stayed away from the meeting, whose outcome was again on expected lines: nought. Save only for a decision to send an all-party delegation to Kashmir.
The separatists, on the other hand, are continuing with their azadi agenda. Hardline Hurriyat leader Syed Ali Geelani, who leads the 'Quit Kashmir' programme, has issued yet another protest calendar till September 26, asking people to carry out normal activities of life from dusk to dawn on strike days. Playing to the gallery is moderate Hurriyat leader Mirwaiz Umer Farooq. "It is hardly the time to satisfy Kashmiris with a partial review of AFSPA," he says. "It is better to take the bull by the horns on Kashmir than beat around the bush which has yielded nothing in the last six decades. New Delhi needs to look at the larger issue of Kashmir and take concrete steps to resolve it."
It was a gloomy Id in Kashmir this year. Curfew was imposed at noon. There were no toys or firecrackers. Celebration was the last thing on anyone's mind. Will festivity return to the Valley anytime soon? There are no answers yet.