"When I'd crack one of my banal out-of-fizz jokes, you used to laugh out loud, so loud that my eardrums would resonate with the sound of your happiness. Now we just LOL."

"There was a time when you whispered sweet nothings to me, held my hand, looked deep into my brown eyes and promised me all the love in the world. Now we just do this "
That's right, ladies and gentlemen; the above is exactly the vapid apology for communication as we know it today. As the youth of the nation forges ahead with the pride and gusto of newly minted soldiers, this also happens to be a time when they could not be more nerve-rackingly annoying and steeped in depravity. It is a time when nothing surprises us, nothing is unique, where everything is accessible and, most importantly, where our opinions can be heard so loud and clear, they could make a Megadeth concert sound like a flock of humming birds.
Which brings me to one of the most recent and primary outlets of all that pent-up hormonal frustration—blogging. The one-stop shop for all the opining you ever needed, or so I thought. I imagined it to be a forum where I didn't have to watch it, could be ruthlessly incorrect politically and just talk about things I may not necessarily believe in. And dear god, I could not have been more wrong. I thought I would refrain from using the example of my own blog for this piece, but it's something I couldn't help considering the attention it got, enough for it to be one of the most read 'articles' on the internet. And it wasn't something soul-stirringly profound, but a baseless, inane rant which I thought could rest comfortably in my personal space and would remain untouched. But as many of you are aware, The Open Letter To A Delhi Boy was anything but private and went on to top the Twitter trending list, beating the smoking hot Scarlett Johansson's nude photographs, which made me a rather worried single woman as this just bore clear testimony to the doubtful sexual interests of the Indian male. I mean, c'mon boys, turning away from watching the world's hottest woman naked, to READ?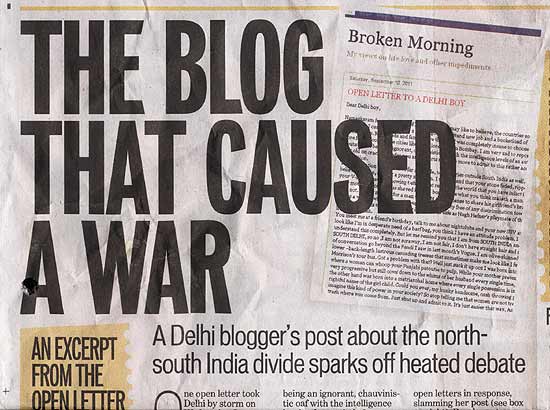 Shahana's Sep 10 blog post 'Open letter to a Delhi Boy' created a row
I am not sure if blogging has come a long way and if I can trace trends that one may have seen over the years. But is India ready for an all-out blogosphere where opinions are free and will be mutually acknowledged, if not respected? The answer is a big, fat, ROFL NO. When a young woman decided to rant about a genre of men she may have encountered, as if she were venting to her girlfriends over drinks, it was lambasted as if she tried to assassinate the Pope. My blog got six lakh hits and 6,500 comments, most of it wishing me endless burning in hell. So much venom, such stinging hate! We live in an aggressive India, a confused India and an India where opinions will be lauded only if they adhere to certain norms.
While we kids in the '90s grew up in a liberalising economy with a whole set of novel experiences, where the most scandalous thing we encountered was Ridge and Brook Forrester in two-minute long liplocks on The Bold and the Beautiful, this generation not only has access to the most legendary porn but can also blog about their exploits and share 'data' via various social media platforms. With the nation's youth being brought up on a diet of Roadies and Splitsvilla, we have a lot to be worried about. It's ok to strut your stuff in front of lascivious men, it's ok to knowingly have cameras in your bathroom, it's ok to play mind games to get ahead. But when a woman articulates her thoughts, controversial or otherwise, on her personal blog, you have the gall to question her moral and family values?
Now, I enjoy reading a few blogs out there. Some are crisp, well-cut and chiselled so as to make it a treat to bite into. But there are others which are extremely popular, have gone on to become books, and which, having scaled every peak of marketing and desperate consumerism, are also the most inane, grammatically challenged pieces of drivel. I read one such blog recently and was aghast. No point, no story, no anecdotes, no opinions. Just pages of the stuff that the author couldn't fit on her Twitter timeline. These Twitter guys are smart. This charade of what they call micro-blogging is just another way of saying 'Listen we know you guys are a bunch of rabid morons on heat, so here's 140 characters and no more, now scram!' Pure genius.
Like with this one particular blog. I mean ramble all you want, but if you are a woman in your late 20s and use the word 'doggie', do me a favour and get lynched. The word 'doggie', if not followed immediately by the word 'style', has no place in society. Period. And this blog, mind you, has advertisers hankering after it like a canine after a piece of prime rib. And c'mon, you have a blog, you claim to voice your opinions there and you still have no record of death threats and marriage proposals? How dare you?
The city slickers of India pride themselves in being ahead of their time. I am sorry, but the latest iPad, a swanky car, an Oxford education, passes to the Sunburn Festival and casual sex do not a progressive mind make. Which brings me to the obvious, yet elusive concept of gender equality. The Indian woman may have made her way from the bedroom to the boardroom, but has it really put her on the same footing as her male counterparts? When a woman voices an opinion that squashes to pulp the quintessential Indian male ego, it's a crime, but when she pity-blogs, that is, writes about her bleeding heart, her aching soul and her gut-wrenchingly sorry predicament, one can witness consolations galore in the comments section. You know why? Because this is exactly how we still visualise the Indian woman—helpless, distressed and dependent. Or, as a friend of mine called it, the 'Thappad khaa, roti pakaa' syndrome.
A blog is a personal space where a writer's views can be expressed in a free, uninhibited environment, but it fails miserably in our country. And so does social media etiquette. The sudden upsurge of social networking portals may have brought people closer, but could not have created a wider rift. The loss of sense and dignity when expressing one's views on the net is what one witnesses everyday, because now every pervert, murderer and rapist in India has a voice thanks to internet forums, and boy, do they milk it for all its worth. Let's just face it. Our reputation as a people who cannot laugh at ourselves could not hold more true. When our men take umbrage to the raw guts of a woman, they will go to ANY extent to cow her down. So what if that means being sexually degrading? That is allowed; after all, it's a man's right to show us our place, isn't it? Yes, this is our little home truth, so deal with it.
Comedians and comic writers (and now bloggers) have been social commentators over time. They have mocked cultures, mimicked world leaders, taken jibes at every community. Try doing that in India and you'll have religious groups gunning for you like Chinese witch doctors after tiger bones. While the US was lucky enough to witness the likes of George Carlin and Bill Hicks, there is not even a remote possibility of that kind of cutting comic writing to make a debut in India, because we live in a country which was up in arms even when stand-up star Russell Peters took a dig at Aishwarya Rai's acting skills. The man is a comedian. It's a joke. Chill the hell out and go home.
So no, we're not ready for freedom with social media and no, our youth is not mature enough and yes, we live in a vile world. But wait, isn't this a democracy? My shapely posterior!
---
Read the original blog: The Open Letter To A Delhi Boy and one of the responses