Unwashed, Unskilled
Schemes of the new skill development and entrepreneurship ministry, created to enable Modi's 'Skill India' vision, will be implemented by the NSDC
Govt report criticises NSDC's claimed target of skilling 500 million by 2022 as "unscientific"; in the five years since it was set up, it has 'skilled' 55 million
NSDC allotted Rs 2,700 cr by UPA since 2010, corporates and NGOs have collectively borrowed Rs 875 cr from this. A further Rs 1,000 cr now allotted.
Large corporations training their own staff using government funds; Modi sarkar has sanctioned Rs 1,500 crore for a modified scheme, renamed PMKVY.
***
It's a UPA project which has morphed to become the latest showpiece of the Narendra Modi government. Its objective, then as now—to to produce an industry-ready labour force trained in the skills necessary for 'Make in India'. A not insignificant sum of Rs 67 crore has been spent merely on promoting it. But an Outlook investigation reveals that after pumping in Rs 4,200 crore into the National Skill Development Corporation (NSDC), the biggest beneficiaries are not India's jobless youth but the fatcats of Indian business.
First, the Manmohan Singh regime spent Rs 2,700 crore on the project. Now, a further Rs 1,500 crore has been promised vide the Pradhan Mantri Kaushal Vikas Yojana (PMKVY). The inconvenient truth is that skilling India has so far been mostly money down the drain and, shockingly, to the benefit of big and small corporations like Airtel and Future Group. Rajiv Pratap Rudy, minister of skill development and entrepreneurship, candidly adm­its (see interview), "The NSDC is functioning without any accountability. We have given them a warning."  
The devil is in the numbers. The corporation claims to have skilled 55 million workers, of whom less than half (about 22 million) have apparently been placed over the last five years. When asked where the millions have been placed, and at what pay, NSDC managing director and CEO Dilip Chenoy says, "We have had problems tracking and monitoring placements because of high attrition rates and migrant workers constantly cha­n­ging phone numbers.... We are trying to tackle this in the new scheme."
The NSDC's skill development scheme works like this. A PPP scheme—51 per cent private and 49 per cent government equity—it has a target of skilling 500 million by 2022. To help achieve this, private trainers, in a for-profit model, charge a fee to teach skills across 21 sectors, from plumbing and carpentry to data-entry. In 2010, NSDC began by giving out soft loans (at 6 per cent interest) to corporate and NGO partners to set up training centres. Soon, training providers—70 per cent corpora­tes and 30 per cent NGOs—borrowed to set up tho­u­sands of for-profit skill centres across the country. So far, Rs 875 crore has been disbursed to these training providers.
Now here's another inconvenient truth. The centres either had very few people to train or closed down after a while. "Many of the centres couldn't sur­vive for long because they were not able to attract students into classrooms," says Prerit Rana, former skill developm­ent consultant at the ministry of communications and IT. "This was not because the poor didn't want to be skilled. After paying up, they realised that they had to do the same jobs, for the same wages."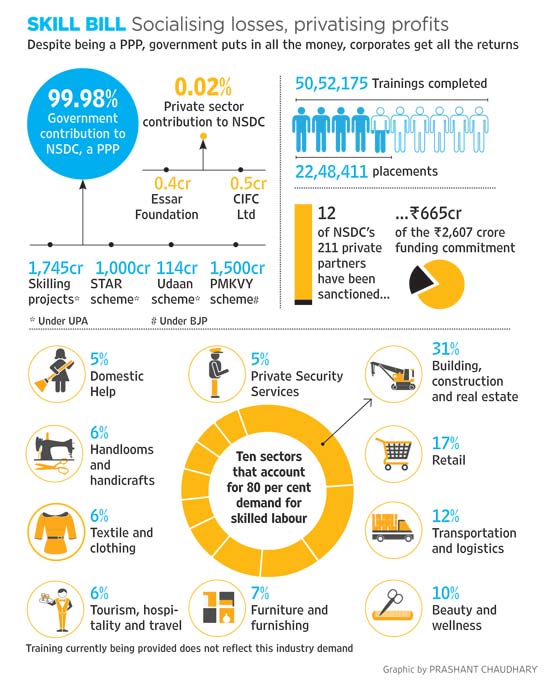 Outlook visited two centres—of comp­uter education provider NIIT and Lab­o­u­r­net, a non-profit working with o­­­­rganised sector workers in Gurg­aon—but both had closed down. "A computer class was held here for over two years. But because no students came, they were for­ced to shut it down," says Habil Ahmed, the watchman at the NIIT centre. Many private players ventured into the skilling space 2010 onward, but "most weren't able to service loans borrowed from the NSDC since they were unable to find students willing to pay a fee," says Rana.
The Standard Training Assessment & Reward (STAR) scheme, launched in '13, then pumped in Rs 1,000 crore from its annual budget into the corporation. This, many in the government admit, became the only way to bail out many of the cor­poration's 211 training partners. "The industry is not paying incremental wage for skills, so people are not paying to get the skills. Government schemes then are the only way for many to sustain themselves in the skilling market," says Vijay Mahajan, founder and CEO of Basix Soc­ial Enterprise, a reputed skill provider. So far, at least Rs 1,000 crore has been indire­ctly given to private players, in the form of reimbursements to students.
Designed as a reward (Rs 7,500-15,000 per candidate), this money fil­led the pockets of private training providers. "While big groups like ours didn't need the sch­eme to help service loans, for many, it was the only way to get bailed out," admits Eika Banerjee, CEO, Future Sharp, the skill development initiative of retail giant Future Group (in partnership with NSDC). NSDC argues that more than double the people paid for by the scheme have been trained by its partners. Over Rs 850 crore of governm­ent money has been spent in 'skilling' 14 lakh people between 2013-15, at Rs 6,000 per head. However, the corporation has no record of placing any of them as the scheme did not focus on placements.
Even the new PMKVY doe­sn't mandate placements. It only provides further inc­entive by way of cash to private players who place more than 70 per cent of  those who they skill. "This is a double whammy to the government. First, private players benefit through low interest rates and a three-year moratorium period. Then they train their own staff at the cost of the government and now they are given a further incentive for placements made in their own companies," says an IAS officer involved in the initiative. "Public money will continue to drain out unless NSDC functioning sees a complete revamp ."
Centum Learning (a subsidiary of Bharti Airtel), among the largest corporate par­tners of the corporation—having trained nearly 6 lakh people—admits that the majority are not placed at a higher salary. "The industry isn't willing yet to pay a premium for skilled labour," says Sanjeev Duggal, CEO, Centum Lear­ning. Right now, at least 24 central ministries and departments run over 70 different, fully subsidised, skilling initiatives.
"Why are both STAR and PMKVY being routed only through a for-profit, fee-based, NSDC model if the aim isn't to benefit the industry?" asks a highly pla­ced government official. "This, despite a government study showing that 70 per cent of those in need of skilling are unable to pay a fee." Several skill providers also claim that corporates partners of NSDC have unfairly taken advantage of government funds. Centum and Future, among others, they say, have transferred their training costs to the government. 
"I attended training for three days in retail services. They called me and my friends repeatedly to join the class, saying it was free and that I would get Rs 7,000," says 24-year-old Anuj Kumar from Sah­aranpur. "We stopped attending classes soon because we weren't learning anything...but they still gave me a certificate and Rs 2,000 was credited in my account." The incongruence was obvious. As a senior ministry official admits, "The skill programmes largely focus on re-skilling and up-skilling, when what we really need to focus on is basic skills to increase employability. We are currently trying to build high-rises without a foundation."
Now, the industry has contributed little to the skill initiative. A piffle, Rs 90 lakh, has been promised by NSDC's private partners (compared to an overall spend of at least Rs 3,000 crore by the state). A senior official in the skill development ministry says, "The industry is really not invested in this for it does not stand to gain anything from skilling people."
Senior HR executives approached by Outlook, across industries like Ford auto, Cafe Coffee Day and McDonald's, admit they do not want skilled labour. "Most of the skills we need are learnt on the job, so we can't pay a higher wage for skilled labour," says an HR executive of Ford. "Also, cheap labour is the reason we attract business in India. If we increase wages, we lose out on the market. Hence, industries hire contract labour."
The enormous target of 500 million has also not ensured any focused training. Interestingly, a state-funded study has strongly criticized NSDC's 500 million target. "Based on the rather unscientific estimate of 500 million to be skilled by 2022...the NSDC was 'allocated' 150 million to train by 2022; the ministry of labour was allocated 100 million, the HRD ministry another 50 million, and the remaining 200 million were 'distributed' among the line ministries (agriculture 20 million, transport 30 million, rural development 20 million and so on)," says a report by Institute of Applied Manpower Research. Based on NSS data, the report has estimated that the capacity for skill training need not exceed 250 million.
"If the actual requirements are only just over half of the 500 million, it requires a whole new strategy," the report says.
---
By Pavithra S. Rangan in Delhi