"Every person who comes is a human being and has the right to be treated as such. (The refugee crisis)...is where we Europeans show whether we are really capable of acting together."

Angela Merkel
German chancellor, on the influx of refugees into Europe
The Big Idea
Instead of trying to end terrorism by snooping, infiltration etc, British criminologist Paul Gill says a better way is to look at sudden changes in address, religion, and conversations.
---
Intercepts
China
Stand Down, Soldier
A commemorative meet of the 70th anniversary of the end of World War II, in Beijing on September 3, is forcing India to strike a diplomatic balance between China and Japan. Initially reluctant to participate, India has now decided that it should not go unrepresented since it can be a setback to Sino-Indian ties. But unlike what it did for a similar meet in Russia earlier this year, when the Indian president was sent, a much lower level delegation is being sent. The obvious choice, it seems, is Gen V.K. Singh, MoS in the external affairs ministry. Much of this is being done keeping Japan's sensitivities in mind. Senior Indian leaders want to ensure that when the diatribe against Tokyo starts flowing from Beijing, they are far, far away.
Egypt
Past Isn't A Foreign Country
It isn't uncommon for countries in crisis to get nostalgic about their past. Example: Indians who sing the glory of British rule. The triple combo of economic hardship, political instability, and jehadi activism is prompting many Egy­ptians to demand for the return of King Farouk. The ex-monarch, ousted by the army in 1952, died 14 years later in Rome, in exile. Yet, nostalgia for the dead king and his rule dominates the thoughts of many Egyptians. "I am begging King Farouk not to leave Egypt to the army," is a recent tweet that attracted thousands of likes wit­hin hours and pushed the phrase "tweet as if you are in the 1950s" to the top of Egypt's twitter charts. Verily, as H.Y. Shar­ada Prasad, former media advisor to three Indian prime ministers once said, "Nostalgia is no longer what it used to be."
---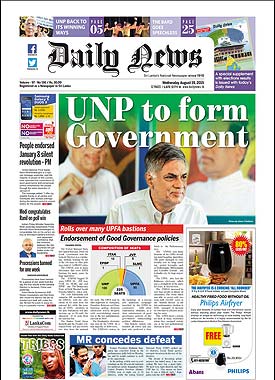 Must-Read
Daily News
Not many state-owned media outlets have managed (or been allowed) to rise above being a propaganda tool to become the torch-bearers of professional journalism. But the regime change in Sri Lanka is offering a small chance to Associated Newsp­apers of Ceylon, also known as Lake House newspapers. In 1973, Sirimavo Bandaran­aike's SLFP government took over and nationalised the group, which includes the island-nation's oldest newspaper Daily News, then hea­ded by Esmond Wickramas­inghe. With Esmond's son Ranil Wickramasinghe (who represents the UNP) back as PM for the third time, and the shadow of Mahinda Raja­paksa looking less menacing than ever, the new governm­ent is stepping on the pedal to give the 49 publications the push they require in the digital age. Kavan Ratnayaka, formerly with telecom company Dialog, has been appoin­ted as CMD. It helps enorm­ously, of course, that the Wickramasinghe family still retains a small stake.
---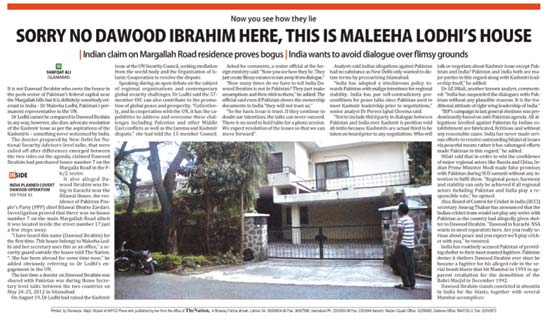 Diplomatic Chatter
Foreign envoys are talking about... Maleeha Lodhi's house
She has a PhD in political science, her dissertation being on Bhutto, the PPP and Pakistan's political development. She is the first woman in Asia to edit a national daily newspaper (The News International). She was Pakistan's ambassador to the US during 9/11, in fact she was its longest. She is currently the country's permanent representative to the UN. And according to Time magazine, she is one of the 100 people in the world who will shape the 21st century. Yet... the diplomatic corps in Delhi is breaking into unst­oppable titters that Maleeha Lodhi's home in Islamabad's Margallah road found its way into an Indian home ministry dossier—as being the Karachi address of underworld don, Dawood Ibrahim. The dossier was to have been handed over by NSA Ajit Doval to his Pakist­ani counterpart Sartaj Aziz. That meeting has now been called off but the boo-boo, reported by Pakistani newspaper, The Nation, has put the focus on India's ham-handed efforts to build public opinion against the country hosting our 'most wanted' man.