As the climate change jamboree kicked off on December 7, members of an Indian NGO were stopped from entering Bella Centre in Copenhagen, the venue of the UN summit that is currently the cynosure of the world. Reason: they were wearing outer shirts with a picture of Mahatma Gandhi and the slogan "Need, Not Greed". Despite being warned against "making any political statement", some promptly put the shirts back on again once they were let in. This kind of attitude is missing when one spies the Indian negotiating team, which appears "bewitched, bothered and bewildered". Nothing, it seems, is going right. And ironically, all this has plenty to do with making political statements.
"Till people know the sectoral targets for the cuts, they won't know the impact."
At the best of times, climate change is a mind-numbingly complex topic with the usual mix of dense jargon and data, unbending positions and posturing. But in these opaque and long-drawn-out negotiations, suddenly many observers are now intently watching India's moves. Reason: India is seen to have yielded considerable ground right at the start of the negotiations by voluntarily committing to reduce the carbon intensity, the amount of carbon dioxide emitted per unit of GDP, by 20-25 per cent by 2020. Given that this step was taken without any quid pro quo from the rich countries (aka the big polluters), it has cast a cloud of confusion on India's stand at the summit.
At least three members of the key negotiating team had to be reassured by Union environment minister Jairam Ramesh that the official brief is unchanged. Though not exactly out on the streets to protest the government action, even opposition parties are ununeasy. India's chief climate negotiator, Shyam Saran, is flying back to India to brief Prime Minister Manmohan Singh. Despite explanations galore, confusion reigns.
---
Eager-Beavering?
India's stated position on climate change and the tough questions it is drawing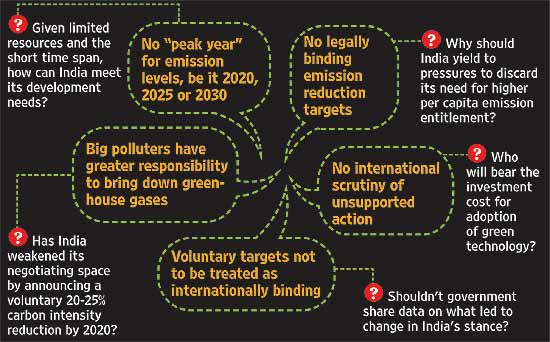 ---
The billion-dollar question is whether all of this is by design. For the past few months, there has been a concerted effort to impart a certain "flexibility" to India's position on climate change. India wants to be seen as a deal-maker. But for many experts, India has yielded ground before letting the opponents make their moves. Or did pressure from the US—as well as similar cuts taken by developing countries like China and Brazil—make India commit to a show of action?
"We should be putting issues of sustainable development at the centrestage of climate change."
Stressing that the government move should have been made after wider consultations, BJP leader Arun Jaitley admits that he has more issues with the timing of the announcement than with the carbon intensity cuts. "We need emission cuts to protect the environment. We are also ready to do our bit, but naturally those who pollute the most should put in a larger share," he says. And CPI(M) leader Nilotpal Basu feels India should not have made any such voluntary commitment as "we cannot stray from our commitment to provide power to all, a problem not faced by the developed nations."
Sure, a carbon intensity cut isn't a bad thing. According to Kirit Parikh, author of India's integrated energy policy report, it's an "acceleration of processes to improve energy efficiency" to conserve our fast-depleting coal resources. While admitting to have been consulted by the Planning Commission on the report that led to the cabinet decision on carbon intensity cuts, Parikh is quick to say he is not responsible for the final report. At the same time, he adds, "Reduction in emission intensity is only a half-step, everybody has been doing it. For more significant impact, we need to reduce overall emissions."
But experts say India's move has far-reaching implications. Unlike China—which has estimated an investment need of $30 billion annually to meet its 40-45 per cent carbon intensity reduction target—India is yet to make any estimate about the costs involved in meeting the targets. China, incidentally, has higher emission levels than India. Moreover, according to estimates, India's carbon intensity has been coming down, particularly after liberalisation, and currently is half of Chinese levels. "The negotiators have not seen the document on the basis of which the intensity cut target has been worked out. Until people know the nuts and bolts or the sectoral targets, they will not know the impact," says Prodipto Ghosh, former environment sectary and a member of the Indian team.
There will clearly be a cost for large energy and manufacturing companies that will have to invest in technology. Worryingly, larger companies will have the bulk to pass on tariffs to the consumers. For instance, Rakesh Nath, chairperson of the Central Electricity Authority, is unsure what the cuts will mean for the power sector. He, however, states plans are afoot to refurbish many old power plants, totalling 12,000 MW capacity, at a cost of Rs 20,000 crore over the next eight years. "The cost of power to consumers may actually go up," says Vishal Kedia, head (emerging business), Enam Holdings, a big player in the carbon trading business.
---
What India's Carbon Intensity Cut Means
Carbon intensity is the amount of carbon dioxide emitted per unit of GDP. IEA values it at 0.33 kg/$ for India (and 0.61 kg/$ for China)
For
Reinforces India's commitment to be seen as a deal-maker
Other countries like China and Brazil have announced similar cuts
Improves efficiency and reduces cost per unit of production
India's carbon intensity levels have already been coming down
Helps industries compete better globally and domestically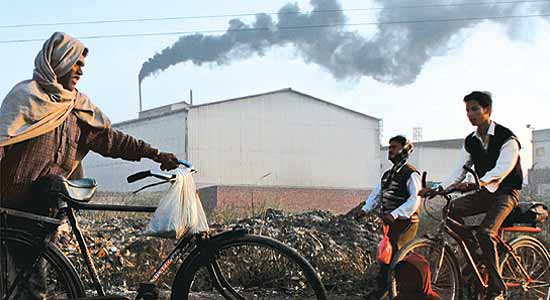 Against
Any offer without binding commitments from rich countries clouds key issues
Despite lower levels of carbon emission, India gets put on the same pedestal
Developing nations face more pressure for commitments, creates fissures
Absence of a plan to meet new targets. Will involve huge costs.
Heavy polluting industries—steel, power, cement—will have to pass on costs to buyers
---
Whether it is steel, cement, automobiles or fertiliser units, all of which are energy-intensive, considerable costs will be involved in upgrading or setting up new high-tech units. Take the super critical power plants in the pipeline, the new technologies will easily add 10-15 per cent to overall costs. According to state-owned power major NTPC, against Rs 40 lakh per MW spent earlier for maintenance, the new tab will be Rs 1 crore per MW on upgrading old plants. The government move will involve "unforeseen risks and costs", writes Jyoti Parikh, member of the PM's advisory council on climate change, in an article in The Indian Express.
"Reduction in emission intensity is only a half-step. For true impact, we must reduce overall emissions."
Sure, most energy-intensive industries are happy to adopt green technology. Yet, some industry lobbies are not in tune with this sentiment. Amit Mitra, secretary general of industry lobby FICCI, feels, "Let a global fund of $500 billion be formed to help developing countries with paying the licence fee for transfer of clean technology from the West." Actually, large industry doesn't seem to need the largesse—as cii recently said. The problem is the fear among micro and small units that compulsions to meet the new norms—without access to funds or affordable technology—will result in a churn.
"It will put a lot of smes in a tight spot, because overseas technology to achieve these norms is prohibitively expensive. It will not only increase our dependence on overseas companies, but will add to the product costs," warns Rajesh Sharma, director (marketing) of Soil & Enviro Industries, makers of air pollution control equipment. Alternatively, many say, they would continue their inefficient ways, hopeful that regulators and inspectors will look the other way.
The tone and tenor of developments at Copenhagen has added to the fears of Indian companies, most of which are still trying to make sense of what is afoot for them. Enam's Kedia, for one, feels some sort of legislation is inevitable after a couple of years at the most. "Most of the industry has already taken measures to achieve some amount of green technology and emission cuts. But that part was easy. To scale up from here is difficult," adds Srikanta Panigrahi, director general of environment consultancy Carbon Minus India.
Such fears are not restricted to India. Upset that their concerns are being overlooked in the focus on big, developing countries, the island nations, led by Tuvalu, the fourth-smallest country, have broken ranks from G-77 to voice their protest. Ambuj D. Sagar, who holds the Chaturvedi chair for policy studies at IIT Delhi, however, feels that while G-77 is falling apart, "in order to make progress, issues of developing nations and poor nations will have to be resolved if a robust deal has to be worked out."
"It's not even clear what India is offering. The political brief is different from the negotiating brief."
Referring to the great Indian divide—the haves and the have-nots—Sagar stresses that India should play a slightly different role of "acting as the bridge between the poor nations and other industrialised nations among the G-77. But we have abdicated our responsibility." That Pandora's box has already been opened by the Indian decision to announce carbon intensity cuts. Equating ourselves with Brazil or South Africa may seem expedient, but they match EU emission standards.
Given that the US is currently not willing to undertake firm commitments on emission cuts or funding clean technology, a consensus solution seems unlikely. Not at Copenhagen. Even so, a consensus on climate change should not be at the cost of India's deprived millions. As former planning commission energy expert Surya P. Sethi states, "We must fight for our environment space to develop." Above all, there should be a more informed public debate. Not, as it seems, climate policy by stealth.
---
By Lola Nayar with Arindam Mukherjee and Arti Sharma