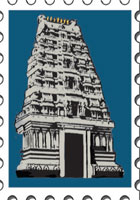 The faith devils
I am no atheist. However, I have come to believe that God brings out the devil in us. In most large temples, the closer people get to the sanctum sanctorum, the more devilish they become in behaviour. It's a mob with a task at hand. We are as close to a stampede as we can be. It is indeed a miracle that we have so few tragedies in religious places despite all this. I requested a muscleman shouldering his way through (he had just felled an old lady) to ease off, but the man was in no mood to relent. Indeed, he told me, "Tirupati mein dhakka diye bina darshan nahi hota (You can't get darshan in Tirupati without pushing and shoving)." However, watching some of the faithful is a humbling experience. People with babies in arms, old people who can barely walk, the infirm, all come with hope and prayers. They tonsure their head, walk barefoot for miles, do the shayanapradikshanam (rolling bare-bodied around the temple in penance). If fear and faith in God can make us behave, make us do the right thing, then temples are the best influencers for better societies.
Advertisement opens in new window
---
Quick darshan
The Lord, it seems, is no longer that soft on the rich and famous. The ear­lier VIP culture, where every devotee worth his salt came with a recommendation letter, has taken a bit of a knock. There is a change in the system, technology is in favour, but it's all focused on increasing profits for the temple trust. The new racket is called 'quick darshan' and the charge is Rs 300. But my ticket still took me nine hours in the queue! I was informed that the normal queue sometimes take you there faster. However, those in power have left enough scope to empower themselves. When I went for the 'suprabhat' darshan with a special ticket, I didn't find a single 'normal' person. Everyone present had influenced the system, a sense of entitlement writ large on their faces. There is also something called a 'break darshan' where, for a certain period, only the very special ones find their way to the Lord as the normal queue is stopped. Bigger the temple, bigger the VIP culture. There have been instances in the past where temple doors were opened in the middle of the night to wake up a sleeping lord so that a VVIP can take his blessings. And yes, today there were eight Gujaratis amongst the VIPs.
---
The loot is on
Advertisement opens in new window
I am more certain now than ever that the Hindu religion is more abused by its own. The commercialisation and loot happening across major temples is a blot on Hindus. From Jammu to Mathura, Dwarka to Mumbai, Tirupati to Srisailam to Jagannath temple, commercialisation has taken over. Devotees are harassed and fleeced by touts from our own religion. Some amount of money gets you faster access to the Lord—temple trusts have seized this route and made it official. In many temples, the priests are the prime initiators and active participants in the loot. They openly demand a pooja be performed, with emotional blackmail if you don't fall for their spin. And in many big temples, the Lord is rarely allowed to sleep in pursuit of demands from the faithful and the VIPs. The BJP has to save Hinduism, not from Pakistan but from Hindustan.
---
Grand destination
Advertisement opens in new window
Over a decade back, I had tra­velled with then Andhra Pradesh CM Chand­rababu Naidu in his car to the Hyderabad airport. He had explained his plan for converting Tirupati into a grand destination like the Vatican with all-round benefits to the region. He wanted to make the journey easier and also provide attractions that would make devotees stay back a few days to absorb the atmosphere. Now that he is back in power, I hope he will work on the grand project. But then, would any politician disempower him­self to create a transparent administration?
---
Loo and behold
For me, the argument about building more toilets than temples was settled here. Many years back, I had driven down with friends from the erstwhile Madras to Tirupati. We reached the temple town very early in the morning and had to wait for our accommodation for a few hours till the offices opened. As we wandered aro­­und, some of us decided to have hot south Indian filter coffee. This led to a cyclical reaction, triggering the inevitable bowel movement. And as the stomach started talking, we queued up at a public facility. I saw a guy right at the head of the queue restlessly walking back and forth wai­ting for his turn. I have never seen a guy as restless as him. As the door opened and the person ins­ide came out, this guy barged in, shut the door and I heard varied sounds—from sirens to cra­ckers and blasts, followed by cusswords, all in the same breadth. Jairam Ramesh has never been proved more correct and the debate was settled here.
Advertisement opens in new window
---
Last week, I learnt...
Tirupati temple collections will go up by Rs 138 crore this poll year as against just Rs 15 crore last year. "The collections increase when there is a crisis," explained the chief priest.
---
Former Outlook publisher Peri now runs the education magazine Careers 360; E-mail your diarist: laxmimahesh [AT] hotmail [DOT] com