I am sure that to the outside world, Tamil Nadu appears queer: those conservative, retrograde, idli-dosa-eating, film-crazy, ves­hti-clad Madrasis! But to me, an insider, the most enduring image of my state is that of rickshaw-pullers reading Tamil newspapers and magazines during their free time, unmindful of the scorching sun. Tucked under the passenger seat of every rickshaw, there would always be some reading mate­rial, some daily or periodical. And the roadside petti-­kadais (small shops that sell cigarettes, paan, bananas, cold drinks and even tea) have one major attraction—rows of Tamil periodicals, many of them pocket-sized, bestriding the string by the middle-page, or columns held in place by clips. You'll never find last week's iss­ue of Vikatan, Kumudam, Kungumam, Nakkeeran or Kalki—they fly off the string the day they arrive.
The Dravidian movement, the influence of cinema, which became a mirror of Dravidian politics, its lilting dialogues, written and delivered with flourish, captivated audiences in hundreds of dark halls, leaving them thirsting for more. Enterprising publishers of weeklies captured those mom­ents and provided more entertainment through their journals. Reading periodicals became part of Tamil culture. Theodore Baskaran, author of award-winning The Eye of the Serpent, cites the ironic fact that cinema was an important factor in promoting the reading habit in Tamil Nadu. Kumudam, which sold six and half lakhs weekly at one time, relies heavily on film news to hold its readers.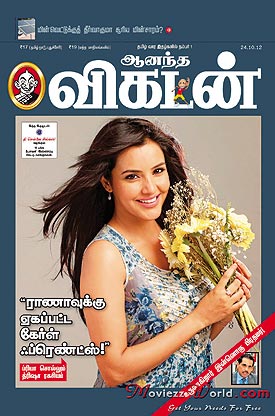 Ananda Vikatan Launched in 1928, it's a household name, its Vikatan Thatha a familiar icon by the masthead
In Tamil Nadu, reading is a tradition that runs several years, and has expanded to include all segments of people in a state that has 80 per cent literacy. They thirst for periodicals, which are cheaper than books, cover a wide range of subjects, contain at least two short-stories and serialised non-fiction, and upd­ate them on current affairs. Magazines are available in reading rooms and circulating libraries—the scale of the publishing business in Tamil Nadu is phenomenal.
Just visit the Chennai book fair that is held yearly to coincide with the Pongal holidays. You will be amazed to know that thousands of people, young and old, travel to Chennai from all corners of Tamil Nadu to buy books. All major periodicals—like Ananda Vikatan, Kumudam and Kalki—as well as purely literary monthlies like Kaalachchuvadu and Uyirmai have their own special publications readied for the occasion.
As D.I. Aravindan, features editor of the Hindu (the Tamil, not the English daily), says, "A new group has come to the public sphere, interested in politics, cinema and literature. A large section of our readership is under 40, is from rural and semi-urban areas, and they know only Tamil, and wants to be as well informed as their English-educated counterparts." This is the demographic that this Tamil daily focused on—and gained quick acceptance from within no more than two years. Popular magazines have also empowered readers with their very readable articles on science, technology and art. Aravindan says the quality of readership has definitely increased.
But how do the leading magazines like Kumudam and Ananda Vikatan, both no bigger than a Kindle reader, continue to be at the head of the pack for so many years now? Little has been written about these Tamil magazines in the national press and it is interesting to take a detailed look. Vikatan, which began in 1928, still remains a family magazine; the publishing house has transformed into an octopus, with 12 offshoot magazines—a whopping 15 lakh copies are printed every day. B. Srinivasan, managing director and grandson of S.S. Vasan, who started the magazine 87 years ago, is proud of the place that Vikatan holds and its pioneering and innovative strategies, aimed at audience profiles that have changed over the years. "True, we have the advantage of having a great brand but the real reason for our success is that we have consistently been reinventing ourselves," he says.

Like Hot Cakes The Tamilian appetite for reading magazines—and pulp fiction—seems endless. (Photograph by R.A. Chandroo)
The path was laid by his father, S. Balasubramanian, who started a students' scheme that selects and trains students in journalism and recruits some of them. It has been running for 31 years, and boasts 1,500 alumni working across the world. The scheme was a masterstroke that brought new blood and new thoughts to the magazine. Srinivasan says they adhere to the core philosophy of the magazine. Never take sides; be objective, not judgmental. It is important to have an opinion but never thrust it upon readers. His father Balasub­ramanian was jailed during mgr's regime for publishing a cartoon making fun of the chief minister. Balasubramanian stuck to his guns and refused to apologise, fought the case in court and won.
The magazine has other principles too. We never compromise on issues, Srinivasan says. Including advertisements. Vikatan never carries cigarette or alcohol advertisements. Till the 1970s, Vikatan was a single magazine when Balasubramanian star­ted Junior Vikatan devoted solely to investigative reporting. That there was space for such a magazine became obvious with its runaway success. Now, the Vikatan group has magazines catering to women, children; also magazines on environment concerns and organic farming, cinema, automobiles, business, science and so on. Advertisers are able to choose the segment that reaches their target buyers. There is more in the pipeline—a magazine on video graphics, for example.

Mass Media Nakkeeran claimed national attention with an interview of the most wanted Veerappan. (Photograph by Nakheeran)
Vikatan was probably the first Tamil magazine to go online, in 1997. In 2005, the online edition became free. The main magazine Vikatan, still maintains a much higher standard than the other popular magazines carrying articles and fiction written by well-known writers, apart from those written by their staffers. K. Bharati, a discerning reader for years, says she finds at least two great stories in Vikatan every week.
A pioneering move of Ananda Vikatan was to pick bright students and train them in journalism. Some of its 1,500 alumni now work for Vikatan.
Kumudam is another survivor and knows that to stay relevant is to stay young. It was founded in 1947 by P.V. Parthasarathy and S.A.P. Annamalai, and now, the group has sister publications like Reporter, Sinehidi, Bhakthi, Jodidam Theeranadhi. Kumudam had a circulation of 6.2 lakh in 1986. Editorial sources say the group's publications, put together, tot up a circulation of more than 10 lakh every week. Kumudam is still a favourite with the young, filled as it is with film stills, news and political gossip. The magazine has not bothered to modernise or upgr­ade its printing, as it is assured of a committed clientele. It cannot be said it follows a fierce independent political stance, preferring to go with the establishment, but the readers go for the magazine more for its juicy snippets and tidbits.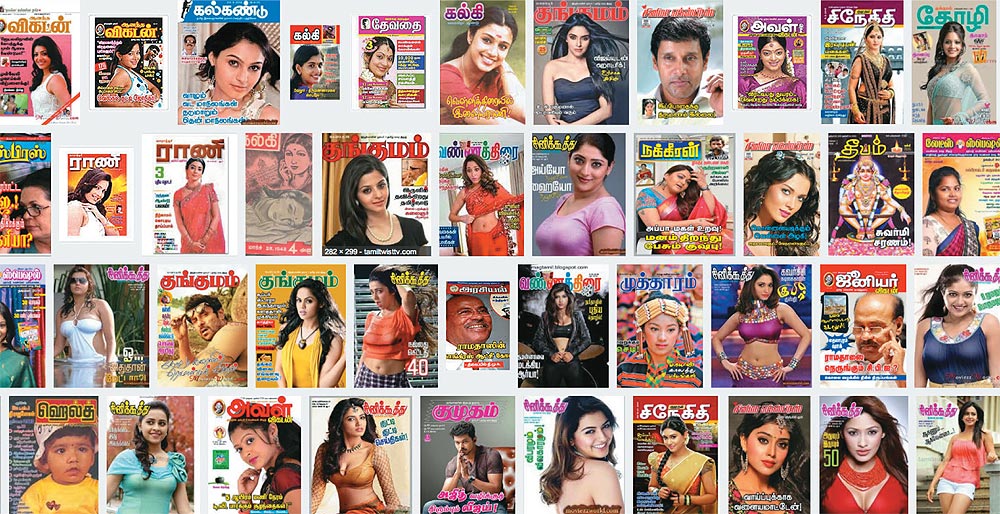 Giga-Avatarams The Google Images screenshot for Tamil magazines throws up a veritable starburst
The group's political magazine Reporter never shies from coming up with sensational stories. Last month, it came under criticism when it published a mischievous article lampooning women wearing leggings. The pictures used in the article were reportedly printed without consent. The article got considerable social media attention, resulting in a petition on change.org, which received over 17,500 signatures. Even so, it might be said Kumudam keeps the frisson up with its irreverent articles. But there is something that has not dimmed its relevance among the numerous magazines that are around.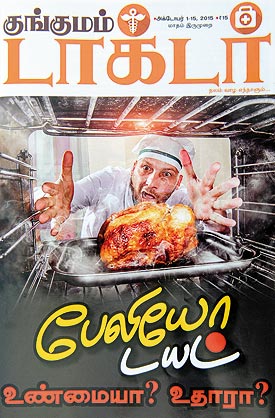 Kumkumam Doctor The leading brands do so well, they've created sister magazines that do relatively well too
From the days of the founding patrons, the staff, the editors and the senior editors remain anonymous. The public does not know their faces. No journalist from the group, as with
Vikatan
, participates in TV debates or in public functions. "Our idea is not to become too familiar with the public," says a senior editor, well, on condition of anonymity. "We can only mingle with the public as one among them and feel the pulse of the society." The editorial board and the reporters are in the 25-35 age bracket, making for a young, agile team. This is our secret, says an editor, adding that the staff travels a lot, mixes with the masses, gets to know their interests, what they like to read, their favourite stars and so on. "We pick up the language of the young, across classes too," says the editor. Ocassionally, it invites VIPs to edit the magazine. And recently, lyricist Vairamuthu was contracted to write a new short story every week for 40 weeks.
There was an effort by serious writers 20 years ago to denounce this reading mania for "commercial magazines", which they said was destroying the aesthetics of Tamil writing and reading. Many literary magazines were started. Some remained and some vanished. National newsmagazines like India Today arrived in Tamil editions, generating a craving for news from outside Tamil Nadu. This made a difference. Shubhamangala, a literary magazine, brought some good writing, presented interestingly. They may have whetted the appetite for good writing. But what gets picked at the pettikadais is popular magazines.
---
Vaasanthi became a star writer with Ananda Vikatan pub­li­shing her first short story. She was editor of the Tamil edition of India Today for 10 years.