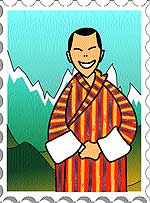 Smiling Buddha Thunder
If Singapore represents man's ultimate triumph over nature, Bhutan is just the opposite. From the moment you land at Paro's Toyland-like airport, the power of nature overwhelms you. Lush green valleys, gentle river-hugging roads, apple trees in full bloom: Bhutan is truly the last Shangri-La. The land of the Thunder Dragon, peopled by the proud Drukpas, is benign and welcoming—from the fairytale houses to the intricate paintings, everything appears in miniature size. About the only thing the Bhutanese prefer large-sized are their cars which, I might add, rarely honk. No noise or air pollution: that, in a sense, is true (gross national) happiness!
In keeping with our tryst with nature theme, the hotel manager recommends we trek to the Tiger's Nest monastery, 900 feet above Paro. "If you come to Bhutan and don't trek to Tiger's Nest, it's a bit like going to India and not seeing the Taj!" is his verdict. But while the Taj is about romance, Tiger's Nest is about rigour. Halfway through the tortuous four-hour uphill climb, every muscle screaming in protest and lungs depleted of air, I'm ready to give up: a sedentary TV studio lifestyle isn't quite meant for the mountains. Then, I notice a group of Chinese senior citizens stride by me. Competitive juices flowing, I finally make it to the top. It's well worth the effort: a gigantic waterfall near the monastery is a truly transcendental experience, making one feel almost like the Buddha must have under the magic of the Bodhi tree. My spirits are lifted—till I notice my Chinese friends already on their way down, smiling, while my aching bones take the last step. Why don't we win gold at the Olympics again?
---
Druk On Love
If there is one South Asian country that India seems to have got equations right with, it is Bhutan. The Bhutanese actually like Indians, or at least that's the sense one gets. My guide tells me excitedly about a visit to Delhi. "Such a lovely city!" he says. A middle-aged gent speaks nostalgically about studying in Kalimpong while another finds Calcutta very stimulating! No Big Brother angst here, just a desire to be friends.
Perhaps the best job in Bhutan is that of the Indian ambassador. India House resides on 70 acres of prized real estate and even has a golf course. Author-diplomat Pavan K. Verma is just about the right man in the right place. He plays golf every morning, reads and writes in the afternoon and entertains Thimphu's elite in the evening. His new book The New Chanakya is due to be published in January. Brimming with ideas on the future of Indian democracy, Verma warns, "Don't think I'll be in government (service) after my book is out!"
The affection Bhutan has for India is perhaps best exemplified by a newly constructed temple at Dochula Pass. Among the wall paintings of gods and kings is Jawaharlal Nehru on horseback: a tribute to Nehru's 27-day trek across the mountains into Bhutan in 1958, a trip that sealed Indo-Bhutan friendship. India may not see Nehru as the Greatest Indian since Gandhi, but the Bhutanese sure do.
---
The Call Of Change
The one question that haunts us through the trip: how long will Bhutan resist change? Which, rest assured, is slowly coming. In Thimphu square, many young people wear jeans and are swaying to music on their iPods. Satellite TV is the new rage, Hindi soaps are religiously watched and most Bhutanese speak passable Hindi. Retaining cultural identity in a globalising world is a challenge. The Bhutan government has reportedly even commissioned McKinsey to do a survey of the young and their aspirations. My guide wants to be a radio jockey, but says there is limited opportunity. So will Bhutan's young mimic the west? "I hope not," says Lennie Dorjee, whose actor brother Kelly is perhaps Bhutan's most famous export to India. Kelly can actually now hope for a film career in Bhutan as the local film industry is thriving. A film I catch has the hero on horseback, the girl in a boat, all dressed in traditional attire: if films mirror life, Bhutan's self-identity is safe.
---
King-sized Shoes
If Bhutan's transition from tradition to modernity has been smooth, much of the credit must go to the country's much-loved fourth king Jigme Singye Wangchuck. At 50, quite remarkably, he abdicated his throne in favour of his son Jigme Khesar Wangchuck, but left behind the legacy of a nascent, multi-party democracy. The King-Father is rarely seen. In retirement, he cycles, plays basketball and a few months ago, even ventured anonymously (a la Akbar) into Thimphu's Sunday market to feel the common man's pulse (a lesson maybe for our aam admi government?). Clearly, the son has a hard act to follow.
Two fascinating aspects of the new Bhutanese constitution: a cap on the king's 'retirement' age at 65 and that 60 per cent of the land must have by law forest cover. Is India listening?
---
At an arts
Shop, I meet a mobile-toting monk who smiles affectionately. "You from India?" he asks. "Yes," I reply. "India! Salman Khan... Tiger picture coming, no?" he queries. Clearly not the monk who'd sold his Ferrari. But, he has bought into Bollywood's new soft power.
---
Rajdeep Sardesai is editor-in-chief of the IBN18 network; E-mail your diarist: rajdeep.sardesai AT network18online.com