Going by recent events, it is probable that with General Pervez Musharraf's return to Pakistan, history can take a previously untrod path—a military dictator being punished by the country's independent judiciary for offences against the state. Can he be found guilty in the triad of serious charges against him—complicity in the assassination of Benazir Bhutto in 2007, in the killing of Nawab Akbar Khan Bugti in 2006, and for illegally suspending Sup­reme Court chief justice Iftikhar Moh­ammed Chaudhry? Some also hold him responsible for lives lost at the siege of Lal Masjid in Islamabad in 2007.
For many bristling at the thought of politicians long being at the receiving end—jail, exile, death—it is payback time. "Let a new generation of military officers see what people feel about dem­ocracy and respect them for that," says Adnan Rehmat, a political analyst.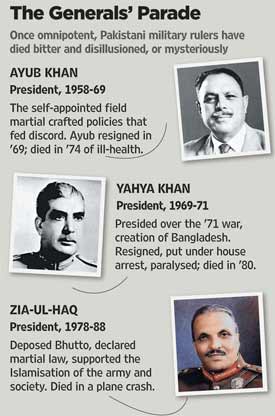 Thoughts of retribution being visited on him would have crossed Musharraf's mind as he ended his five-year self-exile. His return was brokered by Saudi Arabia, which prevailed upon the civil and military establishment (and Nawaz Sharif) to let him come home. On the tarmac, Musharraf raised his hands in thankful prayer. But, going by last week, the portents are grim. Mus­harraf will need more than the help of the three 'A's in Pakistan's destiny—Allah, Army and America—if he is to remain a free man. As GHQ and the presidency dis­tance themselves from Musharraf, one recalls how, after Ben­azir's return to Pakistan, he agreed to ensure her security in exchange for her 'cooperation'.
So strong are the grievances against Musharraf that even before he could reach Islamabad, the Supreme Court was moved to initiate proceedings under Article 6 of the Constitution (subverting the Constitution) by the president of the Rawalpindi Bar Association.
With the return of the 'prime suspect', orders have also been given to hear the Benazir Bhutto assassination case afresh in Rawalpindi's anti-terrorism court. The former president will be charged formally in the murder case along with other suspects. Indeed, the courts have sprung a trap. The Sindh High Court has put Musharraf on the Exit Control List and ordered 'strict compliance', making it illegal for him to leave the country.
"Musharraf shouldn't be allowed to elude the serious legal proceedings against him on his return to Pakistan," says Ali Dayan Hasan, Pakistan director at Human Rights Watch. "Only by ensuring that he faces the well-documented outstanding charges against him can Pakistan put an end to the military's impunity for abuses."
Though most people dismiss Musharraf's chances, his winning a single National Assembly seat isn't ruled out.
Divine intervention was all Musharraf could seek when, facing the Sindh High Court—which granted him an interim bail for 21 days in the murder cases of Benazir and Akbar Bugti—a day after his arrival, Musharraf was greeted by a shoe hurled at him by a lawyer amidst slogans demanding his death. The missile narrowly missed its target, but its owner was 'awarded' Rs 2 lakh by Shahzain Bugti, grandson of the slain Akbar Bugti.
Musharraf found it a singular experience. "This is the first time that I ever entered a courtroom in my life. If I was to be very frank with you on my feelings...my first feeling when I stood up as the judge entered...I did feel a little insulted, a little humiliated," Musharraf told CNN.
Amir Mateen, a well-known journalist, could not suppress a smile. "Commando Mush has got the first dose of the 'revenge of democracy'...he had taken precaution from snipers and suicide attacks—but it took just one shoe to break his myth of inv­incibility," he says.
Rehmat recalls how Musharraf wore a helpless look in court, combing his hair with his fingers, eyes downcast, often just staring at the walls.
Earlier, it surprised no one when the gaggle that welcomed the head of the All Pakistan Muslim League (APML) on his return was smaller in size than that at an average valima (wedding) reception. Musharraf mistook his 'millions' of followers on Facebook and Twitter for the real thing. He has expressed his disappointment to his circle of friends.
"Musharraf is a non-entity today. He is reducing his moral stature further by try­ing to align himself with the media-manipulated public mind and by blatantly courting the Pak army, backing all its positions, some diametrically opp­osed to what he did when he was leading it," wrote Najam Sethi in Friday Times.
Many Pakistanis shudder at Mush­arraf's ambition to 'save' Pakistan. Econ­omist Kaiser Bengali speaks of how Mus­­h­­arraf man­­ip­u­lated tax records and how he governed 'by gim­mic­kry'.
Rehmat too scoffs at any rescue efforts the ex-president might launch: "He ref­uses to see that with his ignominious departure in 2008, Pakistan has moved on. When his successor, the serving army chief, hasn't been able to sell his own brand of 'save Pakistan' despite being at the right end of the barrel of the pro­verbial gun, how could Musharraf save it? Especially when the country has alr­eady done it by putting the 18th Ame­nd­ment between itself and the mili­t­ary?"
Whatever his expectations, before he can start campaigning for the May elections, Musharraf will have to visit the anti-terror courts in Rawalpindi and Dera Bugti to confirm his interim bail granted by the Sindh HC. He is planning to contest from Karachi (hoping the mqm will support him), Islamabad (targeting the urban middle class) and Chi­tral (where he hopes the all-weather Lowari tunnel, completed under his watch, will convert into votes).
The national press has little doubt about Musharraf's delusions. "Army generals, particularly those who have served as head of state, are prone to foolhardy whims and lofty self-opinion....," says a Daily Times editorial.
However, the possibility that Musharraf could return on a single National Assembly seat if he is not disqualified by the country's first independent Election Commission isn't ruled out.
While pointing out the lack of popular support for Musharraf, Mateen proposes a salutary examination of Pakistani history. It's an unhappy reflection.
"All three earlier Pakistani dictators died abominable deaths. Ayub Khan died in pain after being booted out by popular protest. Yahya Khan died in house custody. And people still doubt if Zia is buried in his grave. Musharraf seems headed for similar circumstances," he predicts.
---
By Mariana Baabar in Islamabad