Two years ago, when the ministry of mines decided to use satellite imaging to survey projects, it unearthed several "unusual activities" across the country. "The amount of mining done and material being exported didn't match in areas where certain companies had been given licences," recounts a former senior bureaucrat with the mines ministry. Declining to identify the firms, the official adds, "More worrying was the satellite data showing that mining was being done deep in the forest where no one had been given permission."
As a nation digests the scale of illegal mining in Karnataka's Bellary district—where the Supreme Court (SC) stepped in last month to cease all operations—what is scarier is that Bellary is just a microcosm of a whole industry in a shambolic state. A mammoth $35 billion in size, the mining sector has taken off in the past five years, fuelled by a real estate boom, rising prices of commodities and the ever-growing demand for raw materials from China. It has also become the prime metaphor for crony capitalism and all that is viewed to be wrong with how India's economy is being governed.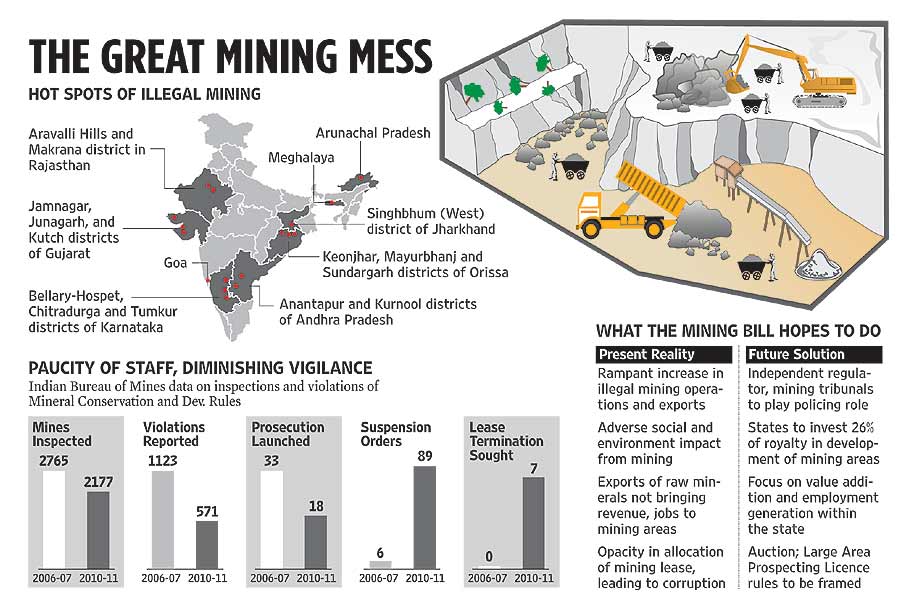 There is an expanding list of small and large companies engaged in mining all of 84 resources in the country. And the stink raised by recent disclosures has left a vapour trail all the way to the top. Lokayukta Santosh Hegde's report on Bellary levelled serious corruption charges against leading steelmaker JSW and top trading company Adani Enterprises. (Both companies duly denied the charges.) The public reaction has not been one of surprise. For, over 1.8 lakh illegal mining cases were registered in the span of five years. But when it comes to punitive action, political collusion has continued to be a major impediment.
"Mining is the biggest cash cow and Goa is far worse than Bellary. Our study of 90 mines finds each violate all norms."
Take the regulatory body Indian Bureau of Mines (IBM), which launched a special drive in 2009-10 to clamp down on irregularities. Instead of initiating prosecutions, IBM was asked to issue orders suspending mining operations. Though handicapped by a paucity of staff, IBM has been making some ripples, albeit small ones, with as many as 163 licences being suspended in the past two years (a stark contrast from none in the previous two years). For better impact, "we do not revoke the suspension till the violation is rectified, which takes time", official IBM sources stated.
However, environmentalists and locals in mining areas allege that too little is being done. Despite several states having safeguards—remote-sensing, control on traffic, market intelligence, end-user registration and special monitoring cells—industry players have found it easy to dodge surveillance. That's the backdrop to the introduction of the new draft legislation, the Mines and Mineral (Development and Regulation) or MMDR bill, which is awaiting cabinet approval.
The major problem is the system of leasing mines, which bends easily to manipulation done for reasons of political patronage (as is well illustrated by the case of former Jharkhand chief minister Madhu Koda). This is one area that the bill is intended to clean up through clear guidelines for the auctioning and allocation of Large Area Prospecting Licences (LAPLS). It also holds the promise of addressing the overlap and conflict between central and state government roles, through a stronger regulator.
Despite the bill's forward-looking provisions, which includes an attempt to address conflicts arising from mining-related displacement, the catch will lie in execution, where state governments have unflattering track records. It is not just major minerals like iron ore, bauxite and manganese that are being illegally mined and exported. It's rampant even with relatively minor resources like riverbed sand and building materials, which has ravaged ecosystems as in the case of the Aravallis. Last year, the apex court constituted a one-man commission under retired Justice M.B. Shah to look into the issue.
"Illegally mined ore being exported is a major issue," says S. Vijay Kumar, secretary, mines (see interview). Besides the economic cost to the government through loss of revenue, the socio-economic cost arising from irresponsible mining practices is unquantifiable. "The Bellary variety of violations are evident across the country as our mining governance—whether it be environmental or purely economic—is failing," says Chandra Bhushan of the Centre for Science and Environment.
With state authorities often turning a blind eye and the regulatory mechanism lacking either the will or the capability to check violations, large areas of forestland, agriculture and grazing land are being affected. According to a study by Dr Walter Fernandes of the Guwahati-based North Eastern Social Research Centre, around 20 lakh people have been displaced by mining in India and more than half (mostly tribals) have not been resettled.
"We have the laws but the governance is poor. Getting industry status and adopting modern technology is the cure."
Sandeep Pattnaik of the National Centre for Advocacy Studies notes that in the three mineral-rich states of Orissa, Jharkhand and Chhattisgarh alone, over 1,00,000 hectares of forestland have been diverted to mining and industrial projects. Citing the case of the Joda-Barbil iron ore-rich region of Orissa, Pattnaik says the claims of rehabilitation and resettlement ring hollow. "The reforestation and reclamation of land is a complete failure, there has hardly been any employment generation, education and medical facilities are non-existent and infrastructure remains poor."
The scenarios in other states are no better. The SC has provided some safeguards through its Samatha Judgement (1997), banning the leasing of tribal areas in Andhra Pradesh for mining to non-tribals. This saw several other states notify scheduled areas. The central government's moves to get the SC to review its decision have so far failed—a blessing.
The thing is, mining is necessary and just can't be wished away. Stressing that India needs to raise the share of mining in its GDP from the present 2.3 per cent, Tuhin Mukherjee, MD of Essel Mining, feels that only the conferral of industry status and the adoption of modern technology can resolve most of the issues. "We have the laws but governance is poor," says Mukherjee, who is also chairman of the FICCI mining committee.
Voicing concerns about the new draft bill, Hiranyava Bhadra, partner, KPMG, worries that there is a lack of clarity about the regulator, which may affect investment sentiments. Citing the example of Rio Tinto's diamond mining project in Madhya Pradesh, Bhadra says it is wrong to paint all mining enterprises as unscrupulous. As India moves to balance the demands of economic development with social equity, mining activities need to be better supervised. And urgently.