Uneasy Lies The Head...
PDP's pledge to free jailed former militants, political prisoners won't find favour with BJP
Will have to walk the talk on its promise to facilitate dialogue between separatists and New Delhi
Settling West Pakistan refugees in Jammu, to which BJP is committed, will be a thorny issue. So too the resettlement of Pandits in the Valley.
Poll pledge of initiating trial against police officers responsible for the death of civilians in 2010 unlikely to get BJP's support
Bound to seek New Delhi's sanction to prosecute paramilitary/army personnel wanted for custodial deaths, rapes etc; BJP sure to oppose it
PDP committed to white paper exposing malpractices in NC regime; BJP is alive to alliances in future
***
The political drama that played out in J&K and New Delhi last fortnight resembled in one sense a charade and in another a trapeze act. The charade bit looked evident when the prime minister told Parliament that the Centre had not been consulted nor its permission taken before Masarat Alam—who's accused of masterminding the 2010 street agitat­ion in which 125 civilians died—was rel­e­a­sed. This is because nothing happ­ens in Srinagar or Jammu without New Delhi getting to know it first. At least that is the impression everyone here has. All­iance partners PDP and BJP seem to be playing out a script to appease their res­pec­t­ive constituencies. At another level, it's a chancy game of brinkmanship with que­stions asked about how long this mar­­riage of convenience will last (see box).
To the amusement of many (and the bewilderment of some) in the state, high decibel discussions in Parliament and TV studios invested a degree of imp­ortance to Masarat Alam he's rarely enjoyed before. A bit of back story here. Long before he gained prominence as an org­aniser of anti-India agitations in the Valley in 2008 and 2010, Alam triggered a controversy when he accused the mod­erate Hurriyat Conference, led by Mir­w­aiz Umer Farooq, of a sell-out by engaging in "futile" talks with New Delhi.
The latter responded by reminding Alam of how he and some other separatist leaders had, after their arrest in 1990, sung India's national anthem—of course under duress—and how their "weakness" had been telecast on Doordarshan during primetime news in the state.
Before 2008, when the azadi sentiment appeared at its lowest ebb, Alam figured nowhere in the despairing discussions on possible successors to separatist leaders like Ali Shah Geelani. For he was then counted among the third-rung of such leaders. However, it is true that he has been associated with pro-azadi stirrings since 1990, when the Valley witnessed an armed insurgency. He was then a fiery 19-year-old member of the Hizbullah militant group. But he never had that Che Guevara-like reputation which militants of those times, like Yasin Malik, enjoyed.
Alam was often booked on flimsy, laughable grounds like "trying to unify the Hurriyat" or "trying to split the Hurriyat".
So how come this 'ordinary' release rocked Parliament and prompted TV anchors to work up a nationalistic fury? A visibly upset PM Narendra Modi even slammed the Opposition, saying, "We have sacrificed Shyama Prasad Mukh­erjee for J&K, so don't preach to us on patriotism." Political commentator and law teacher Sheikh Showkat Hussain offers an answer: "At international fora, New Delhi might succeed in portraying the 74 per cent voter turnout in J&K elections as a referendum in its favour, but when it comes to dealing with the dominant political sentiment in the Valley—which is represented by people like Masarat Alam—it has nothing convincing to offer except the language of power." Hussain adds that there are "thousands like Alam" who are waging a daily, unending struggle against "the web of cases the state has filed against them for holding different political beliefs".
The 45-year-old Alam, who passed out of a missionary school in downtown Srinagar, sports a Castroesque beard and has spent 18 years in jails. Police records say 27 FIRs have been registered against him since 1993. The charges included sedition, attempt to murder and rioting. He got bail in 26 cases and was acquitted in the remaining one.
But each time he was set free by the court, the police rearrested him and booked him under the Public Safety Act (PSA), the same which has been described by Amnesty International as "a lawless law". The PSA allows detention without trial from six months up to two years and was originally meant to detain timber smugglers.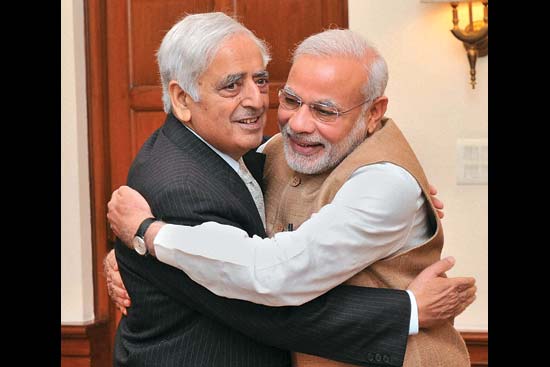 Mufti, Modi after CM's swearing-in
Alam was often booked on flimsy, lau­ghable grounds like "trying to unify the Hurriyat" or "trying to split the Hurr­i­yat". Noted human rights activist Parvez Imroz says Alam's case reflects how laws are brazenly misused in Kash­mir. "He was jailed even when there were no con­vincing charges against him. Now see the hullabaloo over his release," he says. "It seems the entire country has ganged up against him and wants him to rot in jail. And they say they want to win the hearts and minds of Kashmiris!"
"I know the PSA so well I can write a book on it," Alam, a science graduate, had told this reporter during an interview at the peak of the 2010 agitation. (He had gone underground after the Omar Abdullah government announced a cash reward of Rs 10 lakh for information leading to his arrest.)
"Thousands like Alam are waging an unending struggle against the web of cases the state has foisted on them for their political beliefs."
Two years ago, when yet again PSA was slapped on him, his family moved the Supreme Court; the apex court ruled that the PSA could not be invoked without informing Alam and others at least seven days in advance so as to allow them to seek legal remedy. The ruling meant that the practice of instant invocation to send Alam and others back to jail every time they emerged from it could not be followed anymore.
Senior journalist Hilal Ahmad says that both coalition partners tried to draw political mileage out of Alam's release—the PDP by supporting it and the BJP by opposing it. But the move backfired on them. He says it's obvious that by announcing it was setting Alam free, the PDP was trying to retain its 'soft separatist' image in the Valley. "That image had got dented after it joined hands with the BJP. Therefore, they tried to take credit for a move actually undertaken by governor N.N. Vohra. And the BJP, knowing fully that Alam could not be detained illegally for long, opposed it only after TV anchors in Delhi sought to make a mountain out of a molehill," he says.
In the Valley, where even pro-India politicians feel the need to be perceived as anti-India, the only person who has openly come out against Alam's release and shocked many people in the process, is former CM Omar Abdullah. "Alam was the chief architect of the 2010 protests. It's not a coincidence the protests died out after his hard-won detention. Eit­her Alam has turned a new leaf and done a deal with Mufti Sayeed or he will go back to organising trouble in the Valley," Omar said in one of his tweets. "Whichever way I look at it, Alam's det­ention saved lives and allowed a smoother, safer pair of elections...so I have no regrets at all (for keeping Alam in jail)."
Abdullah's remarks drew sharp reactions. A columnist writing in Greater Kash­mir, said, "The (NC) more or less echoed the BJP's opinion on the development, with Omar again leading from the front, little realising how it would play for his party in the Valley, his core constituency. The PDP's glee at its opponent's response is almost palpable. The party can't but pray for more tweet-power to the former CM." An editorial in another daily asked, "Did the younger Abdullah not attribute the NC's worst-ever defeat in assembly elections mainly to the killing of 130 people during the 2010 uprising? After a humiliating defeat in the parliamentary elections, did he not try to placate Kashmiris by ordering a reinvestigation into those killings? Why?"
"People like Alam should be kept in jail even if there are no serious charges. They can't be released... they only spit anti-India venom."
The PDP, on the other hand, justifies Alam's release after 53 months in jail by pointing out how the courts had already released him, and it was the police who were illegally detaining him under the PSA. Says PDP legislator and ex-journalist Firdous Tak, "Quote me one legal provision under which Alam should be detai­ned. We have time and again been saying there is a difference between detention under PSA and life imprisonment."
Education minister and PDP spokesman Naeem Akhtar says, "It is our policy that nobody who is not required by law (should) be in jail. We need to create an atmosphere of reconciliation in J&K. If you want to have a dialogue with all stakeholders, you cannot engage them by keeping them all in jail without anything substantial against them. That's why we took two months to come to a consensus on the common minimum programme (CMP) with the BJP." The CMP is however silent on releasing political prisoners, says state BJP chief Jugal Kishore Sha­rma. "We will not tolerate any such statement or decision which is not as per the CMP we had agreed upon," he says.
Sharma, a legislator from Jammu, make no bones about the BJP's policy on separ­a­tists. People like Alam, he says, should be kept in jail even if they do not face serious charges. "They can't be released as they only spit anti-India venom.... If released without conditions, they'll alw­ays resort to such (separatist) slogans."
Indeed, the release of Alam is the bigg­est challenge yet to the BJP-PDP coalition that came to power on March 1. But the signs were there. On the day of his swearing-in itself, CM Mufti Mohammad Sayeed got into a pickle by crediting Pakistan, militants and the Hurriyat for successful elections in the state. Analysts saw it as an attempt to placate a few sep­­a­ratist groups that had sup­p­orted the PDP but were now baying for its blood.
Political commentator Naseer Ahmad had explained it thus, "Mufti succeeded in shifting the focus to a debate on Pak­i­stan and Hurriyat rather than the PDP's alliance with BJP...." Then, of course, there was the PDP MLAs' demand for the return of Parliament attack convict Afzal Guru's mortal remains, yet ano­ther flash point for the alliance partners.
---
By Showkat A. Motta in Srinagar