"Indians defecate everywhere. They defecate mostly besides the railway tracks. But they also defecate on the beaches; they defecate on the hills; they defecate on the river banks; they defecate on the streets; they never look for cover."

—V.S. Naipaul
An Area of Darkness, 1964
Not to put too fine a point on it, India's no. 1 problem is no. 2. And for an all-too-brief while last week, the squatting figures dotting the landscape—"eternal and emblematic as Rodin's thinker" in the Nobel laureate's immortal words—looked set to emerge out of the bushes and shadows in an election season, as the BJP's Narendra Modi, whose advertised motto is "India First", mom­entarily gave flight to his vision of "Toilet First".
"My image does not permit me to say so, but my real thought is, 'Pehle shauchalaya, phir devalaya (Toilets first, temples later)'," Modi said, as he sought to buff up his image as more than just a Hindutva leader. "It's a sad situation that our mothers and sisters have to defecate in the open. Villages have hundreds of thousands of temples but no washrooms. This is bad. Gandhiji gave so much importance to this issue."
Holy shit! Had wisdom finally dawned on those sitting on the throne (and those aspiring), 50 years after Naipaul's whiplash? Union minister Jairam Ramesh had only six months ago said more or less the same thing. That 64 per cent of Indians still do it in the open, a global record. That this is the main cause of India's malnutrition. And that—hold on to the seat of your pants—this costs the nation $54 billion (Rs 3,24,000 crore) every year in premature deaths and treatment of the sick, wasted time and productivity, and lost tourism revenues.
"There is no use blasting Agni missiles if the sanitation problem is not solved," Jairam, who confesses he spends most of his waking hours thinking about toilets, said. "It's more important than the launch of Agni missiles. If there are no toilets, then Agni is of no use. The price of just one fighter aircraft is enough to free one thousand villages from open defecation."

Where's a good spot? Women walking the tracks in Calcutta. (Photograph by Sandipan Chatterjee)
With India's two biggest political parties seemingly on the same page on the issue, the stage seemed miraculously set for a long, hard look at why we are like this only—and the way forward. But the familiar bad odour of mutual recrimination, over whether such belated BJP enlightenment would have spared the demolition of Babri Masjid and all else that has followed, buried India's sitting shame under a rubble of platitudes and cliches. A squeamish nation turned its nose away—it's after all stee­ped in a caste system defined by avoidance of this subject. All the factors that have pockmarked India's insensitive approach to a basic right of citizens—hygiene, sanitation, health—were again on stark display. And a promising toilet story hit an all-too-familiar pause, unfortunate for the two out of every three Indians who battle diarrhoea, malaria, trachoma and intestinal worms every day of their lives because we don't stare the problem in the face.
While men will be boys, merrily using walls to relieve themselves and joking at those who can't, those who feel the brunt of this lackadaisical political approach are women, the poor, the homeless, the landless, and the differently abled, who are condemned to perform what is a normal bodily function in the most demeaning of circumstances because the state cannot provide. And if the situation in metropolitan India is pathetic, it's positively subhuman in territories beyond it. A few soundbites from the vast countryside to put things in perpsective:
"We don't drink too much water before coming to school so that we don't have to use the toilet. It's always dirty. In case it's urgent, we take permission from the teacher and go home," confessed a Pune municipal school student in a newspaper report last year.
"We had a harrowing time recently when we went to riot-hit Muzaffarnagar," recalls Shahira Naim, a Lucknow-based activist who was in the riot-hit town on a fact-finding mission. "The all-women team discovered that at most places they had to use common toilets...and the architecture was such that women had to approach the toilets in public view."
"I and my colleagues hurry home whenever there is the need because it's not always possible for us to ask for the key to the only functional toilet, the one attached to the principal's office," says a lecturer in a Jharkhand women's college.
"We have to walk several kilometres in the dark in search of public land to relieve ourselves because there is always a group of armed, leering men following us to ensure that we do not squat on private land," says a landless Dalit woman in Andhra Pradesh.
Activists Minu Gandhi and Usha Deshmukh have been quoted as saying that while municipal toilets in Mumbai did not charge men for urinating, the women were forced to pay. The caretakers would apparently leer and ask, "How do we know you were urinating?"
Indeed, Jairam Ramesh's fate as a minister in the Manmohan Singh team underlines the low priority accorded to an issue dogged by stereotypes of gender, caste, class and privilege. When Infosys founder N.R. Narayana Murthy confessed in an interview that he washed the toilet when he reached home at night, the news was received with incredulousness. A rich man cleaning his own and admitting to it on TV? Sacrilege.
Ditto Jairam. When he advocated toilets over temples, wary Congress leaders distanced themselves from him, and Sangh parivar activists urinated outside his bungalow in protest. When he persuaded Vidya Balan to be brand ambassador for the Nirmal Bharat Abhiyaan, people wondered how much money was being paid to the popular actress. When he coined the slogan "No toilet, no bride," there were few takers. Jairam went on record to say that his cabinet colleagues often made fun of him for his obsession with toilets. Indeed, the buzz is that the sanitation portfolio was taken away from him for precisely that reason.

Amitabh Bachchan, during a poll campaign in the '80s. (Photograph by Fotolook)
A similar call by Modi, however, rallied Congress leaders who attacked him for acquiring basic wisdom belatedly. Had Modi acquired enlightenment 20 years ago, quipped Jairam, the nation could have been spared a whole epoch of trauma and violence—the Babri demolition, and ensuing events like the Bombay blasts and Gujarat riots. Others questioned Modi's own track record in Gujarat and accused him of doing little to promote toilets in the state. Mukul Sinha, the lawyer-cum-activist, wrote on his blog that a quarter of the houses even in Sabarmati, a saffron citadel and home to the Motera cricket stadium and a power house, did not have toilets.
There is little that is new or novel in what Jairam has been saying or in what Modi has now repeated. Both UNICEF and the WHO have been warning of an imminent public health disaster in India, pointing to non-existent or poor sanitation in the countryside. Absence of functional toilets was linked to dropouts from schools. And the scourge of open defecation to diseases like cholera, diarrhoea, dysentery and typhoid and the death of half-a-million children every year due to water-borne diseases.
Environmentalist Sunita Narain, who heads the Centre for Science and Environment (CSE), has come up with a report titled 'Excreta Matters' which maps the sewage system of 71 Indian cities "drowning in their own excreta" and dumping them into rivers, killing them in the process. Water and sanitation, the report stresses, cannot be treated separately. The government, in its wisdom, has not only separated the departments but placed them under different ministers. "The rich and the powerful get away by using more resources and more water for their own use," she says, adding scathingly, "it's a case of rich people's shit versus poor people's water."
Jairam Ramesh, in a sense, was compelled to go on an overdrive by the scale of the problem, points out former Planning Commission member Dr N.C. Saxena. The Total Sanitation Cam­paign (TSC), launched by the government in 1999, had claimed that it had provided access to toilets to over 80 per cent of the population by the end of 2009. But while the ministry claims to have constructed 8.7 crore toilets, the Hou­sehold Census of 2011 reveals only 5.16 crore households actually have toilets even now. Nat­urally, when this little detail came out, there were red faces everywhere. Where had 3.5 crore toilets gone missing? But the 'missing toilets scam' didn't even get a blink out of officialdom. They sought to gloss over it explaining that the toilets were probably being used as storage space for fodder or as shelter for domestic animals. The very real possibility of money having been siphoned off was never investigated by the states. Even in the capital Delhi, several public toilets, built as PPP projects, languish with their doors locked to the peeing public, while their exteriors serve as advertising signboards.

Spare the walls Scene near Old Delhi railway station. (Photograph by Sanjay Rawat)
There are other problems interrelated with this. Rural women have to relieve themselves in small groups to protect themselves from harassment: an alarmingly high number of them get raped or killed every year while out resp­onding to nature's call. Bihar, for example, officially recorded 870 cases of rape in 2012 and in a large number of them, suggest media reports, victims were abducted when they had stepped out to relieve themselves. There is no official data on such cases. Nor are there any figures on women bitten by snakes and scorpions while defecating in the open pre-dawn.
Defecating in the open is part of India's culture, insists Bindeshwar Pathak, founder of Sulabh International, an NGO dedicated to the elimination of manual scavenging. An ancient Hindu scripture, Devi Purana, he claims, has an injunction that people should not defecate in or around the house. It advises people to walk a reasonable distance, dig a ditch, defecate and then cover it up with plants and earth. But while people continued to defecate in the open, they conveniently forgot about digging the ditch and covering it up.
Why is it that a country obsessed with food cannot deal with its end product? The whole complex of disgust, shame and low humour around it continues to foster an attitude of avoidance. We are least outraged by the profligacy of our babudom when it comes to toilet habits. Like when news came that the Planning Commission had spent over Rs 30 lakh in renovating two toilets at its office in Delhi (compare this to the subsidy of Rs 10,000 for building individual toilets in rural areas). Then there was the Goa government, which reportedly spent Rs 20 lakh-plus in building a single, air-conditioned toilet in the constituency of an ex-CM while 60 per cent of the country's population continue to defecate in the open.
Pathak, a Padma Bhushan awardee, is credited with pioneering the efforts to persuade people to opt for toilets. When he first visited China in 1987, he recalls, it was the Chinese attitude to sanitation that struck him. The Chinese in the countryside defecated in buckets and the excreta was then dumped in a well located at a corner of the courtyard. An outlet from the well led to the pigsty. And once every month, the remaining excreta would be taken out to the fields and spread as manure. He remembers a Chinese proverb which held that those women are the luckiest whose daughters-in-law took the lead in emptying buckets of shit into the well. "Such an expectation in India would of course be unthinkable," he adds.
But he admits that the problem is even more acute today than when he started off in 1969, the Gandhi centenary year. The population has grown but the nation's infrastructure just hasn't kept pace. He also bla­mes the bureaucratic approach of the governm­ent. Giving subsidies to the poor makes no sense, he feels. "The priorities of the poor are different; food and shelter have greater urgency for them than toilets," he says. Pathak also feels that the subsidy of Rs 10,000 is too low for individual toilets, Rs 40,000 would be a more reasonable amount, he feels. And he would of course like the money to be given to NGOs like his to build the toilets.

Steady, please A makeshift loo in a Mumbai slum
Does the solution then lie in toilet complexes for the community? Caste hierarchies, it is said, could defeat this approach. The higher castes would not like to share a common complex with others and segregation on caste lines is obviously illegal. But some are enthusiastic about a community app­roach: if you centralise plumbing, it would ensure faster coverage at much lower costs, optimise the use of water and facilitate biogas production, while freeing up the execution of another Indian imperative—low-cost housing—by obviating the need to replicate complicated plumbing.
India's much-vaunted scientific and technical establishment, however, has shown little urg­ency on the biogas issue. There have been baby steps though. The Indian Railways has now sought to fit its trains with improved, biodegradable toilets using the waterless toilet technology developed by the DRDO for the use of soldiers at high altitudes. Larsen & Toubro has also fabricated a mobile toilet for use in urban areas. But none of this has proved to be cost-effective yet.
Finally, at the heart of the problem is increasingly scarce water resources and expensive sew­age systems. The Bill & Melinda Gates Fou­ndation last week brought their "Reinve­nting the toilet" challenge to India on Gandhi's birth anniversary. Asked if he ever felt he was fighting a losing battle, Jairam had told Outlook, "In India, every battle you fight is a losing battle. When you travel in trains as much as I do, every morning there is a trigger for the preoccupation with toilets."
***
Toilet Stats
64% of Indians defecate in the open
60% of all open defecations in the world are in India
6.4% of the GDP lost in health costs, productivity losses and reduced tourism revenues
0.02% of India's GDP accounts for the budgetary allocation for sanitation
8.71 crore toilets claimed to have been delivered by Total Sanitation Campaign in the last 10 years
5.16 crore toilets are all that was found to be in existence by the household census
45,000 crore rupees spent on rural sanitation during the last five years
1.08 lakh crore rupees to be spent in the next five years till 2017
Source: Reports of the GoI
***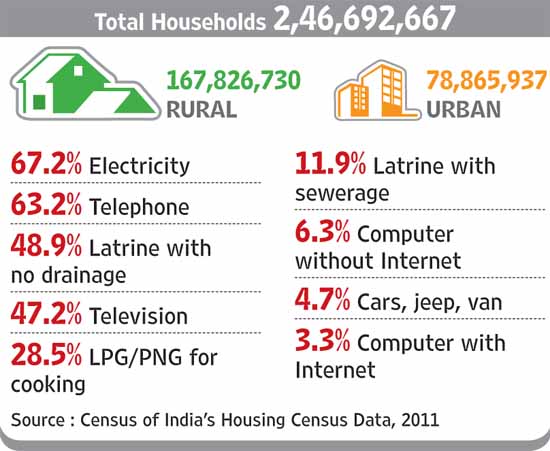 ***
Sanitation Is Improving, Just Not Fast Enough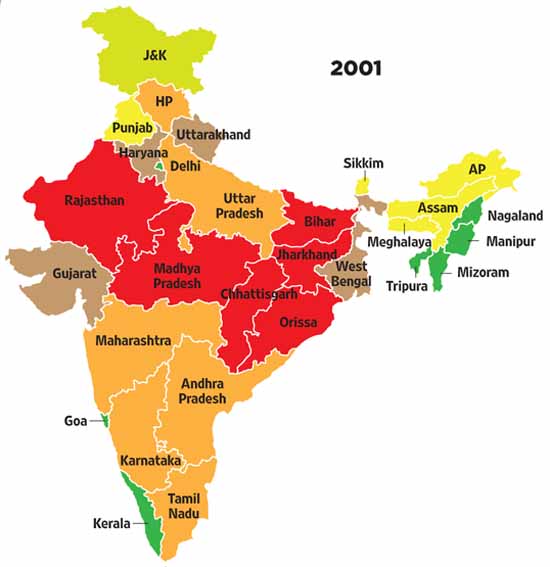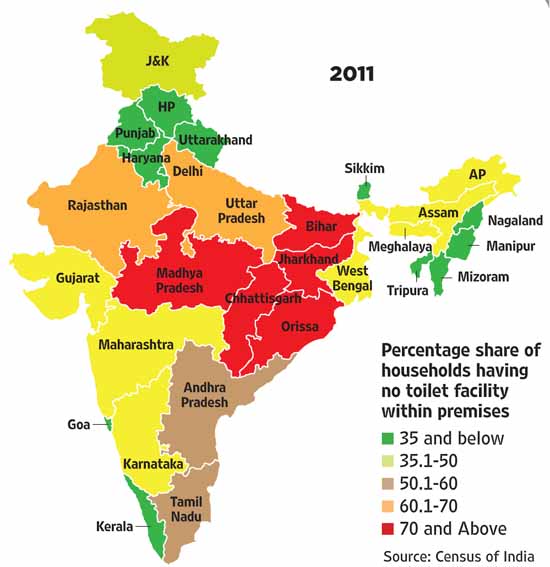 ***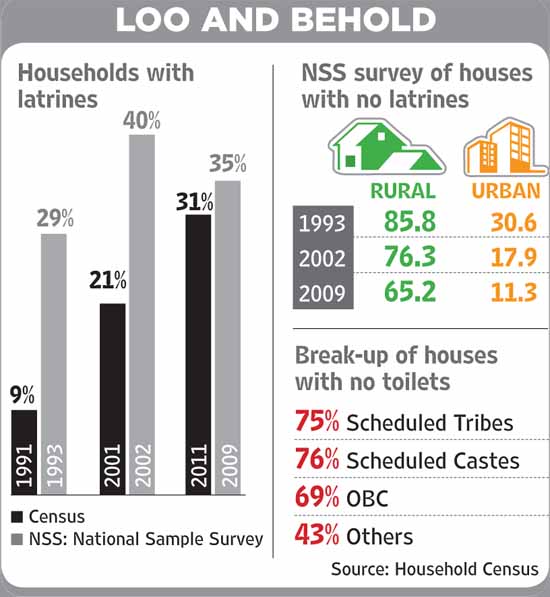 ***
***
Kerala, Himachal Pradesh and Sikkim are the first 'nirmal rajya' states, 100% open defecation-free.
An SC ruling says all govt schools must have toilets for girls. Only 18% have it.
The Taj Mahal got its first decent AC toilet complex this year.
A Kerala-based firm has till date installed 370 electronic toilets at homes. 'Delight' costs Rs 2-4 lakh.
Union sanitation budget for 2013-14 raised to Rs 15,260 crore.
Water.org, co-founded by actor Matt Damon, funds loos in Bangalore's slums; 34,000 houses affected.
The BMC is building Mumbai's first-ever women-only facilities.
New Delhi will host the 'Reinvent the Toilet' fair in March 2014.
Open defecation releases methane into air, a gas that is 21 times more harmful than CO2 .
In W Bengal alone, some 19,800 kg of methane gas released from human waste each day.
The Centre initiated a Total Sanitation Campaign in 1999.
Bad sanitation costs India more loss per person ($48) than Vietnam ($9.30) or the Philippines ($16.80).
Over 81% of India's 95 mn slum-dwellers have little or no access to sanitation, says NSSO survey.
DRDO's bio-toilets to now be fitted in all Indian Railways coaches.
The national Indian average of sanitation, hygiene and water safety is a mere 34 per cent