Dramatis Personae
India

Pakistan

---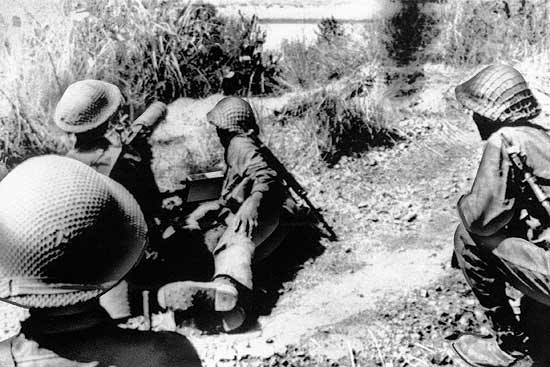 The War
Why did it start?
Pakistan had several reasons to start the war: India's new PM, Lal Bahadur Shastri, was yet to find his feet; morale of the Indian army was low after the 1962 Sino-Indian war; Kashmiris were expected to rise in rebellion and support Pakistani infiltrators to take control of the Valley; fear of China's involvement was expected to stop New Delhi from embarking on a full-fledged war.
Where did it start?
It began in the Rann of Kutch, Gujarat, in April but intervention by UK ended it. It restarted in Kashmir and spread to other parts. Became a full-scale war by September.
How long did it last?
Though the war started in April, the full-fledged war lasted for 22 days
Where was the scene of action?
Akhnoor in J&K and Khem Karan in Punjab, though several battles were fought in the west, particularly in the Lahore sector
How did it end?
With no chance of an outright victory and mounting global pressure the two countries agreed to end the war and the stalemate
Why do we not remember the 1965 war?
Give-and-take of the war was very low unlike other wars, before and after, where the outcome was clear and pronounced
Why did Pakistan fail?
Kashmiris did not come in support of infiltrators from across the border, Shastri proved to be a determined and strong leader and India opened the war in Punjab to successfully turn the heat on Pakistan
What was the role of key world powers?
UK: Brokered peace to end armed confrontation at Rann of Kutch in April
US: Angered with Pakistan's decision to infiltrate in J&K, Lyndon Johnson imposed an arms embargo on both belligerents
USSR: With US busy in Vietnam, Moscow found the space to be the peacemaker with an offer for the Tashkent Conference
---
International Players
British PM Harold Wilson Brokered peace between India and Pakistan at Rann of Kutch in July 1965
US President Lyndon B. Johnson Imposed arms embargo on both India and Pakistan and remained neutral despite an existing war pact with Pakistan

---

Premier of Soviet Union Alexei Kosygin mediated to bring India-Pakistan to sign the Tashkent Declaration
Secretary-General of United Nations U Thant mediated to stop the war
---
Pakistan
1965
GDP growth rate 10.4% annual change
2015
GDP growth rate 4.14% annually
India
1965
GDP growth rate -2.6% annual change
2015
GDP growth rate 7.5% (2015-16)
---

Indians exult over a captured Pakistani tank during the war. (Photograph by AFP, From Outlook 25 May 2015)
War Numbers
Territory Lost
Military Strength
Tanks
Aircraft
Artillery
Infantry
Claims and Counter-claims
India: 5,259 Pak troops killed or taken POW
Pakistan: 8,200 Indian troops killed or taken POW
Pakistan: 19 aircraft lost
India: 471 tanks captured or destroyed
Pakistan: 500 tanks lost or destroyed
India: 73 aircraft destroyed
Pakistan: 110 aircraft destroyed
India: 1,920 sq km gained and 322 sq km lost
Pakistan: 2,602 sq km gained, no territory lost