The Trail Of Blood
In May 2011, Jaswant Singh, newly elected sarpanch of Chak Salariavillage in Samba district was killed.
In February 2012, Gulzar Ahmad Dar, sarpanch of Hawoora-Misshipora village, Kulgam district, was gunned down. (left) Mourners at his funeral.
On September 10, Ghulam Mohammad Yatoo, sarpanch of Raipora village was killed by unknown gunmen
On September 23, naib-sarpanch Mohammad Shafi Teli killed in Nowpora village. Police say personal enmity.
***
The security of citizens in a militancy-battered state where tens of thousands have been killed in a bloody separatist conflict is 'Political Science 101': an elementary fundamental of governance. In 2011, India's efforts to establish 'grassroots' democracy in Jammu & Kashmir—where 72 per cent of the population lives in rural areas—reached fruition. The state's first "real" panchayat elections in 33 years saw 79 per cent of its 5.07 million registered electorate defy separatist calls for boycott and cast their vote. By electing 4,130 sarpanches and 29,719 panches, rural Kashmiris sent an unmistakable message to Islamabad: whatever the nature of its relationship with New Delhi, they envisaged their future in India, not Pakistan.
By 2012, handwritten death threats ostensibly signed by various terror groups, like the Hizbul Mujahideen (HM) and the Lashkar-e-Toiba (LeT), had begun to reappear in villages. Sarpanches were asked to resign or "face consequences". The threats were followed up on. Eight Kashmiri sarpanches—two within the last month—have been killed, prompting more than 300 scared men to resign. In September, PM Manmohan Singh had disclosed that attempts at infiltration by Pakistan-trained terrorists across the Line of Control (LoC) were once again on the rise. The police suspect personal rivals and not terrorists in at least two cases, though no arrests have been made so far. Certainly a greater number of sarpanches have been killed elsewhere in India. But then, is Kashmir merely another state in the Union? Surely, last week's urgent plea for New Delhi to meet a delegation of Kashmiri sarpanches and promise security should have been uppermost on the minds of Manmohan Singh and home minister Sushilkumar Shinde?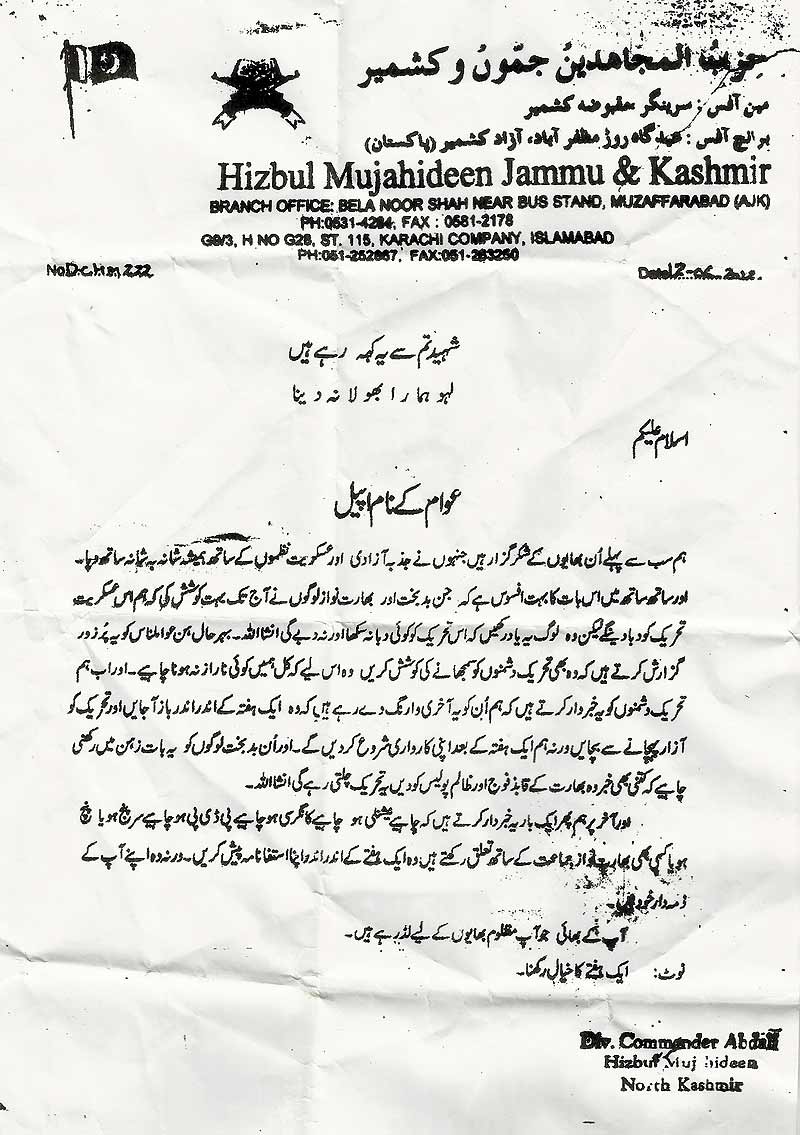 Scare Tactic A death threat on a Hizbul Mujahideen letterhead
The five-member delegation did receive an invitation: not from the PM or the HM, but from Rahul Gandhi. A man who is viewed by his own party as the future leader of India, but who, as of now, holds no executive power. For all his good intentions and efforts, Rahul can boast of little experience—and even less of a locus standi—in rural Kashmir. The first thing the Congress's heir-in-waiting reportedly told the distraught village leaders was to "calm down and not be emotional". (Easy to say in Lutyens' Delhi when surrounded by an spg detail, as opposed to rural Kashmir with death threats pasted on every other tree). However, in a gesture of largesse, Rahul immediately dialled Srinagar to "ensure their security". He also promised to persist with support for their other demands like direct funding and empowerment when he visits the Valley with industrial magnates on October 5.
Sushilkumar Shinde, conversely, did not think it imperative to reschedule his calendar and prioritise a meet with the leaders from Kashmir, the most crucial and sensitive arena of India's grassroots democracy. Instead, they were sent to meet the—almost equally powerless—minister of state for home affairs, Jitendra Singh. Though it was Singh's office that had called the sarpanches, the junior minister reportedly expressed his 'surprise' and asked them 'why they were here'. When the Kashmiris pressed for their demands and threatened mass resignations, the MoS supposedly told them that, according to his information, the real reason behind the threat to resign wasn't a fear for their lives, but because they had found better-paying jobs. "Still, we urged him to at least constitute a CBI or IB inquiry," says Fazal Alam Wani, a sarpanch from Doda district.
For the return leg of what was a risky trip, they were provided an spg team that accompanied them to Jammu and returned. The local police, however, informed them that they had 'no orders' to continue on with them to their remote village homes. Confident that word of their arrival would have reached the local thanas—the one nearest to Fazal Wani's village is 10 kilometres away—the men made their own way back. More surprises lay in store. Other than their families and friends, not a single police station had heard of their trip or received any orders from Delhi. Five days later, and other than announcements to that effect by J&K chief minister Omar Abdullah—and a hasty promise the opposition Peoples' Democratic Party (PDP) to 'take up the issue' in the current assembly session, security for the men continues to be lax.
Mass resignation of sarpanches will be seen as the first crack in Indian efforts to institutionalise 'grassroots' democracy in J&K.
It has been six months since the report by the Kashmir interlocutors appointed by the home ministry had recommended, among other things, the speedy empowerment of—and provision of security to—J&K panchayats. The government is yet to act on the advice of its own representatives. In so dallying, it risks losing a momentous opportunity. Since 2006, there has been a dramatic decrease in cross-border terrorism and public opinion in Kashmir has tilted perceptibly in India's favour. This sea-change is owed to many factors: growing disillusionment with Pakistan in Kashmir due to the high-handedness and brutality of 'foreign mujahideen' alien to the state and its real issues; the international discrediting of Pakistan after 9/11 and 26/11; Pakistan's preoccupation with wars on other fronts and its own victimisation at the hands of the terrorist networks it helped create; New Delhi's withdrawal of 30,000 troops from the heavily militarised state (though the controversial Armed Forces Special Powers Act is still in place) and the easing of curfews; India's rising clout as an emerging economic powerhouse; the rise in J&K's state GDP growth rate from 9.3 per cent in 2006 to 12.9 per cent in 2011 and gains in revenue from tourist arrivals—footfalls are up from 7.36 lakh in 2010 to 10 lakh in 2011. And crucially, the mellowing of the state's oldest and staunchest Hurriyat hardliner Syed Ali Shah Geelani.

Problem-solving? The sarpanch delegation from J&K after a meeting with Rahul Gandhi
For decades now, Geelani had been resolute in his demanded seccession to Pakistan. But in recent years, he has spoken of fighting for Kashmiri goals—whatever these might be—through "political" means, not violence. Though he still draws up 'strike calendars', Geelani told this reporter on the record in 2010 that Kashmiris had been deceived by Pakistan ("Pakistan ne hume dhoka diya hai"). Yes, there have never been better years for India—nor worse ones for Pakistan—in J&K. And yet, through the recent killings, India is again on the edge of a slippery precipice in the state. New Delhi's inexplicable Pakistan policy, increasingly dictated, not by its very able diplomats, but by the pmo—and communicated to the world by that sartorially spiffy, public speaking disaster of a foreign minister, S.M. Krishna—compounds the situation.
To the majority of Indians whose psyche still smarts from 26/11, the compulsions of realpolitik and 'engaging Pakistan' in a 'mutual war against terrorism' are not convincing arguments. LeT founder Hafiz Saeed and Jaish-e-Mohammed founder Masood Azhar are still free and venting vitriol in the air. Pakistan's claim that it is difficult to get adequate proof against the two men is self-serving gibberish, considering how speedy judicial dispensation against corrupt Pakistani politicians has been. Instead of resolutely demanding concrete measures against terrorism from Islamabad and maintaining its hard-won momentum in Kashmir, New Delhi has been talking CBMs, MFN status, cultural exchanges and an easier visa regime.
Thanks to the presence and approval of international observers at the 2008 assembly elections in J&K, the global community had begun to ease pressure on the question of Kashmir. A course change that Pakistan's President Asif Ali Zardari made attempts to correct at the UN last week when he confidently declared Kashmir to be a "symbol of failure". Former Indian ambassador to the UAE and Iran K.C. Singh points to the forthcoming elections in Pakistan in February 2013 and Zardari's domestic compulsions to keep hardliners happy as reasons for upping the ante over Kashmir. But Singh adds that though most western countries have seen Pakistan's true colours and wouldn't re-enter the Kashmir debate, Pakistan is addressing new emerging alliances in Libya and other oic member-states—whose position on Kashmir is unclear—and hoping to reactivate the call for mediation or for defunct UN resolutions all over again.
The mass resignation of sarpanches in J&K and its interpretation—no matter how skewed—as the first crack in India's institutionalising of democracy in the state will dent India's hard-earned image. "We are fighting for democracy, we are not fighting with guns," says K.A. Malik, general secretary of the Kashmir Panchayats Association. "The ball is in New Delhi's court. We took you seriously, risked our lives and ran for elections. Don't treat us like stepsons now."