Nobel laureate Leymah Roberta Gbowee, 43, is a well-known peace activist of Liberia. She successfully led a woman's peace movement to end the second Liberian war in 2003. Her efforts led to the trial and conviction of the country's strongman Charles Taylor and ushered in peace, enabling free elections to be held in 2005. Ellen Johnson Sirleaf won and became the first woman president of Liberia—in fact the first woman president of any African nat­ion. She continues to be president of Liberia. In 2011, Gbowee, Sirleaf and Tawakkul Karman, a peace activist of Yemen, were jointly awarded the Nobel Peace Prize. Gbowee's movement also caught international media attention for one of their unique tactics: using what came to be known as a "sex strike", reminiscent of Aristophanes' play Lysistrata, the women refused to have sex with their partners unless the men actively supported their peace initiative. Gbowee spoke to Pranay Sharma about the movement she led and the future of women in Liberia. Excerpts from the interview:
Four years have passed since you (along with two others) won the Nobel Peace Prize. How much have things changed in Liberia since then?
"Liberia will never go back to war because people no longer sit around and let their rights be trampled upon by any group."

Since winning the Nobel Peace Prize, and even before the prize, Liberia had been at 'peace' for almost eight years. Some of the visible changes are the vib­rant civil society, which is very res­ponsive to the changing political dyn­amics. Women are still visibly active in the quest for gender equity and their rights. Though Liberia still has some massive challenges—poor health and healthcare facilities, poor education, and lack of running water and electricity in many parts—like many post-conflict countries, the hope, however, is that the nation will never go back to war, as people are no longer sitting and allowing their rights to be trampled upon by any political group.
Your former collaborator, Ellen Joh­n­son Sirleaf, became the first woman president of Liberia. Has that brou­ght about any significant change in the life of women in Liberia?
Point of clarification: President Sirleaf was never my collaborator; she has alw­ays been a politician, and I have always been a peace activist. When the women protested for peace, at no time was she involved in the movement. However, in 2005, we saw her as the best alternative to all of the other candidates and we endorsed and supported her bid for the presidential post.
But what impact did her victory have on women in Africa as a whole and your country in particular?
"It's easy for individuals to use diversity as a source of conflict. Making people see the bigger picture of peace proved to be life-changing."

Her election as Africa's first female president gave a lot of hope to ordinary women and girls—that despite the cultural restrictions and harmful traditional practices prevalent here, they too can become leaders of their communities. The enrolment rate of the girl child in formal schools has also increased. However, women continue to be under-represented in the formal sectors (government and private sectors). We have one of the strongest rape laws in the region; however, the prosecution of perpetrators is very slow due to lack of forensic labs. Women are still advocating for 30 per cent inclusion in parliament and the enactment of a dom­estic violence law. Yes, Sirleaf's election inspired women, but significant change in the life of the ordinary Liberian woman is still distant.
In your initial days, you worked at the UNICEF and the Lutheran Church, especially in trauma and reconciliation work, sometimes with former child-soldiers. How much did that experience help in your later work?
My work with child-soldiers, I would say, was the introduction to working with a diverse group of people for a common goal, irrespective of the political ideology. Working with the women in the peace movement was not so difficult because of the experience I had already gained in working with soldiers from different warring groups with diverse emotional concerns.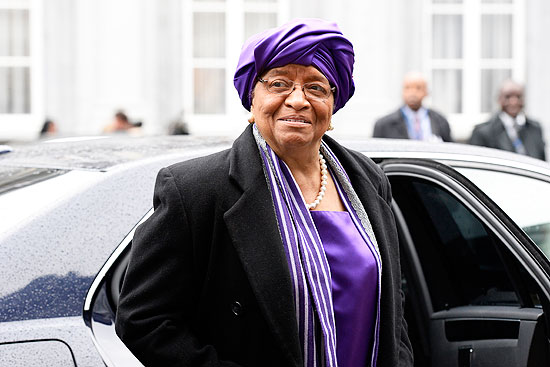 Can you tell us a little about your exp­erience in bringing together Chris­tian and Muslim women to rally against Charles Taylor?
"Sirleaf was never my collaborator. She is a politician; I'm an activist. In 2005 polls, we backed her as the best alternative."

Though the Liberian war cannot be considered a religious war, many political pundits were trying to infuse a rel­igious dimension to the conflict. Hence it was very important for us to bring women from all sides of the conflict together. Uniting women of diverse faiths was difficult at first. Many resisted sitting and interacting with women of other faiths, because for many of them, doing so signifies a dilution of their faith. However, once the purpose of the collaboration was clear, women begin to understand that though faith was important, living out our faith for the good of society was the ultimate challenge. The experience for me was life-changing. In our world today, it is very easy for individuals to use diversity as a source of conflict. Being a part of a group where people were able to see the bigger picture of peace and not of a superior religion was life-changing.
How difficult was it to force Taylor and others to agree to go to Ghana and subsequently to come to a deal to end the conflict and restore peace?
Very difficult. Taylor had three conditions for not going to the peace talks. He was a democratic leader elected by his people; Liberia was sovereign; and, according to him, the rebellion was ill­egitimate. The rebels also believed that Taylor's regime had lost its legitimacy and could not be trusted. Negotiating between both groups was very hard, as both groups felt their fight was genuine. We decided that we would use the human suffering as our bargaining tool. That proved to be very effective, as both groups eventually agreed to go to the table. I believe that, had our advocacy not targeted both groups, we would have been seen as supporting one or the other.
You held them hostage till they agreed to end the war. How did you choose that tactic? Were you influenced by any past movement?
The Nigerian women in the oil-rich Niger delta had made use of a similar tactic years ago and that was the inspiration for our action.
Tell us about the so-called "sex strike" tactic that you used while conducting your movement. How did you come up with this idea?
The idea actually came out of desperation. We wanted peace so badly that we were willing to try anything to get the attention of the warring groups.
In recent years, we have seen this tactic being used elsewhere too, particularly in Colombia. How effective do you think it will be to use in other countries that are also ravaged by similar bloody conflicts?
The sex strike tactic is a very effective media campaign. In many war-ravaged countries, women's peace actions are rarely recognised or covered by the international media. However, given that our world is overly sexualised, a single call by women to boycott sex is a major news item. It can also be used to convey the message that activists are trying to put out to the world.